MogaFX review – Can this Forex broker be trusted?

Finding a trustworthy Forex broker for your trading endeavors is not an easy thing. This is certainly true if you are a beginner. In most cases, newcomers in Forex are having a hard time deciding which broker to use, mainly because they don't know what makes a good broker.
There are some essential things that every broker should satisfy to be regarded as a good broker. This includes being licensed, offering access to a number of trading assets, and doing everything for traders' safety.
There are some brokers who satisfy some of these things, however, trading with them might not be a good idea. A great example of this is MogaFX, a broker that is regulated by the Australian regulatory agency, ASIC.
Although its regulatory status, while reviewing MogaFX, we found that this broker might not be something that you should trust. It is one of the best examples that being regulated is not enough. So, follow our detailed review to find out everything that you should know about MogaFX brokers.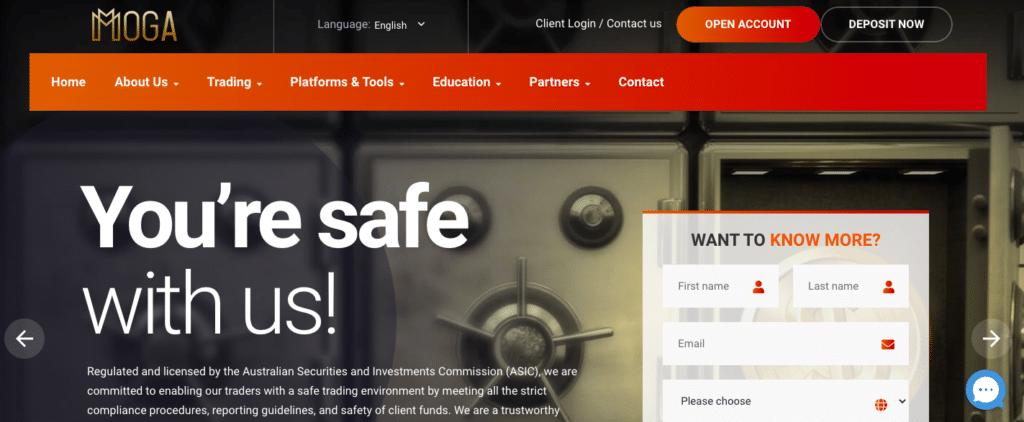 Reviewing MogaFX – Regulatory status & Challenges
On the website of the Forex broker, you can find that the company claims that it is operated under the guidance of two agencies. The broker notes that it is regulated by the Australian Securities and Investments Commission, ASIC. While there are many trustworthy Forex brokers that are authorized by ASIC, the fact is that there are many people who have noted that they have lost some of their funds while trading with ASIC regulated FX brokers.
Truth be told, although ASIC is one of the best-known regulatory agencies, sometimes, it tends to overlook the wrongdoings of some companies. However, being regulated by ASIC is not a red flag at all. What draws our attention more is that the broker claims that it is regulated by St Vincent & The Grenadines Financial Services Authority, also known as SVGFSA, which is total nonsense for a number of reasons.
The claims from the broker that it is regulated by SVGFSA is, simply put, a lie. SVGFSA is not, in any way, a Forex regulator. First of all, the company does not even issue licenses to brokers. In fact, it is not even a controller. What it does is that it simply gives brokers a certificate of registration, but it does not control nor regulate the activity of the broker.
We believe that the fact that MogaFX claims to be 'authorized' by SVGFSA is to simply attract as many traders as they can by saying that there are two financial regulators that supervise them. This raises a lot of questions.
Many newcomers, who do not know much about the Forex trading market or regulatory bodies might get very confused, thinking that this offshore company can be a safe provider. However, we believe that this is not true at all. While working on this review of MogaFX, we have come across even more problems. Continue reading to learn more about why you should not trade with MogaFX.
The safety of funds – MogaFX review
When it comes to Forex trading, one of the most important things is to keep your funds safe and secure. You can do so by trusting regulated Forex brokers, but, sometimes, as we have seen with MogaFX, it might not be enough.
Another way to make sure that you are trusting the right company is to only trust reputable brokers. For MogaFX, sadly, we were not able to find positive feedback from traders. Most of them were writing about how disappointed they were after trading with this broker.
Most of them said that the offerings that the broker lists on their website are not really accurate and while trading, many things fail to meet the expectations.
The thing is, we are not saying that MogaFX is a clone and scam broker aimed at stealing your money. However, it simply is not good enough. A very shady factor of this broker is its location, while the broker might not start stealing your money, it simply can't guarantee the safety of it either.
MogaFX reviewed – Higher than usual leverage
In recent years, the Forex trading market has come into terms of finally saying that trading with high leverage is not safe. There are a lot of risks involved with leveraged trading. This Forex broker offers a leverage of as much as 1:500, which is very high, especially according to today's standards.
Leading regulatory bodies globally have come up with different types of ideas and ways to limit Forex trading with high leverage. One of such jurisdictions that have limited access to high leverage is the USA, where, the regulatory agencies have decided that using high leverage was too risky for beginner investors.
The same goes for the EU. Today, EU-member states limit the amount of leverage that a Forex broker can offer. While all of this is happening globally, this broker decided to offer its users very high leverage. While there might be certain traders who enjoy using high leverage, it certainly is not good for traders.
Recently, the regulatory body of Australia has decided to limit access to high leverage. According to this decision, Forex brokers will only be able to offer a leverage up to 1:30 to local traders. MogaFX will have to follow this directive adopted by the regulatory agency, if not, it might face many problems.

Review of MogaFX – Trading platform
While reviewing this Forex broker, we found that it offers access to MetaTrader 4 and MetaTrader 5 trading platforms for traders. These two are some of the most popular trading platforms in the world and are loved by millions of traders because of their stability and easy-to-use environment.
The trading platforms offered by this broker might be one of the only advantages of it. Sadly, this is not enough for us to recommend this broker. There are hundreds of other brokers that offer these trading platforms, and it is not really an advantage of this broker that it offers these platforms.
Also, our review of MogaFX shows that the trading platforms that it offers do not make up for other negative factors, such as not good enough regulatory framework.
Another very weird thing about this broker is that for some reason, we could not open the web-based version of the trading platform. For some reason, it simply was not working. It might have been a one-time thing, however, we were able to find several traders who have come across the same problem while using this broker.
What payment methods does this broker offer?
While reviewing this broker, we have come across many problems. One of the biggest ones that might be a huge red flag for beginner traders is the minimum initial deposit. While there are some brokers who let people start trading with a very little amount of money, MogaFX requires traders to deposit at least $1000 to open a live account.
This is actually 10 times higher than the industry standards, which is about 100 US dollars on average, depending on the location of the Forex broker. It is a very strange thing to see a regulated company intended for retail traders require such a high initial deposit. The company offers traders payment methods such as Wire Transfers, Credit/Debit cards, and numerous online payment solutions. As for the minimum withdrawal requirements, the Forex broker does not have any.
However, sadly, we found that there are different types of commissions that might apply to withdrawals, which is another huge disadvantage of this broker. As we were able to find while reviewing MogaFX, the broker charges $25 for wire transfers, and the processing time, according to the broker, is about 48 hours.
While this time is not that much, we came across some traders who said that they actually had to wait much longer until their withdrawals were finalized. This is a huge disadvantage. It is not about the fact that people had to wait long, but more than the broker did not tell them that they would have to wait for that long.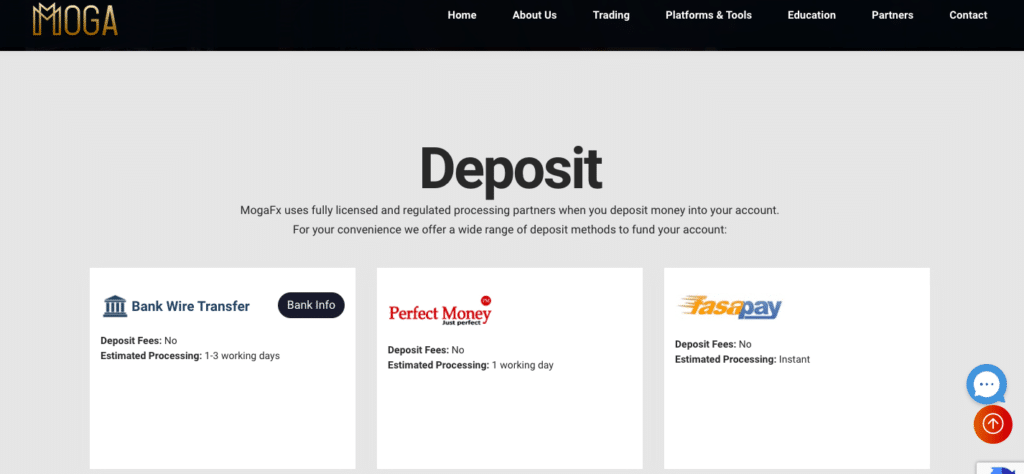 Reviewing MogaFX – Bonuses and promotions
There was a time when bonuses and promotions were very popular among Forex traders. However, that time is long gone. Today, the majority of regulatory agencies have restricted brokers from offering traders promotions and special bonuses. The reason for this is that many brokers used this as a way to attract more traders to their platforms, which was creating a lot of problems.
But there are more problems with MogaFX's bonuses and promotions. As the Forex broker notes, to become eligible for withdrawal of the bonuses, they have to execute 20 percent of the sum in lots, a demand that is hard to fulfill. If a trader accepted $100 as a bonus, they would have to trade as much as 20 lots, which is as much as 2 million US dollars in turnover. This is insane, simply put.
This one again proves that the bonuses offered by such brokers are not in any way free money, rather, they are a tool used by brokers to increase the risks for traders. This is one of the major reasons why the EU regulators decided to prohibit brokers from offering traders bonuses. According to the new laws in Australia, this broker will also be restricted from offering such services to traders in the country.
MogaFX broker review – The website and customer support team
While visiting the website of the broker, one will not think that it is not a company that they should trust. The website of the broker does not look bad at all, in fact, it looks quite okay. However, that is from the first look. After going through the different pages on the broker, we found that there are some glitches on the website.
For some reason, the website also takes a very long time to load, which is not something that you want to see when you are using a Forex broker. One positive thing that we can say is that the broker provides a lot of information about the company, but, this in no way compensates for all of the negative factors that we have discussed today.
A very big disadvantage of the Forex broker is the customer support team. We understand that it is not an easy thing to have a helpful customer support team, but when it comes to markets like Forex trading, brokers should do their best to make sure that they have the best team assisting their clients.
Sadly, it is not the case for this broker. This is a huge disadvantage. Although the Forex broker offers a live chat, it is not that helpful at all. We waited for a representative to contact us for several minutes, however, there was no luck. After that, we tried using email. While our email was answered in several hours, the answer had nothing to do with our initial questions and was very general.
Do we recommend trading with a MogaFX broker?
After reviewing MogaFX Forex broker, we were able to see that it is not a well-established company. Sadly, we were able to identify a lot of problems that this broker faces. Because of this, we do not recommend trading with this company. We believe that there are many other Forex brokers that offer much better services and using them would be a better choice.
This Forex broker, although offering some good services, has many problems that it has to take care of. We do not think that MogaFX is a scam broker, but it is not something that traders should be using at all.