Moneta Markets broker review

Forex industry is constantly growing. People start trading in this field with the intentions to make profits, and it is an extremely complicated industry. 
When you start trading, choosing a decent broker is a thing of utmost importance. A good broker helps with the trading, but there are some fraudsters created to look like a genuine one in order to lure people into the scam. We encounter such brokers frequently, and sometimes they look so convincing that they are impossible to distinguish from the real ones. 
In this review, we will talk about Moneta Markets broker and try to determine whether this is a real broker or another scam.
Moneta Markets brief overview
Moneta Markets is a new company. It was created in 2018 and is a subsidiary of Vantage International Group Limited. The latter was established in 2009 and has an average trading volume of $100 billion. The broker declares to pursue a transparent strategy for clients worldwide. It says to have a decent regulator, and we will talk about that in the next sections.

Look of the website
We all agree that nowadays when the Internet plays a pivotal role in conducting business, a good-looking website is essential to attract customers around the world. As soon as you visit the official website of Moneta Markets you notice, it needs some enhancements. First of all, the visual appearance is very tiresome, and the user experience does not seem to be very comfortable.
There are four main sections with several subsections, and they look a bit too much. Language bar at the left of the top of the website offers 13 languages, and the right side is allocated for Login, Sign Up and Demo sections. 
As it is very typical for forex brokers, the very bottom serves to provide information about regulations and legal documents.
The website also offers economic calendars and trading guides, for those who wish to learn about forex trading. Video tutorials are available, but we have to say it needs improvement is a little messy.
The license
When you want to find a reliable broker, you should pay attention to the regulatory framework. Moneta Markets' parent company Vantage International Group Limited is regulated by the Cayman Islands Monetary Authority (CIMA). The regulator is less prestigious than CySEC and arises some doubts about the legality of the broker. Otherwise, the company declares to follow the strict rules of regulation.
While talking about the license, we should mention that Moneta Markets does not accept clients from the United States. Also, countries like France and Australia are limited, so it is a disadvantageous factor. 
Customer support
You cannot be called a good company if you do not have good customer support. Moneta Markets has a group of multilingual people who are available to assist clients 24/5. You can even open a live chat on the website at the bottom right side and also, the email and contact number are indicated. 

Types of account and trading platforms
On Moneta Markets, you can open both live and demo accounts. The creation of a live account is very simple. It only takes 5 minutes and is similar to creating an account in social media. You have to provide your credentials, mobile phone number and a valid email.
The same goes for the demo account. You also need to add proof of identity. A demo account is an excellent opportunity for those who would like to master their trading skills and strategy without risking real money. It is a simulated environment where you are given with 'fake' money. Novice traders should start with a demo account. 
After 30 days, the period of using the demo account expires. It is unknown whether you can continue using it or not.
Unfortunately, Moneta Markets does not have MT4, and the only available platform is WebTrader. You can download the app on your Android or iOS device as well.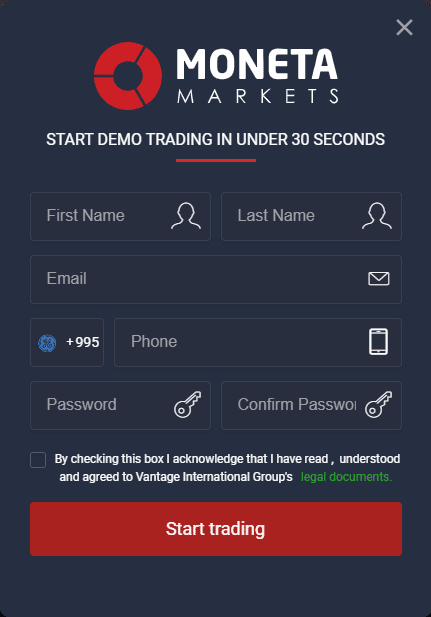 Trading terms and conditions
When you choose a forex broker, one of the main things that require your attention is trading terms and conditions. Moneta Markets offers the maximum leverage of 500:1 a bit high, but not too much. The minimum deposit that is required to start trading is $200, and the broker offers over 250 CFDs to trade.
While talking about maximum leverage, this is particularly for forex, but you can reduce this according to your strategy. 
Moneta Markets Bonus 
Moneta Markets offers its clients deposit bonus. You can claim %50 of your deposit bonus, but if you want to use this feature, the minimum amount of deposit consists of $1,000. Your account should be verified for being eligible for the offer. $1,000 is indeed a big sum, but the bonus is undoubtedly a good thing.
Deposits and withdrawals
There are many possible ways to deposit money on your account. Visa, Skrill, Neteller, Card Wire – everything is at your disposal. The broker even has Bitcoin payment, which is not very typical for forex brokers. Payments via Visa are instant, but Bitcoin usually requires one business day. Moneta Markets does not charge an additional fee on deposits and withdrawals, but keep in mind that a particular bank may require an additional transfer fee.
When it comes to withdrawal, the process is very simple. From your Webtrader account, you are able to withdraw some money and requests after 7 PM will be processed on the next business day. 
Moneta Markets Summary
To sum this review up here comes the main question – can Moneta Markets be trusted, or is it another scam? Well, depending on the review Moneta Markets has some flaws on the website, and the regulator is not a prominent one. Generally, it is better to avoid companies that do not have a license from the FCA or CySEC. Furthermore, the broker does not support MetaTrader 4, which is one of the most significant disadvantages.
Moneta Markets is an offshore broker that gives it less credibility, compared to other brokers that are regulated by CySEC or the FCA. We can talk about several advantages such as bonus system and leverage, but it is better to avoid doing business with this company.
We give this broker 2.5/5.