MRG Broker Review

Every once in a while, you come across the brokerage that offers pretty impressive trading terms and conditions and wonder, whether you can really trust this company. The internet is drenched with such brokers with shiny numbers but, at the same time, some small (some big) details that give away their fraudulent intentions.
MRG broker is certainly such a company with trading conditions that would tempt any newcomer to the Forex trading. With the scarce MRG opinion articles and reviews, there are not many options for us but to examine the broker ourselves and give readers our honest opinion.
So, without further ado, let's get started.
Initial Overview
The Maxrich Group LTD. is a company based in New Zealand in 2007. This might trick many amateur traders into believing that the broker has a decent amount of experience in the field. Even the experienced ones are prone to using well-established brokerages with decades of experience.
However, with closer inspection, we find the details that are definitely not suitable for the experienced broker. For example, the website looks egregiously amateurish and ill-designed. Not only that, it's extremely difficult to find important information such as regulatory remarks.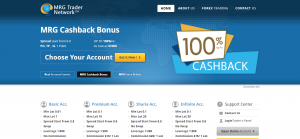 As we mentioned in the introduction, the MRG Forex broker offers impressive trading conditions. Here are some of them: the maximum leverage goes up to 1:500 (it varies between the account types that you choose from); the spreads also vary from 0.8 to 2.5 pips with regards to the account types; as for the minimum deposit requirements, beginner traders can start trading with an initial commitment of just $10.
We'll examine these numbers more closely down below but for now, let's just say they're really tempting.
The traders are somewhat limited by what platforms they can use for withdrawals, though. The broker mostly uses outdated wired transfer and credit/debit card transactions, which are prone to security breaches and slow transaction times.
As far as regulation goes, the company was registered by the Financial Markets Authority of New Zealand. This might at first seem credible to the traders but we have a reason to doubt that and believe that the MRG fraud is actually real. The fact that the company doesn't provide trading service to US citizens further proves this point.
Since we're talking about licensing, let's move to the next chapter and examine regulatory claims more carefully.
FMA license – can MRG be trusted?
One thing that has to be said right away is how difficult it is to find any detailed information about the regulation. Usually, the regulatory remarks are positioned at the end of the website's first page. However, with MRG broker, things are more complicated than that. If you want to know what kind of licensing the company has, you have to move to the 'Why Choose Us' department of their website and browse through the bullet points.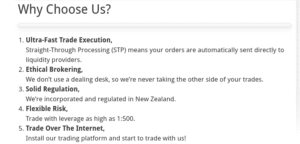 Once you find what you looking for, you'll know that the company was registered in New Zealand. Now, New Zealand is a developed country and is part of the West. But does it mean that the MRG is legit because it was licensed by New Zealand's Financial Markets Authority? We don't think so.
The reason behind our suspicion is that New Zealand is a distant island located in the furthest part of the world. On the other hand, the MRG broker covers many countries with its trading offers. We're not so sure how a small island country can effectively oversee the activities of the financial company all around the world.
Not only that, as we mentioned above, the MRG broker has no legal right to do business in the United States. Maybe the US regulations are detailed enough that they can actually control how the brokerage companies conduct their business; maybe because of these regulations scammers can't lure potential new traders in their schemes. And maybe, just maybe, the MRG FX broker is trying to hide its activities from the strong regulating bodies for whatever reason it might be.
Now, with licensing out of the way, let's talk about the website.
Mrgtrade.com review
The website is probably the most apparent aspect which ignites our suspicions about the broker. Where to begin!
The design looks amateurish with its poor choice of rich blues and blank whites combo. This gives the website an ancient look where Internet Explorer was still a thing. Not only that, there are unnecessary visual effects and presentation-style transitions that direct our eyes to the aspect of the website that we're not interested in.
Besides, the tabs that separate different aspects of the website are counterintuitively arranged. This is how they're aligned: first comes the Home button – typical, no complaints with that; then there's About Us page, next comes Forex Trading and finally, there's Contact Us tab.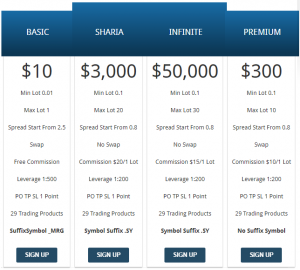 Now, when the trader goes to the broker's website, they intuitively search for the tabs in the places that they're already accustomed of. Forex Trading tab should always come second because that's what is the most interesting aspect of the broker to the traders. Not only that, the About Us page almost always is positioned at the very end and that's where we think it should be in this case as well.
We've already talked about how difficult it is to find crucial information about the MRG broker on their website. There's no official regulatory notice on the first page or on any pages in particular. You must find 'Why Choose Us' department where the perks of the company are listed. Only there could we find out that the broker is regulated by New Zealand.
To be honest, though, we're amazed at how much diversity this broker offers to its customers. There are four types of accounts designated for beginners (Basic), more experienced traders (Premium), Muslim traders (Sharia), and veterans (Infinite). However, these accounts are still arranged counterintuitively – the first two are placed on the edges and the last two – in the middle (as you can see in the image).
MRG withdrawal is yet another area where the broker doesn't really impress us. The company supports conventional and already obsolete payment platforms like bank wired transfer and debit/credit card. There are mentions of other, somewhat exotic platforms such as Skrill, FASAPAY, etc., but they're not fast and reliable compared to PayPal or cryptocurrencies.
As for the trading platforms, MRG uses pretty well-known and used MetaTrader 4 which doesn't really speak of itself, while the support for mobile platforms indicates that the company wants to have as many customers across the board as possible. Now, this might be a good or a bad thing – it depends on what other characteristics of the company are. With what we've already said in our MRG review, we suspect that with expanding trading platforms the broker wants to lure customers in on desktop and mobile platforms alike.
Now, let's move to the trading terms and conditions.
What do the numbers actually say?
Let's start on a positive note. The broker allows the amateur traders to make the minimum deposit of just $10. And if they really want to minimize the risks associated with trading, they can create mini or micro accounts and place bets as low as 10 cents. This way everyone across the board can start trading with existing experience.
As for the maximum leverage, the beginners can use it as high as 1:500, which means that your chances of revenue increase by 500. This is an incredible offer considering that the market average is somewhere around 1:200.
The spreads also depend on the account types while the minimum difference between the trading pairs can go as low as 0.8 pips. This too offers pretty fair trading conditions when it comes to buying and selling, say, currencies on Forex. But you have to keep in mind that when it comes to scammers, they'll do and say whatever they can to attract as many traders as possible. And with increased customers, they can compromise even more bank accounts and even keep those profits accumulated by the traders.
So, when it comes to flashy numbers, you have to be really careful not to fall into the Ponzi scheme. And with the MRG promotions such as above, our suspicions of the broker's fraudulence gain even more credibility.
Our final MRG opinion – are they the real deal?
In this review, we examined every detail that is important to know about the MRG broker and other brokers in general. We found out that the company was established in 2007 in New Zealand, but considering the political and economic aspects of the country, we concluded that the FMA regulation doesn't really make much difference.
Then we took a look at their website and boy, it was all over the place. With its ill-designed interface, unnecessary visual effects, and hard-to-find details about the company, we think that the company with 12 years of experience should know more not to build such an unprofessional website.
As for the trading terms and conditions, while the numbers are flashy and attract many traders' attention, we suspect that they're designated to lure potential new customers in and then compromise their private credentials.
In conclusion, we don't think that it's a good idea to trade with Maxrich Group LTD. Even if they're not what we suspect them to be, we'd still suggest against having anything to do with them – just to be safe.