Mugan Markets review – Trader oriented broker
Were you searching for a new Forex broker that has the best terms for trading? Then you will need to check our Mugan Markets review where you can find out all details about spreads, fees, account types, and trading platforms offered by the broker.
Mugan Markets Forex Broker History
Mugan Markets was started by a group of experienced traders in 2015 and has been offering excellent trading services ever since. The broker is not a newcomer on the Forex broker scene, which adds extra points to its legitimacy, as Mugan Markets is an experienced company. This makes it obvious that the broker's services are competitive and high quality. The broker has multiple awards under its belt in 2019 and 2020, such as "Best Customer Service", "Finance Innovation", "Best execution Speeds", and "Best crypto Asset Rates". Using their website, traders have the unique ability to access 200+ currency pairs as well as cryptos and spot metals.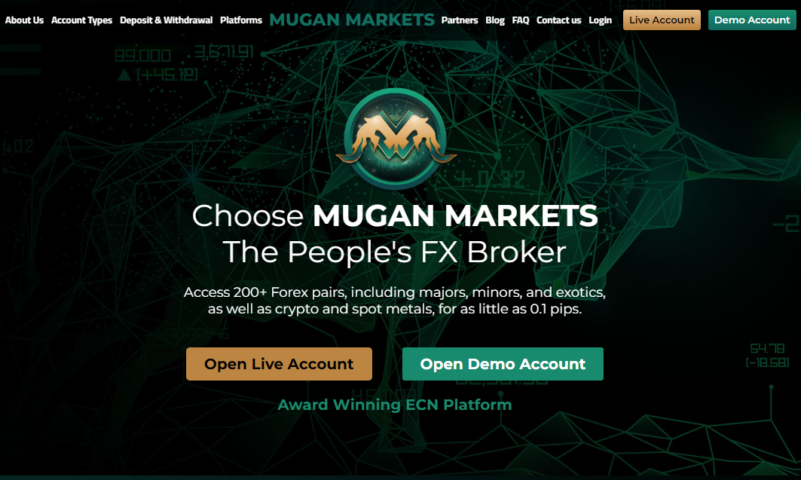 Mugan Markets Broker Review of Accounts
Mugan Markets currently offers three main account types. The list consists of Classic ECN, Trader ECN, and Custom ECN accounts. The spreads start from 0 pips for Trader ECN and Custom ECN accounts for low commissions of $8 and 0.9 for classic ECN. Leverage is 1:500 and deposits are possible in EUR, USD, GBP, and BTC currencies. The minimum lot size is 0.01. The minimum deposit required for the first two accounts is $50 while it is $10 000 for a custom account, therefore offering the best overall trading conditions. All three accounts are excellent. For scalpers, the Trader ECN with zero spreads will offer the maximum value, while the classic is best for day traders.
Furthermore, Mugan Markets offers its customers to open live or demo accounts. In case the trader is relatively new to financial trading, a demo account will offer immense possibilities to learn necessary trading techniques and practical skills. The demo account allows traders to trade live markets with virtual funds, mimicking the real trading experience in the fullest way. For experienced traders, live accounts are the way to go. With a live account, traders can take advantage of the excellent opportunities and services the broker has to offer.
With the partnership program, the Mugan Markets broker also offers the possibility to become an IB. After which customers will enjoy several benefits including weekly payouts, paired with a very reliable and user-friendly IB Portal, it tracks all earnings and allows fully customized rebates plans. There is one more benefit for IBs as they have a chance to win $5 per lot from their referrals.
Mugan Markets Reviews of Trading Platforms
The main trading platform Mugan market's customers can enjoy is the famous MetaTrader 4 – an advanced professional trading platform, which is also very popular among traders. MetaTrader is compatible with Windows and Mac, making it very convenient for every user. The software is free and traders can download and trade multiple asset classes like Forex and CFDs all from one platform.
In today's world, almost everyone is switching to mobile devices as their main trading platforms. Mugan Markets is also following this trend by offering one of the best mobile trading apps for Android and iOS users. MT4 is accessible for both OS and many more OS. with Mugan markets software traders can access all markets, use advanced technical analysis tools native to the software, trade with 0.01 lots which is a macro account, and many more. We advise you to go to the broker's website and see for yourself what the broker has to offer. This way you will better see what the broker offers and how well it suits your trading needs.
Mugan Markets Review of Extra Features
According to our research of Mugan Markets Forex broker, it offers a separate dedicated section for the latest blogs and news. Using the blog feature, traders can maintain up-to-date knowledge about financial markets, this will enhance their decision-making accuracy when trading on financial markets. On the blog, it is possible to find useful tips about trading CFDs, Forex vs Stocks, habits of successful traders, and many more important aspects of trading.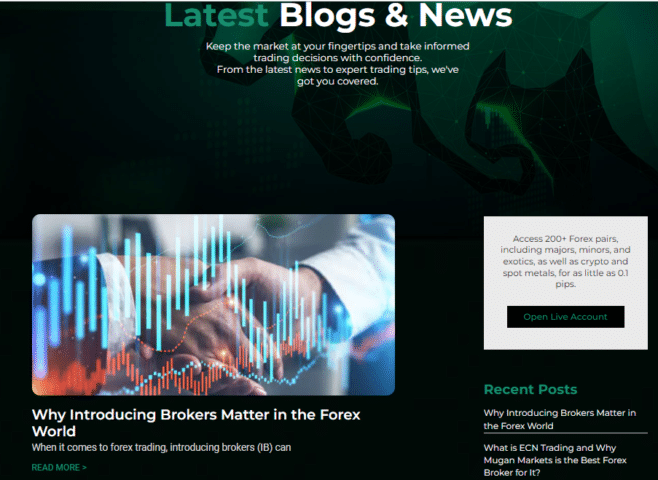 Mugan markets also were hard-working enough to offer a dedicated YouTube channel with weekly market news. These videos will prove valuable to stay informed about upcoming events and macroeconomic trends every trader needs to know. This will influence trading results positively, and traders are advised to watch these videos consistently, as trading is a consistency-focused business.
How to get a 100% Deposit Bonus from Mugan Markets
A deposit bonus by Mugan Markets is the quickest way to turbocharge potential profits. It is available for all account types, has no hidden charges, and only requires a certain trading volume to withdraw. 100% of the deposit made will be instantly reflected on the chosen trading account. The process is also very simple as traders have to register an account, select a preferred trading account, and deposit at least 250 USD. The bonus is credited instantly and is withdrawable together with the client's funds. Up to 20,000 USD can be claimed as a deposit bonus within this promotional event period.
Mugan Markets Review of Customer Support
When trading there are often questions traders will have for Mugan markets to ensure their performance is not slowed down by some issues. In this case, it is critical that the website offers cutting-edge support functionality to connect with broker representatives and chat with them in real time to solve any issues or get answers to any questions that may arise during trading. The website has a "contact us" button. On the support page, there are several options available for contacting the broker. It is possible to leave a message to the broker too by entering your personal basic data in the fields. The live chat is probably the most useful feature in case of urgent issues or questions.
The support is available for every account type used, including the demo account. Demo account users have the same privileges in terms of customer support, which is superb.
There is also a dedicated FAQ section, where it is possible to discover the most frequently asked questions in case your question is among other popular questions. If there is no corresponding question to the trader's issues, it is possible to contact support at any time, but the FAQ section provides additional value to traders.
Mugan Markets Deposit and Withdrawal
With Mugan markets, traders can deposit and withdraw money via both cryptos and fiat currencies. There are not many brokers who allow this feature, additionally, Mugan Markets process payments very fast and enables traders to withdraw money on the same day of request. This is very useful as some traders prefer to use crypto for their financial activities, and cryptos like Bitcoin are known to be extremely safe and decentralized. Cryptos are also not limited by country and can be sent to any country within minutes. Mugan Markets offers deposits and withdrawals in popular cryptos like BTC, ETH, USDT, USDC, and BNB.
The website accepts the following fiat currencies – EUR, GBP, and USD. It is worth mentioning that the accounts are protected by negative balance protection, making it impossible to lose more than your account balance. The withdrawals and deposits are protected also by top-tier Global banks, and all funds are insured by trusted global providers. Mugan Markets users are protected by cutting-edge technology and all transactions are secured and transparent, making it safe to trade on the broker's platform.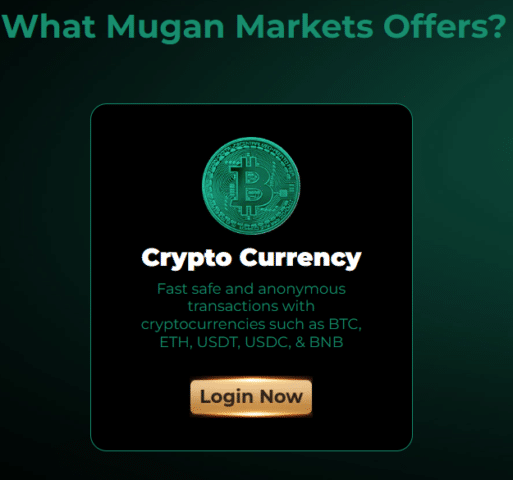 Mugan Markets Review Conclusion
In the end, Mugan markets is a decent broker that offers excellent trading services to beginners and pros alike. Traders can access more than 20 Forex pairs, advanced trading platform MT4, use 1:500 high leverage, and trade favourite assets with zero spreads. Traders can open a live account in four simple steps, or just open a demo account and start learning and testing with virtual money.