MultiBank FX Review – Trade over 1,000 assets now

Established in 2005 in California, MultiBank has become one of the largest financial companies globally. The broker offers services to traders around the world and it does so by securing the license from seven leading regulatory agencies.
MultiBankFX Forex broker offers great features to customers from all over the world. MultiBank has an impressive global presence with 15 offices worldwide, including the USA, Hong Kong, Germany, Austria, United Arab Emirates, China, Cyprus, British Virgin Islands, and the Cayman Islands.
Due to its global reach, MultiBank has a large international customer base, aiding the needs of every citizen of the world. MultiBank Forex has over 320,000 customers from 90 countries worldwide, which should not come as a surprise since this FX broker offers amazing features to all of its users regardless of their country of origin.
The broker is able to offer its services to so many people thanks to the impressive regulatory framework that it follows. The broker owns total of 7 licenses from jurisdcitions like Australia, Germany, Austria, Spain, and many others. This gives the broker the opportunity to offers its services to traders around the world.
In this MultiBank review, we are going to analyze the offered by MultiBank Group, discuss their regulations, products and services, partnerships, and much more. This FX broker has a lot to offer and if you wish to learn how to get started at MutiBank FX, follow our review and start trading today!

MultiBank FX brokerage trading products and features review
MultiBank offers various types of trading assets to its clients. There are over 1,000 instruments available at MultiBank, you can trade assets such as Forex, metals, shares, indices, and commodities with this broker. We are going to discuss each of the products on the platform in-depth as every trader has their preferences and should be aware of as much as possible.
MultiBank Forex trading review
It should not come as a surprise that MultiBank is largely focused on Forex trading, after all, it represents the biggest financial market globally. The group provides access to over 55 currency pairs, including major, minor and exotic currencies, offers high leverage and tight spreads, negative balance protection, and more. The list of advantages of trading Forex with MultiBank are the following:
Access to the most liquid market
Tight spreads as low as 0.1 pips
Leverage of 1:500
55 currency pairs
5 levels of Market Depth
No restrictions on Expert Advisors
Negative balance protection
MultiBank metal trading
Though the group mainly concentrates on FX trading, they still offer amazing services to metal traders as well. MultiBank has a worldwide network of dealers, producers, consumers, and speculators of precious metals. Metal traders have access to position tracking, narrow spreads, and more. See the full list below:
Tight spreads – 8 cents on Gold, 3 cents on Silver
24 hours instant and stable execution
No restrictions on Expert Advisors
Negative balance protection
Guaranteed no-price-slippage, no requotes, no rejections

If you are a metal trader, you understand how important these aspects are. The spreads offered by MultiBank are quite obviously some of the best in the industry. Their offered feature of negative balance protection is a very important advantage for metal traders since the market tends to be quite unpredictable.
Thanks to the negative balance protection, you can be sure that you won't lose more money than you already have on your trading account. Because the broker offers a high leverage, many might think that it can be hard to control their funds. However, the negative balance protection provides you high-level security, meaning that when your account balance nears zero, all of your positions will be automatically closed.
Shares trading overview
If you are a shares trader, you are in luck. MultiBank FX shares platform is highly advanced and offers over 1000 shares from the best companies worldwide. Additionally, they have low margins, tight spreads, and more. See below.
Margins as low as 5%
Over 1,000 shares offered
Tightest spreads available in the market
24 hours stable and nano-second execution
Zero restrictions on Expert Advisors
Negative balance protection
MultiBank allows you to search for shares by the industry or by name. The advantages of trading shares on this platform are outstanding, and receive a lot of praise from the customers. They also offer shares specifications on their page, with the countries, contract sizes, margins, and more.
Indices trading at MultiBank FX
MultiBank FX also offers indices trading with world-renowned stock indices, such as the US Wall Street 30 index, NASDAQ, German DAX, and more. The advantages of MultiBank FX stock trading are:
Trading indices from around the world
Very tight spreads
Low margin requirements
No restrictions on EA
Negative balance protection
You have an option to view Index specifications on the MultiBank FX webpage, where they provide you with information regarding the Pip value, contract size, min and max value, margins, trading hours, and more.
Trade commodities at MultiBank FX
MultiBank offers traders access to assets such as natural gas, copper, crude oil, and more. Since commodities are a popular way to diversify your investment portfolio, the group offers great features to traders trying to grow their portfolios and profits. Among many other things, MultiBank FX offers commodities traders:
Wide range of assets
Some of the tightest spreads in the market
Lowest margin requirements
Zero restrictions on EA
Negative balance protection for users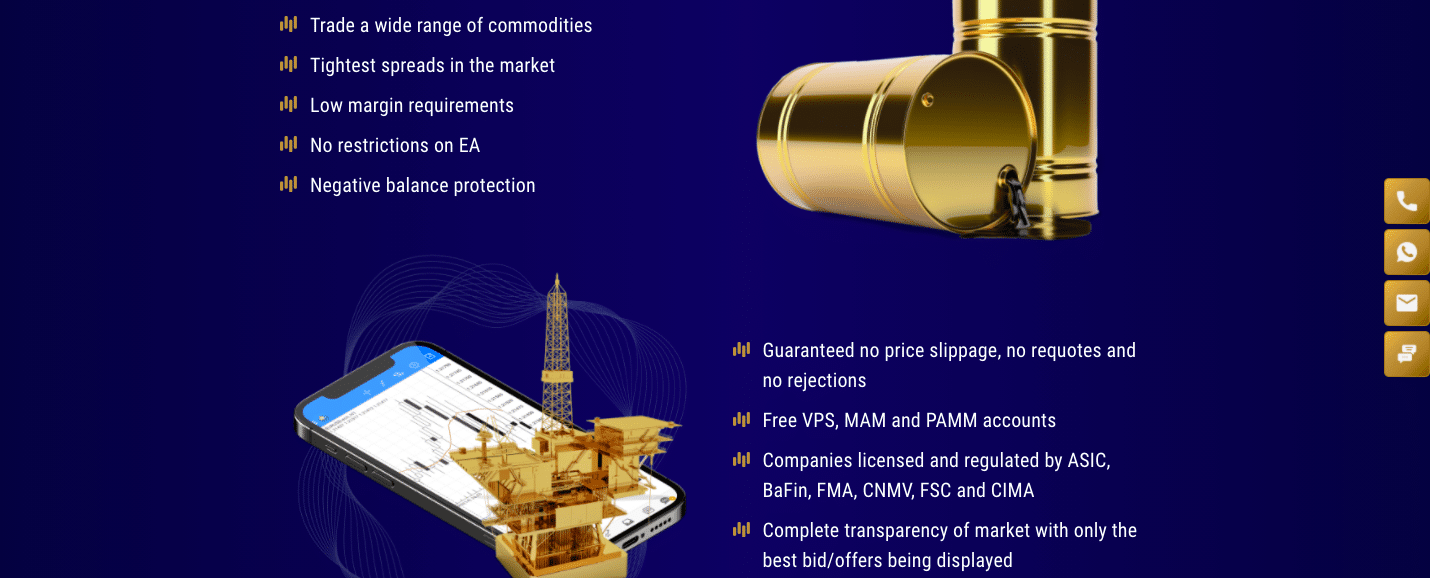 MultiBank gives you the ability to look at commodities specifications, providing the contract sizes, min and max volume, margin, pip values, and more. Commodities traders are very satisfied with everything that MultiBank has to offer. 
Any kind of trader has the ability to trade their choice of product at the best terms with MultiBank broker. The advantages of working with this broker are great, with very few to no disadvantages at all.
MultiBank bonus offers review
In addition to the great advantages of trading on the platform, there is also a MultiBank FX bonus offered to new users. You have a chance to earn up to a $50,000 double bonus upon depositing, though there are some basic trading requirements for the deposit.
The 100% bonus is only offered on the Maximus Platform
The bonus is non-losable
All account types that receive the bonus are non-rebate generating
The initial deposit must be equal to $200 for the 100% bonus. There are no restrictions on further deposits.
The maximum bonus if $50,000 per customer
Arbitrage trading and manipulation of the system is strictly prohibited
Trades lasting less than 120 seconds will be subject to the scalping policy
During withdrawals, the bonus will be reversed in proportion to the withdrawal amount divided by the initial deposit
The bonus can only be used on forex and gold trading only

Other bonuses offered by MultiBank are:
20% Super Bonus — a limited time offer for new clients with a maximum bonus amount of $200,000 per customer
Imperial Bonus — new clients have an option to earn up to $5000 on their first-time deposits
Refer a Friend Bonus — if you bring in a new client to MultiBank, both of you will receive a bonus on your accounts. The amount depends on the new client' s initial deposit.
MultiBank FX review highlights that all of the bonuses mentioned above are subject to certain terms and conditions, so make sure to read them to ensure you are qualified for the bonuses. But you have to admit, MultiBank offers great bonuses to their new and old clients, due to which they receive a lot of approval from traders. Every once in a while, the group offers MultiBank FX no deposit bonus, but right now it is not available to new users, we are looking forward to when they make it available again.
MultiBank FX MT4 review and Other Platforms
MultiBank has several platforms designed for MT4 and you have the option to use any of them. There are several differences among the three MT4 platforms, which will be discussed below. The advantages to using MT4 are the market order, the products, EA, scalping, leverage, stop out levels, quick trading, HPS hosting, max lots per click, etc. The three MT4 platforms offered are ECN Pro, MultiBank Pro, and Maximus. 

ECN Pro MT4
Average Spreads: 0.1
Minimum Account Size: $5,000
Bonuses for IBs: Imperiality Bonus, Loyalty Bonus
Bonuses for Clients: Imperial Bonus, Refer a Friend Bonus
MultiBank Pro MT4
Average Spreads: 0.8
Minimum Account Size: $1,000
Bonuses for IBs: Imperiality Bonus, Loyalty Bonus
Bonuses for Clients: Imperial Bonus, Refer a Friend Bonus
Maximus MT4
Average Spreads: 1.4
Minimum Account Size: $50
Bonuses for IBs: Imperiality Bonus, Loyalty Bonus
Bonuses for Clients: 100% Bonus, 20% Super Bonus, Imperial Bonus, Refer a Friend Bonus
The choice completely depends on your trading habits and preferences, but the fact that MultiBank FX broker offers several platforms is a huge advantage. Any trader has an option to sign up and use the platform most fitting to their trading practices.
Can MultiBank FX be Trusted? Security and Regulations

The group offers high fund security thanks to the MultiBank FX regulations. Since their offices are located all over the world, the group has to uphold strict rules and obligations in accordance with their international regulations. Due to this, they offer clients the highest levels of funds security.
Australia — ASIC
Germany — BaFin
Austria — FMA
Spain — CNMV
British Virgin Islands — FSC
The Cayman Islands — CIMA
United Arab Emirates — RAK
So it should not come as a surprise that MultiBank has such a large global customer base. The group made sure to receive regulations from the best financial institutions. Additionally, it has been found out by the MultiBank review that they provide fully segregated client accounts, cold servers, custodial bank facilities, and more. MultiBank FX security is highly developed, which explains why so many traders put so much trust in this broker.
Awards, customer service, partnerships, and more
MultiBank has managed to receive a lot of acclaim from various companies. Over the last decade, the group has received over 20 awards from different institutions. The latest one was in 2018 from Capital Finance International titled "Best Forex ECN Platform — Europe & Asia". The group also got awards for the "Most Admired Companies of 2017", "2017 Financial Derivatives Broker of the Year (Asia & Europe)", "2016 Best Forex Exchange Platform", "Top FX Liquidity Provider 2014", "Most Secure Broker 2014", "Best Forex Trading Platform 2011", and many more. The reason we decided to mention this in the MultiBank FX review is due to the credibility that the brokerage firm has managed to build in over a decade. This information is vital to new users since it will help build trust for the broker.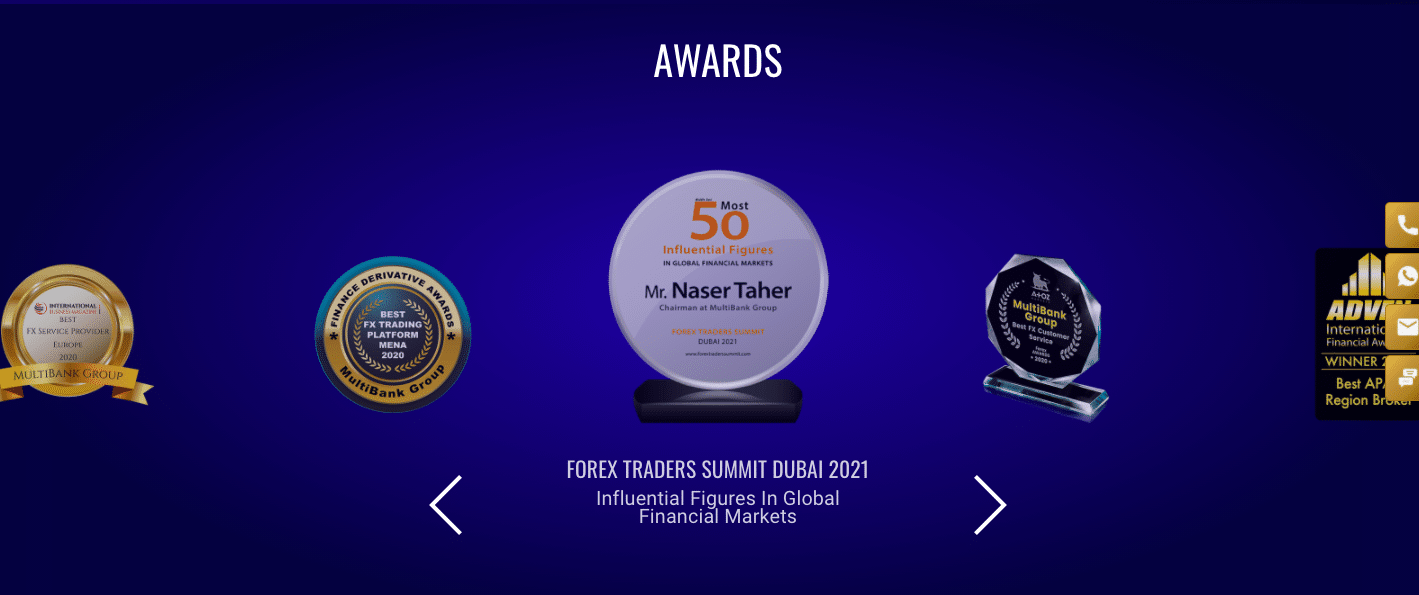 The customer service at MultiBank is outstanding. They offer 24-hour professional first-class service for 5 days a week in over 10 languages. They offer immediate assistance via their live chat, where you have a chance to get in touch with a professional regarding any inquiries or issues. Additionally, the group has up to 40 international numbers for support, some of them are even toll-free.
If this is not the most comfortable option for you, there is an email address available on their customer service page. If you choose to send an email, make sure to write a specific subject line to ensure a proper and prompt response. You also have a chance to follow MultiBank FX on social media, where they provide daily news and more. If you have been in the industry for some time, you should realize how amazing the customer service is at MultiBank. Not many brokers offer this many international phone numbers and other ways to help their customers with anything. 
MultiBank FX partnership programs are also quite impressive. They offer partnerships with Introducing Brokers, Franchise Program, White Label, Prime of Primes, and CPA Affiliate Program. Traders have a chance to partner up with some of the best financial institutions with the help of an amazing brokerage firm.
Can we recommend MultiBank FX broker?
Overall, MultiBank FX stands out from its competitors for a number of reasons. First of all, the broker offers traders a very high level of security thanks to seven different licenses. The broker offers you access to more than 1,000 trading assets, which makes it a perfect choice for those who wish to diversify their trading portfolio.
The broker offers amazing trading conditions to all types of investors, which includes different platforms, great bonuses, high levels of security due to their incredible list of regulations, amazing customer service, and many more. It is without a doubt that this group put a lot of work into developing their company to the maximum, and still, they never stop bettering it. We highly recommend you check out their page, and hope this MultiBank FX opinion and review helped.