MYmarketuk Review – Is this a trustworthy western broker?

We're used to seeing Forex brokers from third-world countries like St. Vincent and the Grenadines. For them, choosing such countries is virtually no-brainer for the various conveniences they offer to them, be it the avoidance of taxes or legal responsibility for illegal actions.
And when we come across a brokerage that is actually based in Europe and in the US, we automatically consider it trustworthy because, in our assumptions, it wouldn't be easy for them to attain rights to operate in these countries.
However, no matter how trustworthy a broker looks, you should never trust the looks only and try your best to examine the broker. That's what we're going to do today with the MYmarketuk Forex broker, which, surprisingly, is a western Forex brokerage.
Is MYmarketuk legit?
First, we're going to start with the broker's license. Now, at the very bottom of the website, you'll see a small notice that mentions various licensing bodies like CySEC, FCA, BaFin, and MiFID. Are we to believe all of these organs have, at some point in time, regulated MYmarketuk?
If it were so, it would've been the end of our discussion because all of those financial institutions have a very high profile and represent the beacon of high financial standards. Here's their full denominations:
CySEC – Cyprus Securities and Exchange Commission
FCA – Financial Conduct Authority of the UK
BaFin – Federal Financial Supervisory Authority of Germany
MiFID – Markets in Financial Instruments Directive of the EU

As you can see, these licenses represent some of the most developed countries and organizations in the world. However, in our MYmarketuk opinion, it's not entirely obvious that these institutions have actually provided a license to the broker.
The reason for that is simple, yet quite significant: across the EU, the maximum leverage that is agreed upon by various governmental institutions is 1:200 in Forex, while for other securities it can come down to 1:30, etc. Yet MYmarketuk takes a huge leap and offers a whopping 1:500 leverage, which we'll discuss more thoroughly in the upcoming section.
For this reason, we're leaning towards the idea that MYmarketuk is an unregulated Forex broker and the above-mentioned high-tier institutions are just a charade and nothing more.
What does the website look like?
Coming up, let's take a closer look at the website. When it comes to the design of the website, there's nothing much to say about it: it's pretty regular for a Forex broker – not too overcomplicated imagery and not anything fancy like that. The interface looks clean and fresh – something that facilitates decent website navigation.
However, when it comes to the informative aspect, we cannot say the same thing. While we found vague details about important trading conditions, there was virtually no information accompanying the features like the leverage, spreads, etc. A credible brokerage always follows up with its trading conditions, explaining how they work and why they might be dangerous to the clients – something that MYmarketuk doesn't do.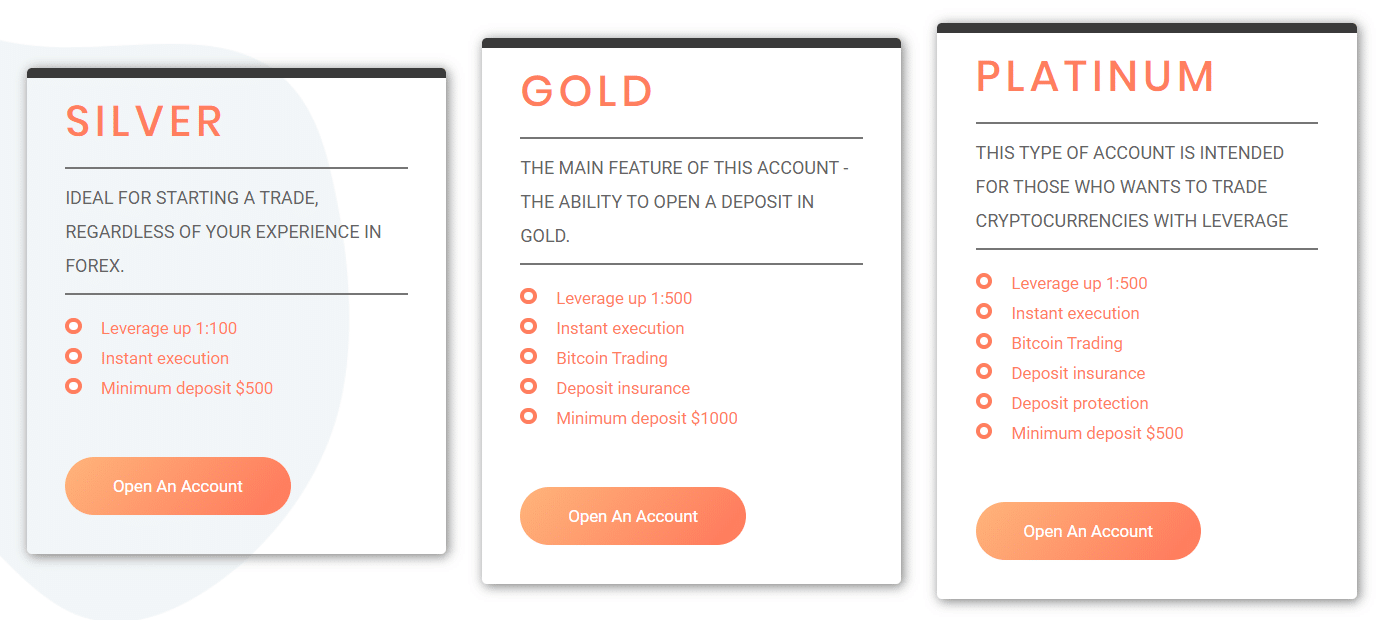 After the brief look, we went on checking out trading accounts. At MYmarketuk, there are three different account packages:
Silver – $500 min. deposit
Gold – $1,000 min. deposit
Premium – $500 min. deposit
The high-tier accounts come with the ability to trade Bitcoin, as well as have deposit protection and deposit insurance.
As for trading platforms, we only found the MYmarketuk WebTrader and mobile platform, which is not something to look at lightly. You see, universal trading platforms like MetaTrader or cTrader have a huge customer base that monitor everything that's going on on the platform, which means the broker cannot easily incorporate scams without being noticed. With a proprietary WebTrader, however, MYmarketuk can easily do that and no one will be able to find a scam within the platform.
Are MYmarketuk promotions legit?
Last, but certainly not least, let's take a look at what MYmarketuk promotions look like. First off, we have to point out that the diversity of trading instruments is something that should be commended. You can trade:
Forex pairs
Commodities
Stocks
Cryptocurrencies
Despite this level of diversity, we have to point out that the conditions that accompany these instruments are too overzealous in our opinion. As we noted above, MYmarketuk offers a whopping 1:500 leverage, even though the institutions it has named clearly oppose leverage ratios that go higher than 1:200.
This much leverage indicates that the broker doesn't really care about how dangerous it can prove to its clients. While it can certainly increase profits by x500, it can do exactly the same to losses. And a loss that's five hundred times big can easily be destructive of the whole trading account.
We have the same suspicions about spreads. When we browsed through Forex pairs and their market numbers, we found that the minimum spread can go as low as 0.1 pips. This is suspicious because as you may already know, Forex brokers mainly depend on spreads to fund their platforms. The spread that goes this low indicates that the MYmarketuk FX brokerage may have some shady ways to fund its services.

Then there's the minimum deposit requirement that is too high for the basic trading account. As you already know, MYmarketuk charges $500 to its Silver account holders. Now, the specs of this account are limited to the extent that they're not useful for experienced Forex traders, whereas the beginners, who are the clear targets of this account, won't likely be able to afford this account anyway.
While checking out the website, we tried to find any type of bonus available on the platform. Unfortunately, we weren't able to find anything at all.
Finally, we also tried to find anything that would give us an idea about payment methods, however, we were still unable to determine whether MYmarketuk supports credit cards, bank wire, or other payment methods. This is something that every broker should disclose and omitting it only shows that the MYmarketuk scam may actually be real.
The ultimate MYmarketuk opinion
Now that we've reviewed MYmarketuk and its trading platform, it's time to get to the final verdict. So, should you trade with this broker? Is it trustworthy enough to make financial commitments to it?
In our opinion, it's not the best idea in the world. MYmarketuk clearly doesn't have a specific license, even though it claims it has lots of high-tier licenses; the website may look nice but it falls behind its informative aspect; and trading terms and conditions look too oversized, while some details are simply missing from the platform.
Based on all that, we think that the MYmarketuk Forex broker cannot be trusted at this point. You should try to find a more trustworthy trading counterparty.