NSBroker review – can you trust this broker?

Forex trading is one of the biggest industries of the online financial world today. It generates billions of dollars and combines thousands and even hundreds of thousands of brokerages all around the world. And in this ocean of brokers, it might be particularly difficult for a newbie Forex trader to pick the most appropriate and credible one. Boy, even the experienced traders have this issue a lot of the time.
When looking for your "perfect" broker – although no one is perfect – you need to make sure that they: have a credible licensing material, offer the most down-to-earth trading conditions, and their website feels like it's made by a professional.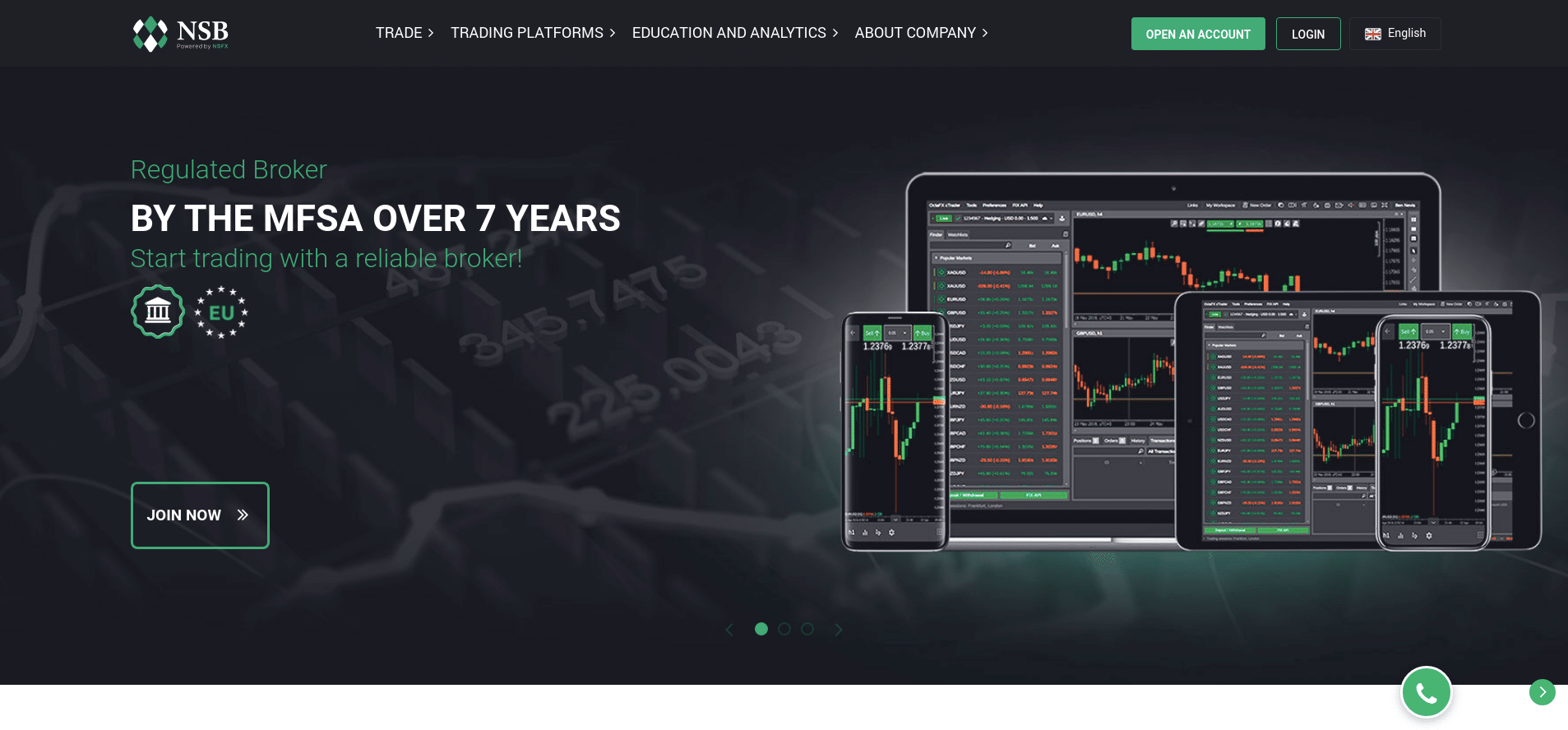 In this review, we'll take a look at NSBroker FX brokerage and see, how its regulatory framework, trading conditions, and website stack up in real life. But first, let's make a brief overview where we set the general tone of this article.
First impressions
In the introduction, we outlined three main aspects that are crucial for every Forex broker on the market, and they are arranged in the descending order – from the most important to the less. But for the sake of this review, let's turn this list upside down and start from the most superficial – although no less important – aspect, the website.
The website
At first glance, the nsbroker.com does look an overly comprehensive website where every detail about NSBroker is showcased. And while some of them are, we had a hard time finding the other pieces that are also pretty important – more about it later.
In terms of the overall aesthetic, we cannot help but feel that the interface looks a bit too overpowered with its imagery and visual decoration. However, we have to admit that there are little to no transition and other fancy effects that are totally unnecessary for these types of websites.
One of the biggest downsides and the first indicator of potential NSBroker fraud is the fact that the broker has no actual account separation of any sort. There's only one live account with the same trading terms and conditions and one demo account with virtual trading capabilities.
The NSBroker rating for its trading indicators
When it comes to the actual trading offerings, that's where we had to dig a little deeper just to find what NSBroker is offering. Yes, the first page offers the maximum leverage indicator alongside regulatory materials and trading markets, however, when we went to look for spreads and minimum deposit requirements, we couldn't find any actual data on them. We had to do a little math to calculate spreads; for the minimum deposits, we had to use Google and the previous indicators that were set in the past.

As for how you can deposit and withdraw your money, NSBroker offers seven different payment platforms that include both conventional methods like credit cards and the bank wire as well as somewhat unconventional Skrill and Neteller. However, all of them come for a certain price.
To be fair, the trading platform looks pretty decent to us. MetaTrader 5 is the most recent version of the software that contains all the recent charts and tools necessary for a successful Forex trading experience.
Licensing
Even though the internet isn't exactly full of NSBroker reviews and opinions to provide us with clear-cut conclusions, with the help of the licensing material, we can pretty much uncover the hidden flaws and inconsistencies.
As NSB claims, it has several regulatory pieces from different countries, including MFSA, MIFID, FCA, BaFin, AMF, and CONSOB. Now, there could be a somewhat equal chance of the broker being either a scam or the real deal. However, we have some suspicions that this balance tilts more towards the scam. We'll do a detailed review of those licenses in a separate chapter.
The nsbroker.com review
We live in a world where practically every entrepreneur, business, or individual has their own website – that's, of course, when they're trying to communicate with people for various reasons. And Forex brokers are no exception in this sense.

They develop their websites for the same purpose as everyone else – to convey certain information about themselves. And some of them do a pretty good job in it, we have to say. Their websites are sophisticated enough so that it's incredibly easy to find anything interesting to you, while all at the same time the interface is simplistic and not too overpowered.
As we mentioned in the general overview, some of the features of the NSBroker's website are pretty decent, for instance: the interface isn't too stuffed with transition effects that distract the users. However, there are certain areas where a dark-grey background seems a bit too much. But it's not a big deal comparing to this next point – access to the information.
While the whole interface is separated into four sections – Trade, Trading Platforms, Education and Analysis, and About Company, it's still incredibly hard to find what you're looking for. For instance, we tried to find the spread indicators and minimum deposit requirements and never got the chance to actually find it.
Plus, what deepens our NSBroker scam suspicions is the absence of specific account types. There are only two types of accounts – live and demo – and the only usable account between the two is the first one. This indicates that the broker doesn't really think about its beginner customers who want to make initial efforts into Forex trading without spending too much money.
What the numbers are telling us
Let's now turn out attention to the actual numbers. We'll start with the maximum leverage since the broker only provides this indicator on its first page. This number can reach up to 1:100 which is not that high considering the market average of around 1:250.
With this rate of leverage, you can increase the actual trading funds by 100 times which yields higher profits for you and high revenues for the broker. But still, it's not an overly exciting offer that can somehow make NSBroker stand out.
Next up, spreads. While there was no actual section where we could find this indicator, a little math made things a lot clearer. As it turns out, the EUR/USD Forex pair has a minimum spread of 1 pip which is significantly higher than what other brokers are offering.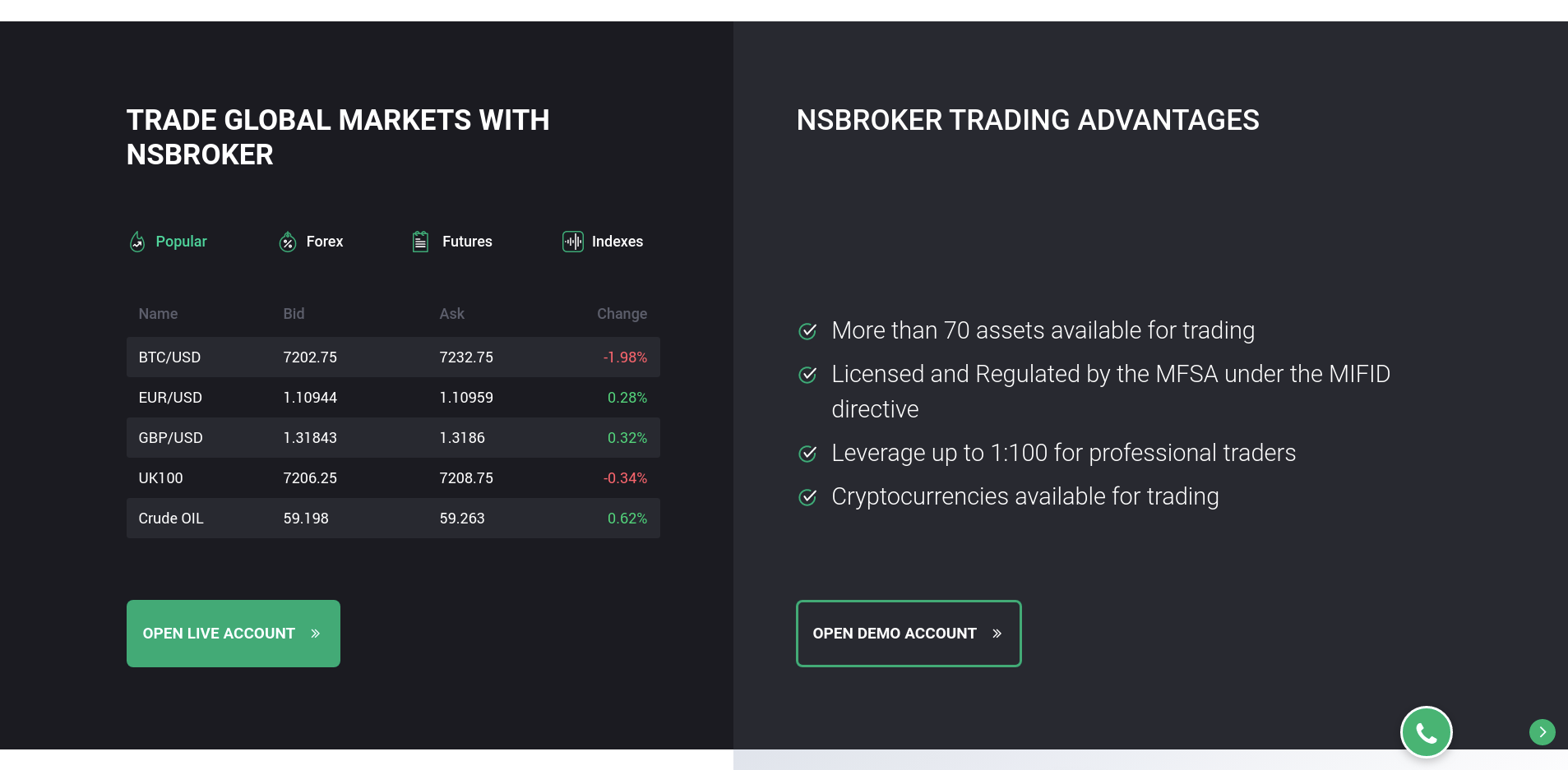 As for the minimum deposit requirements, there's still no indication of how much you should deposit on your account. Here, Google provided us with answers: in the past, NSBroker used to charge its customers with $300 for the initial deposits. This, added to the fact that there's no account separation of any sort, can easily discourage many prospective traders from making their first Forex trading attempts.
Since we're talking about deposits, let's take a look at the NSBroker withdrawal and deposit options. On its platform, NSBroker offers traditional methods like Visa/Mastercard and bank wire, as well as more alternative ones like Skrill, Webmoney, etc. While deposits are instantaneous and have no commission fees, the withdrawals take from one to two days to complete, and the Skrill/Neteller transactions are charged with 2.9% commission rates.
How can NSBroker be trusted with its seemingly comprehensive licensing?
And last, but not least, licensing. We've mentioned earlier that the regulatory material can easily uncover some of the hidden quirks and flaws of the broker. And it couldn't be truer for NSBroker. While it claims to have various licenses from MFSA, MIFID, FCA, BaFin, AMF, and CONSOB, we have some second thoughts about them.
In this seemingly myriad of licenses, the actual license that came after the broker's registration is MFSA. This abbreviation stands for the Malta Financial Services Authority which is the main financial regulating body of the country. Now, some people might think that this is a credible license but for us, it's totally a scam. Malta is known for its openness towards risky financial endeavors – be it gambling or online trading. And having its license doesn't mean that NSBroker has a lot of restrictions.

And when it comes to other licenses, even the broker doesn't specify what kind of compliance do they require from it. Plus, NSBroker doesn't even provide service to the US citizens – pretty self-explanatory, if you ask us.
The reason why NSB Forex broker would want to showcase its hypothetically comprehensive regulatory compliance is to trick its customers – to make them believe that it cannot possibly do any harm to them and their finances. Plus, brokers like this want to cover their illicit activities from powerful governments like the above-mentioned United States, so that they can get away with whatever Ponzi schemes they're creating.
Should you entrust your money to NSBroker?
We've made this comprehensive review for one reason and one reason only: to discover the hidden truths behind NSBroker's claims. And what we've dug up isn't particularly exciting or promising.
The broker's website lacks any sophistication in terms of information accessibility – one needs to make a comprehensive research to find out certain trading terms and conditions. But it still wouldn't be enough for, say, spreads and minimum deposit requirements.
In terms of the actual numbers, the NSBroker offers underwhelming conditions like 1:100 leverages and 1 pip for spreads. But those are quickly overshadowed by a big deposit commitment of $300.
And when it comes to licensing, our NSBroker opinion gets even more concrete. The broker claims to be under the regulatory oversight of six different countries while in reality, only Malta has the biggest say in this. Again, Malta isn't the country that can significantly limit NSBroker's brokering activity by any stretch of the imagination.
In conclusion, we'd strongly suggest against trading with this broker for the sake of your own financial stability.