One Royal Review – Is this what you're looking for?

What is a decent Forex broker? Why are they so sought-after these days and why is it hard to actually find one?
These are the questions that bug the whole Forex trading industry. Unfortunately for traders, scammers have crowded the market with their fraudulent schemes and tricks. They've found a way to become dangerously similar to trustworthy brokers and make their platforms more appealing.
But it's also dangerous to the legit brokers too; they're the ones that have to defend their reputation, instead of customers proving their fraudulent.
But worry not, our team at Forex Trading Bonus is here to guide you in the process of selecting the right Forex broker for your needs. In this One Royal review, we're going to take a look at what exactly is on offer and how you should feel about those offerings.
The initial One Royal opinion
Before we delve deeper into the comprehensive review of One Royal, let's take a quick tour of all the details we're going to examine here. One Royal is a Forex broker established in 2006 and with that experience, it has created a seemingly believable and legit trading platform. However, we cannot help but feel a kind of hinge about it.
The website overview
One of the main reasons for that is the website. You see, we're always after a website that conveys simplicity and functionality, instead of fancy looks and visuals. Yet it's exactly the opposite that we see with One Royal's website: it is definitely overcooked with its crazy-fancy color scheme and parallax effects.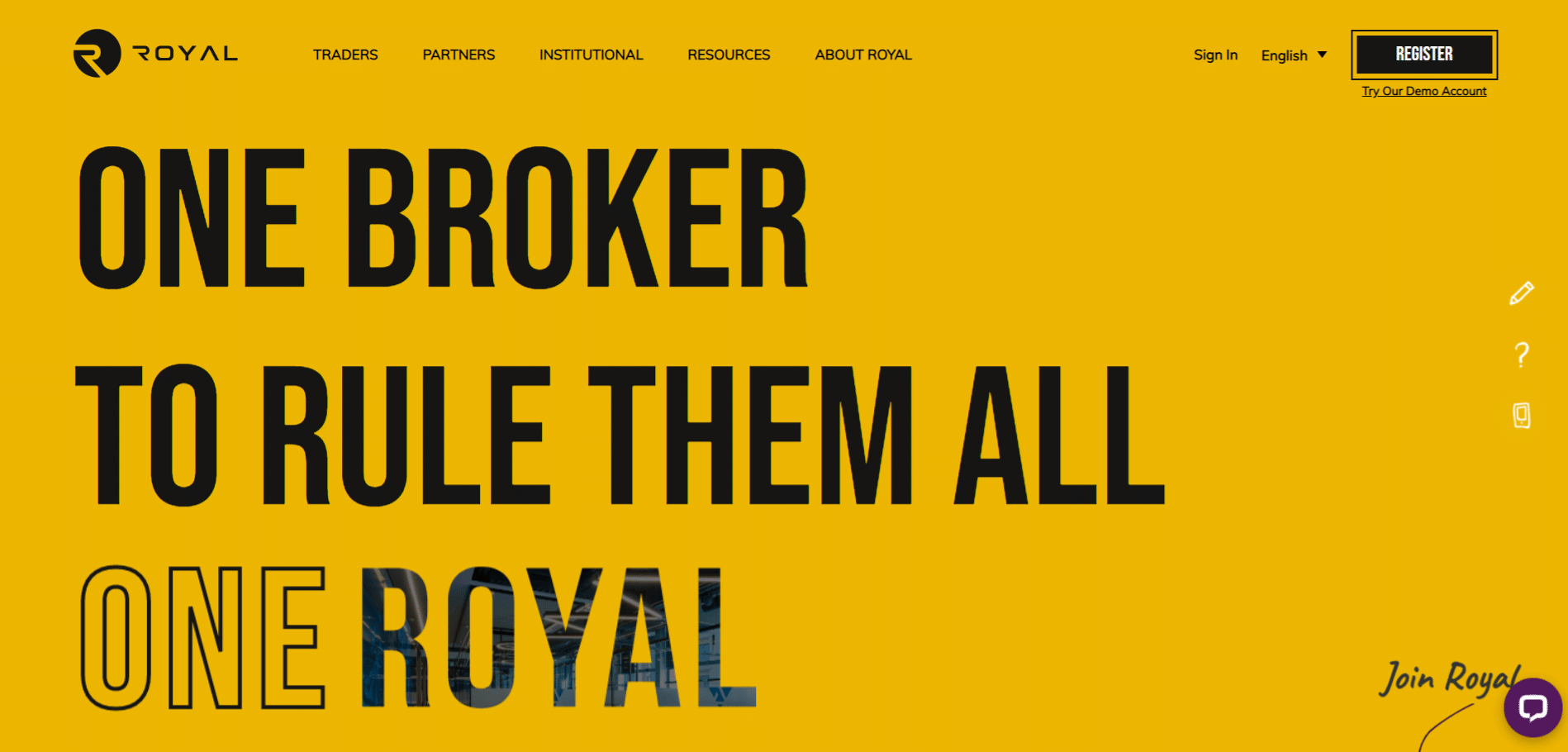 This negatively affects the informative aspect as well. Even though there's almost everything you need to know about trading terms and conditions, you'll still have a hard time getting through that dense website design.
As for trading accounts, the One Royal Forex broker features two categories of three live accounts: Zero Commission and Raw Spread that are further divided into Classic, Premium, and VIP account types. Granted, these accounts are diverse in many ways, the deposit requirements are still very large and inconvenient.
Finally, we'll talk about trading platforms. At One Royal, you're only going to MetaTrader 4 to trade all the different instruments. The software itself is pretty streamlined and stable, however, it isn't the most sophisticated one in the world, especially when compared to its younger brother, MetaTrader 4.
What about the license?
Next, we're going to talk about the broker's license. At first glance, one can easily get overwhelmed by the multitude of licensing pieces: CySEC, ASIC, CMA – it can definitely weigh heavily on a beginner trader.
However, we have learned to control our presuppositions and try to look through things. And as we've done that with these licenses, we found out that the main license that actually regulates the broker is CMA from Lebanon – not the strongest regulatory pieces in the world, thus, our One Royal scam suspicions are slowly increasing.
A quick look at trading terms and conditions
The final piece of our puzzle will be the broker's trading terms and conditions. The leverage offered at One Royal can go as high as 1:400, which is suspiciously high for a broker that is regulated by CySEC – or is it?
The same can be said about spreads. Even if you don't choose the Raw Spread account with 0 spreads, you're still getting a very low 0.7 pip spread. We'll explain why this is suspicious but for now, let's say that a broker heavily depends financially on its spread quotes.
Then we move to the minimum deposit requirement, which is, surprisingly, pretty normal at $50. Yet when it comes to the One Royal withdrawal and deposit methods, we're not so convinced about their convenient nature. The broker supports credit cards, bank wire, cheque, and a couple of e-wallets – and that's pretty much it; no PayPal or Bitcoin for more safety.
A more comprehensive Oneroyal.com review
Now that we're done with our brief rundown of the details, let's take a closer look at One Royal and its platform, starting off with its website.
The first impression we had of the website was that we thought we suddenly appeared in a Quentin Tarantino movie or something. Honestly, what are those super-fancy slide-over effects and that rich yellow background? Are we really in a movie and all of those effects its opening?

We would highly appreciate a much toned-down interface that conveys simplicity, not overzealousness. It would greatly affect the informative aspect of the website as well, because when we tried to find anything about trading details, it was just too difficult to stay concentrated on one thing.
After that, we moved on to examine trading accounts at One Royal FX brokerage. As we have noted in the brief overview, there are, in total, six different accounts: three for a Zero Commission category and three for a Raw Spread category. These accounts have very far-apart minimum deposit requirements:
Classic – $50
Premium – $20,000
VIP – $100,000
Sure, they are different in some sense, like in the availability of dedicated account executive or trading on steroids (whatever that means), but we still don't think such a steep transition from one account to another in terms of their deposit requirements justifies those differences.
Finally, we went to check out trading platforms offered by the broker and found that there's only MetaTrader 4 to account for all trades. Now, MT4 is a really good trading platform for Forex because it supports a limited number of instruments, and it just happens that there are around 200 Forex pairs too.
However, due to the same limitation, it's not the best platform for cryptocurrencies, shares, indices, and commodities – all of which as supported at One Royal. Besides, there aren't many trading tools available for this platform, which is why our One Royal opinions would be much higher if there were MT5 alongside its older brother.
Is One Royal legit with its licenses?
Okay, now that we've torn down the broker's website, let's talk about how its licenses fare. As we have noted, One Royal boasts with its three licensing materials: ASIC from Australia, CySEC from Cyprus, and CMA from Lebanon.
Now, if that claim was true and the broker really had all those licenses, we wouldn't have any suspicions about the credibility of One Royal. Australia and Cyprus are among the top-tier licensing countries for Forex brokers and it would be quite difficult to deem a brokerage fraudulent under their jurisdiction.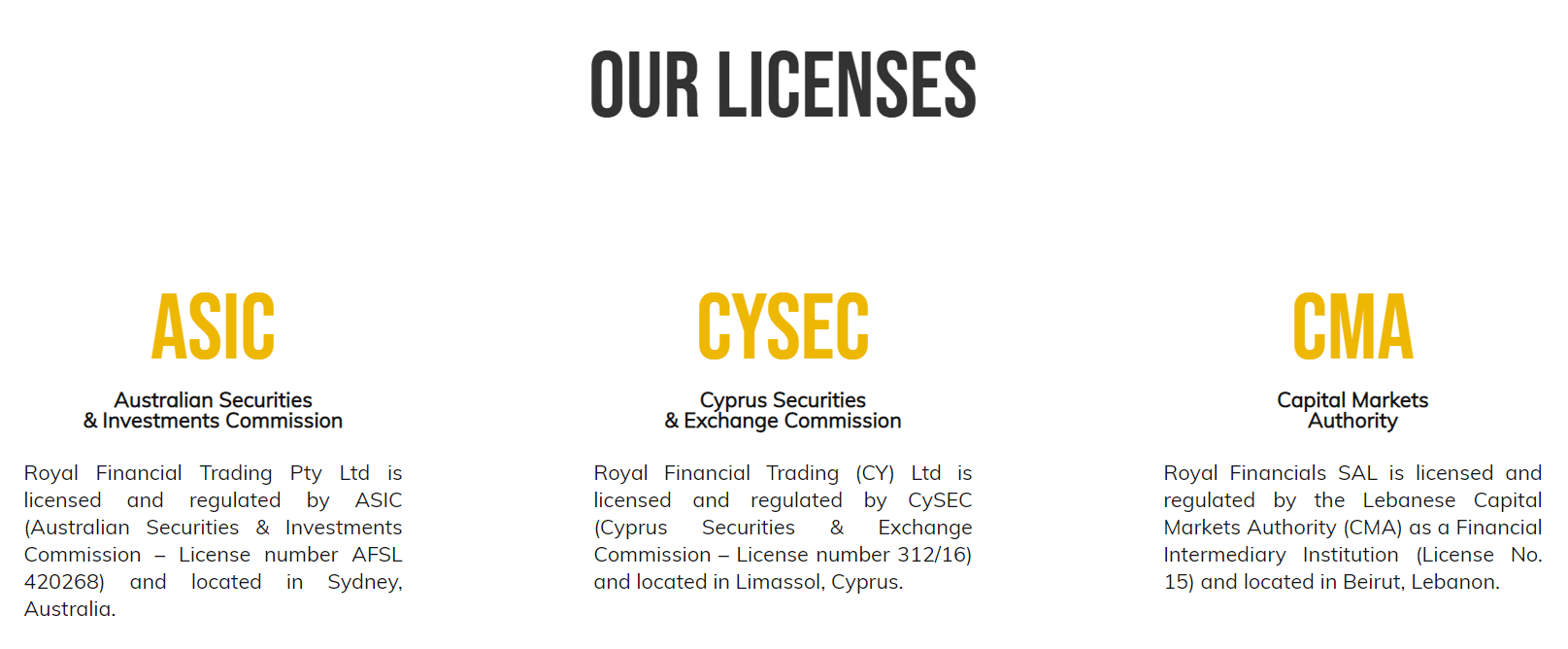 But as we dug deeper into the platform, we have found out that One Royal was actually established in Lebanon back in 2006 and the only true license it holds is from the Capital Markets Authority (CMA) of Lebanon. And it goes without saying that Lebanon isn't the strongest country to entrust the broker regulation to.
For that reason, we think that the One Royal fraud reports found on the internet may actually be true, especially if we also consider its floppy website and bloated trading conditions.
Should you trust fancy One Royal offerings?
Speaking of trading conditions, let's end our review by discussing various numbers and offerings of One Royal. First, we'll take a look at the leverage and spreads. The biggest suspicion we have about a 1:400 leverage is that it doesn't comply with the guidelines put forward by the CySEC license. In the EU area, brokers can offer a maximum leverage of 1:30 on Forex pairs, yet One Royal clearly goes a lot further than that with its 1:400 leverage.
Then there's a ridiculously low spread charge. If you choose Raw Spread accounts, your trades won't be charged with bid-ask spreads; yet even if you choose the Zero Commission account, spreads will still be low at 0.7 pip. Either way, the broker encourages our suspicions: if there are such low spreads and even commissions are quite low, how can One Royal support its platform? We think there are hidden fees and fraudulent sources of income in play here.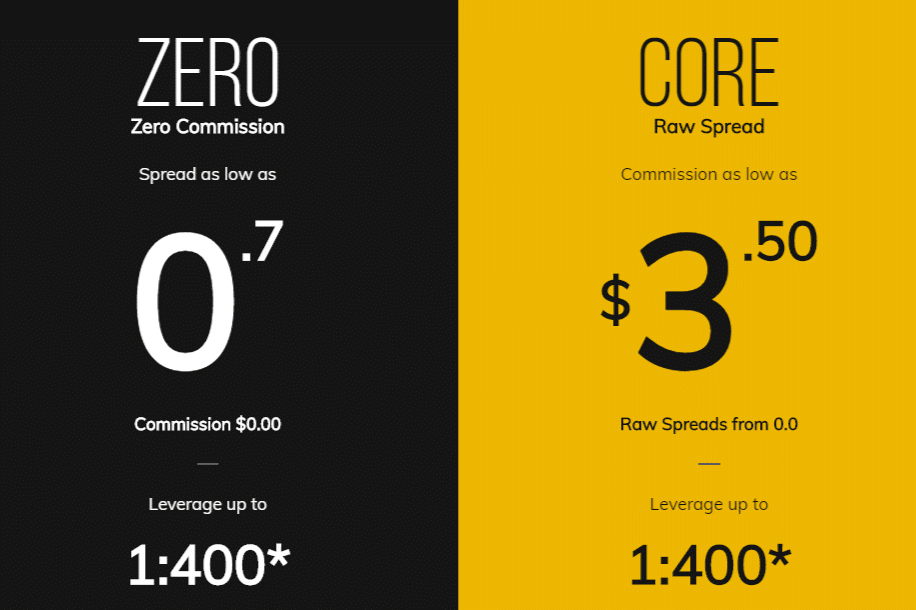 Next up, let's talk about the minimum deposit requirement. As we noted earlier, the One Royal Forex broker has a pretty decent $50 deposit requirement, which is not too low but definitely not high. However, we have seen that the transition from the Classic account to Premium is too great in terms of their minimum deposit requirements – something that considerably downplays the affordable nature of the initial $50 threshold.
When it comes to making those deposits, as well as withdrawals, you're pretty limited in financial platforms. Plus, to actually find out which methods you can use, you have to read a full Deposits and Withdrawals document. And once you do, you'll find out that the broker supports credit cards, bank wire, cheques, and some e-wallets (Neteller, Skrill, and OMT). This is a poorly-diversified financial platform that lacks security or the ability to make quick One Royal withdrawals and deposits.
Our final verdict of One Royal
So, now that we've discussed every little detail found during this One Royal review, let's summarize our thoughts and impressions:
One Royal is a Forex broker that has a very outrageous website in terms of its design and visual effects. It even downplays its informative aspect, which is not that bad in all honesty.
The broker offers six individual accounts that fall into two categories. For us, this level of diversity is definitely a plus, but the differences between the actual accounts don't really justify overzealous minimum deposit requirements for them.
When it comes to the broker's license, we can say this straight-up: One Royal only has one license from the CMA of Lebanon, even though it claims it has more from the CySEC and ASIC of Cyprus and Australia respectively. And that one license is less than enough to ensure high financial standards at One Royal.
Finally, there are 1:400 leverage and 0 spreads, which further deepen our suspicions that One Royal may actually be a scam. The broker also doesn't have a very diversified payment platform, only featuring credit cards, bank wire, and a couple of e-wallets.
All in all, our final One Royal rating is going to be 1.5 out of 5. We certainly cannot recommend this broker to any of our readers: your safety is more important than a one-in-a-million chance of the broker being legit.