Pepperstone FX Broker – Everything You Need To Know About This Broker?
Many financial brokerage companies are emerging in different locations around the world, making it difficult for the trader to decide on the best broker. However, there are some indicators that a trader needs to look after in order to decide if a specific broker can be trusted or not.
Today we will be discussing a genuine financial broker from Australia, in this Pepperstone broker review, we will be looking at the offers, features that are offered by this financial broker, and what are the regulations around the broker.
Pepperstone Forex broker was established in 2010, right after the economic reforms took place in Australia, and reliable financial brokers started coming into existence. Pepperstone broker is regulated by the financial authorities in Australia, as it operated under the ASIC license as a trustworthy broker.
Perpperstone offers leverage that can go up to 1:500 for professional traders, while the leverage for retail traders is adjusted according to each jurisdiction, with a variable spread that can go as low as 0.0, and two types of accounts where AUD$ 200 is the minimum deposit required to start your first trading account. Traders can use a wide range of currencies such as AUD, USD, JPY, GBP, EUR, CAD, CHF, NZD, SGD, and HKD, trading using the MetaTrader4, MetaTrader5, and cTrader.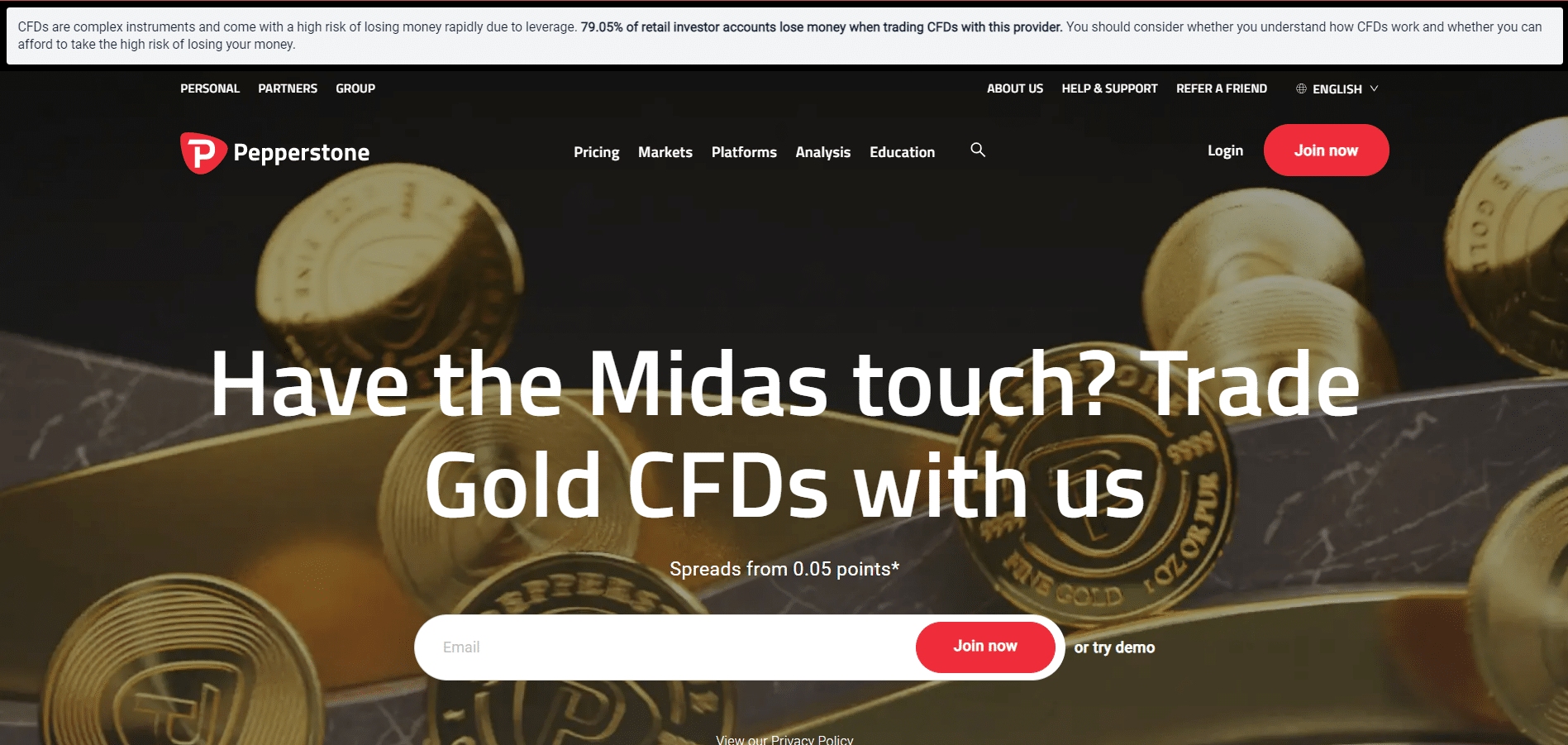 Opening Your Trading Account
Similar to any other registration process, it takes a few minutes to sign-up with Pepperstone FX broker, once you find the "Join now" button on the top-right corner, you will be redirected to a window where you create your account by inserting your email address and creating your password first, to complete this process you are going to receive a verification link to your email, which is the first security level to get yourself registered with Pepperstone.
Then you have to insert your personal information in the application form, followed by any proof of identity that shall be submitted to guarantee that you are a real person, and to guarantee the safety of other traders, that the broker is not registering any financial criminals or any scam bot.
After that, you will encounter a small questionnaire that will help your broker know more about you, your experience, and your expectation from trading to cater the best brokerage services to you. Once this is done, you are ready to fund your account and start trading.
Types of accounts
As we see in pepperstone.com there are two types of accounts, Razor and Standard, and the difference between them is about the spread ranges that are different among different assets, and the commission fees charged for different trading activities. Razor account tends to have a tighter spread and it can even start from zero
Razor account is mainly advised for those who already have some trading experience, while the other type of accounts, the Standard account is recommended for beginner traders as it is simpler to use.
However, both accounts have a minimum deposit that starts from AUD$ 200 as a start, and leverage in both accounts can go up to 1:500. Pepperstone FX broker determines the minimum trading lot size as 0.01 and the maximum tradable lot size as 100 while accepting hedge funding, scalping, and news trading.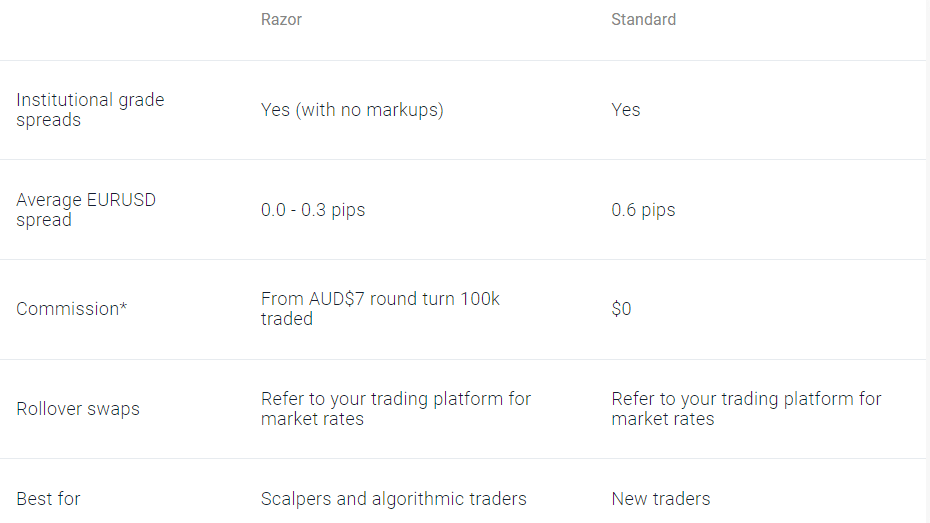 Is Pepperstone legit?
Pepperstone started its operations right after the great reforms that took place in Australia, where the authorities started to heavily regulate the financial services industry there, and Pepperstone is safe since it is authorized by the ASIC license that is issued by the regulatory body in Australia.
ASIC license has evolved so much that it became similar to the top-notch licenses in Europe, South Africa, and the United Kingdom, which means that any financial broker working under the license of the ASIC are considered heavily regulated and undergo strict guidelines of behavior
Besides the ASIC license, Pepperstone has also acquired CMA, SCB, DFSA, and most importantly CySEC and FCA, which are the top licenses that regulate the financial services in Europe and the UK, and companies acquiring these licenses are highly reliable by all investors around the world.
In addition to holding valid licenses, Pepperstone is handling trade activities for more than 300,000 traders around the world from different markets, on an average of $21.55 billion worth of trading every single day, which indicates that Pepperstone is trustworthy since many traders trust this broker.
Tradable assets
There are plenty of choices that fit every trader's preference, Pepperstone Forex broker offers from more than 1200 instruments, such as Forex, Cryptocurrencies, stock, indices, commodities, and currency indices.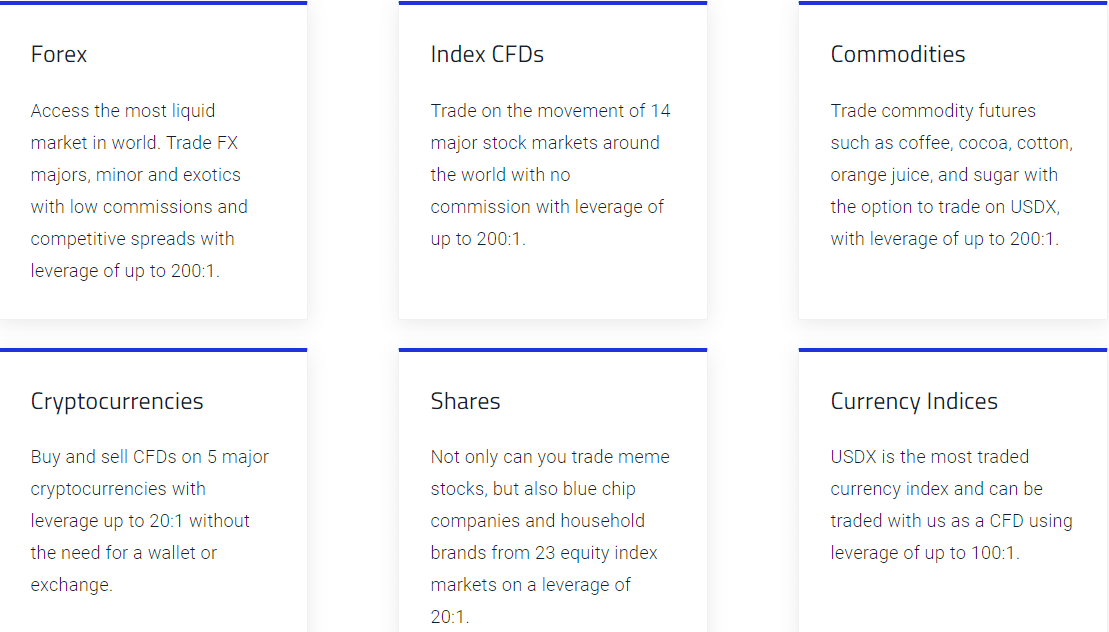 Forex
One of the largest, most active, and most volatile financial markets in the world, Pepperstone offers more than 60 currency pairs that are available.
The maximum leverage offered by the broker is 1:200, and variable spread, which can start as small as 0 pips on major currencies for the Razor account type.
Cryptocurrencies
Today's most exciting financial market, where millions of traders are trading digital currencies, starting from Bitcoin to Ethereum, Litecoin, Ripple, Dogecoin, and other cryptos that are offered by the broker.
The leverage offered on cryptocurrencies can go up to 1:2 for retail accounts and to 1:10 on Pro accouns, and the spread is variable it depends on the currency and on the type of account, where the average spread for Bitcoin is 31.39.
Stocks
Pepperstone financial broker offers stock CFDs of more than 600 corporations around the world to be traded using its platform, these corporations are located in the US, the UK, Australia, and Europe, making Pepperstone a hub for several hundred companies' shares available for traders.
The maximum leverage offered for traders is 1:5, with variable spreads that are different according to the corporation and the market.
Indices
index of NASDAQ, S&P 500, UK 100, and more than 20 other indices from North American, Africa, Asia, and Europe are available for traders.
The maximum leverage offered for CFDs on Indices retail is 1:20, while spreads are variable and change according to the index itself and according to the account type.
Commodities
Commodity trading is probably one of the oldest forms of trading where products and goods are traded nowadays such as crude oil, natural gas, minerals, and precious metals, all these others more than 17 commodities are available with Pepperstone broker.
Leverage can go up to 1:20 on ASIC licence, while the spread is variable and can be as minimum as 0.05 on gold for example.
Currency indices
Not every financial broker offers the currency index for trading, however, Pepperstone financial broker offers the US Dollar index, Euro index, and Japanese Yen index.
The leverage 1:5, and the spread is 6 for the USD index, while for the Euro index and the Japanese Yen index the spread is 1.
Trading platforms
Pepperstone cooperates with main trading platforms such as MetaTrader and cTrader, which are the most commonly used trading software between traders, and almost every trader knows how to trade with it. Since MetaTrader is provided, this can indicate that Pepperstone can be trusted, because MetaTrader as a trading software only partners with reliable brokers.
cTrader is distinguished for its design and the way it represents the charts and the visuals that a trader sees on the trading software, it offers advanced options such as stop-loss and take-profit, and can be used on desktop as well as tablet and mobile phone.
Pepperstone MetaTrader 4 and MetaTrader 5 come with more than 50 indicators that help the traders, are easy to use, can be directly downloaded and installed from the broker's website, and without interference from another 3rd party, it does not require high computer specifications and can be used on PC/laptop, mobile phones, and tablets.
Payment methods
There might be a lack of information in this regard since detailed information is provided to registered traders. However, it seems that Peppertsone accepts most payment methods, whether for Pepperstone withdrawal or for deposits, as any VISA/MasterCard is accepted, POLi, BPay, PayPal, Neteller, Skrill, Union Pay, and bank wire transfers.
There are no deposit fees that are charged by the broker, however, withdrawals might have different formations for the fees depending on the method the trader is using for the withdrawal. Anyway, what we know is that for wire transfers the only commission fees the broker is charging are the bank's fees which are usually more than AUD$20.
Processing time is also depending on the payment method, where it can be instant using debit/credit cards, e-wallets and online methods of payments can take up to a few hours. However, bank wire transfers can take around 3-5 working days.
Additional features
There is a bunch of other features that are offered by Pepperstone, such as education, market analysis, and some benefits for active traders.
Education
One of the main reasons that Pepperstone opinion is positive among traders, is that they go beyond the concept of just brokers, and they give extra attention to the wellbeing of their traders, by providing them the tools to become independent traders because when a new trader become involved and enabled, they can remain on the platform and continue trading on the same platforms Pepperstone provides.
The education section includes live and recordings of webinars, guides and tips on trading, and courses to learn how to trade on the main financial markets from Forex to Crypto and other markets that exist with Pepperstone.
Market analysis
Pepperstone Forex broker offers the traders all the tools and the recourses that are needed to achieve successful trading, thus, they offer a news hub where all the news, releases, and the last updates on the market are provided here. In addition to that, they give their stance on every news by giving an expert market analysis, and this tool helps the trader understand how the market movement affects their trades and what their next decision is going to be.
Active trader discount
This is a type of Peppertsone bonus that is offered mainly to investors who have spent reasonable time to qualify for discounts and special offers, and to qualify for that a trader needs to be actively trading using a standard amount of lots monthly, for at least 3 months, and the amount of discount is depending on the amount of traded capital each month, the program and the discount are shown on the website as follows.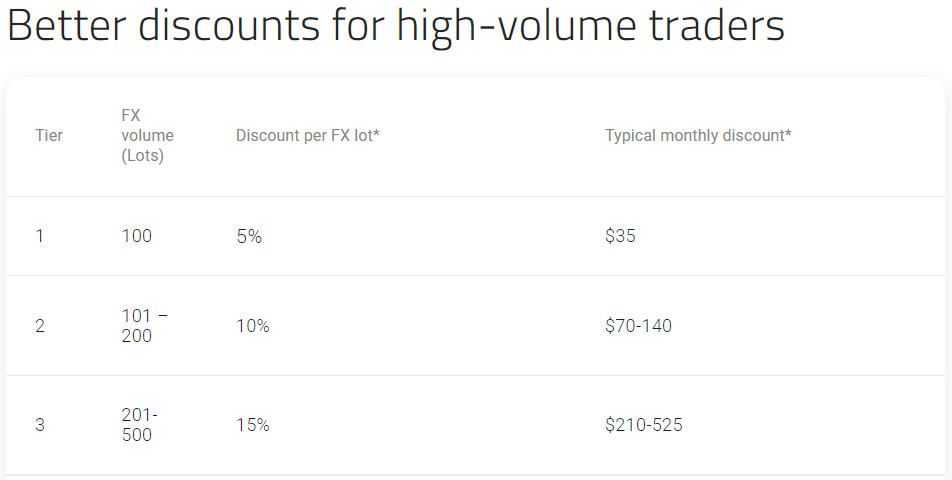 VPS hosting
Using a VPS or Virtual Private Server has grown over the last few years. Since it helps the trader execute their market options on a faster processing time with minimum slippage or delay time, the traders using VPS are provided with virtual computer access in a geo-location that is located closer to the broker, which saves the trader few seconds that are usually needed to process any market decision.
Customer service
There are different ways for a trader to ask for help on Pepperstone as several communication options are available on the website. Traders on Pepperstone can reach out for help using the live chat in order to get fast responses on any question they have whether it is a basic account-related question or a trading-related one that requires the insight of the financial broker.
In addition to that, there are other ways to reach out to the support team, that is by the phone number that is mentioned there, and the team is quite responsive with minimum waiting time to resolve every issue a trader might have, as well as the support emails that are stated on the website.
Our thoughts
To give our verdict after this and other Pepperstone reviews, it is fair to say that Pepperstone broker is one of the most reliable brokers in Australia, from that point on it has evolved to become a reliable broker over the world, and managed to expand its offering span to African, European and Asian countries.
Holding many licenses issued by different regulatory authorities in different continents supports the idea that Pepperstone broker is not fraud due to the heavy regulations the broker is following, and by the testimonial of hundreds of thousands of traders, they have on their platform.
The offering of many tradable assets, in the different market locations, using the most sophisticated trading platforms such as MT4, MT5 and cTrader is mainly what every investor is looking for.
CFDs are complex instruments and come with a high risk of losing money rapidly due to leverage. Between 74-89 % of retail investor accounts lose money when trading CFDs. You should consider whether you understand how CFDs work and whether you can afford to take the high risk of losing your money.
0

out of

5

based on

0

reviews.
Overall rating: