Provident Trade Review : Can you trust them ?

Provident Trade is a newly established Forex broker that has a vibrant user interface. within a year of existence, they have established their policies. we are going to discuss this in our Provident Trade review.
On the site, the forex broker has discussed the fact that they are a regulated company owned and operated by Red Pine Capital, a South African-based private company. Spreads start from 0.4 pips on the site alongside a leverage ratio of 1:500.
As far as trading platforms go, the site gives a couple of options to its consumers. MetaTrader4 is available with several mobile trading software for both IOS and android users. A custom copy-trading platform is also available on the Provident Trade Forex Broker site which is fully integrated with MT4. The minimum deposit on Provident Trade is $500 dollars. This amount of money is 5 times higher than the standard for a regulated broker, which is a hundred dollars.
There isn't much variety when it comes to account types, no mentioning of any details about it on the site. After registering on their site we have concluded that the broker has a standard account and a demo version of it. What they are more than willing to discuss is the asset types that they provide. Trading instruments on the broker's platform include commodities, indices, currencies, and stocks.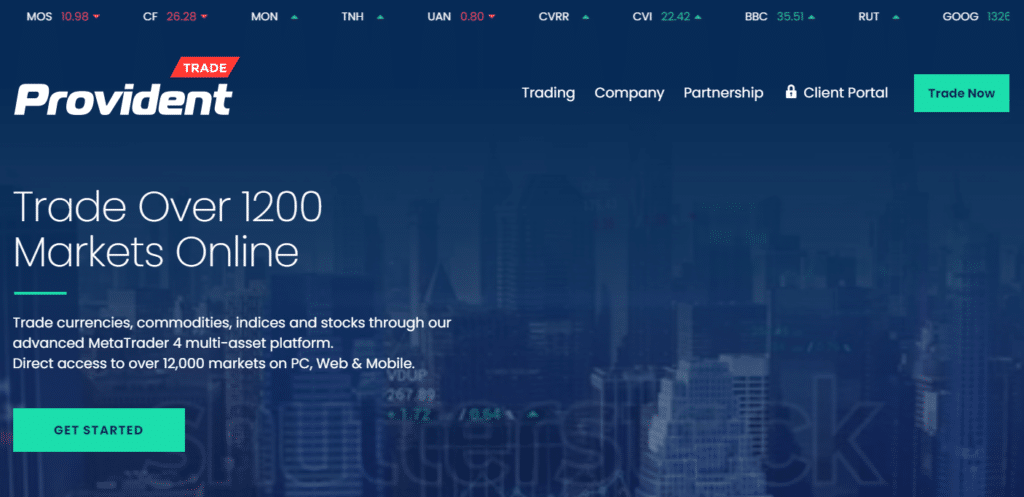 License and Regulation – Is Provident Trade legit?
The Provident Trade site suggests that the platform has an FSCA license, with FSP No. 46044 and that it is based in Johannesburg. We have conducted our research on the very topic of the broker's legitimacy and concluded that they are very faulty.
We were able to locate the operator of the site on the FSCA database. The actual company address is somewhere in Gauteng, not Johannesburg, as the Provident Trade website implies. It seems that even though the force broker is fully regulated they seem to be working outside the regulatory laws of their country. The company has yet to be fined or sanctioned for this behavior.
Provident Trade Review – Trading Features
A forex broker is nothing without its main features like trading instruments, leverages, margins, and many more. In this section of the review, we will dive into the topic of liability on these matters. There's much to be discussed here.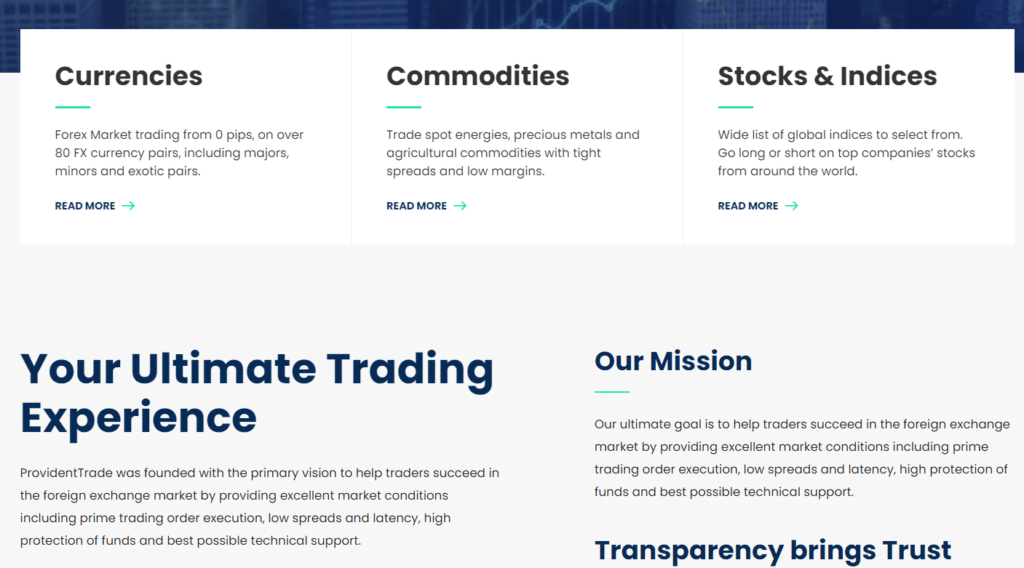 Leverage
Provident Trade FX Brokerage seems to have a leverage ratio of 1:500. This is quite a huge number for a regulated broker to have. It clearly violates yet another regulatory policy, specifically the one about the maximum leverage ratio amount.
This is yet another indicator of the platform not being safe and not follow the guideline of the regulatory authority. Some countries are restricted by the platform, however, they don't restrict users from commonwealth countries like the UK, Australia, and Canada where regulatory bodies have made sure to have a standard number for the leverage ratio which is between 1:30 and 1:50.
Spreads
This is another defining feature of any forex broker. Provident Trade has distinctive spreads for each trading instrument. For Forex market trading the leverage starts from 0 pips. For any other trading instrument, the spread would start from 0.4 pips.
Account types
Provident Trade Forex Broker only has a standard account for all of its users. The same rule applies to each trader. One can also use the platform in a demo mode which gives the traders the opportunity to strategize beforehand to
Minimum Deposit
The minimum deposit on the site is $500. From a Forex broker reviewer perspective, this is quite a high number for a regulated brokerage firm. in fact, it is five times higher than the normal amount which is $100.
Bonuses
Technically the Forex broker doesn't offer promotional initiatives to its consumers, However, the requirements that one has to meet are practically impossible if not tiresome. To be eligible to withdraw the bonus money, traders must execute a $100,000 lot for each bonus dollar issued.
Provident Trade Fraud  – Final Verdict
All in all, we this link that there are multiple factors that indicate that this is not a trustworthy brokerage firm. The site is regulated however they seem to be engaging in illegal activity, violating several regulatory laws. They are not as transparent as they want you to believe so don't trust them with your time, energy, and resources.