An Overview Of Royal Bridge – A Cryptocurrency Broker

The crypto market trend seems to be set by whichever direction the Bitcoin price moves. The world's leading digital asset has been going through wild price swings recently.
This high volatility seems to attract retail traders to the crypto space looking for better opportunities. However, to start, one needs to sign up with a reliable broker, and there are many brokers to choose from; the secret is choosing the appropriate one.
In this write-up, we reviewed the features and elements of Royal Bridge, a broker specializing in crypto assets.
About the brand
Royal Bridge offers traders access to the cryptocurrency markets by creating seamless exposure to their services.
The brand's mission is to offer a feature-rich platform combined with the latest security protocols used in the financial sphere.
Furthermore, they aim to deliver their services at the most competitive rates.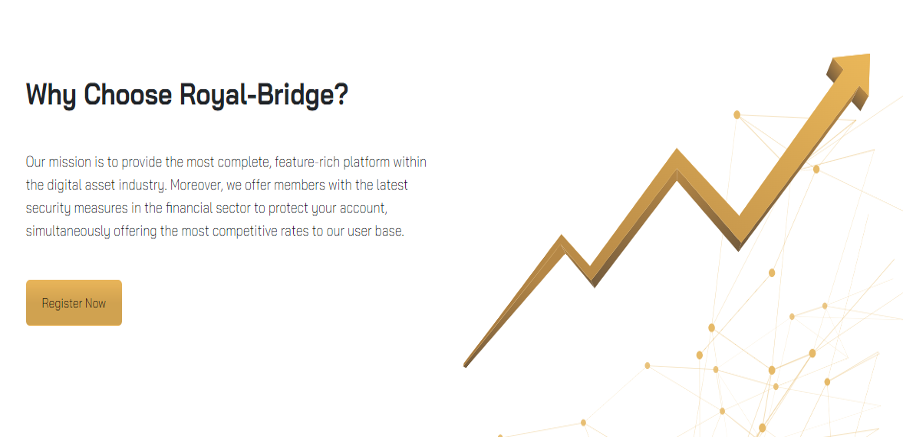 Assets
At Royal Bridge, clients can trade the leading digital instruments and take advantage of the market opportunities. However, you should note that Royal Bridge holds the authority to add or discard any crypto coin from the available list. Traders can log in to their accounts and check the Trade Room to observe the regularly updated cryptocurrency trading index.
Trading platform
Royal Bride's platform offers worldwide usability with a stable and user-friendly framework to approach the digital markets. Members can use the fast trading platform from any laptop or mobile device and utilize the wide variety of offered services and tools.
A diverse collection of technical analysis tools or instruments are also available on the Royal Bridge trading platform to aid users in analyzing the market conditions and studying price movements. Moreover, the platform design incorporates a convenient and easy-to-use interface especially suitable for inexperienced or beginner traders.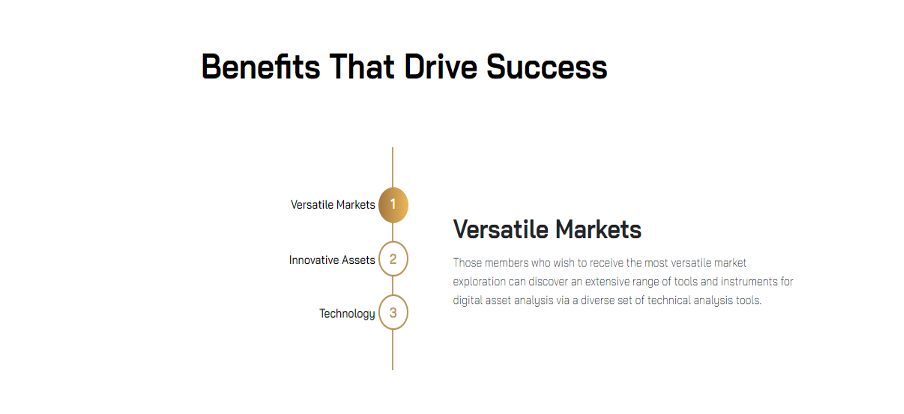 Security
Royal Bridge employs standard policies to restrain money laundering attempts, corruption, or other illegal or prohibited financial activities. The KYC protocol allows the broker to establish the clients' identities and protect their funds. Moreover, withdrawals are only approved when the accounts are fully verified to prevent suspicious transactions.
In addition, the broker suggests the members utilize effective or uncommon passwords and regularly update them to ensure security from their side as well.
Blog
Royal Bridge offers users a blog section on their website. The blog contains valuable articles regarding account safety; they also elaborate on how to master the digital instruments markets.
Users can access the information directly. However, the brand lacks sufficient educational resources about the markets in general.
Pros
Advanced trading platform compatible with all electronic devices.
Solid security network.
Multiple payment methods.
Cons
A higher minimum withdrawal range.
Limited educational material.
Unclear information regarding asset list
Summary
Royal Bridge is a cryptocurrency trading service incorporating a reliable trading platform with multiple charting and analysis tools. It is a web-based solution with a vast crypto-assets collection and swift execution feature, establishing a seamless entry into digital markets. With a robust security infrastructure, the broker provides various services ranging from dedicated customer support to varied payment pathways.