StockFX Review – What should we make of the broker?

Every now and again, you come across a brokerage that seems to have legit offerings and a steady trading platform, yet something deep inside tells you not to entrust your funds with it. That something can often turn out the be the call of reason, which is why it is important to conduct thorough research.
In the following StockFX review, we'll dive deeper into the broker's platform and explore everything from the website and the interface all the way to financial platforms. So, let's get right to it.
The website review
First things first, we have to start with the website and its design because that's the first thing people see when interacting with the broker. With a brief overview, we found that Stockfx.co is a very overcomplicated and overzealous website with lots of visual effects and decorations. The combination of rich reds and dark greys makes the experience a little bit overwhelming, which is an effect that many credible brokers want to avoid.
Then there's the informative side of the website. There are some details that we found pretty easily, such as account types, tradable instruments, and trading platforms. However, we had a hard time finding any detail about the license, date of establishment, or the exact list of deposit/withdrawal platforms.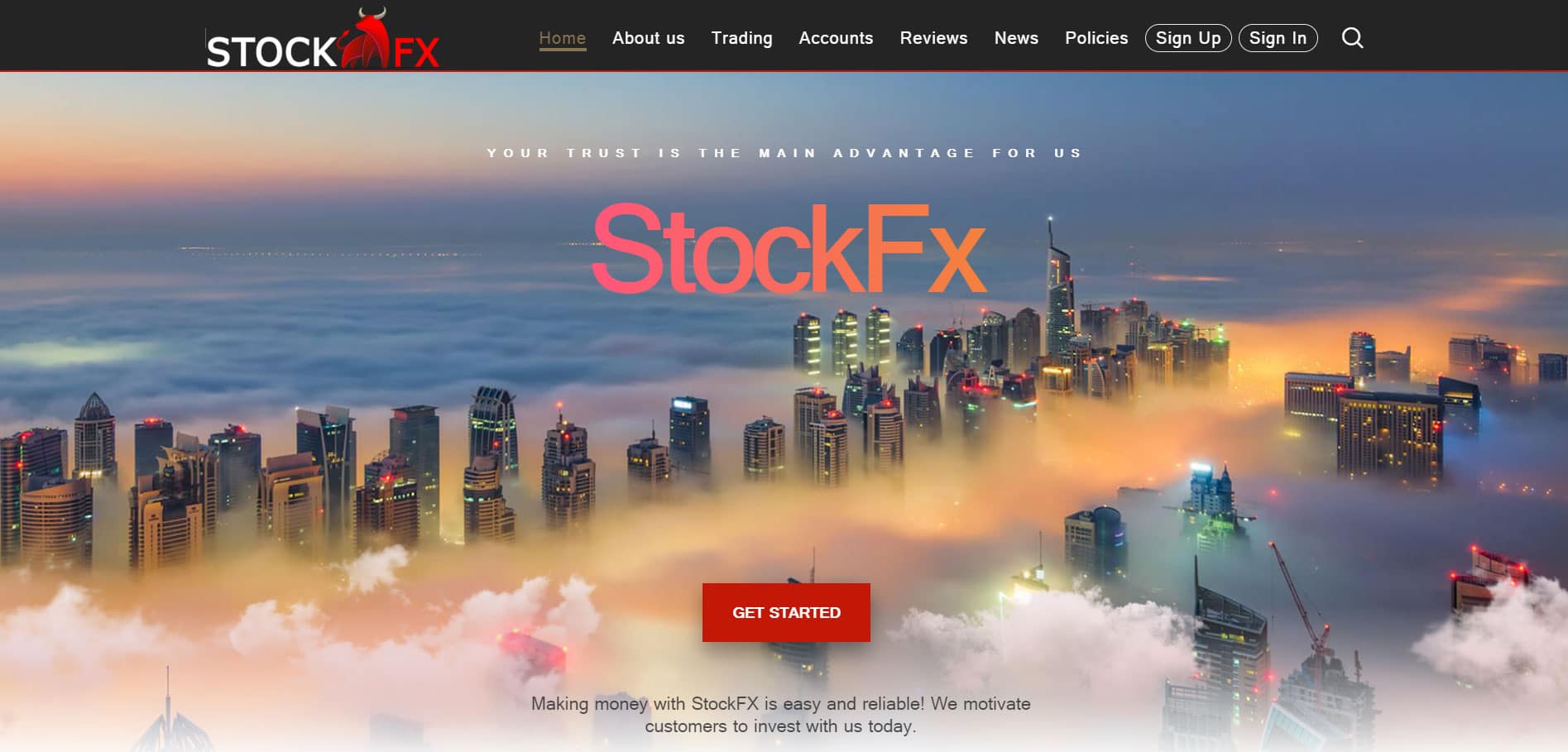 Speaking of accounts, the separation of four different packages is actually one of the bright sides of the StockFX Forex broker: there's Beginner, Trader-Medium, Progressing Trader, and VIP account types available on the platform. And they come in different sizes and shapes, be it in terms of the bonus promotions, deposit requirements, or the account insurance.
Next up, let's talk about trading software available at StockFX. As the broker points out, it supports a widely-used MetaTrader 4 software, which is genuinely a pretty convenient trading platform. It supports all of the important trading tools and features, allows people to trade different instruments, and offers real-time market developments.
However, it would've been much better if we saw MetaTrader 5, which is a way more complex software that supports a far larger number of instruments. But we're not complaining at this point.
Can StockFX be trusted for its regulation?
Moving on, we need to talk about licensing. As StockFX claims, it was registered in the St. Vincent and the Grenadines and has headquarters in both SVG and Estonia, yet we don't know anything about the exact date of establishment.
As for licensing itself, we don't know exactly which institution has granted the license but it's more than likely that it's the Financial Services Authority (SVGFA). Now, some people may be persuaded by this material, thinking that there's nothing suspicious about its credibility and the StockFX FX brokerage is a regulated broker.
However, we have a different opinion. More precisely, it's an observation made based on the announcement of the SVG government that it doesn't regulate Forex brokers, and all of the entities that claim this are using the country as an offshore area.
Therefore, it's pretty apparent that StockFX is an unregulated broker that uses many covers to hide this fact. This is even more destructive for its public image that the outright announcement that it has no license at all.
What about trading terms and conditions?
Finally, we have to talk about StockFX promotions. First things first, what tradable instruments are available on the platform? Well, the broker claims it offers Forex pairs, stocks, indices, and commodities to its clients. Even the name, which is a combination of two markets – stocks and Forex, indicates that even though we don't think it's the neatest name of all.

After discovering these instruments, we set out to determine various offers and conditions that accompany them. Unfortunately, it took us a while to find what size of leverage StockFX offers to traders. But after a thorough search, we found that the maximum multiplication rate at StockFX is 1:500, which is way higher and more dangerous than what other brokers promote.
When it comes to spreads, we weren't able to actually find anything specific about it. The broker claims that more elite accounts are charged 15%-30%-75% spreads, yet we're not really sure what the broker means by that. The only thing we know for sure is that spreads are both fixed and variable.
The next important aspect is the minimum deposit requirement. On average, brokers charge about $50 to $100 for the basic account, yet StockFX has a $250 requirement, which isn't the highest demand but certainly not the lowest one.
Speaking of deposits, we found it quite difficult to find the actual payment methods to make deposits and withdrawals. In the Deposits & Withdrawals Policies section, we only found out that the broker supports Visa/MasterCard credit cards, bank wire, and some e-wallets, nothing more specific.
However, what we did find out is that the commissions for withdrawals are very hefty. Here they are in detail:
50 USD/GBP/EURO for wire transfers;
25 USD/GBP/EURO for credit cards plus a processing fee of 10.00 USD/7.00 EUR/5.00 GBP;
25 USD/GBP/EURO for ePayments.
Not only that, but the minimum withdrawal amount is 250 USD/GBP/EURO. In short, even if the StockFX scam isn't real, these conditions have the same purpose: to steal your money.
Is StockFX legit?
So, to get back to our ultimate question: can StockFX be trusted as a credible Forex broker? Should you start trading with it?
In our opinion, you absolutely shouldn't. The license that the broker so proudly showcases is nothing more than a charade meant to deceive as many traders as possible. Besides, trading conditions are either hidden or very demanding/overzealous.
Therefore, we cannot recommend you StockFX.