StormGain Review – is it legit or just another scam?

When coming across a Forex brokerage, traders seem to focus a lot on its flashy trading terms and conditions and completely or partially disregarding their actual credibility. Sure, there are many brokers that prove their trustworthiness with their offerings and actions, however, they cannot outshadow the abundance of scam brokers on the market.
Unfortunately, the internet doesn't really help this situation: these entities can easily create their websites and make them quite believable for the vast majority of consumers. What's more unfortunate, these websites and whole platforms stay behind any regulatory oversight, making trading and other financial activities totally unsafe.
The point we are trying to make is to always make sure that your broker is a trustworthy entity that has sound licensing monitoring its actions. To make the selection process a bit easier, our team on Forex Trading Bonus is doing its best to provide broker reviews to its readers.
Today, we'll review StormGain FX brokerage. At the end of this review, you'll be able to make your own decision as to whether you can trust this broker or not. So, let's get going, shall we?
Brief overview
StormGain is a cryptocurrency trading brokerage that was established in 2017. The broker offers various digital assets for an exchange, including cryptocurrencies. At first, we were quite impressed with the broker's offerings, whether it's the leverage or spreads. However, we've been in this business for quite some time to know that behind these flashy trading offerings can very well be hidden the StormGain scam.

Not to make just theoretical assumptions and sound overly amateurish, let's begin our review by the trading terms and conditions and check their credibility.
StormGain promotions
So, let's take a look at various promotions, whether it's leverage, spreads, or bonuses. Right off the bat, we have to admit that the numbers we saw left us speechless for some time, as we have already mentioned it above: the leverage up to 1:200, spreads as low as 0$, and the minimum deposit requirement of merely 50 USD Tether.
We were also impressed by the bonus system that is available for all the account types, apart from the Standard one. The rest of the four account holders can increase their initial deposits by 5%, 10%, 15%, or 18% – the amount of the deposit bonus depends on the account type they choose.
However, our impression was quickly set back to reality as we reminded ourselves that everything that shines isn't gold. We'll explain everything in the final chapter of the review, but for now, we'll say this: we suspect that the broker uses those impressive numbers in order to trick its clients and involve them in the plausible StormGain scam.
When it comes to the accounts and their required deposits, there are two main methods of funding your account: you can either deposit money via credit cards or cryptocurrencies. Since StormGain is a crypto trading brokerage, it's not overly groundbreaking news: a crypto broker should offer cryptocurrencies as a financial platform. And when it comes to the differences between the two platforms, they are quite unlike each other in many ways, including commission fees, limitations to the withdrawals and deposits, and more.
In short, we think that these flashy conditions are too overzealous and don't increase our StormGain opinion too much. Quite the opposite, actually: we think that the broker might be up to something; something associated with a scam.
The website
As for the website, our brief impressions aren't as exciting as it was for the trading terms and conditions. Granted, the fancy design with high-definition wallpapers is somewhat good-looking to the eye, we're still not impressed with it because we're here for the broker and its trading terms and conditions; our goal is not to assess an art exhibition.
The overcomplicated design makes it difficult to navigate the website and get information about the broker. As for the information itself, we also had mixed feelings about the informative side of the interface.
On the one hand, it offered extensive details about some offerings (leverage, spreads, commissions); but we found it difficult to learn anything about the broker's licensing material. Besides, we think that the way the broker has separated the thematic sections is a bit counterintuitive.
When you want to create an account on the StormGain Forex broker's platform, you can choose from a quite impressive account array; five, to be precise. These accounts range from the most basic, Standard account, all the way to the most elite VIP account. These accounts are similar, as well as different, in many aspects. The upcoming chapter will talk about all of these characteristics more thoroughly.
Finally, let's discuss the trading platform and its characteristics. Unlike other brokerages, StormGain only offers the proprietary WebTrader software. Sure, WebTrader is a simple-to-use platform that doesn't require any installation or additional programs for performance. However, the lack of diversity in trading platforms, as well as the threat of planted scams in WebTrader are major downsides of this platform.
The license
The final part of this review is the licensing material. As we noted earlier, it took us some time and effort to uncover and find out that there's no actual regulatory piece that restricts the broker and its actions. Instead of the proper license, we came across the short mention that StormGain is a member of the Blockchain Association.
Many people would think that this notice is enough to make the broker instantly reliable. We, though, think that the Blockchain Association isn't as credible or powerful as the proper governmental organizations. Therefore, our StormGain opinions are still below the acceptable level.
So, what do we think about the broker depending on this initial review? We think that StormGain does a pretty good job of making its offerings attractive and compelling. However, once you examine the platform more thoroughly, you'll come across some aspects that aren't so exciting. In fact, why don't we do just that?
How do the StormGain offerings present themselves?
Leverage and its drawbacks
As we've already mentioned, StormGain offers an exciting 1:200 leverage to its users. This means that whenever a trader deposits, say, $100 to their account, they'll be able to open a position that'll be two hundred times more – $20,000, to be precise. That's basically the main idea that lies behind the leverage: the one of increasing the prospective position size and yield more profits.

However, leverage has its darker sides. On the one hand, it brings larger profits to the traders. However, the other hand is that it also increases the prospective losses and leads traders to a more acute financial situation.
Knowing just how detrimental these effects can be, many regulators, as well as brokers themselves, have agreed on offering reasonable leverage ratios to their clients. In the EU, for instance, the FSMA license only allows the brokers to offer a max of 1:30 leverage. This ensures that the profits can still be increased quite significantly, yet they won't lead you to the financial disaster.
Upon discovering the above-mentioned leverage offering on the platform, we cannot help but notice that this effect isn't exactly the main subject of concern to the StormGain FX brokerage. When we look at the 1:200 leverage offering, we instantly understand the motives of the broker: to offer the leverage as flashy as possible and trick the clients into its platform. As for the prospective implications, they're not relevant to the broker.
0% spreads
Next up, let's talk about the spreads. The broker actually offers a little table where it flashes its 0% spread offering and compares it to its counterparts. And while no difference between the bid and ask prices is a great deal for any kind of trading, we cannot help but be suspicious about the credibility of this offer.
The reason why we're so suspicious is that the broker needs to fund its platform from some kind of financial source. Some brokers have a spread, some have commissions and some both. Granted, StormGain has various commissions on transactions, as well as on opened positions, we still think that they're not enough to maintain the business that operates at this scale.
In a nutshell, we think that the lack of the apparent financial income is compensated with the unofficial, and quite possibly fraudulent, ways of funding the business.
StormGain bonus
The next talking point of our review is the promotions network offered by the broker. As you move to the Bonuses section of the website, you'll see that there are various accounts that have their specific bonus offerings – apart from the Standard account, which has a 0% deposit bonus.
The smallest bonus offering you can get is a 5% deposit bonus for the Gold account. This means that whenever you make a deposit for that account, the broker will give you an additional 5% on top of that. To be fair, this is a lucrative condition for every trader whether they're experienced or rookie in this field.
Alongside this 5% deposit bonus, there are three other, even higher, promotions: for the Platinum account, you can get an 8% bonus; for Diamond – 12%; for VIP – 15% bonus. In short, we have nothing against these StormGain promotions as they're not too over-the-top, especially when we compare them to some other offerings, leverage included.
Minimum deposit requirement
The next point is the minimum deposit requirement. Actually, this is where we get a bit suspicious. The broker claims that just for a 50 USDT, people can open a Standard account and start trading right away. For your information, the 50 USDT cryptocurrency is equivalent to the 50 USD regular money.
The main reason why we're suspicious is that the overwhelming majority of credible brokers don't have such a non-restrictive requirement. In fact, they usually demand their clients to deposit no less than, say, 100 or 200 USD. And when we see that a crypto trading broker has a 50 USD deposit requirement, we inadvertently think that it's some kind of deception. It's common knowledge that cryptocurrencies, especially Bitcoin, are considered among the most expensive tradable assets in this industry.
As far as we're concerned, the broker is trying to attract as many clients to its platform as possible with these flashy conditions, yet cares not about actually delivering a high-quality service. This is quite typical of scam brokerages and we think StormGain goes dangerously close to being one.
StormGain withdrawals and deposits – how can you perform them?
Lastly, let's review the financial platforms. One of the main requirements of having a successful financial platform is to offer sound and stable methods of transaction. If clients' deposits/withdrawals are protected and don't take ages to complete, the firm has one less problem to deal with.
Yet if these transactions take a lot of time to complete and are drenched with security failures, the firm will have a hard time making its platform appealing to its clients. Let's see how StormGain withdrawal and deposit platforms manage to appeal to the users.
We have already mentioned above that the broker offers two main financial platforms to its clients: credit cards and cryptocurrencies. While there may definitely be credit card users on the StormGain platform, we still wouldn't recommend using it as it has lots of drawbacks.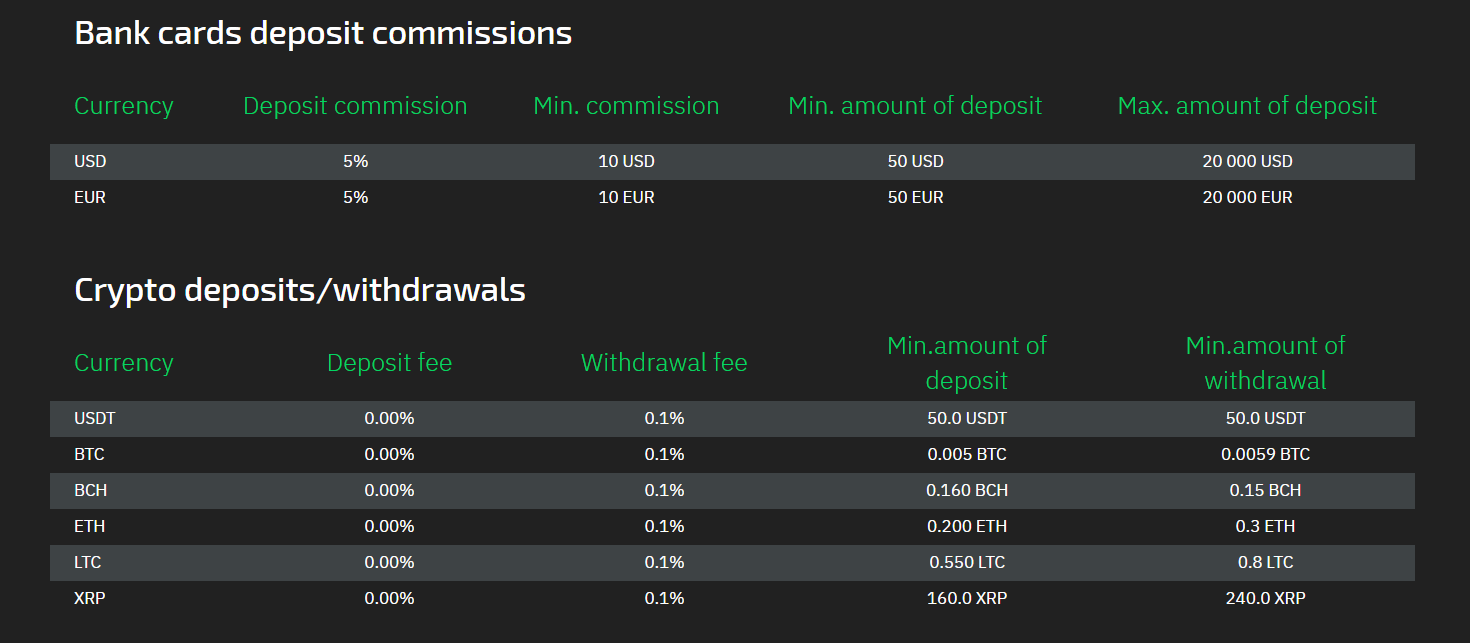 For instance, when making a deposit using a Visa or Mastercard credit card, the broker will charge you a 5% commission. Not only that, the minimum fee will always be higher than 10 USD/EUR.  And as anyone can agree, 5% for the commission is without a doubt a lot.
On the other side of the spectrum, crypto payment methods are much more appealing to the users. Traders can use USDT, BTC, BCH, ETH, LTC, or XRP for both deposits and withdrawals. When it comes to deposits, there are no commissions at all.
Yet crypto withdrawals are still charged with a 0.1% fee – a lot less than in the case of credit cards. That's why our first suggestion is to buy cryptocurrencies first and then deposit them to your account if you've already decided to make business with StormGain. On this second point, we'd strongly advise otherwise.
What do we think after the stormgain.com review?
We have already noted in the initial overview that we weren't particularly impressed by the overall design of the website, nor its informative side. When we entered the platform, we immediately thought it was created by a beginner web developer who wanted a fancy website so much that they actually overdid it. The website is filled with contrasty and saturated wallpapers that take up the whole interface.
The reason why we're so focussed on the design is that one of the main requirements of the financial website is to be as simplistic and navigatable as possible. This completely takes out the possibility of having a complex, overcomplicated interface, which StormGain definitely does. Now, this may not necessarily mean that the StormGain fraud is the real possibility, but it certainly undermines any kind of professionalistic outlook the broker has garnered.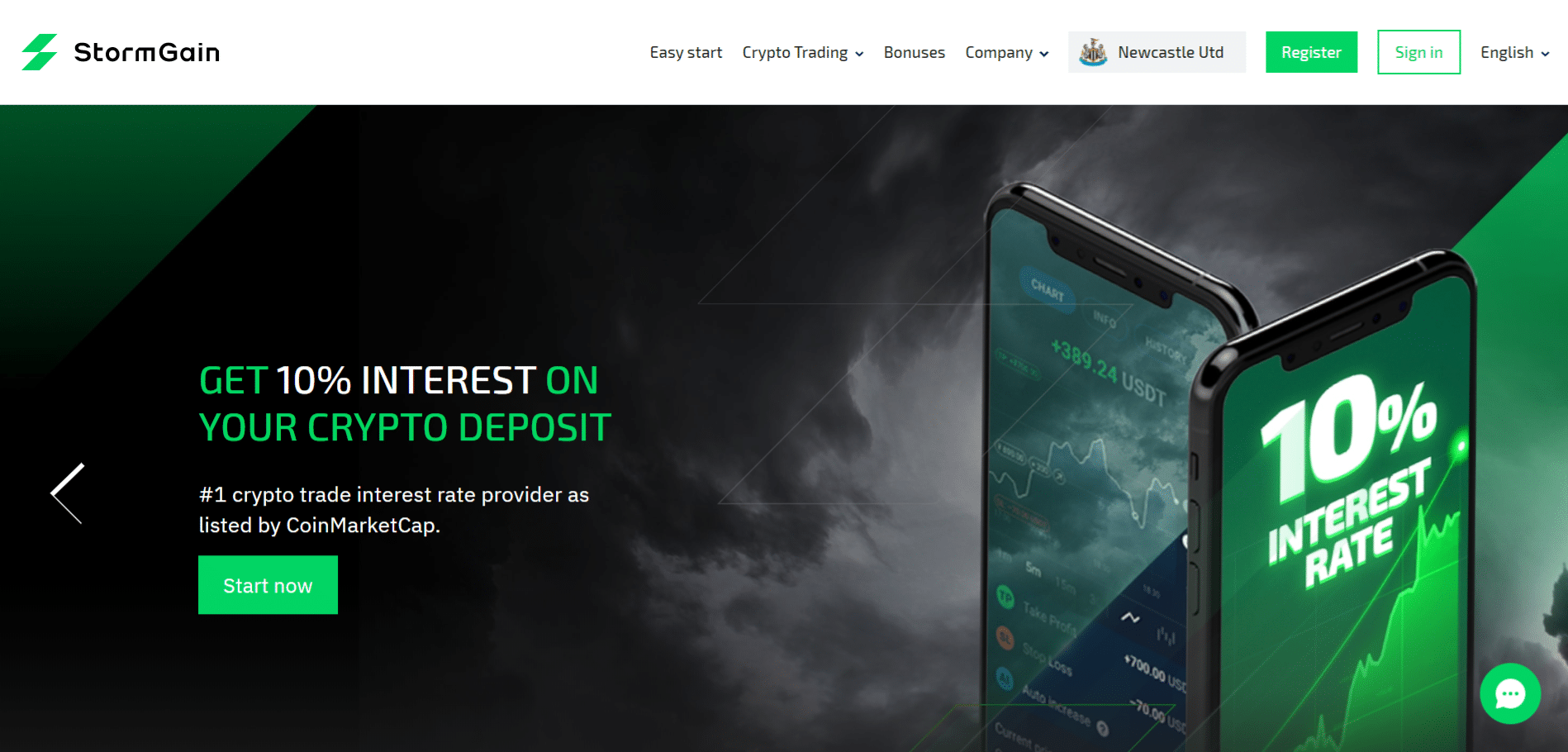 Another important requirement of any website is to be as informative as it can get. After all, the website is where people find out everything about the owner and its offerings. As we've already mentioned, StormGain's website gave us equivocal feelings in this aspect.
On the one hand, information about leverage, spreads, minimum deposit requirements, and other trading terms and conditions was put in front of us and we didn't have to go further. This gave us the ability to examine those offers more closely and offer our ratings about them.
On the other hand, though, there were some areas that seemed a bit covered or difficult to find. As we have already mentioned, this is the licensing part, or to put it precisely, the absence of the license. This information can be found in the About Us section and is just a simple mention that StormGain is a member of the Blockchain Association.
On top of that, even the thematic separation of tabs seemed a bit illogical to us. In the upper part of the website, you can see four individual sections: Easy start, Crypto Trading, Bonuses, and Company. While the Crypto Trading sub-section contains correct information about trading, transaction fees & limits, etc, the Bonuses section is a bit misleading. Granted, it also talks about the bonuses offered on the platform, the main part of that section contains information about trading accounts.
Which accounts can traders choose?
Since we're talking about the accounts, let's dive deeper and examine their offerings. StormGain offers five different account types to its clients: Standard, Gold, Platinum, Diamond, and VIP. We have to admit that these accounts have their own distinctive perks and advantages, such as higher commission discounts, larger bonuses, lower exchange commissions, etc.
Yet these specific perks also come with large deposit requirements. While the Standard account has a 50 USDT minimum deposit requirement, the next step takes you all the way to the 500 USDT minimum deposit requirement, not to mention even larger limits for the more elite accounts, going as far as 10,000 USDT. In our StormGain opinion, these advantages may not be worth that much for the more complicated accounts and traders would be much better off if they went for the basic account.
Proprietary WebTrader – is it trustworthy?
Finally, let's examine the trading software. StormGain doesn't use the most popular pieces of software such as MetaTrader 4/5 or cTrader – the ones that have long become the market standard in trading. Instead, it offers its own proprietary software called WebTrader.
To give the devil its due, the web-based trading software is more simplistic and easier to use. Traders don't need to download any file or install it on their device, everything takes place in the already-installed web browser, whether it's Chrome, Safari, Opera, etc. Besides, the software uses Java as a programming language, which makes creating various scripts and tools much easier.
But these advantages aren't enough to balance out the shortcomings accompanying the platform. For one thing, the lack of diversity in trading programs limits the number of actual users on StormGain. But that's not the biggest issue in this case.
Other trading platforms such as MT4 have a much larger user community that has a closer connection to the program. This means that they actively create and modify various scripts, tools, and indicates for MetaTrader 4. This also means that they can detect anything that is wrong with the system or looks overly suspicious, making scamming much less frequent.
When it comes to StormGain's WebTrader, this is definitely not how everything goes. The user base is far smaller and even the users cannot enter the depths of the system to examine its integral parts. Therefore, StormGain fraud is still a likely probability and we cannot recommend this trading platform to any of our readers.
Is StormGain's licensing legit?
The final piece of our review is the licensing material. We have mentioned numerous times in this StormGain review that it took us some time and effort to actually find the information about the broker's regulatory pieces.
When we started digging deep inside the platform, we finally found one small section in the About Us sub-menu of the website where a small notice about the regulatory measures is mentioned. In it, StormGain claims that the brokerage is a member of the Blockchain Association within its Financial Commission.

For many people, this would sound like a credible licensing material and there would be nothing wrong with it. However, when you also start to believe in it, try to find out the actual background of the licensing body and determine whether it's credible enough or not.
We also did the same. Granted, we have nothing against the organization itself: it does its job of gathering all the main blockchain market players and increasing the coordination between them. However, when it comes to customer safety, we don't think that its license, or whatever it's called, has enough prowess to prevent any kind of financial scheme.
Now, if the broker had a kind of license from the governmental institution, we would be more pleased about it. And we'd be right because the governments – at least some of them – are more capable of holding financial actors accountable for their activities and punish them for scams.
So, the StormGain opinions in our team on Forex Trading Bonus is basically one-sided: StormGain is an unlicensed broker that is trying to trick its prospective clients into believing that it actually has a license from the Blockchain Association. Therefore, we would have to step over our beliefs and values to actually recommend this broker to our readers.
The ultimate StormGain rating – should you trade with it?
Summing up, what do we think about StormGain? Are its impressive trading terms and conditions enough to prove us in its credibility?
For what it's worth, this question doesn't have a direct answer. On the one hand, we see quite decent offerings such as a diverse account base, sound financial platform, and exciting bonuses.
But there are some shady aspects that we're very suspicious of. In fact, we think that the broker may be using false claims to attract as many clients as possible without caring too much about offering something real. Here's a short round-up of what we've found out:
First, we looked at the trading terms and conditions. The leverage and spread offerings seemed quite over-the-top to us, while the bonus promotions and crypto payment platforms were definitely more decent and appealing.
Then, we reviewed the website and concluded that it looks as if it was made by an amateur. When it comes to its informative side, there are definitely areas where the information was provided to the full extent. But there wasn't a shortage of more shady areas either.
Finally, we examined the licensing part and deduced that, while the broker claims to be a member of the Blockchain Association, it doesn't mean that StormGain fraud has gone ashes. That's because this membership doesn't count as a legit license and is used as a farse.
To put it in a nutshell, the broker is full of suspicious offerings and even its bright sides aren't enough to cover them. That's why we think that you should stay away from StormGain and find any other broker with a more credible platform and offerings.