TDMarkets Review

TDMarkets is one of the Forex brokers currently holding an FSA regulation. A quick TDMarkets review showed us that they do indeed feature some nice trader benefits in the form of large leverage, small deposits and etc. Currently, the Forex broker offers $10 as a minimum deposit, with a hefty 1:500 leverage alongside pretty nice spreads of 0.8 pips or $2/lot. The broker also features MT4, one of the most popular trading software and is verified by Visa and Mastercard.

Glancing through their website a potential customer may be left with nice impressions as a hefty investment is apparent. The information displayed on the platform's homepage is also commendable, the information is 1 click away and transparent.
First impressions
This TDMarkets review is a way to expose the broker if there are any means possible to do so. One of the first things that we noticed about the company that brought a little bit of distress was their regulation. The reason why were distraught so much and actually thought about a TDMarkets scam was that the company is registered offshore. They currently hold a regulation with the FSA of Saint Vincent and Grenadines. Although a regulation should be something you're happy about, an offshore license is not the case. Not holding an FSCA regulation while catering South African customers is alarming information indeed.
Another topic was what type of company they are. TDMarkets offers its customers Forex as well as Binary Options. We don't want to sound biased but at this point, any company offering Binaries seems quite shady, which reinforces our suspicions about the TDMarkets scam. However, it could just be paranoia, but better safe than sorry.
Leverage & Spreads
The leverage is marketed to be 1:500 and we couldn't find anything to disprove of it, therefore we are going to believe what the broker says here. When it comes to spreads, we also saw that the minimum is indeed 0.8 in most cases, very occasionally did we see it pass 1 pip. It is indeed handy to have a leverage of 1:500, but caution needs to be advised. Since there is no guarantee that TDMarkets is not a scam, refraining from the leverage and getting to know the broker is the best option for a new customer.
In terms of spreads, we believe that they are industry standard, so no worries here.
TDMarkets Accounts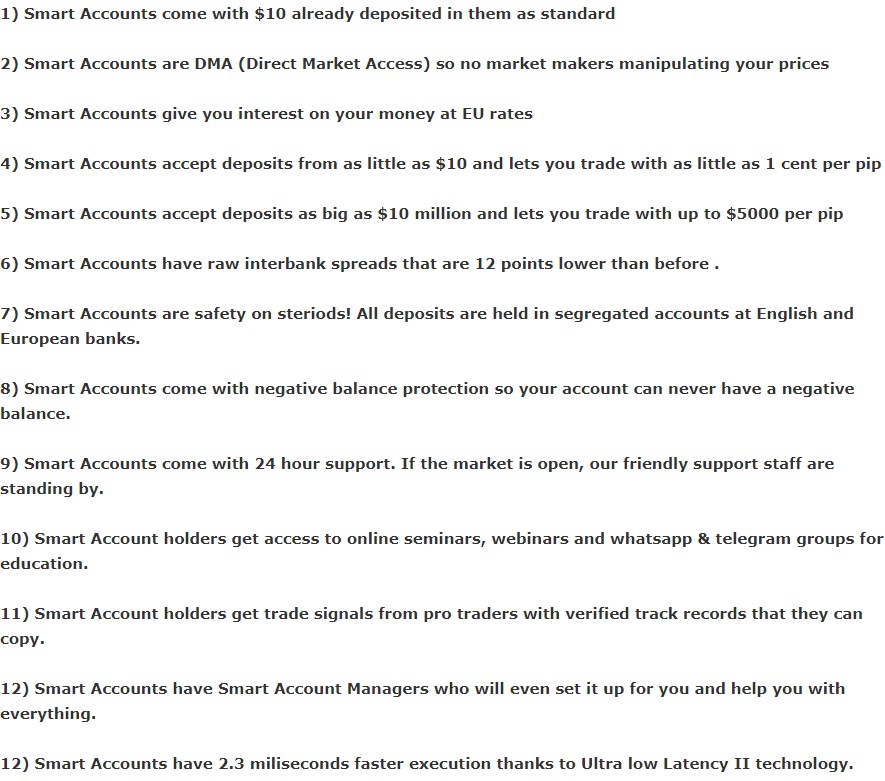 "Accounts" is overshooting it a bit. TDMarkets has only 1 type of an account, something that they call a "Smart Account", which comes with $10 already on it, so you can count it as a no deposit bonus of some sorts. The minimum deposit on this account is quite low, at $10 and can accept deposits at a large rate of even $5 million, which would seem as the company is trying to cater to institutional traders as well.
Honestly, no matter how much you pick at the Smart Account it still comes on top of the criticism, and we'd say it is a good deal for a beginner. The new technology they use for faster execution is also a very nice added feature. It's also good to know that the company has a Telegram and WhatsApp group so that the community can interact with each other.
TDMarkets Withdrawals
The withdrawals on TDMarket are said to be instant, but a quick stroll through their FAQ section reveals that they take just as much time as with any other broker. 3 business days for Credit/Debit cards and a little more with Wire transfer. However, we did see a feature that allows traders to withdraw their profits in Bitcoin, which is much much faster.
The withdrawals fees will be covered by the company only if the withdrawal is more than $200, which is not that alarming as people rarely withdraw less than that.
Should TDMarkets be trusted
To be completely honest, we were quite impressed with the features that this broker offers, but their offshore regulation is gnawing at us to label it as a TDMarkets scam. Which was actually reinforced when we found out that the FSB has actually released a warning against the company. This was enough to label them as a scam and for us to commit to a recommendation to completely avoid this company.