TemplerFX Review

The point of the TemplerFX review you are about to read is to do what we can to protect you from the scams that fill up the Forex trading industry. We are a dedicated informational tool that does its best to help out the traders and to protect them from seemingly great opportunities that turn out to be scams. Sometimes this purpose is a little harder to fulfil than at other times. Yet we have never before had an easier time determining that a brokerage firm is a scam. The discussion we are going to go through right now is also here to help you identify any scam you might come across in the future. Learn, stay informed and you should be protected from any of them in the future. Alternatively, you could always rely on us to help you out.

TemplerFX scam or not?
if you have ever tried to do in-depth research on a topic, you know that one of the biggest mistakes you can make is considered only what is on the surface. We all wish that we had been taught this lesson a little earlier in our lives. Thankfully, our team gets paid to know this lesson. Which is why we know not to trust TemplerFX from just what is on the surface. Though everything that is on the surface looks to be not entirely suspicious. Then again, not entirely is not our style. But before we dive, let us take a closer look at what TemplerFX has to offer at first glance.
The trademark TemplerFX seems to be registered to a company called Templer Holdings Management Limited. This company is licensed to perform financial trading by the Financial Services Authority (abbreviated as FSA) of Saint Vincent and Grenadines. This is a small country encompassing a number of islands located in the Carribean sea. The license number listed on their website is 23395. Another license number provided is from the Financial Service Provider Commission and is FSP16410. So far so good.
At this point in the review, everything seems to be alright with the company. But as we said, we have to look beyond what is easily visible.
TemplerFX reviews, or their absence
The first thing we tried while writing the TemplerFX was looking up other reviews. What we came up with was, well, almost nothing. Barely anyone who has worked with the company has done any review of it. While this might seem like not that big a problem for some people, it is what tingled our spidey scam senses. A company that has existed for more than a year will usually have at least a handful of reviews, both positive and negative, from their userbase. TemplerFX has barely one or two and even those are not from any recognizable user. Why is this?
It could be because TemplerFX is not being used that much, or because the company is suppressing any kind of reviews that might tarnish its seemingly spotless reputation. We are not sure which it might be, but one thing is for sure – if there is no one but the company telling you that they exist and that they are good, then the company is probably not that good and only exists to themselves. So our suggestion would be to avoid this company unless you have a trustworthy source regarding how it works. And if such a source exists, please direct them to our comments section, so we too can know more about how this company works.
We would also like to discourage you from attempting to figure it out on your own. Why would you want to be the first person to be scammed and then have to tell us that you were scammed? Instead, you could take your money and work with a different brokerage firm.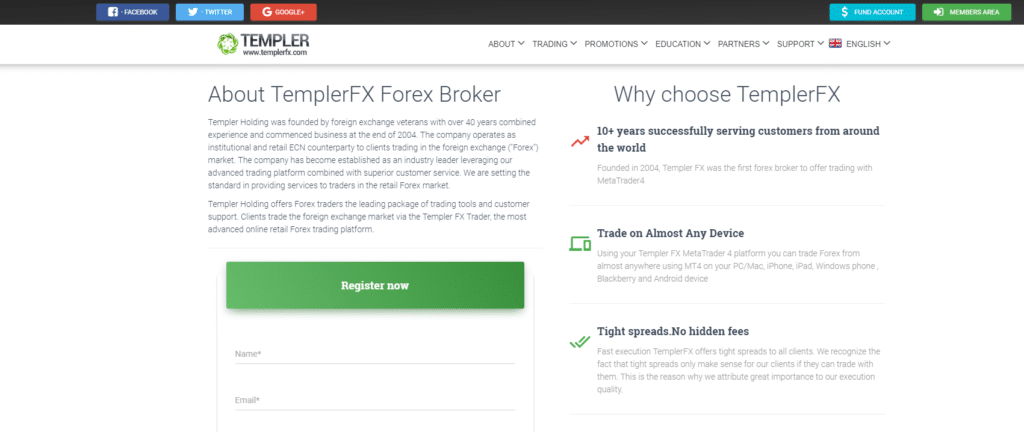 An old company, a recent registration
According to the information provided on their website, TemplerFX was founded more than a decade ago, as we mentioned before. W also mentioned we have a problem with a lack of reviews for such an old company. Though after a closer look at the PDF attached to their website, we realized what was going on. The TemplerFX scam only registered with the Financial Services Authority of Saint Vincent and Grenadines only in 2016. We are upgrading to calling it a scam already because it is baffling to us why a company would so blatantly lie about its origins and about its date of founding. It is a bad way of garnering trust from potential users, especially since a better way of earning trust would be, to be honest about the company's origins. Which they weren't. Which drives us to call them a scam.
The FSA
Which brings us to another point we would like to make. There are a number of financial regulators around the world. The top 5 most trustworthy of them are definitely some of the most reliable organizations around the world. The rest can be trustworthy as well. The FSA is one of these regulators and is not necessarily untrustworthy on its own, but is definitely not part of the top 5 regulators around the world. It is often seen that endeavour such as the TemplerFX scam or offshore brokers tends to register with organizations like the FSA. Why? Because it is easy, it is cheap and because the FSA is unlikely to leave their island to double check claims. It is also very expensive to fly to the island where the regulator exists (around $1000 dollars, depending on the time of the year) to produce a claim against a scam company such as TemplerFX. Which provides both the company and the regulator with an incentive to collaborate.
The FSA Database
Something else that we have noticed seems like a rather harsh violation of trade rights. The FSA does this through its treatment of TemplerFX inside its database. To be more specific about the treatment, there is none. This is because the TemplerFX scam is not registered in their database as a client and thus no complaints can be lodged against them. A sign of a dangerous collaboration between regulator and scam. Such things do not happen with reliable regulators that take care of their client brokerage firms and the traders.
Conclusion
We are firm believers in giving a company a chance. We would have been more than alright with giving Templer FX a chance. Fortunately, the company failed at hiding the true nature of their collaboration with the regulator and the fact that they are a scam. We hope that in providing you with a TemplerFX review we have shown you another way how to identify potential scams and given you a good enough warning about working with such companies. Always look deeper than the surface!
If you have worked with TemplerFX and have either a positive or a negative experience, we would like to hear about it. Please go below and leave a review of the company, help us build awareness of brokerage scams such as this.