TF Capital broker review

I have become so used to forex scams in recent years that I thought nothing would surprise me, but this TF Capital scam has me reeling. Most people nowadays can spot an online scam instantly, whether they are tech savvy or not, so the crooks have also learned to hide their schemes. Most forex scams are so sophisticated they can even leave me, an expert, scratching my head. I had no trouble spotting this scam because it was so obvious I knew it from the first glance.
Is TF Capital a scam?
Most definitely. If you just saw an ad promoting this broker, or you happened to stumble across the page in your search for a reliable forex broker, run! Although I even doubt the company has any money to spend on online advertisements, but that is beside the point. When you first land on the TF Capital homepage, you are struck by an astonishingly bland website a prepubescent teen could have created just to showcase their art project.
While it may seem pedantic to account for stuff like web design when doing this TF Capital review, it is important to think like a criminal. Forex scams are a continuous business, you create one website today, get what you can from it and move on to the next. Therefore, the scammers don't spend a lot of money building a sophisticated website because they know they will just dump it the next day. So, a crappy website shows a lack of commitment, a major red flag. A broker who intends to be around will instead invest heavily on a good website that they shall be using for years.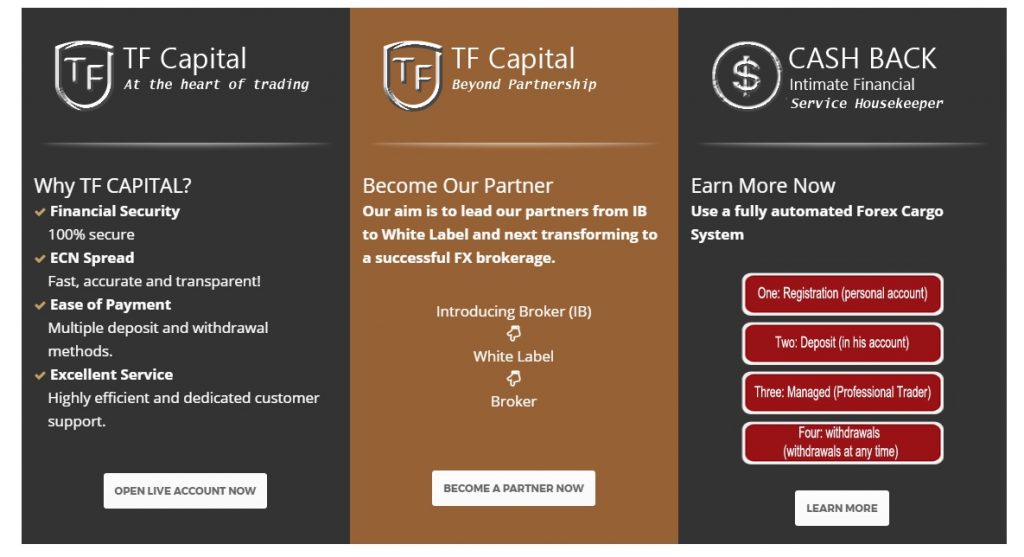 Next, I always check the address bar for any signs of suspicious activity. Hackers have been known to create duplicate websites so visitors would enter personal details. In the case of TF Capital Forex broker, their website does not have the SSL security certificate that increases encryption for personal data. Without the green https icon on your browser, it is not recommended to enter any credit card or bank account information. How then can you trust a broker who is unwilling to spend a few extra bucks for their clients' security?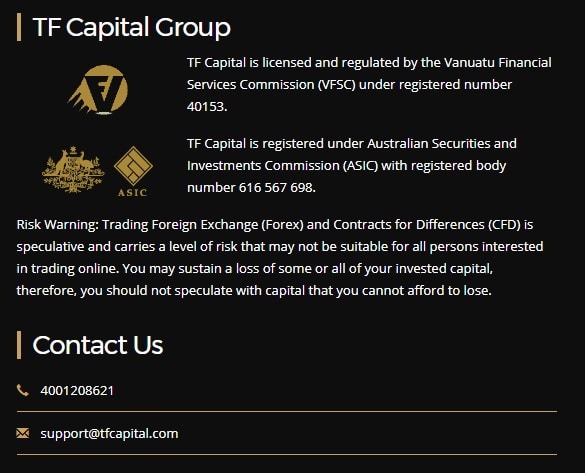 And now to some really serious issues like regulation and licensing. At the bottom of the homepage, the TF Capital website claims the company is licensed by the Vanuatu Financial Services Commission (VFSC), but the license number listed cannot be found on the VFSC register. They also claim to be licensed by the Australian Securities and Investments Commission (ASIC) but the license number provided once again does not match to ASIC's register. On the 'About Us' page, they claim to be based in New Zealand, but there's no mention of regulation by the Financial Markets Authority (FMA).
What others say about TF Capital
This is obviously a fraudulent broker as the signs show so far, but I'm still curious and decide to see what experience other traders have had. Fortunately, there are very few reviews I could find, obviously because the broker did not spend any money on marketing. Of the few TF Capital reviews I could find, it is clear there isn't any happy customer. Most TF Capital opinions are negative, and those on the contrary are so obviously published by the broker's crooks.

Long story short, do not make a deposit with TF Capital unless you just simply want to promote the next scam.