A comprehensive Tickmill review – Is this broker trustworthy?

When setting out to start trading Forex, stocks, or other tradable assets, one of the first things every trader should think about is a broker. The internet is full of scam brokerages that you absolutely need to stay away from, however, given how skilled they are at tricking potential customers, it may not be as easy to spot hidden flaws under their platform.
But it doesn't mean that you have no means of distinguishing legitimate brokers from fraudulent ones. It just takes a little effort and research into the broker's offerings to assess their credibility and make the right decision.
On Forex Trading Bonus, we're trying to make the broker selection process a little bit easier by offering our comprehensive reviews about them. And today, we'll do the same for the Tickmill Forex broker.​​​​​​​
In order to determine whether Tickmill is a trustworthy broker or a scam, we will take a look at its website and software support, then move to the licensing, and finish off by talking about the actual trading conditions. So, let's get started.
Initial overview
Tickmill is a Forex broker established in 2015 in Seychelles. The broker brings together a team of professional traders whose experience in this field has started off back in the 80s, therefore, the new clients of Tickmill are already in good hands.
While the main focus of Tickmil Forex broker can be gathered from what we've just said – Forex trading, the broker also offers many other instruments to its traders: stocks, indices, commodities, and bonds. But before we delve deeper into these instruments and what the actual conditions on them are, let's do a brief overview of everything we'll talk about in this article.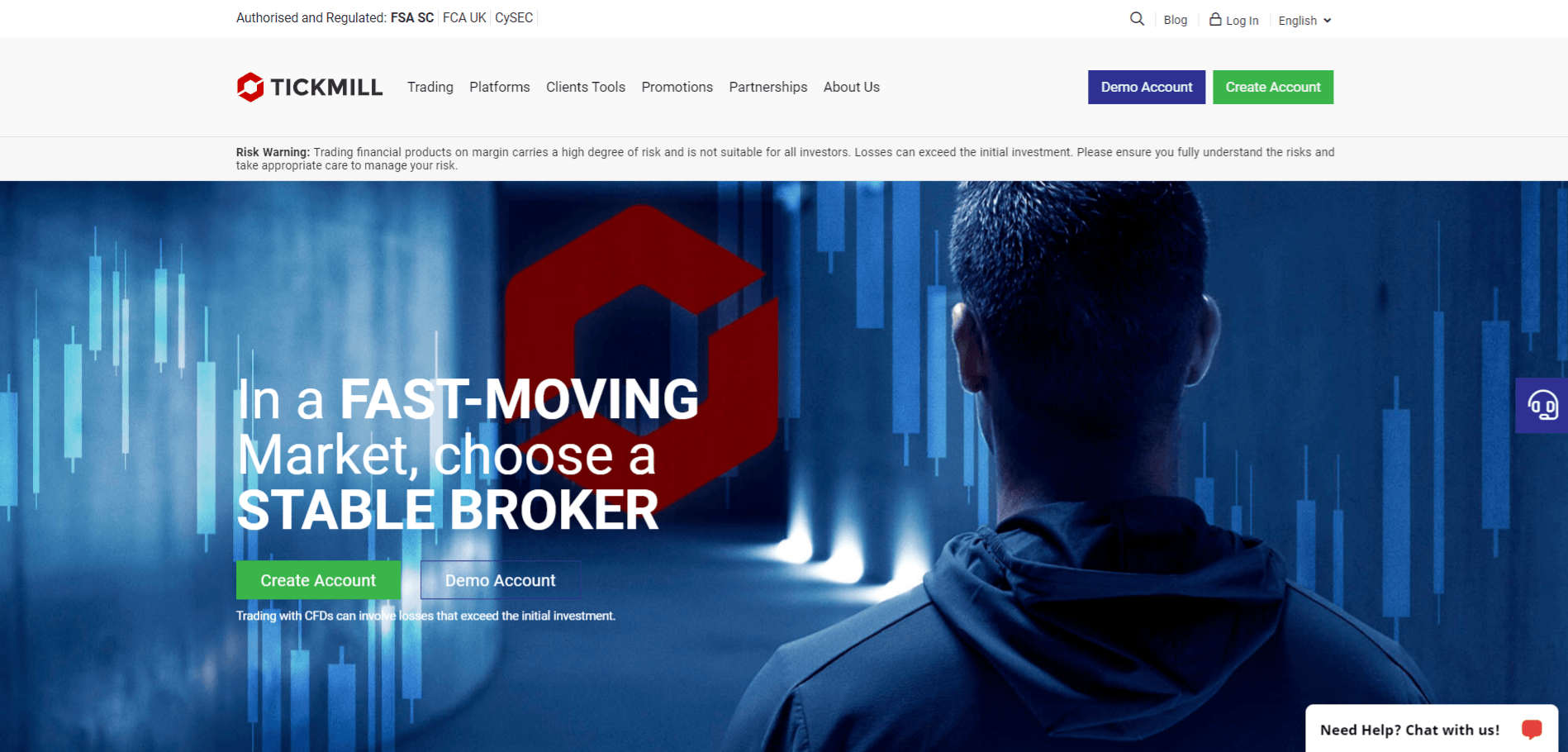 A brief tickmill.com review
When you go to Tickmill's website, the first thing you're going to notice is how slender and simplistic the interface looks. One image here or there, several visual effects, and very decent font make up a visual that is hardly ever distracting the visitor from getting the information.
And information is certainly there. We have seen websites with decent thematic separation but what we saw on Tickmill was something else: the broker has divided the website into the sections that answer all the questions effortlessly. For instance, want to know the conditions for spreads? Go to the Spreads & Swaps section and find out everything about it.
This level of simplicity is definitely an advantage that we will take into account when making a final Tickmill rating.
We were also pretty pleased when we came across 5 different account types on the website. All of them are designed for specific users and make trading a once-in-a-lifetime experience for them.
As for trading platforms, Tickmill definitely doesn't invent a bicycle here: it uses MetaTrader 4 and WebTrader for all the trading executions. And to be fair, it doesn't need to be original because these pieces of software have proven to be the most effective and efficient in this industry.
The license
Next up, we will take a look at the broker's licensing material. This is the part that actually reveals a lot about the broker's code of conduct and its legitimacy issues.
So, the very first line that you read when entering the website is this: "Authorised and Regulated: FSA SC, FCA UK, CySEC." This means that the broker has regulatory obligations to three separate countries and their financial institutions.
And actually going through these institutions can reveal a lot. For instance, when seeing that one of the main regulators of Tickmill is the UK's Financial Conduct Authority, all the Tickmill scam suspicions or suggestions are instantly dissipated for us. There's just no way of being a scam and having this level of regulatory oversight monitoring your activities.
We will talk about this section more further down below.
Actual Tickmill promotions
At last, we'll discuss every important trading condition available on Tickmill. We'll start with the leverage and spreads. On the broker's website, we can see that the maximum leverage ratio that the traders can use is 1:500, which is definitely a lucrative offering.
As for spreads, the broker offers two different levels of bid-ask price differences on Forex pairs: 1.6 pips for Classic account and 0 pips for Pro and VIP accounts. Both conditions are pretty decent, although, as you can imagine, the 0-pip offering is far more attractive.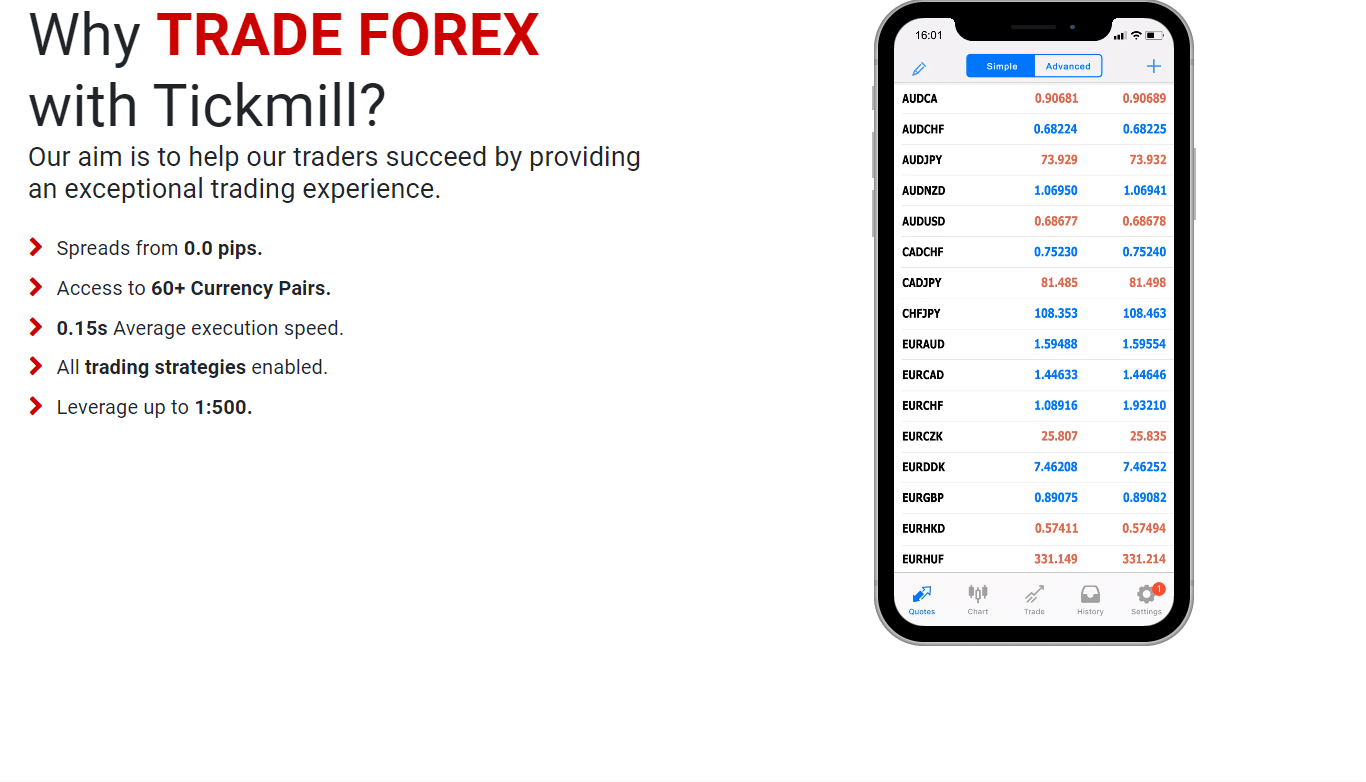 As for the Tickmill bonus, the broker offers multiple promotions to its clients, ranging from the $30 Welcome Account, Trader of the Month, and many more. These bonuses give additional trading funds to the lucky winners who also can withdraw the bonus money to their personal account.
Finally, we'll take a look at the minimum deposit requirement, as well as how you can make that deposit, as well as withdrawal. On Tickmill, the minimum amount you need to deposit in order to set up a Classic account is $100. As for financial platforms, the broker supports bank wire, credit/debit cards, as well as many e-wallets like Neteller, Skrill, etc.
In short, we think that Tickmill is a trustworthy brokerage that offers quite impressive trading conditions to its clients. Now, let's review each of the above-mentioned points more closely.
What's the software experience like on Tickmill?
As per usual, we'll begin with the website. As we noted earlier, the visual side of the website is pretty spot-on: it's not overburdened with unnecessary imagery or transition effects; everything is used moderately and adequately. What this achieves is it makes the navigation through the website much easier.
When it comes to finding the actual information on this website, it's safe to say that all you need is one mouse click to go where you want. The website is separated into six different sections: Trading, Platforms, Clients Tools, Promotions, Partnerships, and About Us. Within those sections, you can find anything about the broker's regulatory measures, trading numbers, platforms, and payment methods.
As for the account types, there are five different packages that fulfill the demand coming from every type of trader: there are three live accounts (Classic, Pro, and VIP), one Islamic, and one Demo account. And all of them are special in their own way; some have lower spreads but higher minimum deposit requirements, some come with no swaps, etc. All in all, these accounts are perfect for specific users.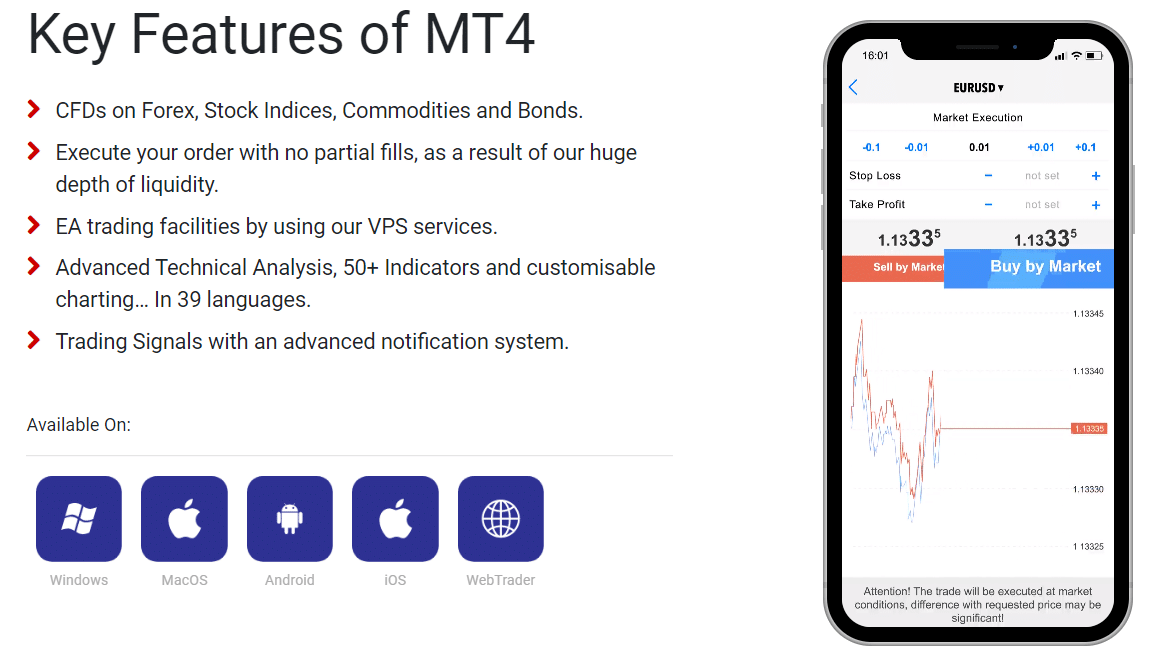 The last point of this section is trading software. Instead of going all fancy and offering proprietary trading software, Tickmill chose a safer and more trustworthy route and gone with MetaTrader 4. MT4 is a well-tested and widely-used platform that has proven to be the most effective software across the board. What's more, the broker also offers the MT4-based WebTrader that works on all major web browsers.
Is Tickmill legit?
Moving on, let's talk about how legit the broker is based on its licensing materials. As we have already mentioned earlier, there are three separate regulatory pieces that monitor and even direct the broker's financial activities, and all of them are pretty significant.
These licenses include: FSA from Seychelles, FCA from the UK, and CySEC from Cyprus. Now, if there only was the FSA license, we would at least acknowledge the legitimacy of the Tickmill scam suspicions. That's because for some traders, Seychelles isn't the country with the biggest political or economic prowess to hold the broker accountable for its actions.
However, when we see the licensing materials from the UK and Cyprus, all the suspicions are instantly dissipated. Just take a look at the FCA from the UK. Do you think that any brokerage would engage in fraudulent activity and be forgiven by this institution? We certainly don't think that.
And then there's the CySEC license as some sort of cherry topping as it's also a very strong licensing material from within the EU. In short, all three of the licenses make sure that the broker abides by the strictest financial rules.
Trading terms and conditions
Finally, let's talk about what the actual offerings on Tickmill are. As noted earlier, the leverage goes as high as 1:500, which is a very impressive and lucrative offering. With it, traders can increase their initial deposits by x500 times, increasing profits by the same multiplication rate.
As for the spreads, the bid-ask price difference for Forex pairs is different on different account but the minimum spread can go as low as 0 pips, meaning there's no actual price difference and traders can buy the same amount of assets as they sell.
When it comes to the bonuses, Tickmill FX Brokerage offers at least five different promotions: the Trader of the Month, Tickmill's NFP Machine, $30 Welcome Account, IB Contest, and Rebate Promotion. All of them offer money prizes to the traders, making the experience on Tickmill so much better.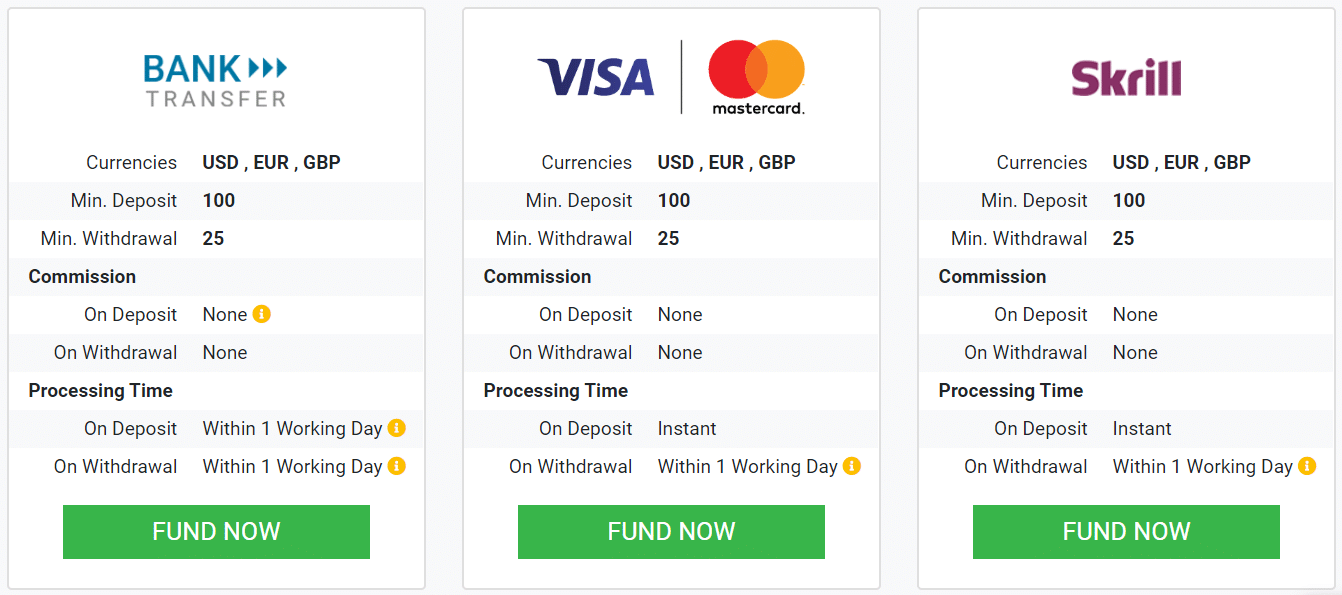 And finally, let's talk about the minimum deposit requirements and financial platforms backing those deposits. On Tickmill, the least amount of money you can deposit to your account is $100. This means that even the beginner traders can fire off their career on Tickmill without breaking the bank.
The payment platforms that drive those deposits, as well as withdrawals, are also very attractive: the broker offers both traditional (bank wire, debit/credit cards) and e-wallet platforms (Neteller, Skrill, Fasapay, etc). As for Tickmill withdrawals, the same platforms can be used for taking out the money you have earned. And transactions are secured with the SSL protocol, which is the highest security standard in the industry.
Should you trade with Tickmill?
So, what is our final Tickmill opinion? Should you use its services and platforms to trade Forex, stocks, and commodities?
Judging from what we've just said in this review, it is safe to say that the broker offers some of the most exciting trading conditions you can find on the market right now. Whether you want to leverage large trading positions with fewer of your own money, shallow spreads, or sophisticated financial mechanisms, you can never go wrong by choosing Tickmill.
Besides, the broker has three separate licensing materials that ensure that there's no Tickmill fraud going on. In short, we freely recommend this broker with all its offerings and requirements.