Is Trade.com a fraud or is it legit?

With the arrival of new times, old traders start updating their websites and services. As a result of these updates, people start wondering whether the company has seen some overall changes. With the recent update of their website, people started wondering if Trade.com can still be trusted, or if not yet, then they might start wondering in a little bit. This is the reason why we have decided to update our Trade.com review. This way we can make sure everything is still okay with the company and that they can still be trusted so that the old traders and the new ones can be sure that they can continue working with them without issue.
The update that took place only happened recently, and seemingly has only touched upon the design of the company's website. Still, we are going to be taking another in-depth look at the company. Otherwise, how are we going to be able to decide if the company is trustworthy enough?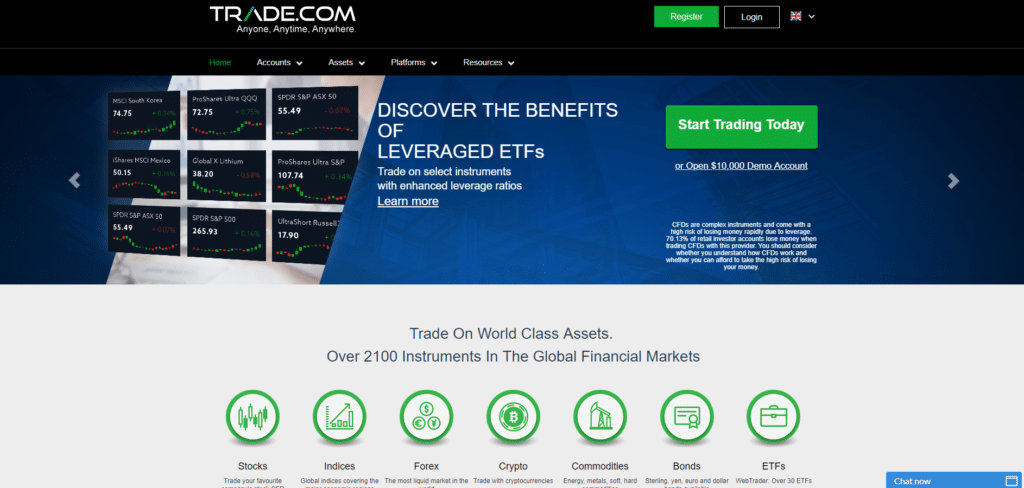 Is Trade.com legit?
So, is the broker still reliable despite the update? Have they changed anything in their terms to produce a different relationship with their clients? First, let's have a general overview of the company. The company has had a very good track record over the past few years. In the past, when discussing the broker, we have mentioned many times that the company has had a load of very satisfied customers. Previously, they were owned by Safecap investments but have since then been moved to Lead Capital Markets. They used to operate with a website that was designed slightly differently but recently updated it to look like what it is now. They have remained transparent about their activities over the years, providing their customers with full information about their activities, fees, terms, news, and educational resources. But how has all of this changed after the update?
Trade.com review – The Website
The design of the new website for the Trade.com Forex broker is quite different from the one they had previously. The design is more oriented towards informing the potential and current clients about the things going on within the company. The front page provides you with information regarding the type of assets they do trading with, as well as giving you the latest news and directions towards their educational center. The navigation bar is at the very center of the page when you first get to it and allows you to learn information about anything and everything that is important on the page. The information in the nav bar ranges from the types of accounts you can trade with, to the more specific information about different products and assets to finally educational, news and other interesting resources you can work with. Overall, the design, while a little simpler and way less flashy, permits easier and faster navigation as compared to the previous one. Functionality over looks is not the worst way to go about designing a page.
Licensing
At the very bottom of the front page, you will find a list of interesting navigation options. One of the more important ones you will end up looking at is the about us page, where the company details their licensing details. If you had previously thought that Trade.com fraud was a possibility, this is where you should decide that you were wrong. The brokerage is licensed by the CySec, a regulatory body based in Cyprus and allowing the company to work throughout all of you Europe, as well as the FSCA. The licenses check out on both the CySec website and the FSCA website. The first mentions that the license was started in 2014 and has been kept going without any interruptions. The company also mentions its policies regarding handling complaints, their cross border trading policies and other interesting detail. Unfortunately, the update has not resulted in them being able to work with US or Canada based persons. So far, our Trade.com opinion remains quite positive.
Trading: Account types, spreads, leverage and platform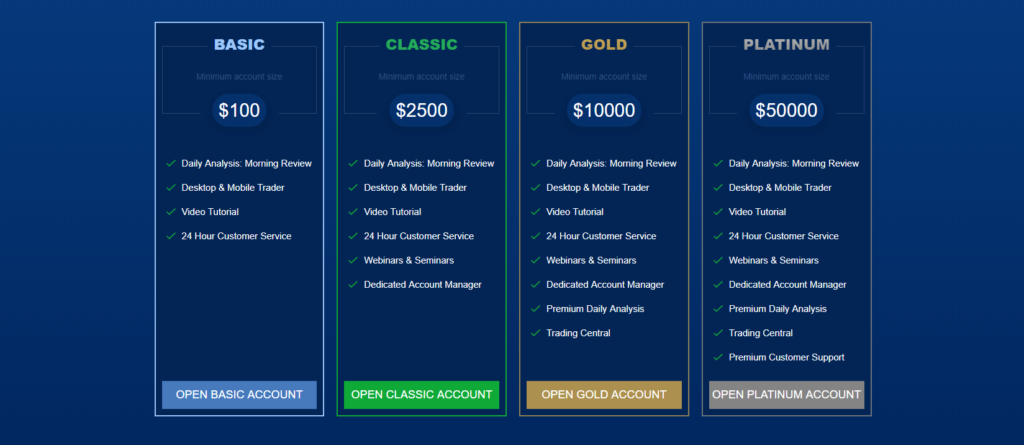 The company offers its clients a number of trading account types. It seems that despite the update, their model has not changed. They still offer four types of accounts, ranging from basic all the way to Platinum. The basic account needs you to deposit one hundred dollars as a minimum to start trading. This is the smallest account type you can have, with the classic account being next and requiring you to have a minimum account size of two thousand five hundred US dollars. Each successive account type offers certain benefits over the other, but even with the smallest account, you can do some significant trading. Does such a big jump in required funds make a Trade.com scam a plausible though? Not really, it just means they want to give even the smallest traders a chance to participate in the market.
Spreads, leverage and the good stuff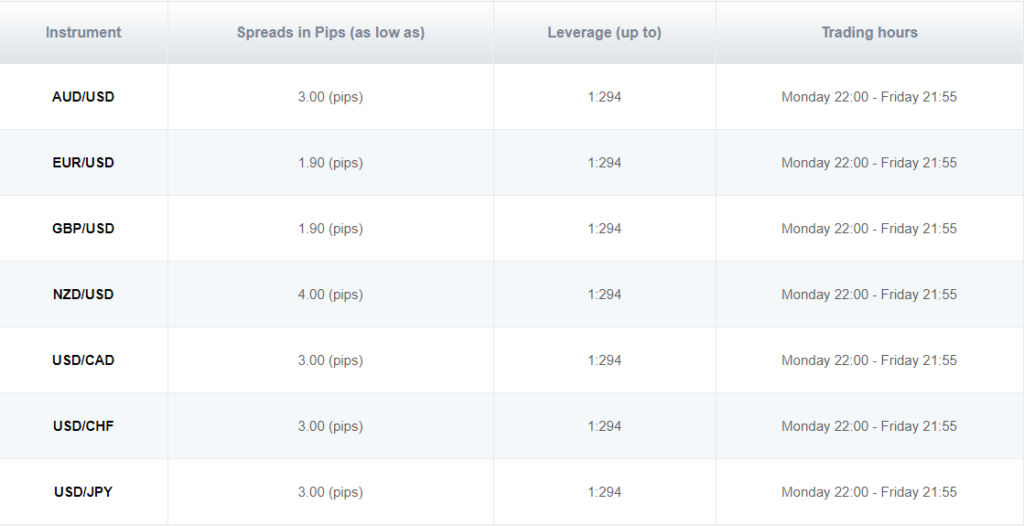 Trade.com offers its clients 55 currency pairs that they can trade with, which is a good amount and a nice variety for beginner and professional traders alike. Beyond just Forex, the broker also offers their users a number of options trading other financial assets including ETFs, Stock, Commodities, Indices and now, Cryptocurrencies too. All of the assets are CFD trading exclusively. In total, traders will have access to around 2100 types of financial assets, which is a huge amount of trading options.
The spreads on the most popular currency pairs are rather standard, though some of them seem to be higher than the average, such as the AUDUSD pair and the USDCAD pair. Still, they are close enough to the average and seem to be rather manageable.  The positive aspect of all this is that the spreads on the platform can be either fixed or variable, meaning that certain assets can be traded at different costs to what the traders actually expected they would be incurring.
The Trade.com FX brokerage also offers their customers some very solid leverage ranging, going up all the way to 1:300, which will help most traders make lots of income very quickly if the traders play their cards right. Though don't forget, leverage like this can also be pretty dangerous to beginners if they are not careful. Different levels of maximum leverage are available for different types of assets, with the highest leverage being available for Forex. The default level of leverage is 1:30, which will be applied to all assets except crypto, which is specifically limited to from having leverage because of the high volatility and risks associated with the asset. To be able to access higher leverages, clients will have to be classified as professional traders.
Trade.com review of the platform
The broker also offers three types of platforms – WebTrader, MetaTrader 4 and MetaTrader 5. This type of variety allows for all traders to have a chance to pick their preferred platform and work with it. The MT 4 and MT 5 are both highly respected and loved platforms by most traders. The Webtrader allows users to do some browser trading, which can be very useful to those who do not have the ability to download any software on their PCs or laptops. The presence of so many trading platform options increases the Trade.com rating overall.
With all of these details, and many more, we can guarantee that Trade.com is one of the better, if not the best, traders to work with. These guys provide you with reliable service, good working options, and some nice platforms to work with. Their spreads are acceptable and the updated website is very functional and not too hard on the eyes. Both in the old and new Trade.com reviews we find the broker to be highly reliable and a good place to start or keep trading. Just remember that there are big risks associated with trading on any financial assets and that 71.36% of retail CFD trader accounts end up losing money, so be careful how you trade and plan ahead.
Overall rating:
Great for starters
★★★★☆
It is a pretty decent brokerage that offers good help for the starters. But you have to move on once you got better in trading.
"
Easy to register & use
★★★★★
It was pretty quick for me to sign up with Trade.com, get my account verified and start trading. I am still on a demo account, but so far so good.
"