Trade Horizon Reviewed – Is this broker scam?

Trade Horizon is an online Forex broker that claims to be offering traders safe and secure services. To see how this broker works and how trustworthy it can be, we have decided to conduct a detailed review of Trade Horizon.
While reviewing this Forex broker, we were able to spot numerous problems associated with the company that every trader should know about. First of all, it is the regulatory status of the broker that has raised numerous questions. The broker claims to be authorized by numerous regulatory agencies around the world, however, does not provide specific information about its regulators.
But, this is not the only issue that we were able to identify. After finishing our review, we have determined that this broker should not be trusted by our readers. We believe that Trade Horizon is a scam, which offers traders very questionable services.
In today's review of Trade Horizon, we are going to discuss all the things that we believe are wrong with this broker. So, follow our review to ensure you are staying safe when dealing with this website.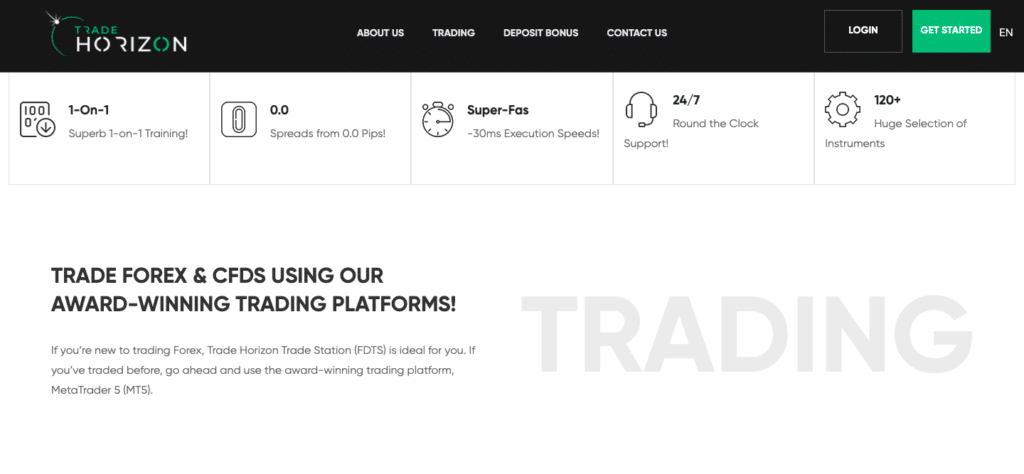 Quick overview of Trade Horizon
Finding information about Trade Horizon was not easy. The broker does not provide important information about its establishment and functionalities on its website, which is a huge red flag. The information provided by the broker is very broad and does not really have any value.
On the other hand, we were able to learn a lot about the company online. We found numerous forums where people have complained about their experience when trading with Trade Horizon. Many of them said that the services of the broker simply were not good enough and that it was charging some hidden fees.
Some people also claimed that their account balance suddenly disappeared. Most of these people mention that they were unable to retrieve their funds.
This is a huge issue and one of the main reasons why we believe Trade Horizon is a scam.
Regulatory framework of Trade Horizon
When talking about the safety of your funds in the Forex trading market, one of the most important factors that every trader should be focused on is the regulatory status of the broker they are using. In most cases, regulations can be a sign that a certain broker cares about the safety and security of their clients.
The website of Trade Horizon provides very vague information about regulations. It claims to be regulated by numerous authorities around the world. However, it does not provide any specific information about the licenses that it owns. This leads us to believe that Trade Horizon is a scam brokerage, which tries to lie to as many people as possible by giving a false view of the services the broker offers.
The broker also claims to be registered in the United Kingdom, which is known for having some of the strictest regulatory guidelines for Forex brokers. The financial regulatory agency of the UK is Financial Conduct Authority, which is among the most reputable regulatory bodies around the world.
The regulatory agency has a special searching tool, where anyone can look for companies and check if they own FCA's license. We looked for Trade Horizon, and we could not find it among regulated firms of the agency.
This is a sign that the brokerage is a scam, which simply tries to steal funds from as many traders as possible. It is not regulated and goes against the regulatory guidelines of the FCA by offering UK traders their services.
Regulations are very important in the Forex trading market. It is vital for Forex traders in the industry to understand that they should not trust Forex brokers that do not own official licenses. This way, traders are simply opening themselves up to numerous risks that are very hard to overcome.
Trade Horizon scam debunked
When working on this review of Trade Horizon, we spent a lot of time analyzing how this scam works. We believe that Trade Horizon is a part of a larger scam, which is working very hard to lie to people and steal their funds. We think that the company might have been known with a different name in the past, but after being outed as a scam, it has changed the name and created a new website.
This happens very frequently in the Forex trading market, and the worst thing about this is that scammers can do it as many times as they wish to. This can make it harder for beginners to decide which companies to trust and why.
There are several reasons that lead us to believe that the above-mentioned theory is true. One of the main reasons is the website of the broker, where the information is provided in a very unnatural manner. In fact, on one of the pages of the broker, the company refers to itself with "The Name", which can be a sign that it has copied the information from somewhere else and tried to fit it into the website.
Reviewing Trade Horizon – Offerings of the broker
While we are already very much certain about the fact that we are dealing with a scam broker, there is much more that we want to discuss to really grasp how much the company has tried to lie to its clients.

While reviewing Trade Horizon, we made sure to focus on different types of details of the broker. One of them is the available trading assets. The broker claims to be offering an array of trading asset types, such as cryptocurrencies, currency pairs, stocks, indices, metals, and many others.
However, it fails to provide clients with detailed information about the trading conditions of these assets. It is a very common thing for scammers. They are just trying to make their websites look legit, without giving traders any actually useful information.
Available trading platforms
As we were able to find out from the website of the broker, it offers traders two trading platforms. They are MetaTrader 5, and a special, custom trading platform. The broker claims that MT5 is an award-winning trading platform as if it was created by them. We think that this is another effort of the broker to lie to beginners into thinking that Trade Horizon is a legit brokerage, which is not true at all.
MetaTrader 5 is truly a great trading platform that is very well-known in the industry. However, it is not an achievement of Trade Horizon. It is simply a third-party trading platform created by whole another company. Trade Horizon has nothing to do with MT5 being a good trading platform.
Minimum deposit of Trade Horizon reviewed
While there are many disadvantages and issues associated with this broker, one that was very shocking is the minimum deposit requirement. The broker requires its clients to deposit at least $10,000 to open the Bronze account, which is intended for beginner traders.
It is very interesting that the broker claims to be offering accounts for traders of all interest and experience levels while requiring them to deposit at least $10,000 to start trading. This is very unnatural for the Forex trading market, especially considering the fact that the majority of the Forex brokers globally allow their clients to start trading with just a few hundred dollars of initial deposit.
For other accounts, the broker requires an even higher initial deposit. We think that the broker simply tries to steal as much money as possible from retail traders and that is the only reason why it requires such a high initial deposit.
Reviewing Trade Horizon website
Having a good website is very important for Forex brokers as it is the first thing that traders see when they are about to start trading. At first, the website of Trade Horizon looked okay. It certainly does not have the best design, but in terms of how it looks, we thought that it was fine.
However, after digging deep into the individual pages of the broker, we found numerous issues. One of the biggest problems that we were able to identify is the fact that the information provided by the brokerage is not sufficient for traders to truly grasp what the broker is about.
It does not list any specific trading conditions for individuals, which makes it very hard to understand what the broker really offers. We believe that the target audience of this scam is beginner traders, who do not have enough experience or understanding of the market to make decisions on which brokerages to trust and which to avoid.
One of the most confusing parts about the website of the broker was the fact that it claimed to be licensed and authorized by official regulatory agencies. However, it did not specify any regulators that have issued licenses for Trade Horizon. In fact, it did not even provide information about the registration number, or the license number. This leads us to believe that Trade Horizon is a scam.
Lack of educational material
During our review of Trade Horizon, we ensured to focus on all different factors that traders should know about the broker before they start trading. While not offering educational material is not a huge problem on its own, it becomes a disadvantage when talking about regulated brokerages. The majority of the regulatory bodies in the industry, especially Tier 1 regulators, require Forex brokers to offer their clients educational material.
As the broker does not offer any educational material, it can be viewed as a sign that the claims of the broker to be authorized are lies.
Connecting the customer support team
When trading Forex, it is very important to do it with a broker that you can trust and rely on. When things go south, you need to be sure that the brokerage is ready to support you and find a way out of the issues you might be having.
When reviewing Trade Horizon, we were very sad to find out that the broker does not actually offer a reliable customer support team, further increasing our worries about the Trade Horizon scam. The only two options that you have to connect the representatives of the broker are either from the form available on the website or through a special phone number.
We tried both of these methods but failed to receive any response from the representatives of Trade Horizon. This is a huge red flag. If there was something really serious going on, we would not be able to contact the representative of the broker and would simply end up without any support.
There is no live chat option and the broker does not provide its customer support email either.
Account types of Trade Horizon reviewed
It is a very common thing for legit and reputable Forex brokers to be offering their clients different types of accounts to ensure that they can find something that fits their individual needs the best. Not every trader is the same, thus, offering different types of accounts sounds like a good idea.
Trade Horizon also claims to be offering different types of accounts to its clients. But, much like anything else that this company does, this also seems to be only for lying to people. As we reviewed the account types individually, we found that there is not an actual significant difference between the account types available on Trade Horizon.
In fact, the only big difference between the account types is the minimum deposit. This is a very common practice among scammers. They are trying to make themselves look legit, but in most cases, there are small details that end up showcasing that the company is actually a scammer.
Can Trade Horizon be trusted?
After reviewing Trade Horizon and every little aspect about this broker, we believe that traders should not trust this Forex broker. The company is simply not good enough and it does not offer enough safety standards to retail traders to make Forex trading a secure activity.
The offering of the broker is not as good either. The broker fails to list different types of details that would be important for retail traders, making it very hard to trust anything that the broker writes on its website. Because of this and many other reasons that we have discussed in this review, we believe that Trade Horizon is a scam and we do not recommend doing business with this brokerage.