TradeEU Review
In this TradeEU broker review, we'll discuss the broker's trading fees, account types, trading platforms, Deposit and Withdrawal, and more.
About TradeEU Forex Broker
TradeEU is the trade name of Titanedge Securities Ltd (Corporate name). The CFD broker offers multi asset trading using MetaTrader 5 platform to its clients. TradeEU is authorized and regulated by CySEC and the licence was acquired in 2021. The Company is very young, however, it has already managed to earn a good reputation among traders by focusing on 3 core principles: simplicity, fair play and knowledge.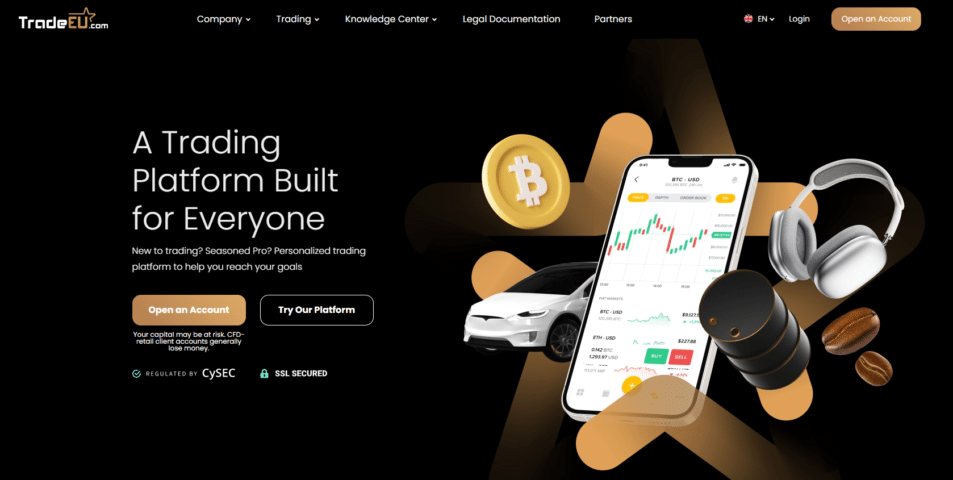 TradeEU Broker Review of Accounts
There are various types of traders. To meet the needs of different traders, TradeEU offers three types of accounts. You can choose from Silver, Gold and Platinum live accounts. There are 250+ Currency Pairs, CFDs onIndices, Cryptocurrencies, Forex, , Commodities and Stocks available for trading on all currency types. Leverage is up to 30:1 and the trading platform is MetaTrader 5. The difference is in spreads. On silver account, spreads start from 2.5 pips. On Gold account, spreads are from 1.3 pips. And On Platinum, spreads start from as low as 0.7 pips.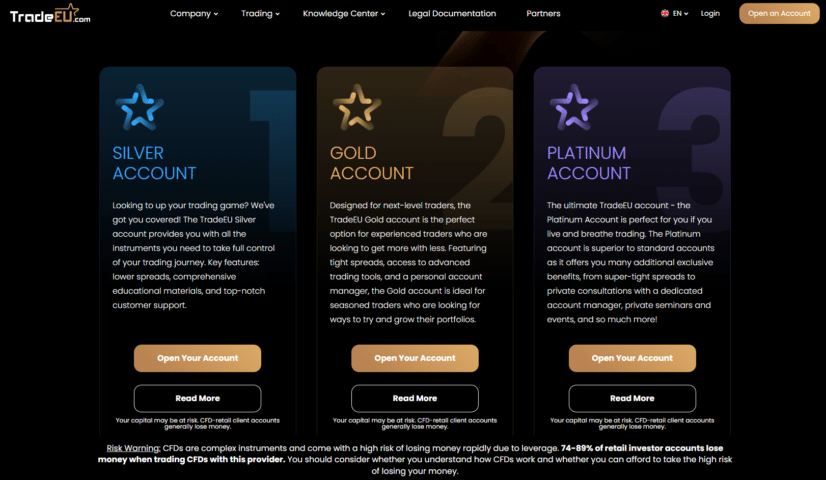 The account base currency is EUR for all account types. In addition, hedging and usage of Expert Advisors is allowed thought the platform MetaTrader 5.
Hedging helps traders limit their risks, it's like an insurance strategy. When traders are in a long term trade and a news announcement might damage their position, traders place short term orders against their existing order. The hedged position is usually closed after the threat is over. However, hedging requires experience and great attention to details.
Using Hedging strategies is illegal in some parts of the world as they are difficult to implement. For instance, hedging is not allowed in the United States. On the other side, EU Traders can apply hedging and at the same time try to avoid restrictions by indirect hedging using highly correlated currency pairs. With TradeEU, this is not needed.
TradeEU Review of Trading Platforms
TradeEU offers access to MetaTrader 5. The platform is an industry leader when it comes to multi asset trading. The MT5 was released in 2010 and the software hasn't changed much since.
The MT5's predecessor is MT4. The MT4 is also a highly consumed trading software nowadays, however, MT5 offers more indicators, more asset types and more flexibility.
The MT5 is highly reliable. For this very reason, it became popular instantly and remains the best multi asset platform.
The MT5 is widely popular among traders. Which in turn explains why there are so many trading algorithms developed for traders. Trading robots enable investors to automate their trading. MT5's algorithms and custom-built indicators are available in Meta Market. The MT5's algorithms are called Expert Advisors (EAs). You can build or purchase EAs.
There are free and paid versions of robots. Keep in mind that not all paid versions work properly. And you need to do your own research before purchasing an algorithm.
TradeEU Review of Extra Features
The CFD broker offers access to more than 250 assets including: CFDs on Forex, Indices, Commodities, Cryptocurrencies and Stocks.
CFD trading is for short term speculations as well as medium term investors. Some prefer day trading CFDs, while others use swing trading and position trading strategies. CFD trading has a number of advantages (and disadvantages as well) over trading physical stocks. CFDs give traders the ability to possibly profit (or loss) from both bull and bear markets.
TradeEU Review of Customer Support
TradeEU provides superb customer service. The CS agents are well-trained, friendly and highly professional. Customers can contact the Cyprus  office via the phone or using an email. The service is available 24/5 on the working days. The only downside is that the live chat option is not available from the main page.
TradeEU Deposit and Withdrawal
Deposits and withdrawals are made in Euro. The process is smooth and user-friendly. Visa, Mastercard and Maestro options are instant and free. Bank Wire transfer takes 1-3 business days. The broker doesn't charge clients for transferring funds from its end.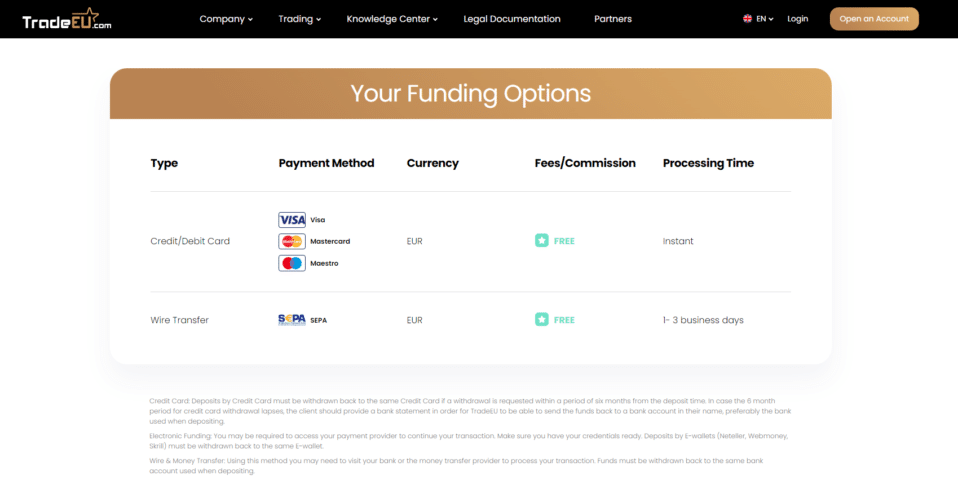 TradeEU Review Conclusion
To sum everything up, TradeEU is an emerging, regulated CFD broker that offers a wide range of assets. Traders have access to more than 250 assets including: CFDs on Forex, Indices, Commodities, Cryptocurrencies and Stocks. The broker provides a superb trading experience using its user-friendly webpage, and a team of professional customer support available 24/5. TradeEU provides world's leader MetaTrader 5 to its customers. And the platform is accessible through all three account types: Silver, Gold and Platinum. Funding options are free and most of them are instant, such as Visa, Mastercard and Maestro. Bank Wire Transfer takes up to 3 business days.
TradeEU is a young, promising brokerage that delivers, for this very reason, we give 5 stars to this CFD broker.