TradeFTM Review – is the broker the real deal?

Every once in a while, you come across this brokerage with credible – or seemingly so – license, impressive trading terms and conditions, and a streamlined website. In those moments, it's difficult not to gush around such a broker and entrust them with your finances.
However, more often than not, under those seemingly legit brokers lurk more fraudulent entities. They've set out to get a hold of your money and undermine your financial security.
In this TradeFTM review, we'll take a look at the broker who we think might fit such category. After a comprehensive examination, you will know, whether you can trust this broker or not!
Initial TradeFTM opinion
TradeFTM is a brokerage firm that was established back in 2007. Just the fact that they have been on the market for already 12 years makes them seem more credible and legit. On the other hand, in that time they could also gain some experience in tailoring their services to better trick the customers. We'll find that out down below!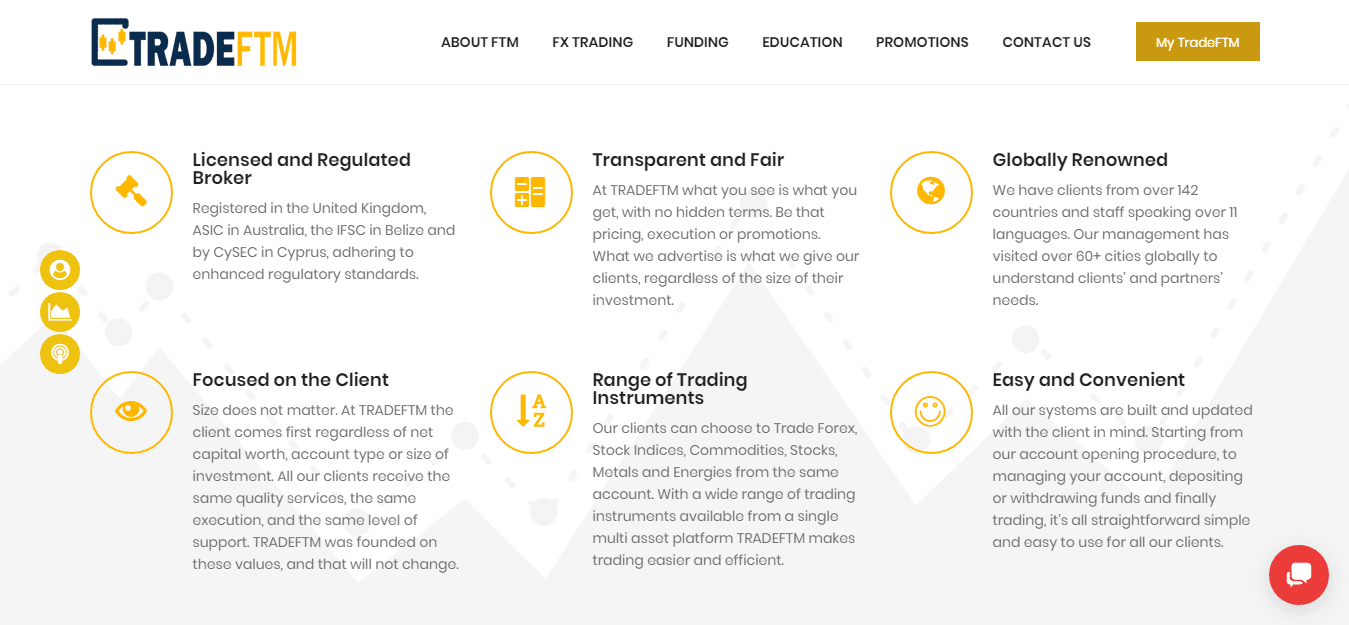 Website
After a brief overview of the website, it seems quite streamlined and sophisticated. The interface seems nice and well-separated into various categories. However, we have to mention here that in some cases, the website feels a little too over-the-top.
Here we also have to mention a wide array of trading accounts starting from the most basic Micro account all the way up to ECN Elite. This speaks highly of the broker as it clearly considers the diversity of its customers – unless it's trying to manipulate everyone in its Ponzi scheme; again, we'll have an answer to that after the review is finished!
Licensing
When it comes to registration and licensing, TradeFTM FX brokerage has been registered in the UK. What's left to suspect, right? Not that fast! It might be located in the UK but the licensing has only been issued by other very distant countries like Australia, Cyprus, and Belize. We'll explain what this means in a second but for now, let's just say that it's not good – really not good.
Trade offerings
As for the trading terms and conditions, the broker offers some impressive conditions but, at the same time, requires hefty commitments from its consumers. For example, the maximum leverage can go as high as 1:500, while spreads – as low as 0.6 pips; on the other hand, the minimum deposit requirement is $200 which, for a beginner trader, is way too high.
Overall, the broker has its pros and cons. It's now up to us to determine, which side is more prominent.
Tradeftm.com review
So, let's start with the website. We've mentioned above that it looks streamlined and sophisticated – which it is. Even though it's everything but simplistic, the interface still looks nice.
There are six different sections that contain About section, as well as FX trading, Funding, Education, Promotions, and Contact Us departments. This way, visitors can find any information about the broker without too much effort.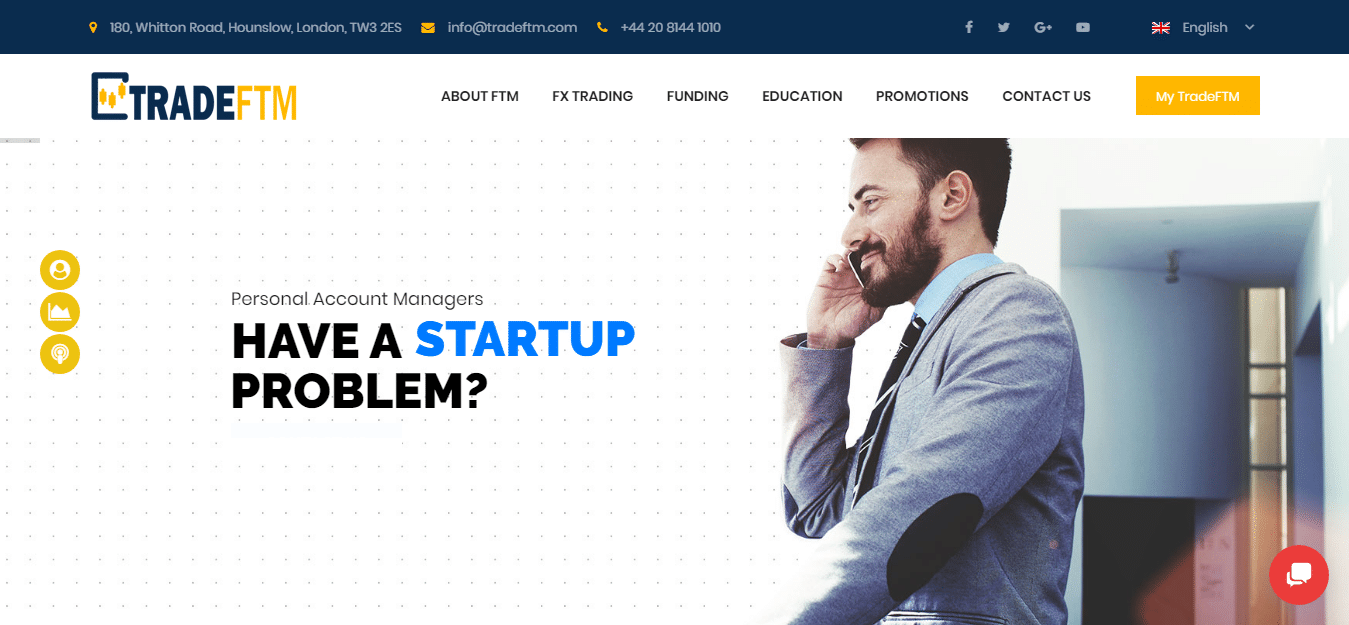 Another strong suit of TradeFTM is its trading accounts. There are eight different account types ranging from Micro to ECN Elite accounts and each has its own distinctive perks. Various accounts give traders from every experience backgrounds to use the broker's services and do Forex trading.
However, before we go on with this major gush-around of the website, we also have to mention here that it doesn't take much IT knowledge to create a good-looking website. Online platforms such as Wix and Squarespace offer pre-existing templates that allow anyone to build a website of their liking. So, tradeftm.com might look great but it's not that big of a deal and certainly doesn't alleviate several TradeFTM fraud concerns.
But even despite how the interface looks great, there are some areas where visual effects and detailed image backgrounds look a bit too much. Toning them down would make the website a lot more professional and less assuming.
Seemingly comprehensive regulation
Now, let's head over to the licensing material and see, what they really mean. The broker mentions that its headquarters are located in London, UK. One might fall for the assumption that the UK is also a licensing country of TradeFTM, but that's not the case.
As for the real licensing institutions, the first to mention here is the Australian Securities and Investments Commission (ASIC). Now, Australia is a developed country with a rich and powerful economy. However, when it comes to gambling and trading, the country has its soft spots. You might not know this, but Aussies are number one in terms of gambling and money manipulations. So, we're not really sure the ASIC license ensures the company adheres to strict standards.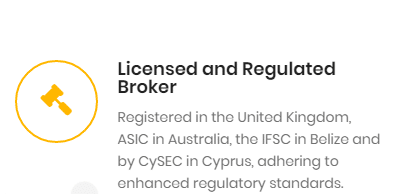 With Australia out of the way, let's talk about Cyprus (CySEC) and Belize (IFSC). These two countries are similar in many ways – as well as different in many ways, but we're interested in similarities now. Both are small islands with a minimum to no political or economic prowess of any sort. When it comes to overseeing a brokerage who operates in over 142 countries, there's nothing these two countries can do to restrict the broker's fraudulent activities.
So, when it comes to ASIC, CySEC, and IFSC, we're certainly not convinced that TradeFTM Forex broker can be monitored and if necessary, made responsible for its customer abuse. In fact, this part of the review gives us the clearest idea of what the broker might be doing in real life.
What TradeFTM promotions look like
Now, for the final part, let's talk about trading terms and conditions. We've mentioned above that there are 8 different trading accounts with different conditions and promotions. In this review, we're only going to mention the most prominent ones as it would take ages to review each and every one of them.
The maximum leverage can go as high as 1:500, as well as spreads – as low as 0.6 pips. Now, these are quite impressive offerings, at least the leverages, considering the market average of 1:300. They offer good profit opportunities.
However, the impressive stuff quickly changes with a hefty requirement of $200 for a Micro account, not to mention thousands and hundreds of thousands of dollars for higher levels. This indicator can quickly discourage novice traders from using TradeFTM's services, as they wouldn't want to risk their money into a venture they're not familiar with.


And even though there are demo and no-deposit bonus accounts that offer pretty good opportunities to the inexperienced traders, it still doesn't cover the fact that the latter of TradeFTM promotions is too demanding.
There are, of course, other characteristics that are worth mentioning. For example, TradeFTM withdrawals feature conventional (wire transfer, Visa/Mastercard/etc), as well as more modern (PayPal, Skrill, etc) platforms which is certainly an upside. As for the trading software, the broker uses a bit too complicated MetaTrader 5, alongside iOS and Android applications that are always on the go.
Final thoughts – is TradeFTM legit?
Overall, this review discovered three main characteristics of TradeFTM: a nice-looking website, completely worthless licensing, and impressive, but demanding promotions.
As we've noted above, the pros and cons are both present here and only by the end of this review would we determine, which one is more prominent. So, here's our final answer:
High leverages and low spreads, as well as a nice website,  might be appealing to many traders, but at the end of the day, licensing is what matters most. ASIC, CySEC, and IFSC licenses don't mean anything to us as they're issued by the countries incapable of controlling the broker.
Therefore, we think that the TradeFTM fraud is a real possibility and you should be careful when entrusting your finances with this broker.
Have a nice trading!