Tradescrypto Review

When you're looking for new brokers, please make sure that you pay attention to every single detail you can. Even if you believe that checking something would be way too simple, most of the times those are the things that hide all the negative information about a certain broker. For this Tradescrypto review, we had to do one of the oldest tricks of finding scams in the midst of the company's information page. We had to simply google search some images. Check our findings below!
Broker research
Every time we search for a broker, sometimes it gives us relief that we are only looking at a broker to review them on not commit to trading with them. We completely understand all of our readers, the stress levels of finding a reliable broker are definitely up there with the stress levels of parenthood and the army. Those of us who review these brokers have had numerous bad experiences with scammers, having our hard earned money stolen from us, so you have our sympathy and understanding if that has happened to you as well. That is why this Tradescrypto review exists so that all of us and you can avoid scammers and bad brokers like them and have a smooth and relaxing experience trading on the market. We have no doubt that you would also devote a lot of time to researching a specific broker, but that time may stretch too long because of the long working hours most of the people are facing within these days and, on the weekends? Come on who would want to disturb their weekend with a Forex broker research. Therefore we have made it our responsibility to do the research and deliver you all the information you may require to find out the Tradescrypto scam. Well, we did just that, let's get into it.
The biggest giveaways
What you need to always remember about Forex scammers is that they are desperate for money. All they are looking for is profits and therefore will resort to the worst possible ways to achieve it. They know that most of their customers get their information through their terms and services, so they manage to sweeten them up so that you don't get the red flags immediately. Next what they do is they beef up their account prices so that every new customer has to spend a lot more to get scammed from it.
Trasdescrypto fraud similarities
This broker's ways of scamming its customer base are pretty similar to what we mentioned above. When you visit their account types you are immediately met with a small variation. However, apart from the most reputable and trusted brokers, they are encouraging new signed up members to opt for the most expensive account types, with promises of webinars and trade signals. If you are truly a beginner you may actually fall for this but remember that some of the best brokers offer the same services for a less expensive account, even a beginner's one.
The only way a beginner customer should be treated is to help them inch their way up the ladder of education within the industry. But the Tradescrypto scam has no patience and wants its new customers to deposit thousands at a time because they know that customer retention would be impossible for them, so they opt for new ones all the time.
Trading assets and Tradescrypto withdrawal
When was the last time you visited a trustworthy broker? Remember how many assets they offered you. They had to have at least 6 right? Well, Tradescrypto only offers its customers 1 asset and that is cryptocurrency. Now we are sure that we don't need to explain how easy it is for brokers to scam their customer base about cryptos. They'll just bring up a reason that the payment didn't go through or the price jumped within the milliseconds it was going through. Tradescrypto withdrawal system is a nightmare because of this. Reverting back to the asset numbers, it doesn't matter that the asset is in their name. Some of the best Forex brokers who have Forex in their name offer all types of assets. Let us explain why the lack of variation is so bad. If you are a cryptocurrency holder waiting for a major jump, then you might have a really boring time trading with Tradescrypto, because of the fact that they don't offer anything. While with other reputable brokers you can trade Forex, commodities, CFDs and etc. The fact that Tradescrypto broker tells you that focusing on 1 asset is more profitable is a lie.
Can Tradescrypto be trusted after this?
Have you ever come across brokers using vague quotes from one of their customers? Mostly the B2B partnership customers? Sometimes those statements can be true and reliable actually, but only when they are based on the words of actual people and not on stock photos with generic names attached to them. That's what Tradescrypto did when it decided to create a "What People Say About Us" slide. Which you can see below.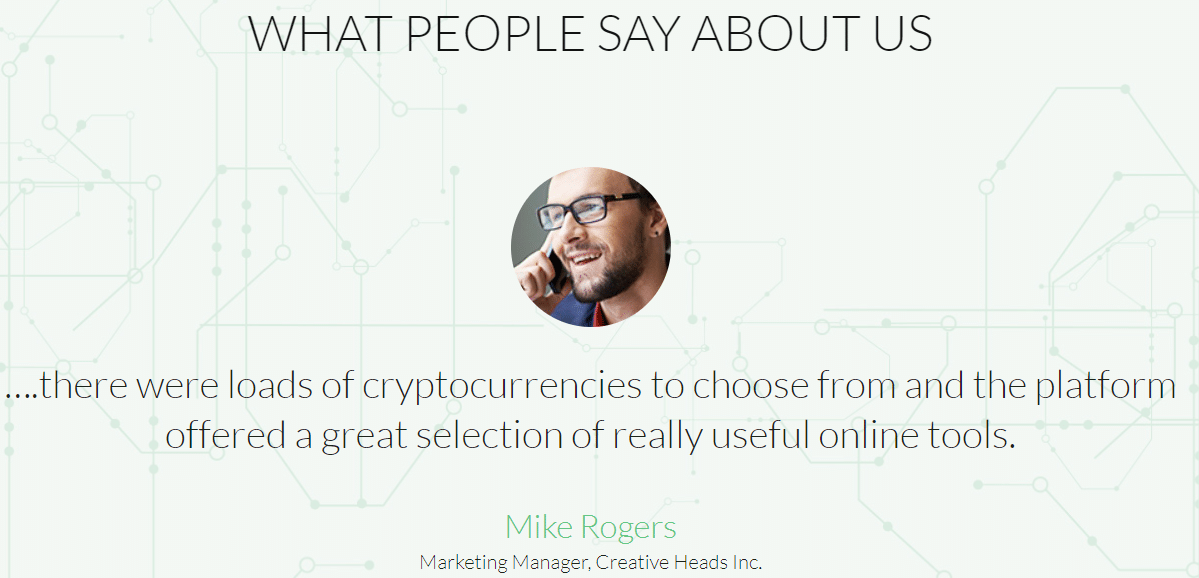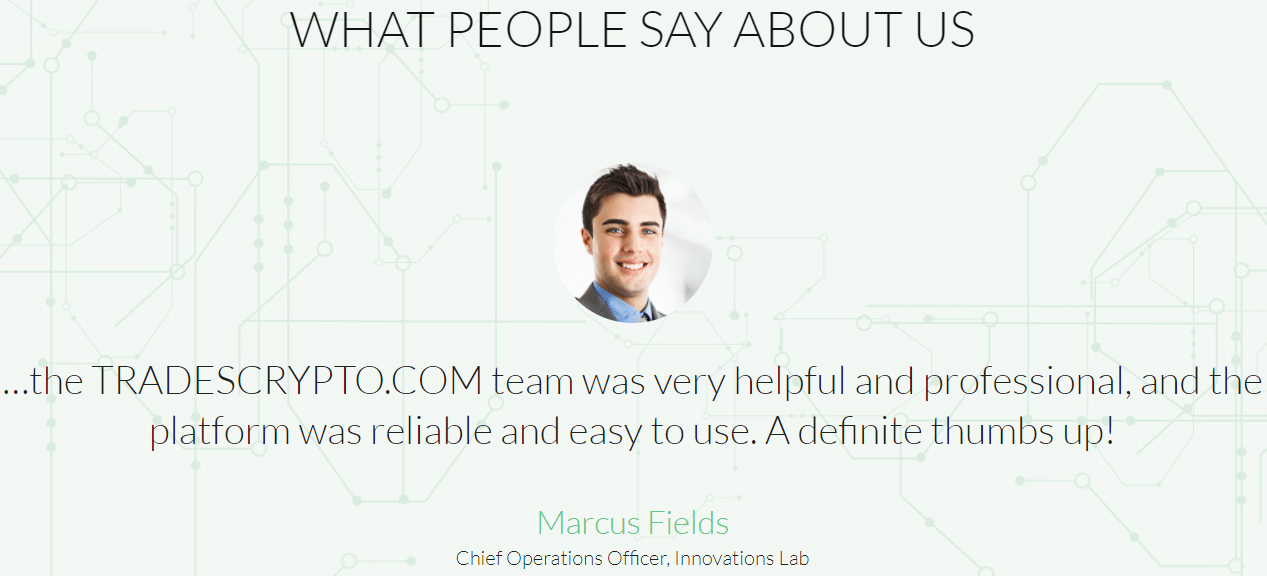 The reason companies do all these "What people say about us" slides is to make customers feel like they are not stepping into uncharted waters like they are not the first ones to try their services out. In Tradesrypto's case, they used comments that people from real companies have made about them. Now we are sure that people with these names exist, also the companies are real as well, but the fact that the pictures of these people are taken from stock photos is very disturbing. If a person is ready to disclose information of their name and their working place, they should also be okay with providing their photo. But not this time. They're just stock photos.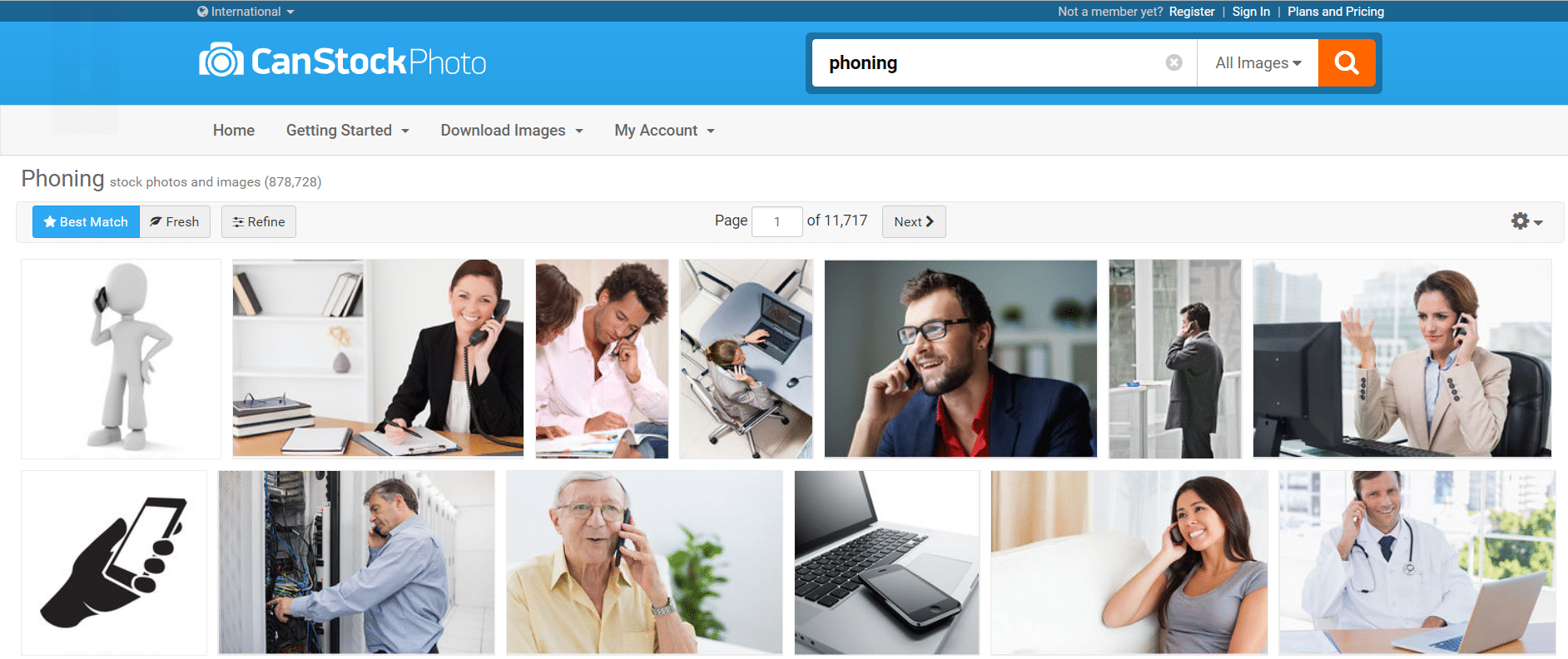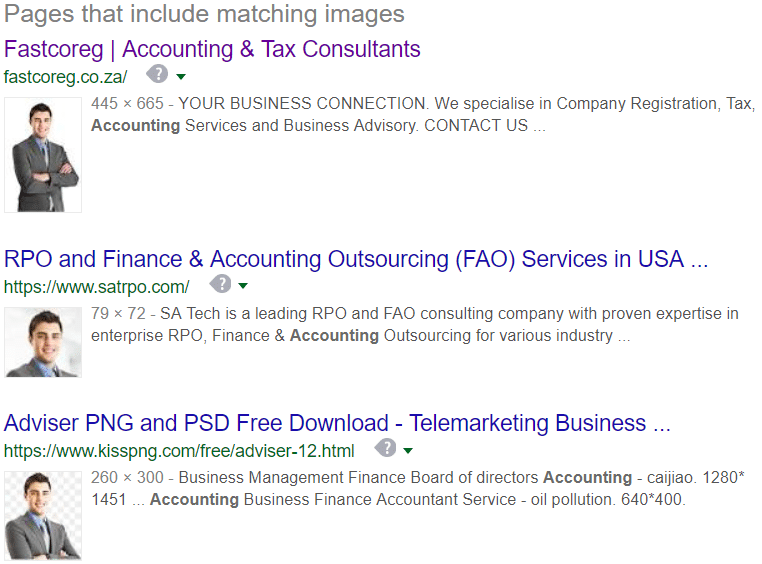 Tradescrypto licence & regulation
After a long search on their webpage, we were not able to find any information referring to their regulators. Thus leaving us to deduct the fact that they are an unregulated broker, making their activities not only very dangerous but also extremely illegal. In order for you to be able to hold a broker accountable, you need to have them be regulated by somebody. The most popular and easy regulations to get are from CySEC, but the Tradescrypto scam would be a lot harder for the founders so they opted to not go for it at all.
Let's say that it was too late for you to find this review. Let's say that you already registered with a scam broker like this one. What would happen when before you start to actually invest with them? First of all, you will be given a call from one of their sales people and given the pitch every other telemarketing company teaches their employees. If you get this type of call, then it's a tell-tale sign that you need to bail as soon as possible.
Tradescrypto opinion delivered by actual users
Scamadvisor is a nice platform to sometimes look at the details of some brokers. They mostly just list numbers about them, but sometimes feature interesting stories in the comment sections. That is where we found a lot of bad Tradescrypto opinions stated by people who already got scammed.
Tradescrypto WebTrader
WebTrader is one of the best ways to trade cryptocurrencies. Tradescrypto looks like they were aware of this fact and made WebTrader their only platform. However, when a broker is trying to attract as many new customers as possible, it needs to be able to feature as many platforms as possible as well. The fact they didn't even try to have MT4 or cTrader indicates that their WebTrader may be subject to manipulation.
Summing up the Tradescrypto review
In order to quickly sum up this review, we need to emphasize how shady all of the stock photos make this broker look. Other than that we have real people crying out in order to warn other traders not to invest with this broker so that to not suffer the same fate of getting scammed. We wish all those already fallen victim to Tradescrypto scam a more fortunate future in trading. And all those who are reading this review, we hope you stay far away from this scammer.