Tradesmart – Is This Broker Legit?

The majority of newcomers in the trading world are not aware of the fact that there is a vast number of fake Forex brokers that deceive customers and steal their funds. The most important aspect you need to pay attention to is credibility and reliability before choosing a suitable Forex broker in order to avoid getting scammed. If the platform does not feature any kind of license from trustworthy regulators we would not recommend signing up there since the risk of losing your funds are tremendous there! 
Due to the advancements in technologies, nowadays people are able to establish fake platforms and deceive inexperienced customers easily by promising them all kinds of generous opportunities. In reality, they will steal all your money and it is pretty much impossible to get it back as there are no regulations on these websites that will allow you to open a dispute.
Hence, the first thing you need to check upon opening a broker platform is whether they hold a license from a reliable regulator or not. Usually, this type of information is available at the bottom part of the website. By doing so, you make sure to get your hands on a credible broker where all your funds will be protected maximally. 
In order to facilitate the selection process for every trader, especially beginners, Forex Trading Bonus provides thorough reviews of different brokers where every essential information is written. As a result, you will be assured of every quality and be aware of scammers in this field. Down below, we would like to review a broker called Tradesmart and show you if you can trust them. As soon as you finish reading, you will be able to make a decision easily, so let's start right now. 
Brief Overview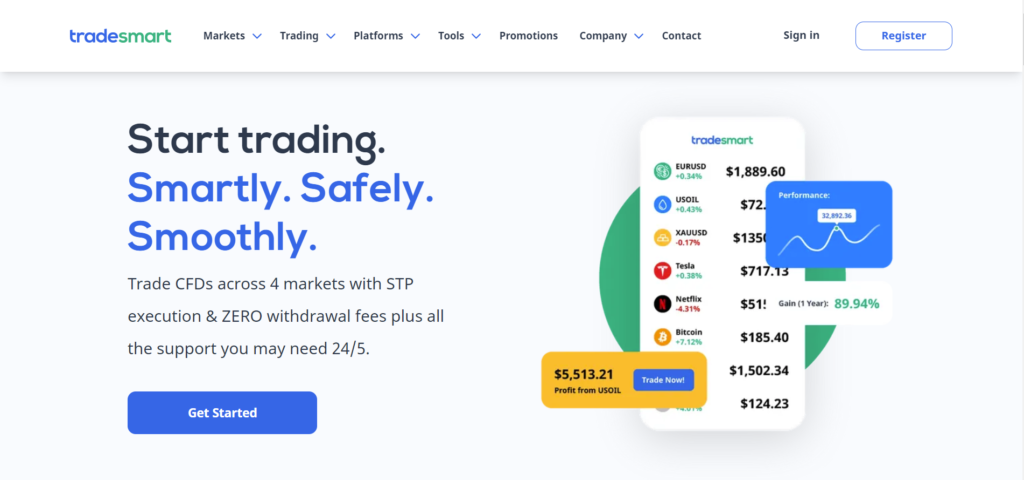 Tradesmart Forex broker was established not so long ago and it offers different market opportunities to every customer. Even though their website features extremely appealing sentences regarding assets, withdrawal fees, and security of your funds, our experienced eyes have easily deduced that behind such an appealing platform lies a scammer who is willing to steal all your money. In order to prove our point, we are going to point out every attribute of their abilities down below and show you if they can be trusted or not. 
Tradesmart Promotions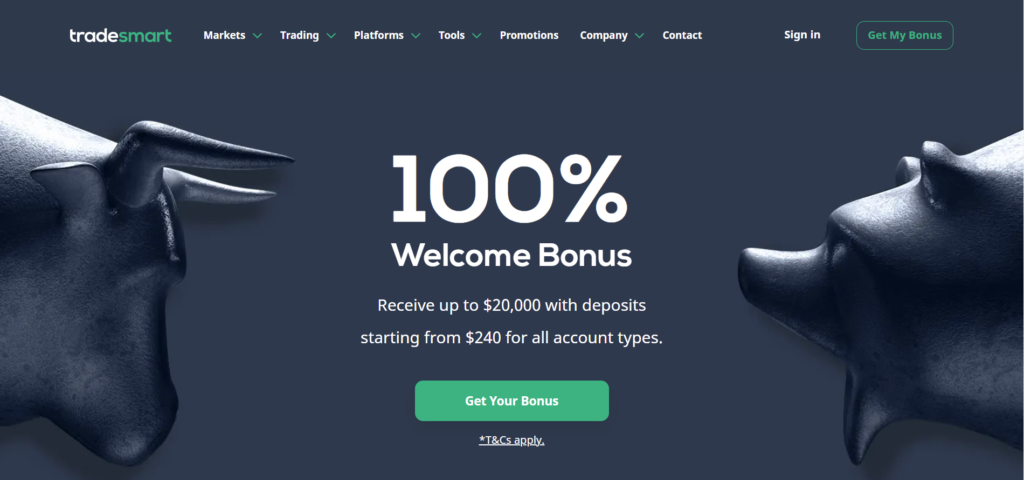 Let's begin our journey by mentioning what types of promotions you can find on their website. As soon as you open the promotions page you will see that the platform allows you to receive a 100% welcome bonus and you will have the opportunity to obtain up to 20.000$ with deposits starting from 240$ for every account type. Needless to say, this sounds too good to be true, that's why we are doubting their promises in terms of promotions. 
The main reason is that they require you to deposit at least 240$ in order to get eligible for this proposal. There is a strong argument to think that as soon as you provide this amount they will steal your money and don't provide any kind of bonus in return. Moreover, the conditions for this offer seem way too attractive since as they say there are no hidden fees, no extras, no rules, funds will be credited instantly and they are withdrawable anytime, and so forth. 
You should not get attracted immediately to such appealing proposals and remind yourself that everything that shines is not gold. We were once again assured of this as we took a look at account types of Tradesmart since unlike the majority of brokers they offer five types of accounts for every user – Micro, Silver, Gold, Silver Islamic, and Platinum. 
The numbers indicated below for every account type seem pretty irrelevant as the 20$ minimum deposit required for a Micro account can't possibly give you the maximum leverage of 1:1000. What's more questionable, other account types don't feature such high leverage despite the fact that they require far more minimum deposits. In conclusion, we are very skeptical about all these offers from Tradesmart and therefore, we think it might be a scammer.
The Website
By taking a look at the interface of their website, we have to say, that we were not very impressed. Yes, everything is written with large font size, but the site lacks colors and wallpapers. In our opinion, the developers have decided to write every piece of information with huge letters in order to make visitors read their false proposals easily, so it is somewhat a strategy to deceive traders and make them their victims. 
It can be quite difficult especially for novice traders to navigate through the Tradesmart website since there are a lot of sections and you need to scroll all the way down to read information. Even though the platform provides educational guides regarding different materials, we still think that it is one more strategy to make everything look legit and real. 
What's more, Tradesmart provides three types of trading software including Metatrader 4, Metatrader 5, and PAMM where traders and investors meet. These are the industry's leading programs that the majority of experienced traders utilize and that's why it was a good idea to implement them on the Tradesmart platform. However, we want to highlight once again that you should not be deceived by this kind of opportunity at first glance. 
The License
We want to conclude our brief overview by mentioning that there is absolutely no information provided regarding the license and regulators on this platform. As we read on the bottom side of the website – "This website is not directed at any jurisdiction and is not intended for any use contrary to local law or regulation." This means that no governmental institution is responsible for regulating Tradesmart which once again underlines our doubts that it might be a scammer broker. 
We can firmly state that Tradesmart includes highly attractive proposals on their platform but whether they are able to successfully carry out them is a big question. Hence, we would recommend every trader refrain from signing up on this website.
Tradesmart Offerings
Partnership Program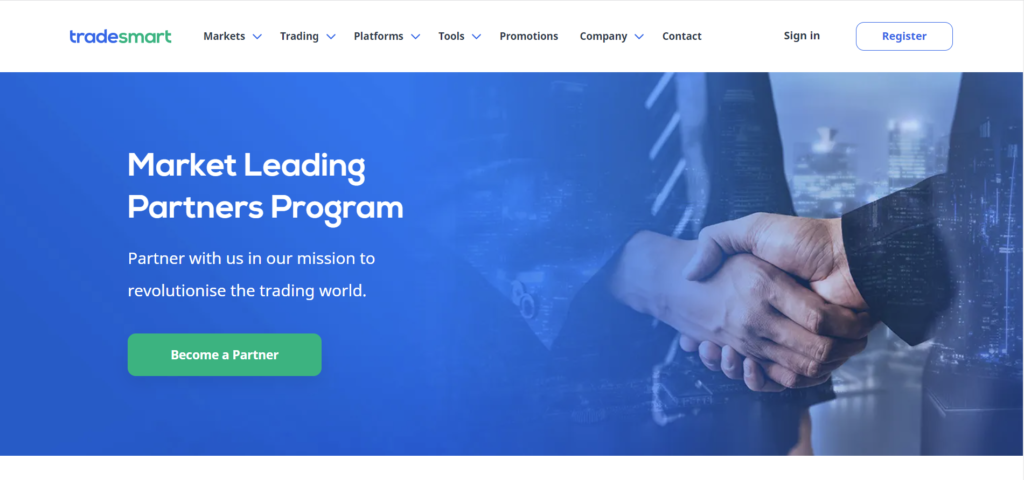 We can find a lot of beneficial offerings on the Tradesmart website and we want to begin by describing their partnership program. As they say, the platform features a market-leading partnership program and they are promising to revolutionize the trading world in case you become their partner. This is a very good way to make visitors engaged in this section, so we have to admit that the developers of this platform are well aware of the marketing methods that entice a vast number of visitors. 
Tradesmart includes two types of partnership programs – regional and referral programs. The first one tries to convince us that the platform operates in multiple countries across the world and they have a lot of global partners. However, the platform is only represented in English which makes a major question mark regarding this matter. As for the referral program, it allows you to get benefits by engaging more and more people on this platform. In return, you will get a commission and this program offers up to $7 per lot or a 70% revenue share. 
Moreover, as we read in this section there are far more beneficial outcomes when you get partnered with this company fast payments, access to a liquidity pool, five-star technical support, exclusive promotions, and so on. All these perks seem way too appealing considering the fact that you are not doing anything special. Hence, this page has also earned a pretty big question mark in our Tradesmart review.
Account Types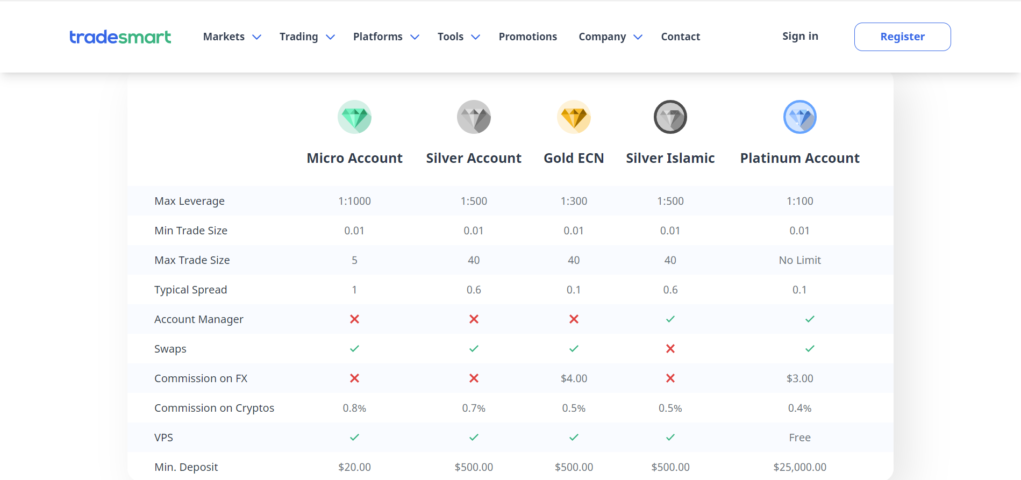 In this part, we want to talk about the different account types of Tradesmart. You will come across five types of accounts on this platform since it is a well-known fact in the trading world that successful and reliable platforms contain many account types. Therefore, if Tradesmart is deceiving its customers, it is a very good idea to implement different offerings for each account as if they have a wide range of choices here. They state that a Micro account is the most suitable one for beginners since with the help of a 20$ minimum deposit they will better acquire a feel for the market.  
However, we can hardly believe that an account consisting of such a low minimum deposit can go up to the 1:1000 maximum leverage. As for the other accounts, we have to note that silver, gold, and silver Islamic ones feature relatively similar characteristics with an increased minimum deposit and decreased maximum leverage. The most attractive account type is obviously platinum which requires 25.000$ as a minimum deposit, but considering the fact mentioned above, we would not recommend any trader to deposit this much money on this platform! 
In fact, we don't suggest anyone deposit even 1$ on Tradesmart since we strongly believe that this broker is a scammer that deceives people and steals their funds. These account types include extremely lucrative proposals that are very unlikely to work in reality, so you need to be careful here. 
Deposit and Withdrawals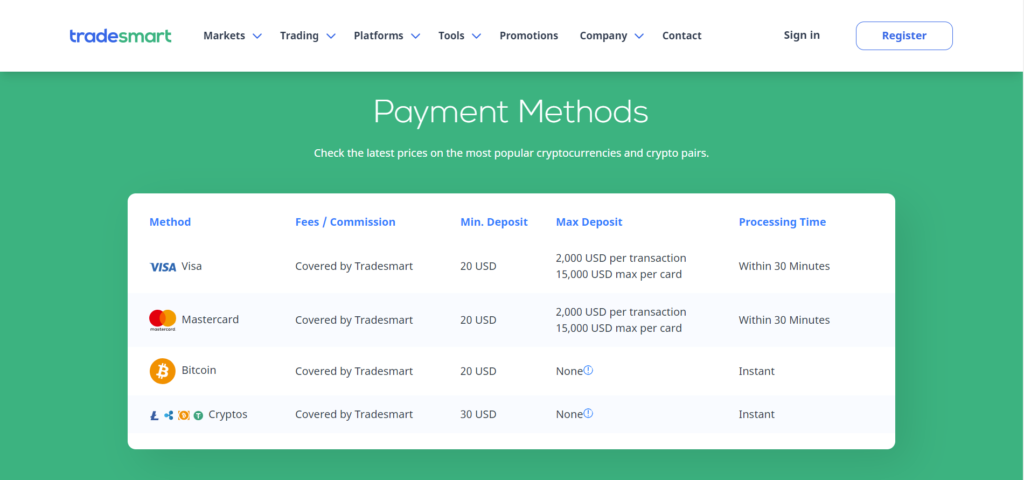 When it comes to the deposits and withdrawals, we have to highlight that Tradesmart provides no less appealing proposals in this section as well. For starters, we want to point out that this platform provides payment with all kinds of currencies including cryptos, but this is nothing special since today the majority of brokers are mainly oriented toward crypto transactions. However, the most important aspect of transactions here is that all the fees and commissions are covered by Tradesmart itself which is very surprising for us. Do we have to really believe that the platform will pay all the extra money for us? 
It is very unlikely, in our opinion. In this segment, we are also reading that platform will secure out payments maximally with the help of various resources. But, we think that this is one more trick to deceive users and make them deposit a lot of money in their accounts. They claim that liquidity providers offer the best conditions for markets and protect your funds, but we did not find any information on the website regarding their partnership. So, our doubts are even doubled by looking at the deposit and withdrawal departments of the Tradesmart platform.
What's more, the minimum possible deposit you can place here includes 20$ which can be one more sign of a scammer broker. The majority of reliable platforms do not include less than 100 or 200 USD as the minimum deposit, so 20$ is a ridiculous number considering the fact that cryptocurrencies are the most expensive assets in the trading world. 
Trading Platforms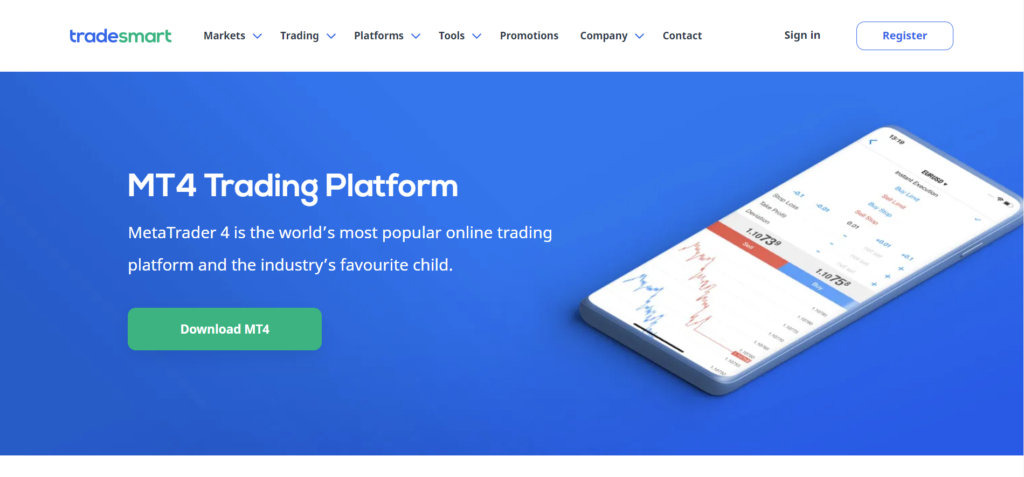 As we have already noted above, Tradesmart includes three kinds of trading platforms – Meta 4, Meta 5, and PAMM. It is a well-known fact that Metatrader 4 is the most famous software in the world used for trading. This program contains all the essential information and buttons in order to carry out trading procedures effortlessly and moreover, it is very easy to use, even for novice traders. Hence, it was a good idea on their end to implement this software on the platform since they would engage more and more people, and they have also included Meta 4 for different kinds of platforms including Windows, Mac OS, Android, and Apple. 
The same goes for Meta 5 since it is one more popular tool utilized for trading. As for the PAMM, it is a resource that helps traders and investors to meet each other. The website features thorough information about how PAMM works and it even offers customers to become an investor as they will take advantage of numerous benefits there. However, we think that this is one more indication that Tradesmart wants to deceive users and make them deposit a lot of money in order to steal it! 
Tools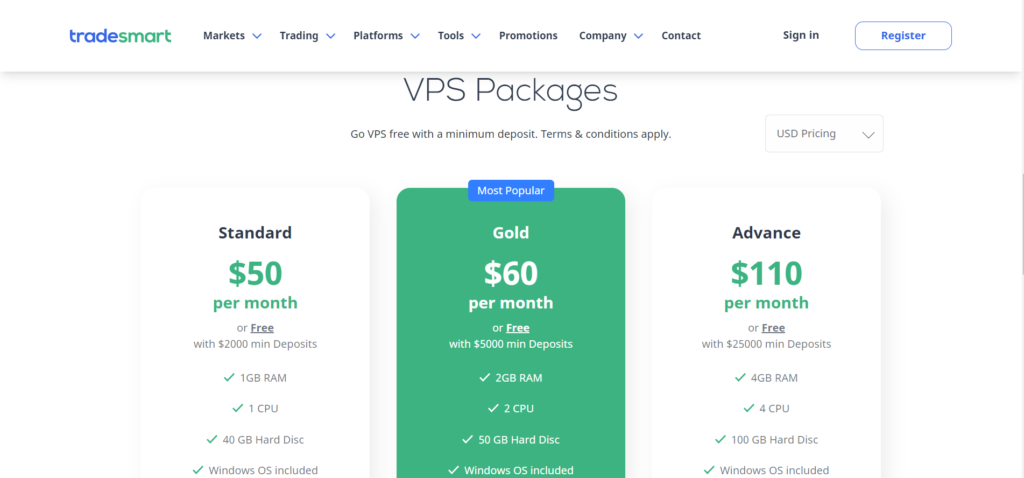 Apart from the proposals mentioned above, you can also run into several tools on this platform that is well-known in the trading world. However, what makes us skeptical about them is that Tradesmart offers extremely low deposits in order to get eligible for those tools. For instance, VPS Hosting Service provides highly secure and speedy performance of the platform and here you have the opportunity to buy this package for as low as 50$, while the majority of trustworthy brokers require far more money for such a high-quality service. 
Also, it is worth noting that this platform lacks a section regarding the educational content and we read that it will be available soon here. However, it is written there for a very long time now and we think that Tradesmart does not bother itself to provide any kinds of educational material in order not to lose customers. Because once they start educating users about trading needs and requirements, they will eventually understand that this platform is nothing but a scam that is trying to steal their funds. 
Customer Support Team
One of the most significant aspects of a reliable broker is that it includes a professional customer support team that is ready to assist you regarding every task and solve all the obstacles you encounter on the platform. We have to highlight that newcomers in this field are often confused by unknown processes and terms so they have a lot of questions. Therefore, it is essential for every platform to include different types of customer support resources including live chat, phone numbers, verified emails, and so forth. 
When it comes to Tradesmart, we have bad news in regards to this aspect as well. The platform does not include any kind of customer support team since in this section we can only find different emails that are not verified and a phone number that does not work at all since we have tried calling and nobody answered it. So, decide for yourself whether this platform is reliable or not. 
Can Tradesmart be Trusted?
In this article, we have reviewed every attribute of this broker thoroughly and we want to conclude that Tradesmart is a 100% scammer. All the appealing information regarding their services serves one purpose – to deceive customers and make them deposit a lot of money. As a result, they will steal your funds and there is actually no way to open a dispute against this platform since it is not licensed by any regulator. Hence, we can firmly state that the Tradesmart broker can't be trusted by any means and every trader should refrain from signing up on their platform!