A Detailed review shows if TradeToro scam is real or not

TradeToro is CFDs broker that offers CFDs on various cryptocurrencies. The brokerage was established in 2018 and is operating worldwide since then. The broker does not offer any trading assets other than cryptocurrency pairs and hence, has all its service designed solely for the traders who enjoy trading crypto CFDs. Since there are a lot of cryptocurrency brokerages that appeared during the cryptocurrency hype in 2018, people are very doubtful once the new crypto broker appears, and not surprisingly many traders want to make sure if TradeToro scam is real or not.
The offerings of the broker seem to be very good. TradeToro offers up to 40 cryptocurrency pairs with the leverage up to 1:20. According to the website of the broker, the spreads are from zero, and the list of the trading assets actually showcase tight spreads. The minimum deposit required to open an account with the broker is a bit higher than the average and is 500 USD, EUR, GBP, depending on the account base currency. However, the accounts are free from any additional charges, commissions of hidden fees. The broker offers five account types to its customers and several most convenient payment methods.  This review will discuss the features of the broker in details to see how trustworthy it is and to answer the main question is TradeToro scam real or not.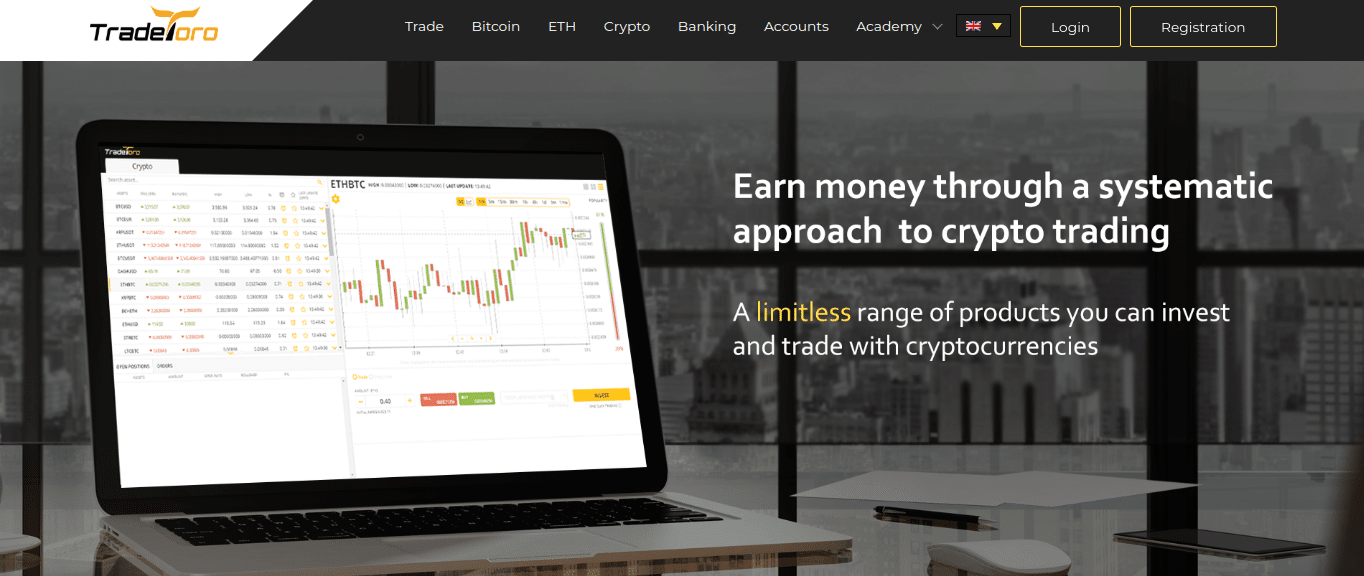 Trading with TradeToro
Those who want to start trading with TradeToro have a choice of up to 40 cryptocurrency pairs that include the most popular cryptocurrencies such as Bitcoin, Ethereum, Monero, Ripple and etc, at the same time the broker offers less common cryptocurrencies too. One can find easily find desired cryptocurrency pair with TradeToro.
On the website TradeToro showcases that is has zero spreads. We always look at the statements like this with suspicion since anyone can claim anything on the website. However, while making Tradetoro.com review we checked spreads as well and were satisfied to see that spreads are actually tight.
The broker offers different leverage for each cryptocurrency pair, some of them have 1:2 leverage, some 1:5, and the highest leverage one can get with TradeToro is 1:20. The broker offers its own platform for trading. Sadly, there is no Metaquotes platform offered, which are the most common and popular, such as MT4 and Mt5, but the broker has designed web-based platform specifically for crypto CFDs trading, which makes it easier for traders. Moreover, TradeToro has an app for mobile trading that is compatible with IOS as well as Android phones. It increases TradeToro rating as nowadays mobile trading is more and more common and it is good to see that the broker has its own app.
Minimum deposit, withdrawal and payment methods
The broker requires a relatively high minimum deposit for the basic account.  Traders have to deposit 500 USD to start trading. As for the payment methods, the broker offers several of them including Bitcoin and Ripple payment, Visa and MasterCard, EFTpay, Bpay, and wire transfer.
TradeToro withdrawal is fully described on the website. The process for cashing out the money is the same as you would see with other brokerages. One needs to make the request on their account and provide needed documents. The withdrawals should be made with the same payment method that was used when depositing the money. The time for processing withdrawals is up to three business days. There are no commissions for depositing and withdrawing funds if one uses eWallet or credit/debit card. But for the bank transfer withdrawal, there is a bank charge of 30USD.

Accounts types
If after all you still want to open an account with TradeToro, you can choose between Basic, Bronze, Silver, Gold, and Platinum. The broker also offers a Black account for top traders, but it can only be opened once someone has a trading history with TradeToro. There are some basic features that come with every account, these include 24/6 support, daily market review, educational center, and pro webinars. Other features depend on the type of account. The accounts are very diverse and traders have the possibility to choose the one which is most compatible with their trading needs and requirements. The fact that all of them have access to the educational center creates a very good TradeToro opinion since many brokers offer education only for the account types that have high minimum deposit requirement.
The basic account can be opened with a minimum deposit of 500 USD, EUR or GBP and it has basic features only.
The bronze account has a minimum deposit requirement for 10,000 EUR, compared to the basic account it has one additional feature – junior price alert.
The silver account can be opened with 25,000 EUR, it comes with junior price alerts, account manager, and PIA  trading signals.
The minimum deposit for the gold account is 50,000 EUR, compared to the silver account it has VIP price alerts and PIA SMS signals.
The platinum account has the most features, in addition to every feature that comes with the gold account, it offers a personalized trading strategy, one-to-one trading trainer, and exclusive position access. The minimum deposit for this account is also the highest and is 225,000 EUR.
Is TradeToro legit?
Based on the review we can confidently say that TradeToro scam is not possible. The broker has every piece of information that a trader might need well displayed on the website. Moreover, all information that one can see there is compatible with the real features of the broker. This makes us believe that TradeToro is a legit and trustworthy broker. The broker has several advantages, it offers a good variety of trading assets, low spreads, a well-designed trading platform that is compatible with mobile devices. The account types are also well-thought and can be used by traders with different levels of experience and education. To sum up TradeToro review we can say that the broker is legit, delivers high-quality service and can be one of the best choices for those who are searching for a good CFDs broker for cryptocurrency trading.