TradeVest Broker Review

Every single trader in their lifetime has experienced the stress of finding a good an reliable broker to invest with. However many of them have fallen over a rock and hit a wall with their choice. Some of the brokers actually got lucky and got a regulated and trustworthy Forex broker who had their best interest in mind. Let's imagine that same situation today, it would be pointless for you to start looking for brokers without researching them or seeing if they are to be trusted. Honestly, the smartest thing you can do is look at different reviews for the broker and then make your assumptions based on that.
The brokers you need to be most careful about are the newly established ones, because the regulators may not have had enough time to check them out and size them up. Today we will be talking about a similar broker in this TradeVest Review. The only platform it currently has is cTrader stating its rookie status on the market. The quantity of the currency pairs you will be getting is ok, but not great, ranging only 5 pairs. You can also trade commodities, CFDs, and cryptocurrencies with them.
What will you get from this TradeVest review?
New brokers are sometimes desperate for clients, just to establish themselves on the market and have a reputable name. Therefore in their early stages, they mostly offer good service which they will certainly not be able to keep up with in order to stay profitable. The same is happening with the TradeVest Forex broker. They are currently using the new ESMA regulations that are cutting leverages in whole Europe by offering it's new customers a leverage up to 1:1000.

It is also very important to note that regulators have stated that forex promotions are not allowed to lure in traders. TradeVest is doing exactly that by offering a variety of bonuses like $100 no deposit bonus. Besides the fact that they have broken the law by making these kinds of promotions, they deny it by saying that everybody does it regardless. The idea behind the bonus is that traders get to taste the market with money they don't have or can't get, therefore creating an illusion from the get-go that trading is not a serious occupation or that it is not risky.
TradeVest Managed accounts is also a feature it is offering to its customers. Normally we would not look at managed accounts with a skeptical eye, but when it comes to new brokers always remember that they need capital in order to grow, so they may start tampering with your account so much that you won't even see how much you are losing. Also, the biggest disadvantage is that if you're new, a managed account will basically strip your chances of receiving any type of information about the market or trading in general, therefore leaving you vulnerable to the TradeVest scam.
Ways of depositing money
TradeVest is a new broker, therefore it will be quite hard for them to appeal to the older generation of traders, who have multiple years of experience under their belts. Therefore it targets new traders and lures them with not only the above-mentioned ways but also with low minimum deposits. The most reputable and professional brokers always ask for $10 000+ as a minimum deposit just as to justify your commitment to them as service providers. When a broker is offering very low minimum deposit, it should give you vibes as if they know they can't retain you to make you deposit more. TradeVest scam could be real for its new clients because of the lures them in with false promises of high returns with low deposits.
Ways you can trade on TradeVest and TradeVest bonus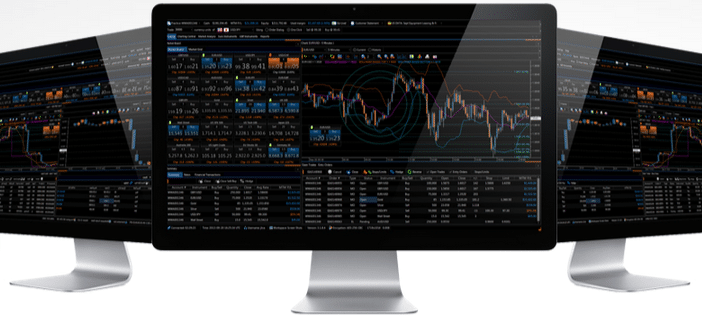 When it comes to actually trade on a platform, it is crucial that you are given options, that you have a choice between platforms. That is why the most reputable brokers always have more than 1 platform available for you. The most reliable brokers always offer MetaTrader4, MetaTrader5, cTrader and Web Trading platforms to their customers. This is showing their professionalism and dedication to their customer's every taste. However, TradeVest trading platforms are few and far between. Actually, TradeVest has only 1 trading platform, cTrader, which may be a good platform, but the lack of variety is always a minus for Forex brokers in our books.
Do we recommend TradeVest?
It is very easy to say that TradeVest on the surface looks nothing like a professional broker. We believe that it was done deliberately to seem as a trading haven for beginners, based on the fact that, they will be their core customer base. To be honest when having a first look at the broker we were very impressed with how attractive it looked, but after digging down we came across all the taboos that are in the trading world. Imagine, a broker that offers you high leverage of 1:1000 even though there are new regulations, no commissions, knows you're busy and gives you managed accounts and low minimum investments of $100, where do they make their money. How can they operate on such a large market with giving so many benefits and deterring their revenue? Judging by this TradeVest review, it's obvious that we do not recommend it, just based on the facts that it has been looking nothing but shady so far.
Because the brokerage is very new, not a lot of companies have been doing reviews on them, therefore we decided that it was our obligation to help you out and bring this information to your attention. We truly hope that based on this information you will make an educated decision of who you want to trade with. We urge you to be more careful in the future when you're delving into the realm of trading because you'll surely come across the TradeVest scam. Please know that you can always check out the broker's webpage and do your own research. We wish you good luck with your research and your trading as well!