TRIBTC Review – a scam or a trustworthy binary options broker?

When trading binary options, it is absolutely essential to find a brokerage that fully ticks all the requirement boxes. This industry is dangerous enough for you to be careless about this task. The reason for this is that unlike Forex or other markets, where every trade has various degrees of loss or profit, binary options only has an all-or-nothing layout: traders either win big or lose big.
Therefore, this completely rules out finding a binary options broker blindly, without checking its trading terms and conditions, licensing, and additional offerings. Today, we'll offer you our honest TRIBTC opinion where we'll explore all the above-mentioned details. So, let's get right to it.
The license – can TRIBTC be trusted?
First off, let's start our review with the discussion about a license. As already noted, the field of binary options trading is dangerous to the point where every wrong step is a fatal mistake. Therefore, when you choose the brokerage, you have to make sure that its licensing part is as legit as it can get.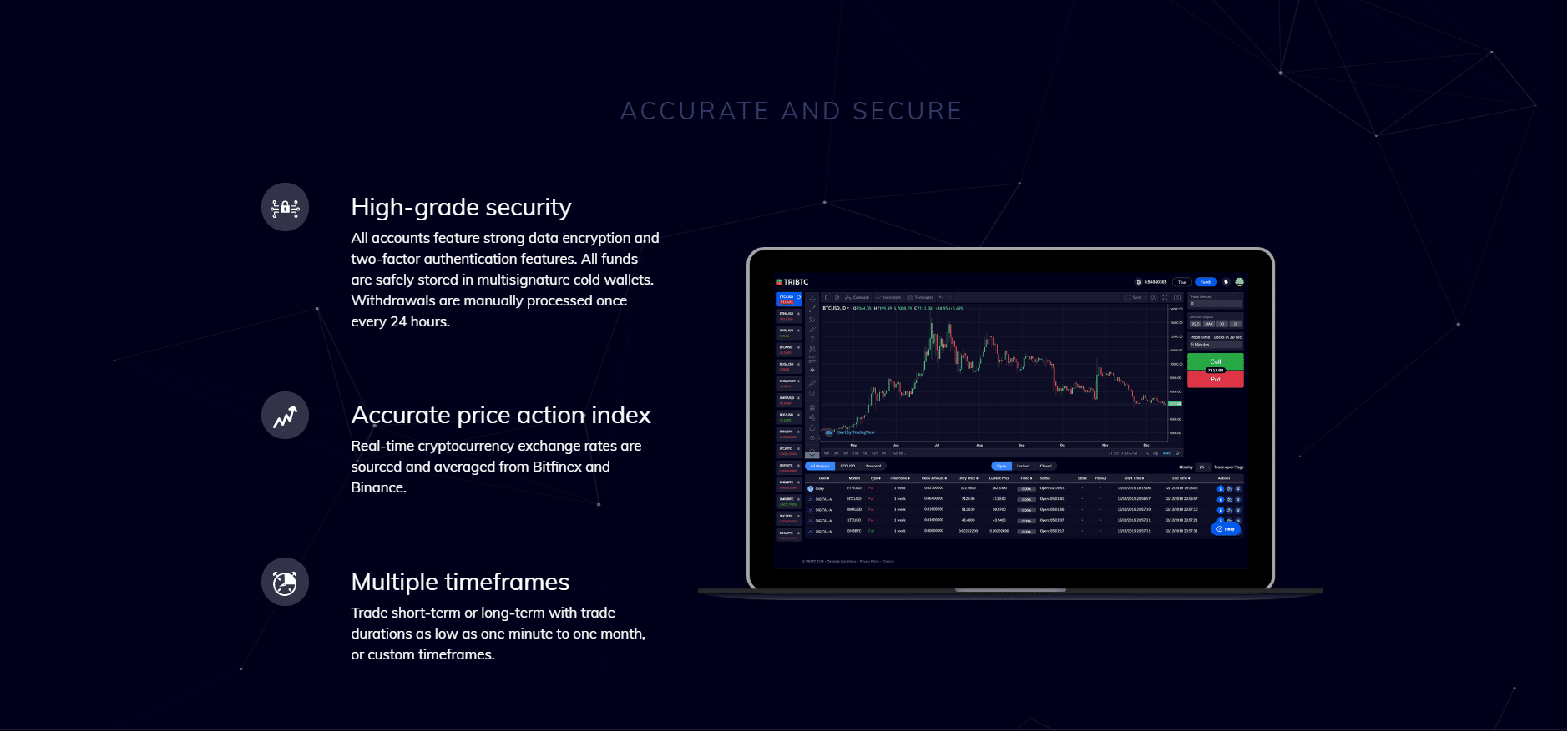 Unfortunately, we're not sure that is the case with TRIBTC. The broker doesn't mention anything about having a piece of regulatory material from any government. It only gives us a quick disclaimer that TRIBTC Holding Limited operates from the Republic of Seychelles. Not the best argument to dissipate our TRIBTC fraud concerns.
What does the website feel like?
Moving on, let's talk about the website and the software experience. When we first entered the website, we thought it belonged to an amateur website developer who was just getting started in this business. The reason we're saying this is that the interface has a very saturated and live background that clearly doesn't help navigate the website more easily.
Besides, unlike just any other properly-working website, there were no tabs for different sections. The website literally consists of just one page and even that page doesn't have much to say. We could only find some pieces of information about trading terms and conditions in a three-minute-long video guide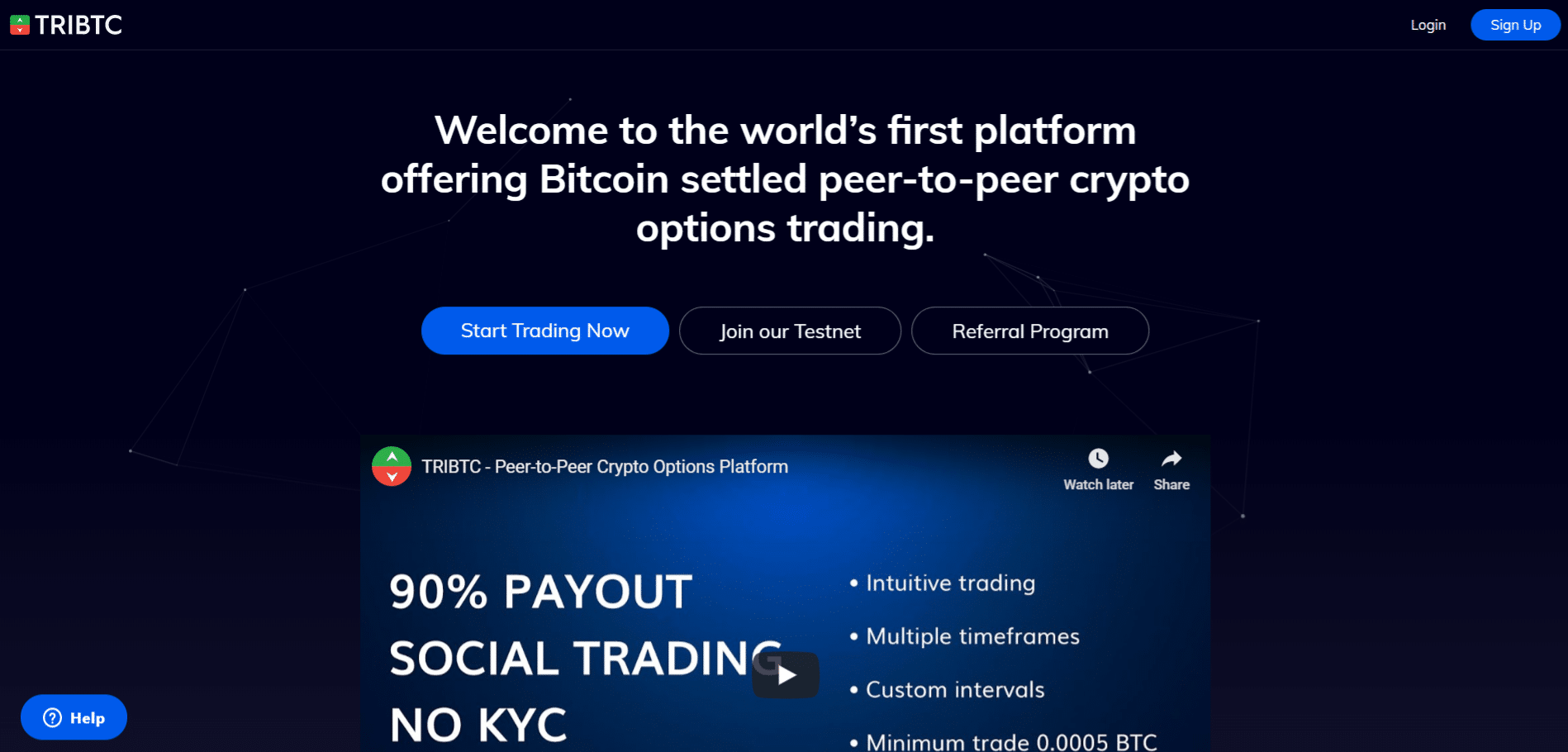 Are TRIBTC promotions legit?
In the final part of the TRIBTC review, we'll discuss the actual trading numbers and requirements. First things first, the minimum deposit requirement. The broker claims to demand just 0.0005 BTC from its clients, which, depending on when you're reading this review, can be anywhere from $3 to $5, or around that area.
In our opinion, this is a very loose requirement and the one that certainly raises suspicions. Why does the broker demand just 0.0005 BTC when other brokers don't even go lower than $100? While we don't have a clear answer to that, we don't think anything good lies behind it.
Next up, the claim that the winning trades get 90% payout. This means that when your trade yields a payout of, say, $100, you'll have to give $10 of that profit back to the broker. And audaciously enough, the broker says that it's an advantage to have a 10% commission on winning trades!
Speaking of claims, the broker seems to be very fixed on its being-first-in-BTC-options business, boasting about it at every chance it gets. In the meanwhile, it doesn't say anything about binary options trading being dangerous or risky, which, as you may already know, is required of every licensed broker.
So, is TRIBTC legit? Based on everything we've just said earlier, we don't think that's the case. And even if we were wrong, the stakes are much too high to take a leap of faith here.