UMarkets Review

Forex brokers come in all shapes and sizes, and not all of them will provide you with the same quality of services or the same products. That is why we perform extensive research when we are presenting individual trading providers, and our UMarkets review follows those guidelines as well. What this means is that if you stick with our review, you will have an opportunity to learn everything your need to know about this company, and this will allow you to choose whether you want to invest your funds or not.
UMarkets Forex broker at a glance

Since UMarkets is a broker company owned by a larger corporation called "Maxi Services Ltd" from Belize, it is evident that some sort of UMarkets scam could be at play here. In other words, we encourage our readers to be careful when depositing their hard-earned funds with off-shore companies, simply because they may never see the money again. However, it seems that a certain regulatory body governs this broker in Belize, and their local agency is named IFSC. Clearly, this organization lacks international recognition and integrity, and that is one of the primary reasons why we do not trust this broker company. Also, UMarkets was established in 2014, which means that they are still a very young enterprise and we could perhaps see some improvements in their quality in the upcoming period.
Sign up with XM Forex and enjoy great Forex trading conditions!
The review of the trading process with UMarkets
UMarkets broker is a new addition to the global Forex world, and this provides the company with the possibility to incorporate modern methods of trading into its every-day activities and operations. According to their website, this broker offers flexible leverage and tight spreads, and various trading benefits and incentives are used as a method of attracting players to their website. Of course, the trading process starts with depositing the money and opening up an account, and here are the basic types of accounts that are offered with this broker.

Types of accounts at UMarkets FX broker
Of course, no UMarkets reviews are possible without inspecting the available types of trading accounts, and this particular broker does not provide anything extraordinary in this respect. What this means is that you will have the opportunity to choose from four general categories, and these include Mini, Standard, Gold, and Platinum. You will need to deposit $500 to become eligible for the Mini account while $150.000 will be just about enough to hand you the keys to their "luxurious" Platinum account. But, as they say in the movies – do not try this at home! Also, UMarkets are offering Islamic accounts for those traders who abide by the Sharia laws, and there is also the demo account feature.
UMarkets trading platform – features and performances
Trading with stocks, commodities, and indices can be a lot of fun, but this enjoyable activity can quickly turn sour if you are dealing with an unreliable broker. That is also the reason why we explored the characteristics of the trading platform before coming up with our UMarkets opinion, and it seems that their trading portals are causing unnecessary confusion to their clients. To be more precise, UMarkets uses two software solutions, and one of them is well-known in the trading circles. In fact, MetaTrader4 is a platform used by a lot of other brokers, but we are not sure why UMarkets is offering their proprietary WebTrader software in addition to the MT4.
Promotions and trading benefits
As we all know, trading companies are using bonuses and various gifts as a method to entice and attract new clients, or as a retention tool to keep their customers loyal. The majority of UMarkets opinions will tell you that this broker offers several gifts and incentives, but none of them will significantly boost your available trading amount. For instance, you will receive a 30% welcome bonus, which is not too much when compared to other brokers in the market. Also, UMarkets will give you a bonus if you use their Refer-a-Friend feature and bring a new client to their website.
Banking methods and customer support

It seems that SSL encryption is the only safety protocol that UMarkets Forex broker is using to protect their client's funds and personal information. But, if you still want to proceed with investing with this broker company, you should know that you can perform these transactions with the help of several banking methods, including credit cards and e-wallets. When it comes to the efficiency of their customer support, the website says that you can reach their teams 24/7 by using a phone, e-mail, Skype, or live chat as a means of communication.
Sign up with XM Forex and enjoy great Forex trading conditions!
Positive UMarkets reviews are fake everywhere
As our review of this broker is seen by many, we started noticing a vast number of positive reviews given to UMarkets. However, these reviews were done by absolute amateurs and it was a no-brainer that these reviews are paid, and obviously fake. Don't take just our word for that, take a look below: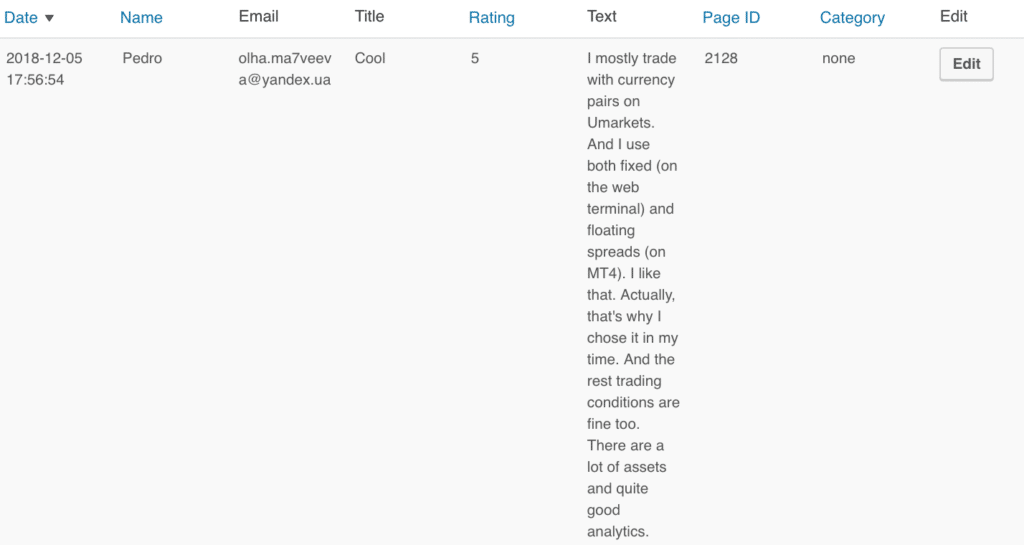 Above you can see a review that was recently added. The review is clearly written in broken English, and the mistakes in it are pretty much common for the Russian speakers. The email address of the reviewer seems to be a correct one, yet it mentions the name Olha, while the name of the reviewer is Pedro. And UMarkets scam does not stop there.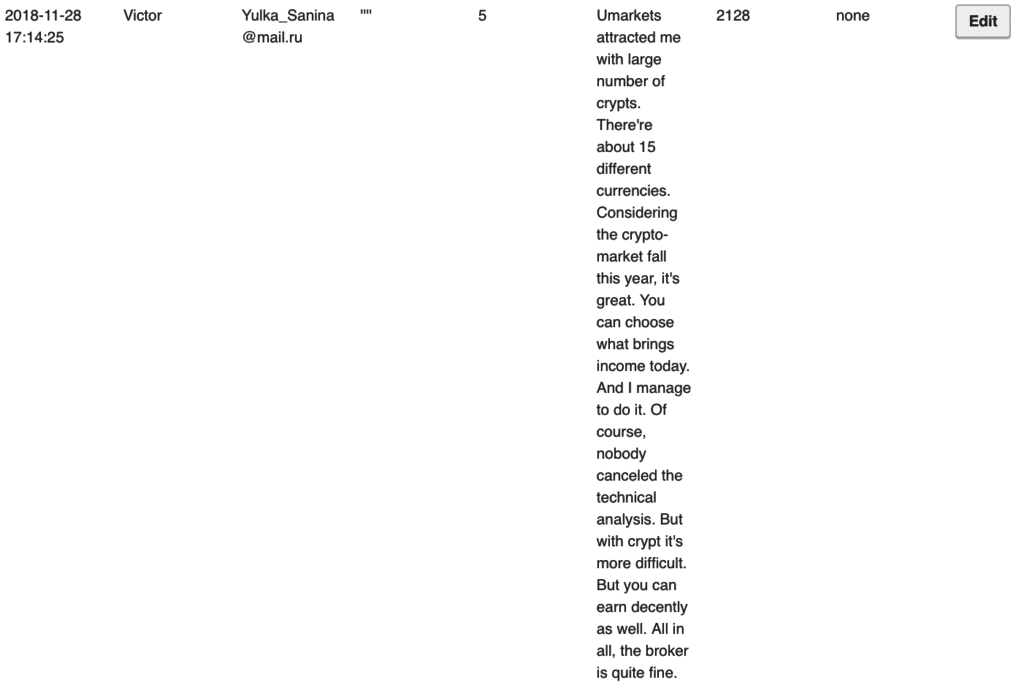 Above is another review of this brokerage. And we are seeing completely same things over here. A male name of the reviewer – Victor. And a Russian email address of a female. It does not really look like a coincidence to us. Well, there are over a dozen cases like this, and this gives us an idea that UMarkets is either requesting their employees to add the reviews or simply buys paid review placements from absolute amateurs.
Hence, shall you ever encounter a positive UMarkets review out there on the Internet – check the language and the way it was written. If it looks like anything above – be sure it is a fake one.
UMarkets review: the final word
To wrap up our UMarkets FX broker review, we can only repeat the most important elements that we mentioned earlier in the article, and they are predominantly related to the lack of proper license. Also, some other "minor" issues are present, and that is why we feel that this trading provider is not legitimate and fully reliable.
1.5

out of

5

based on

20

reviews.
Overall rating:
scammer
★☆☆☆☆
"
Trust me its a scammer. they will keep ask you to fund and you will not be able to withdraw your money. step-in = gone
"
They are a Scam
★☆☆☆☆
"
If there was a 0 rating I would give them a zero. I withdrew my deposits with them and 2 months later I havent received my money. Scammers and they don't respond atfer taking your money.
"