United Markets Capital review – is this broker a complete scam?

United Markets Capital is what seems to be a CFD brokerage operating from within the European Union. It is a subsidiary of PM Invest Consult which is located in Sofia, Bulgaria.
Unfortunately, our United Markets Capital review needs to start with a conclusion straight away as we don't want to waste the time of some of our readers. If you're interested in the details of this broker there're more than enough information we've gathered further down the article.
But for those who want the answer straight away, you need to know that we believe United Markets Capital scam is a real thing and that this brokerage does not deserve even a second of your attention and even a cent of your money. We advise everybody to stay away from this company and act as if they never existed.
Now for those who want to know the details, let's start looking into what brought us to this conclusion.
United Markets Capital review – legal documents and geography
This CFD brokerage as already mentioned is not a flagship company, in fact, it's just a trading addon to its subsidiary PM Invest Consult. In order for us to have deemed them legitimate, they should have showcased their regulatory license from the FSC, but unfortunately, neither do they mention it on their website, nor can they be found on the regulators' website.

Furthermore, any financial services company located in Bulgaria needs to have a Bulgarian citizen as one of its executives, any legitimate and honest company would display their team to confirm their compliance to this very specific rule the FSC set not too long ago.
In fact, our United Markets Capital review started off on the wrong foot before we even found out about their place of residence. The website was always hinting to us that this company was indeed a scam. Let's discuss what those hints were.
Stock images and minimum effort design
We enjoy rating CFD and Forex brokers based on their commitment towards popularizing their brand and making their websites and platforms as user-friendly as possible. Unfortunately, United Markets Capital scam seems to have missed that memo and decided to go with the most minimal effort imaginable in the financial industry.
The website consists of mostly stock images which we're not even sure they paid for. One such instance is when they're showcasing their trading accounts. Usually, good brokers design their own custom graphics to showcase what the account is about and provide at least a little bit of information on them. Unfortunately, with United Markets Capital does not provide any of those.
United Markets Capital scam – regulatory violation
Let's for a moment imagine that we were mistaken and United Markets Capital is a legitimate CFD broker with a license and everything. We still wouldn't be able to ignore the fact that they're offering 1:200 leverage on professional accounts.
If you're not aware, Bulgaria is under the jurisdiction of the European Securities and Markets Authority, which clearly puts it as an enforcer of its restrictions. Currently, the restrictions on leverage are 1:30 on currency pairs, 1:2 on cryptocurrencies and etc. What matters is that there is no maximum leverage allowed above 1:30, and United Markets Capital scam is offering 1:200 for professionals.
UM Capital deposits
One thing we can commend United Markets Capital on, despite their scammy tendencies is the number of trading accounts they're able to field. The company offers six types of trading accounts, starting from Basic, ending with the Diamond Club. Only four of these accounts are accessible from the get-go though, the Basic, Bronze, Silver, and Gold. Platinum and Diamond are locked off to professional traders and VIP customers.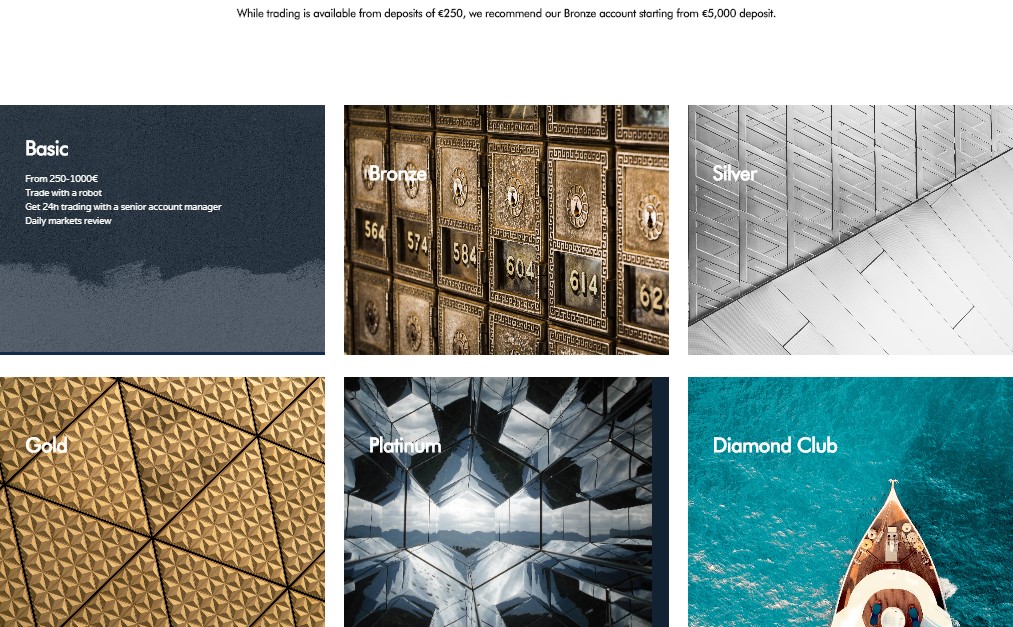 The minimum deposit is 250 euros which is the market standard, but we can't get over the fact that during our United Markets Capital review, we found numerous instances where the broker entices the customers to go for the Bronze account.
Take into consideration that the Bronze account is just one step above the basic one, and its minimum deposits start at 5,000 euros. Recommending traders such a major leap is no small feat, which also adds another point to their scammy tendencies.
UM Capital withdrawals
There was no clear information on how the withdrawals are processed with the broker, but we did see some methods pop up while reviewing the website.
We saw methods like Maestro card, SEPA, Bitcoin, Visa, iDeal and MasterCard. At least in this department, they seem to have an above-average condition due to diversity.
Software
In terms of software as well, we found only one offer and it seems to be custom-made. This may have been commendable if our United Markets Capital review didn't brand them a scam, to begin with.
Is United Markets Capital trustworthy?
Exactly as we said in our intro, we do not trust United Markets Capital scam and believe that neither should you. This is an unlicensed company with very sketchy call-to-action strategies on the website. And even if they were licensed, they'd be violating it with some of the features they promise to their traders.