UproFX review

Striving to get a trustworthy Forex broker is a no-brainer in this industry. Too much depends on your service providers to allow luck to decide who's going to be your partner.
Credible brokers, on the one hand, provide various features, tools, and indicators that help you reap the most profit out of your trades. In short, trading with good Forex brokers is less risky and more lucrative.
Scam brokers, on the other hand, provide features, tools, and indicators that are inherently flawed – flashy on the outside, but fraudulent on the inside. Trading with such brokers is even riskier than before. That's why it is essential to find a suitable broker for your needs and desires.
On our part, we provide FX broker reviews and test all their offerings. In this UproFX review, we're doing exactly the same, examining the license, leverage/spread offerings, financial and trading platforms, etc. So, without further ado, let's get started.
Initial impressions
UproFX is a relatively new Forex brokerage that is currently operating from Estonia. The company is currently regarded as a child of the much larger Yield Enterprise Currency Software. Although UproFX is operating within the EU framework, it is not currently being restricted by the ESMA regulations, and therefore is able to offer leverages above 1:30 and even had some deposit bonus promotions in the past. We will examine all of those features and determine whether the UproFX scam is real or just a fiction.
Before we begin, we need to mention how astonishing it was for us to find out that the company is able to offer high leverage despite the fact that they are located within the EU. UproFX Forex broker currently offers its customers a hefty size of 1:100 leverage which is also able to increase if the trader wants to, reaching a maximum of 1:500. The minimum deposit of the company is not something special, however. It is in correlation with all the other brokerages within the EU, sitting at about EUR 250 currently. Because of the fact that this company is able to offer these features, many cases were seen condemning the UproFX fraud. Let's find out whether or not those rumors are true.
UproFX reviews of Transparency & Info disclosure
In terms of transparency, we were quite content with the broker. The moment we entered the website all of the information that we required was laid bare right in front of us. However, we couldn't find anything regarding the regulation. Sure, this probably means that the broker doesn't lie by putting out a fictional CySEC or FMSA license on the website, but we cannot help but be suspicious about its high ethics in FX trading.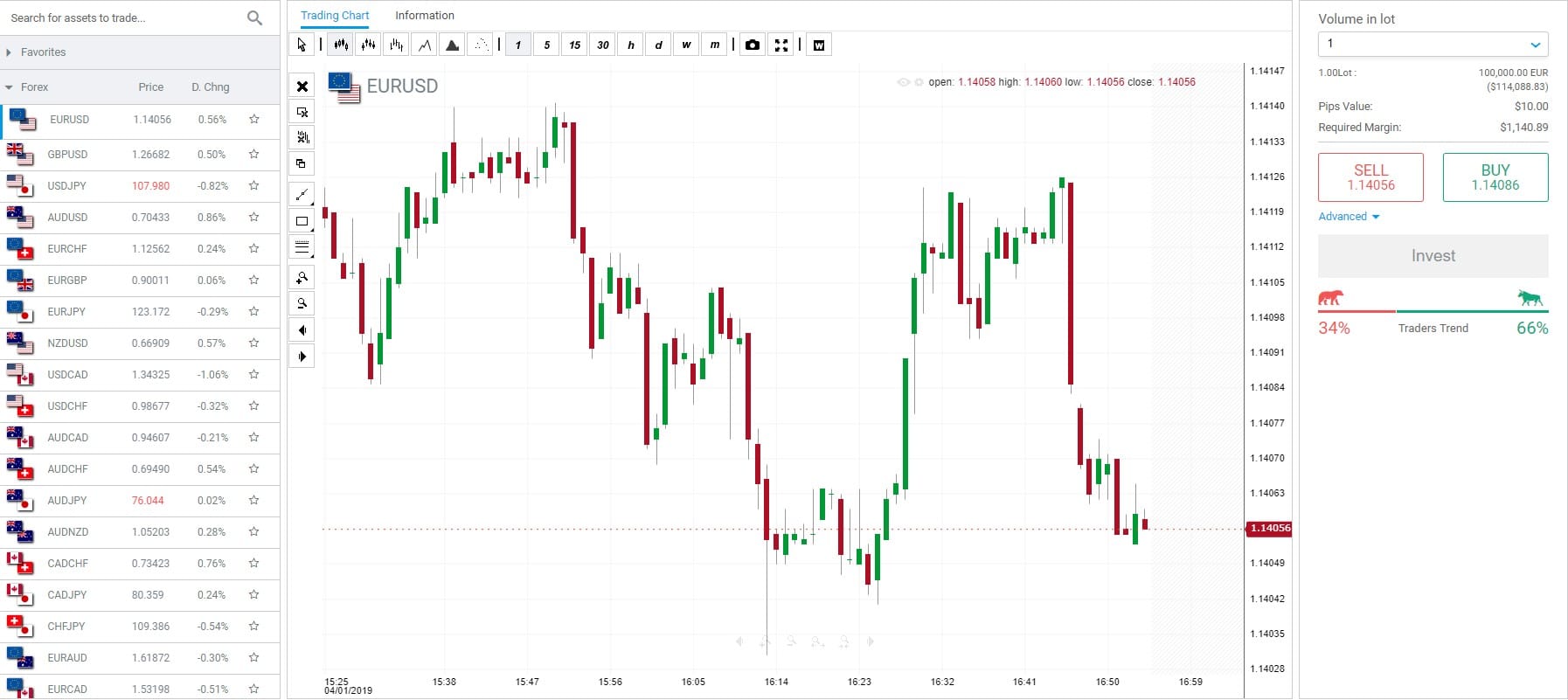 Again, we enjoyed the full disclosure of the company's terms & conditions, their KYC documentation as well as their different price variants on their accounts. What we liked most was the step-by-step guide on how to get started on the platform which is easily accessible. Thankfully not too much personal info is required to access the platform. Only your phone number and the country you live in.
However, one thing that we didn't quite like is the website design. One of the pieces of the common sage in website development is the popular saying that the less is more. Through simplicity, companies make it incredibly easy to navigate on the website and get all the important information from it.
The same is true for the brokerages. A simplistic broker website makes it incredibly easy to find information about leverage and spread offerings, license, and withdrawal/deposit policy. Unfortunately, the UproFX Forex broker hasn't entirely met that requirement: the interface looks over-complicated with unnecessary visual decorations and saturated images. This distracts the visitors and makes it difficult for them to get to know more about the broker.
UproFX Leverage & Spreads
Alright, let's talk about the real features by starting with the leverage. UproFX Forex broker somewhat surprised us when we found out that they featured leverage of 1:100 and above. Considering that the broker is operating on the EU soil, we were expecting the ESMA-warranted 1:30 maximum leverage which is also quite high for the currency CFD trading.
While this offering certainly seems like a lucrative one, we still don't think that traders should be excited about it. Here's why: when people use leveraged funds, they increase prospective payout quite significantly. However, the same happens with the prospective losses. That's why both traders and brokers (!) are trying to find a golden line for the leverage ratio. And by steering clear of that common sage and offering a much higher leverage ratio, UproFX makes us even more suspicious of its financial activities.
Yet we also need to note that the prospects for the UproFX scam became less realistic as we dove into the company's spreads. It was quite refreshing to see 2 variations instead of 1. And god forbid we were happy to see that there were no commissions. With UproFX you can utilize fixed or floating spreads depending on your account of choice. The fixed one only appears on the Premium account, meaning that all of the people trading with massive funds will have their profits guaranteed.
Account types on UproFX
The company currently offers 4 types of accounts. Despite the fact that other brokerages usually opt for less variation in this particular feature, it was nice to see that there was some kind of choice involved with UproFX. However, one thing that caught our attention right away is the fact that not many features are different in these accounts.
For instance, the 1:100 leverage, floating spreads, zero deposit fees, and many other offerings are available across every account type on the platform. This makes us wonder, why should someone pay an extra deposit in order to get more advanced accounts that aren't actually that advanced?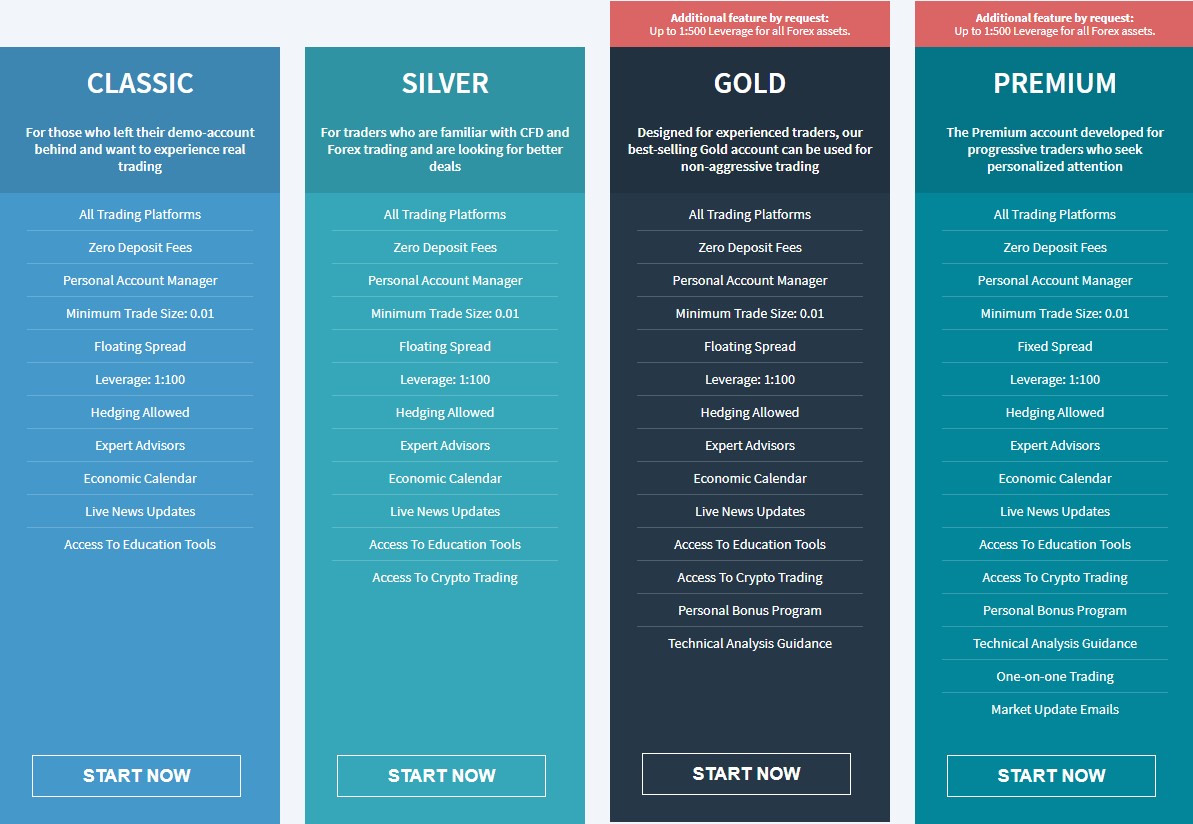 Sure, that base 1:100 leverage can be increased to 1:500 in the Gold and Premium accounts; these two also get a personal bonus program and technical analysis guidance. However, while the similarity between the accounts shows us that traders of all experience levels can use the majority of features, it also shows that people should probably go for the Classic account that has the least deposit requirement – 250 euros.
UproFX review of withdrawals
Next up, let's discuss how you can actually make deposits on your newly-created account and how you'll be able to withdraw reaped profits. In this section, we didn't find any fancy or sophisticated financial platforms like Bitcoin or PayPal; only the regular credit/debit cards and bank wire.
Now, on the one hand, it's commendable that the broker doesn't conduct experiments in this very fragile section. Going for the well-tested platforms, therefore, is supposed to be a safe move. On the other hand, however, Bitcoin and PayPal have long gone out of the experimenting stage and have proven to be quite effective in terms of transaction speeds and the overall security of the financial platform.
Having those obsolete payment platforms directly translates into real-life performance. While deposits are instantaneous and can be done without any notice in advance, the UproFX withdrawals are more complicated. First, you need to file the withdrawal application beforehand. The broker will process that application and approve/deny it. This process can usually take several days to complete, whereas the crypto withdrawals could take several minutes at most.
UproFX trading platform
Then comes the software that is used in trading. Instead of the well-tested MetaTrader or cTrader trading programs – that have become industry benchmarks – we have the UproFX WebTrader trading platform. The trading is done completely online, which could be a minor inconvenience for people more familiar with the traditional platforms like MetaTrader4 or 5.
However, with just 1 simple glance you'll see that the platform is as simplified as possible, making it very beginner-friendly and also easy to learn for trading veterans. For this reason, we think that UproFX has done a pretty good job of simplifying its trading platform. Yet we still cannot find enough reasons to commend it for it.
You see, MetaTrader and cTrader programs have a large customer base. The users constantly go in and out of the platform when they write new scripts, indicators, etc. This means that any kind of scam or even the tiniest flaw won't go unnoticed. Therefore, brokers have less headspace to actually plant scams in their trading platforms.
In a proprietary trading software, it's much easier to get away with the above-mentioned scams. Sure, these are just suspicions and cannot be proved without the actual experience, but we still wouldn't recommend this trading platform to anyone, especially that it doesn't have any license and offers pretty suspicious leverage.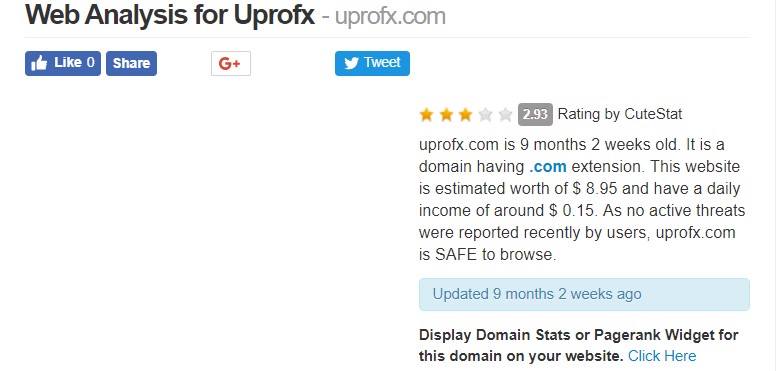 Can UproFX be trusted?
After much deliberation and discussion, I think it is time we decided what we truly think about this company. First things first, the fact that UproFX FX brokerage operates in Estonia, yet doesn't have any license, tells a lot. It shows that there are no regulatory constraints to the broker's activities. It also shows that UproFX promotions can be as outrageous as the broker wants and no one will hold them responsible for it.
This directly translates into shady leverage offerings. Even the base leverage of 1:100 is much higher than the one requested by the ESMA regulation (1:30 max). But that's not the only ratio offered on the platform: the more elite traders can ramp up their trading experience by going for a 1:500 leverage. While this feature is a great way for increasing the prospective profits, it also leads people towards much larger losses, which is why high leverage isn't exactly a good idea.
The same can be said about available financial platforms. Instead of the most recent and very convenient platforms like cryptocurrencies and e-wallets like PayPal, UproFX withdrawals are only powered by credit cards and bank wire. And it directly reflects the state of payments: withdrawals take several days to complete, and even the amount you can transfer to/from your account is quite limited.
Finally, we reviewed the trading platform and deduced that the proprietary WebTrader is more dangerous than its mainstream counterparts. Sure, it is more convenient and easy-to-use, needs no installation, etc. the broker can put various scams in it and go unnoticed, whereas the same action would be detected by the customer base in MetaTrader or cTrader platforms.
So, what is our final opinion about this broker? While we cannot actually prove the UproFX fraud directly, we think that it is highly possible. Moreover, we wouldn't recommend this platform to anyone interested in currency CFD trading.