VIPTRADE review – what do they offer?
This is an international forex broker that has branches in eight different locations. therefore the company also has multiple qualifications from Georgia, Kazakhstan, and Saint Vincent, and the Grenadines. This is a great advantage to have as a trader tends to trust regulated brokers. The maximum amount of leverage available on the site is 1:500. however, all of the assets have their own limitations regarding the leverage ratios.
VIPTRADER Forex broker products and services are divided into three unique account types and five different bundles. These accounts can be used in both live and demo mode. The instruments with which one can begin trading are numerous; to be more specific, the VIPTTRADE FX Brokerage site offers six asset types: Forex, Commodities, Indexes, Cryptocurrencies, Shares, and Metals.
The broker offers MetaTrader5 as its primary trading platform, alongside with WebTrader. These are great options as both of them have some unique features to offer to the consumers of the website. There's a welcome, insurance, and no deposit bonuses available for the traders of this forex broker.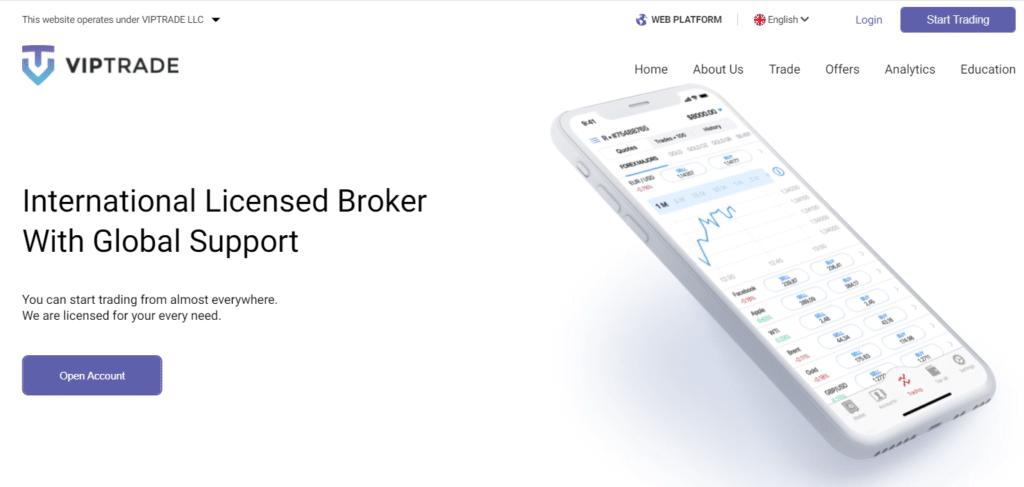 VIPTRADER Review – The Legal Measures of the Firm
Georgia is one of the nations where the brokerage firm is registered. As previously stated, this is a multinational firm with eight divisions under the supervision of numerous regulatory agencies. The Bank of Georgia, one of the most well-known and prominent financial institutions in the south Caucasus, is in charge of this responsibility in Georgia. Furthermore, the firm has two further qualifications from two other regulatory agencies, one from Kazakhstan and the other from Saint Vincent and the Grenadines, which is a terrific thing to have.
The biggest name among the regulatory bodies monitoring this broker is the SVGFSA. They are very reputable and trustworthy. if a broker has an SVGFSA qualification they are very much a legitimate brokerage firm.

Trading Account
There are three different VIPTRADER Forex broker account types available on the site. one can further take advantage of the platforms with additional Packages that are available on the site. These account types are Micro, Pro, and VIP accounts. Swap-free accounts are also available for the consumers of the website.
We'll go over the minimum deposit requirements for each package that's available. It fluctuates depending on the amount of money involved.
Package S — Deposit amounts range from $250 to $1,000.
Package M – The deposit amount ranges from $1,000 to $3,000, depending on the package.
Package L: The deposit amount ranges from $3,000 to $5,000.
Package XL – Deposit amounts range from $5,000 to $10,000.
Package XXL – this offer requires a deposit of at least $10,000.

Trading and non-trading fees
The VIPTRADE MT5 program is provided by the broker to its clients. At this moment, it's pretty much an industry standard, with a lot of advantages that other platforms don't have. VIPTRADE's customers have access to only this trading platform. In this section of the review, we'll go through the VIPTRADE platform's features in greater detail. what we want to focus on is the fact that there are no additional fees on these trading platforms. There are no nontrading fees as well.
A web trader is also available on the site. MT5 is the polar opposite of WebTrader. This is a simple, browser-based platform. Thanks to a clean, easy-to-use interface and numerous information analysis capabilities, processing and performing market data research have never been easier.
Trading Assets and their conditions
There are more than 27,000 markets for one to invest their recourses, time, and energy.
As we all know, VIPTRADE forex broker offers a wide range of trading instruments. This brokerage has a maximum leverage ratio of 1:500, but the maximum leverage ratio varies depending on the trading asset. The leverage you set will only affect the Forex and Metals markets. In other markets, leverage is pre-set as follows: We will provide you with a list of available assets together with their maximum leverage amounts.
Shares – 1:25
Pairs of cryptocurrencies – 1:10
 fiat currency pairs – 1:500
indices – 1:500
Metals -1:200
Commodities – 1:100
There are many security safeguards and constraints in place for the traders' safety and well-being while dealing with an unregulated broker. This means that all of the trading assets one will eventually start trading with are secured by multiple sources and software.
Trading Platforms
The site offers industry favorite and critically acclaimed Metatrader5 software alongside VIPTRADE  WebTrader which is the polar opposite of the MT5 trading platform.
Metatrader5 is compatible with all major platforms. The mobile app version of the software, which is available for both Apple and Android users, allows users to study the market on the go. VIPTRADE's accessibility has always been a problem. MT5 is extremely versatile; you can execute hundreds of trades at once without experiencing any issues. They are also enthusiastic about the concept of optimal security. With MT5, managing your positions has never been easier. This downloaded, non-browser-based tool provides an excellent trading experience for both traders and investors.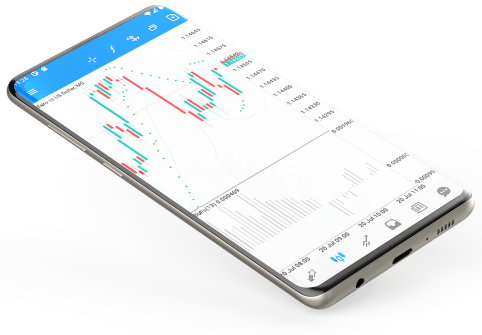 The WebTrader is the polar opposite of the other two options. This platform is basic and browser-based. Processing and conducting market data research has never been easier than it is now, thanks to a sleek, easy-to-use interface and many information analysis tools.
WebTrader is not as versatile as VIPTRADE MT5. It's actually better suited to someone who just trades one instrument. This platform includes a lot of options to evaluate data; it has amazing charts and even better graphs. It is incredibly dynamic, making the overall experience of using it quite simple and entertaining.
Deposit and withdrawals
both fiat and crypto deposits are welcome on the VIPTRADE site. This is a clear advantage of the site as it makes the payment system very diverse and distinctive. There are ten fiat-based payment options on the site. all of them are different from one another and have their own capabilities and advantages. The following options are available to use for depositing
Migom Bank
Global Net
JPMorganChace
Alikassa
InterKassa
Capitalist
Any.Money
QIWI
WebMoney
Yandex Money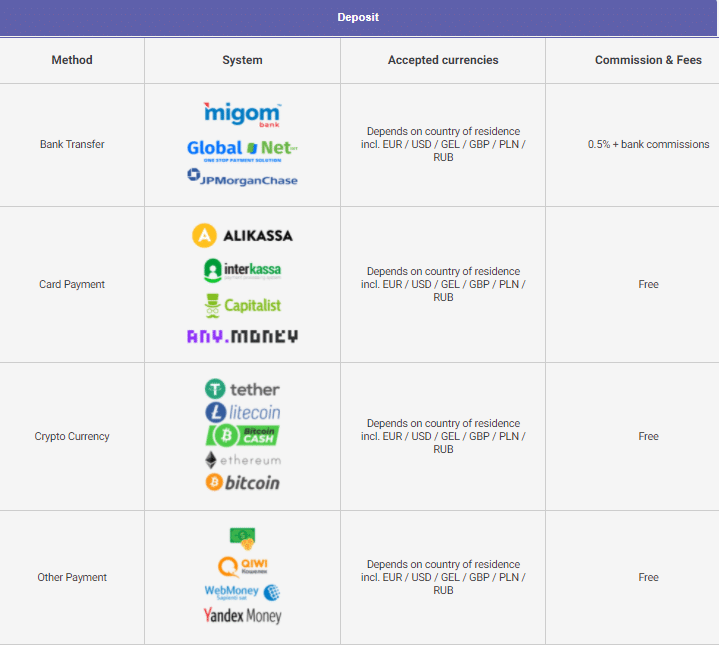 As for cryptocurrencies, one should know that six different digital coins are available for depositing on the site. one can use some of the most popular, reputable, and efficient cryptocurrencies known to the industry. The following are the available digital coins for depositing on the VIPTRADER FX brokerage site
Ethereum
Tether
Litecoin
Bitcoin
Bitcoin Cash
overall there are no fees implemented by the broker itself.
Educational Materials
The site is filled with a variety of educational materials s which can be very beneficial for both novice and experienced traders alike. To obtain a better understanding of the subject of Forex trading, a range of mediums are available. For a better trading experience, you can use e-books, courses, tutorials, trade signals, economic and reporting calendars, news updates, and many other tools. Everyone has easy access to everything. Reading videos and webinars are also a part of VIPTRADE's educational initiatives. Each video is made in a unique way and the overall content is very informational and resourceful.

Customer Support
Another distinguishing element of the VIPTRADE Forex broker is its unique customer support service. The customer support team is diverse and professional. They are available to assist one at any given time of the day as they operate 24/7.
The reason for VIPTRADE's high reputation among traders is because of the fact that the team behind its customer services is very efficient. On all of their platforms, the support crew is available 24 hours a day, 7 days a week to assist you with any issue. VIPTRADE can be contacted in a variety of ways. One can use the helpful Live Chat option, which also serves as a FAQ, where one can discover answers to the most often asked questions.
it's possible that one's questions have already been answered in the FAQ part of the VIPTRADER FX brokerage website. Writing a lovely email is a classic and highly powerful method to get your message across to anyone. It's a little old-fashioned, but it's a classic and very successful way to get your idea across to anyone. You will receive a response from the support team within few minutes. If you prefer to keep things personal and prefer to talk, call the customer service hotline.
Our Final Thoughts
VIPTRADE is a versatile company that employs cutting-edge technologies and concepts. They put a lot of money into training for their traders. This is a novel concept in the industry. They possess a variety of credentials. additionally, the educational material on the site is incredibly useful and informative.
VIPTRADE Forex broker has gained recognition and notoriety, which has made them incredibly successful and renowned within the sector.VIPTRADE has outstanding security in place to protect each trader's account, therefore scams are virtually non-existent. It has all the signifiers of a legitimate brokerage firm like top-notch security, qualifications, and fair pricing on the services and products of the broker.
Overall we would highly recommend our readers to explore the VIPTRADER site firsthand and reap the benefits from all the features the firm has to offer to the consumers. To help traders practice and learn more about CFDs trading before creating a live trading account, VipTrade provides free educational material, forex trading tools, and demo trading accounts. VipTrade's customer service team is available 24 hours a day, 7 days a week to assist you with any questions you may have in multiple languages.