WCX Review

WCX is a sort of an anomaly in the financial world. When we first heard about it it sounded like fusion confusion. But after sitting down, figuring things out and connecting the dots, it's actually a really cool idea. Essentially, WCX is a trading platform that allows you to perform trades in Forex, stocks, cryptos, and commodities all with just your Bitcoin. Now before you get outraged at how insufficient this sounds, join us in our WCX review as there is quite a lot to dig for here.

In terms of qualities, we think that WCX has some of the best features to be found in the market at this point. Thanks to the location of the broker. They are able to offer maximum leverage of 1:300, as well as no withdrawal or deposit fees. In most cases what we saw in the spreads it can be above $7 for the BTC/USD pair and the lowest we were able to see was 0.00003 for the EUR/USD, so overall we'd say that the spreads are pretty ok.
Is WCX legit?
If you've been reading some reviews in the past or are just well versed to how Forex brokers get their legitimacy, you probably know that we must talk about regulation here. However, there is one problem. WCX is a cryptocurrency exchange as well as a broker. This creates a gap between regulation and the entity as they don't accept fiat deposits, meaning there is no central middleman between the customer and the entity. This boils down to the company being self-regulated. In almost every case, we'd start sirens and "RED ALERT" at this point, screaming WCX scam! all day. But in this case, it's not surprising that the broker isn't licensed as there is no license for their business model. Whether or not you should avoid it is still to be seen as we dive deeper into their features.
The WCX withdrawal system
We've already mentioned that all of the withdrawals and deposits on the WCX platform are fee-less. We've seen this model with many other brokers as well as they try to rely completely on their spreads and margins. This WCX review could have gone a completely different route if the company didn't have free deposits and withdrawals, as their self-regulatory framework isn't the most trustworthy for a first time visitor.
What's also really good about the system is that it's completely done with Bitcoin, meaning you don't have to wait too long for a bank to process the order as there is no bank to speak of. You just deposit with your online wallet. These types of transactions, both deposits and withdrawals happen within minutes. Which is a great way to quickly cash out, especially in the volatile crypto market.
WCX login and features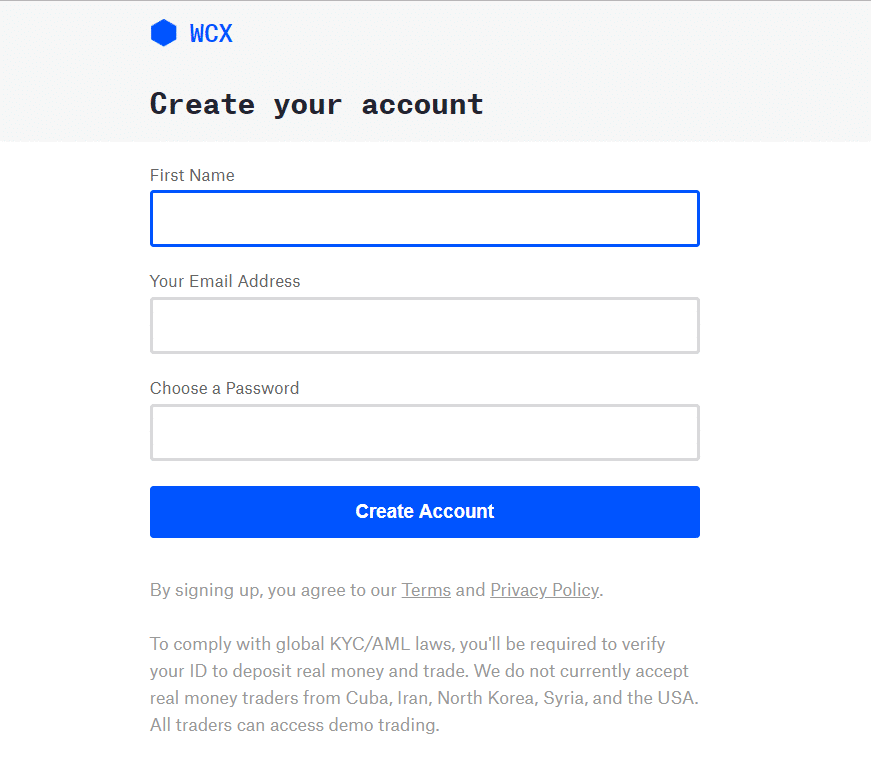 In order to access the platform, you have to obviously register. Thankfully the company doesn't require too much information from you, just an email address, which is quite safe if you use an expendable one. This in total makes the WCX login experience quite nice as you're able to access the platform without having to give too much information about yourself. Especially your phone number which could lead to some unwanted phone calls.
In terms of the WCX minimum deposit, you're pretty much covered as it can be as low as 0.001 BTC which is about $3.7 at the moment of writing this review. In terms of accessibility, this is also a massive boost as there is pretty much no huge barriers. In addition, if you think that trading with the help of Bitcoin is something you're not too familiar with you can opt for a WCX Demo Account, which will immediately give you 10 virtual BTC for you to trade with, with regular refreshes.
Some potential problems
Although the idea of trading traditional financial assets with cryptocurrencies is a welcome one, it's still hard to comprehend how it can be maintained as a sustainable business model or even an investment plan. In this WCX review, we tried looking at the company as a whole, looking at their features and offers, like we do with any other broker. But WCX is different and it's important to note that. You need to know that once you decide to deposit a certain amount of BTC in your account, you may not have the same amount the next day. Look at the way BTC's price changed within just these couple of days. On Monday it was $3,183 for 1 BTC and now it's over $3,700. Although this is an amazing scenario, it could potentially spell some trouble in the future. You may deposit with a $3,700 price mark today, but where will you be if tomorrow it falls down back to $3,100? This is a thing to consider indeed. But I need to clarify that this has nothing to do with a potential WCX scam, it's a completely different topic. But that lack of regulation really bugs us, to say the least.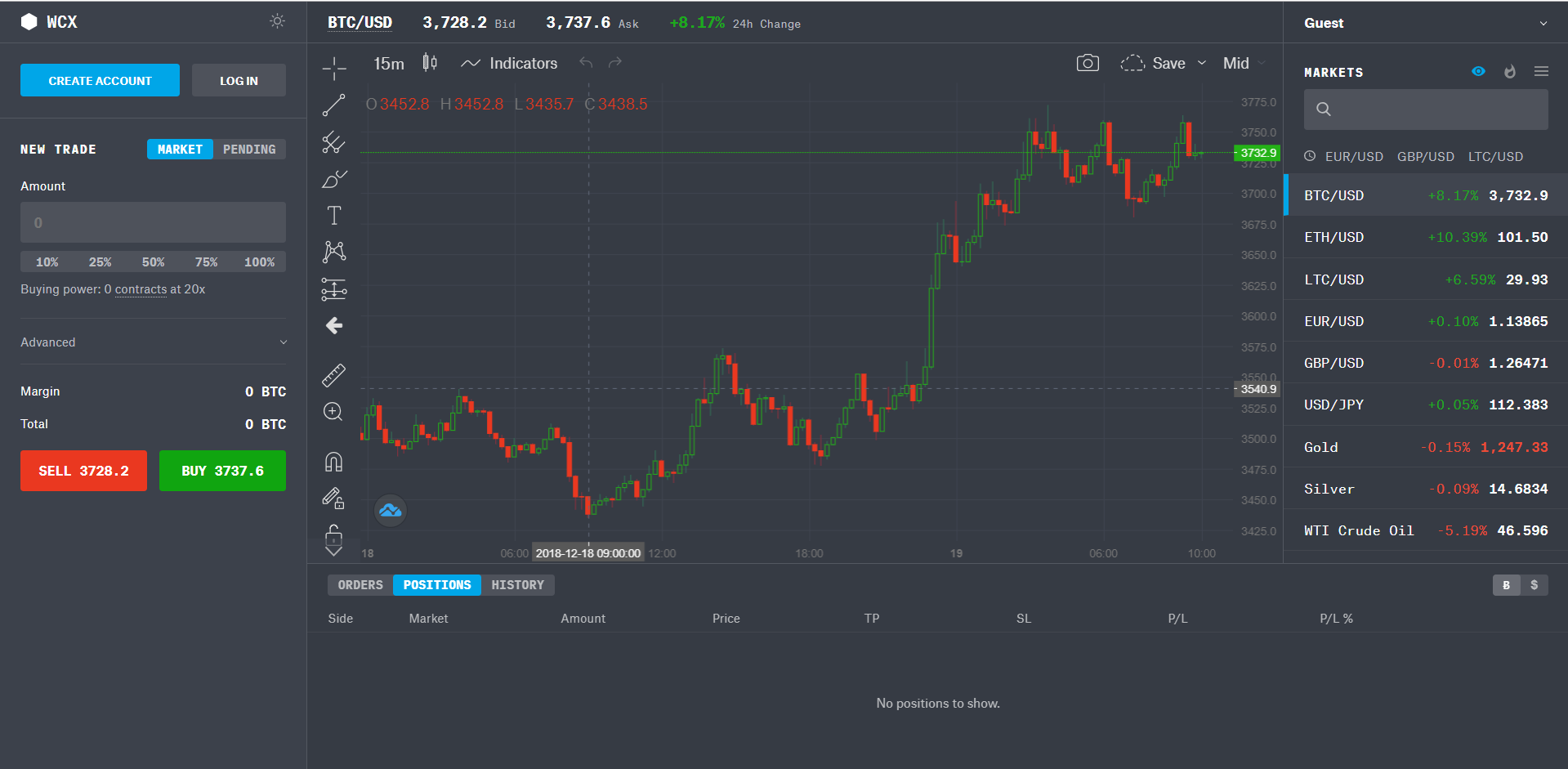 Can WCX be trusted?
So we've finally approached the ultimate question. Is WCX legit? Are they a scam? In all honesty, we believe that this broker is not a scam. Although it has some serious issues that disturb us. The biggest one being the self-regulatory framework of course. Although this could just be an exaggeration as crypto firm regulation is hard to come by these days, especially in a place where WCX is based, Switzerland. The volatility of BTC is also a big concern as deposits may not be the most reliable ones, plus it would be hard to calculate the genuine profits.
But in all other aspects like the trading platform (which is a skillfully built-in feature on their website), no-fee services and low spreads it's a strong contender. In addition, we want to say that the business model, despite its potential shortcomings is an amazing way to get crypto enthusiasts to get a taste of other markets like Forex, stocks, and commodities.