YSI FX Review – Should you trade with this broker?

Here's the deal: you've finally decided to transition from your regular job to Forex trading and make it your only source of income. You read up on every trading material there is on the internet, attended every online course, and honed your theoretical knowledge.
What's next? Well, this is a high time for you to start thinking about finding a credible brokerage. And you should be very careful not to overlook any important step in this process: you should equally check out the broker's license, website, and trading terms and conditions.
We want to help you in the selection process as much as we can, that's why we offer you our unbridled YSI FX review with all the important details you need to know about the broker.
Is YSI FX legit?
The first and arguably the most important entry in our review is the license. When you're looking for a brokerage, you should closely look at their licenses and assess them from every angle. The chances are, they will reveal hidden secrets behind flashy offerings and conditions.
So, we did the same for YSI FX and found out that there are lots of uncertain claims that actually give us no clue about whether the broker has a license or not. In the About section of the website, YSI FX claims to have proper regulation, yet it doesn't say which one more specifically. It also notes that the company was registered in Australia in 2016, so, should we assume that the Australian Securities and Investments Commission is in charge of the broker's activities?

In such cases when it's not obvious whether the broker has a license or not, we always assume that there's actually no license at all. This is always a much safer option, considering how dangerous it is to entrust your funds to a brokerage without fully knowing its background. Therefore, we're going to do the same with YSI FX, which enforces YSI FX scam reports on the internet.
What does the website look like?
Next up, let's talk about what the website looks like and how effortlessly it delivers the information. Starting off with the interface, we have to point out that it's not the most well-developed websites in the world. For one thing, the Home page is unbearably long and contains unnecessary information; for another, the design is a little bit underwhelming with bland violet-blue and blank-white backgrounds.
When it comes to conveying information, we had a hard time finding some of the important stuff like the above-mentioned license, payment methods, etc. It seems to us that the YSI FX brokerage wants you to see certain things very bad, whereas what it doesn't want you to see is locked up pretty tightly, which is not something you should expect from a trustworthy Forex broker.
As for trading accounts, the broker offers five different packages: Demo, Classic, Advanced, Professional, and Company. While these accounts come in with certain differences in terms of the maximum leverage, spreads, and available assets, these differences still do not justify the minimum deposit requirements for opening them. We'll talk about this detail more thoroughly in the next chapter.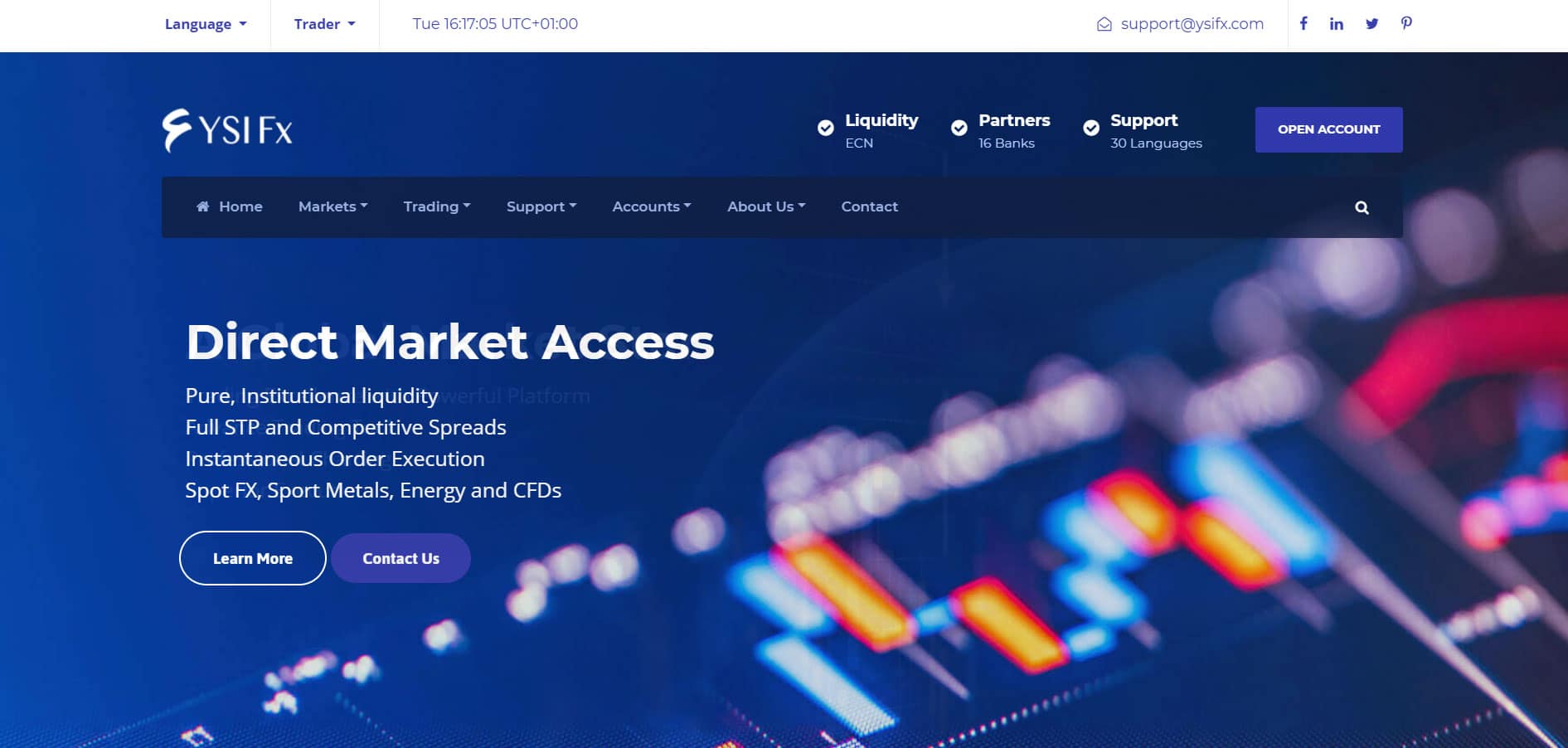 Finally, let's see how the trading platform weighs in compared to other pieces of software. YSI FX supports MetaTrader 4 for every tradable asset, which is both good and bad at the same time. It's good because the MT4 software is a very simplistic and beginner-friendly platform that makes it easy to trade for everyone. Yet it's bad because it doesn't contain some of the most important features like the economic calendar, advanced charting, or additional timeframes – tools often used by professional traders. Besides, MT4 has a limited instrument base that clocks up to just 1,000 assets, whereas its younger brother MT5 is much more flexible in that sense.
What are the YSI FX promotions and how they compare to market averages?
The final segment of our review is trading terms and conditions. As YSI FX claims, the platform support spot FX, spot metals, energies, and CFDs for trading. This, without adding other features and offerings at YSI FX, is a pretty decent offering and nothing to complain about.
However, things quickly get out of hand when we dug deeper into the trading platform itself. During this YSI FX review, we found out that the broker is actually an STP/ECN brokerage, meaning there are two types of market execution:
STP means the broker is the middleman between traders and liquidity providers. It receives traders' requests, processes them, and delivers to various liquidity providers. This entails wider bid-ask spreads but lower operational costs.
On the other hand, ECN is a more high-tier trading platform that directly connects LPs with traders, without the mediation of the broker. ECN spreads are super-shallow and professional traders can really maximize their profits with it but it's important to note that there are high deposit requirements and commissions charged for ECN accounts.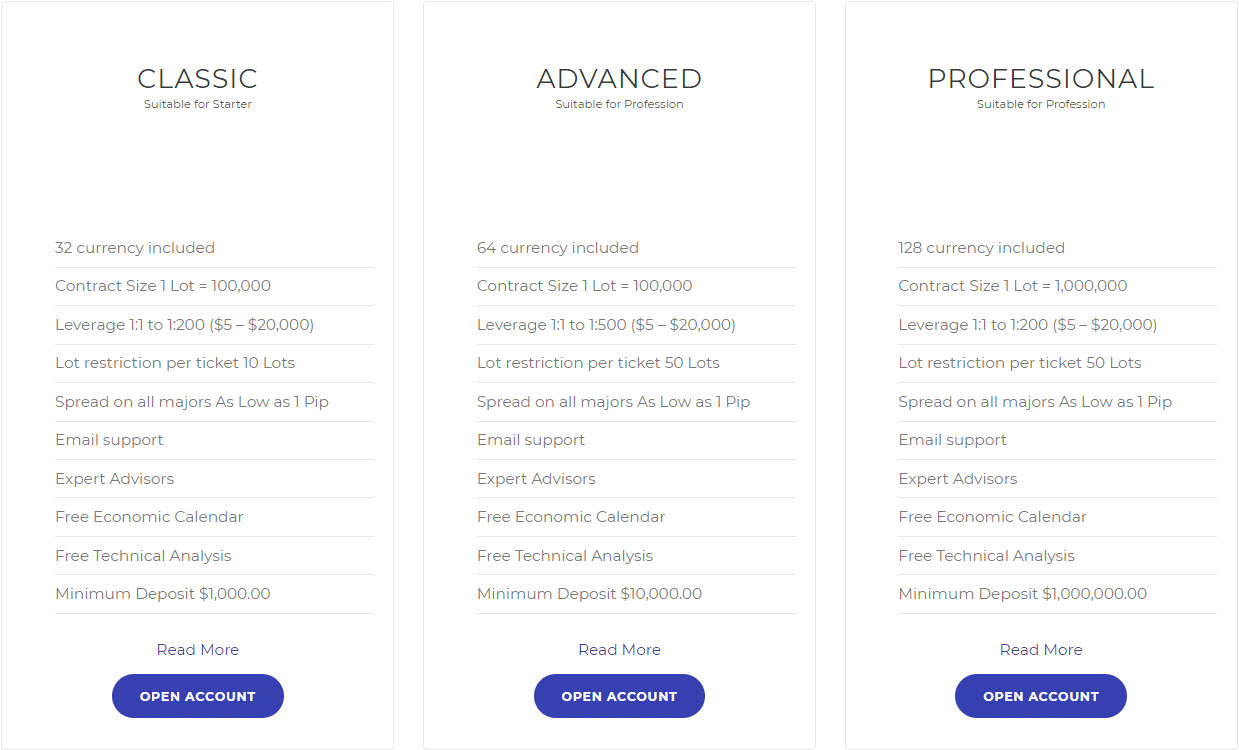 Having said all that, we don't really know what conditions YSI FX has for its ECN platform. We couldn't find commissions for it nor minimum deposit requirements. This indicates that it's probably a good idea to avoid using this platform at YSI FX if you decide to choose this broker as a companion.
But even the normal trading platform has quite a few grey areas in it. The leverage, for instance, makes us quite suspicious. The average leverage on the market is around 1:200, yet the broker goes full-on with this YSI FX promotion and offers a whopping 1:500 leverage, without considering the dangers associated with it.
Then there's spreads with very mixed details. As YSI FX claims on the first page of the website, spreads start at 0.1 pips for the ECN platform, yet we don't know which account is linked to this platform because those that we examined all have 1-pip spreads. Therefore, saying that you charge 0.1 pips without actually specifying how is equal go lying for us.
Next up, we have to talk about those minimum deposit requirements. As we noted above, three live accounts have very high deposit requirements, check them out yourself:
Classic account – $1,000
Advanced account – $10,000
Professional account – $1,000,000
You see one million US dollars as well, right? This is ridiculous beyond the extent: we cannot imagine a Forex trader, no matter how professional they are, to deposit one million US dollars to a platform that abides by no financial guidelines and offers a very blurry ECN trading platform.
And then there's also the $1,000 requirement, which is also very high for standard account holders. In our YSI FX opinion, the broker is doing nothing other than plunder its existing and potential clients.
The cascade of suspiciousness continues in the existing financial platforms. We tried very hard to find the ways in which traders can fund their accounts and withdraw earned profits, yet the broker doesn't offer any clue about that. Sure, it has a separate section on its website, but when we went there, the page was blank and contained no information about payment methods.
Should you trade with the YSI FX broker?
Having said all that, what should you make of YSI FX? Is it trustworthy enough to entrust your hard-earned money to it?
Well, let's rewind things a little bit: YSI FX doesn't actually feature any legit license that would ensure its trustworthiness. The broker also doesn't have a very professional-looking website. Besides the design, it doesn't feature an awful lot of information about how trading is done on the platform.
As for trading terms and conditions, these are very suspicious because of their overzealous nature and certainly contribute to the suspicions of the YSI FX fraud.
In short, everything suggests that you shouldn't do business with YSI FX. Even if it's not a scam, it certainly doesn't feel like a professional Forex broker.