Zero Markets FX broker review – Is it a scam?

There was a time when Forex trading was not accessible to regular people around the world, and only huge financial companies like banks could participate in this market. Thankfully, this has changed a lot with the help of the developmental the internet. But, with this development, came many challenges as well. Over the years, the internet became a place for scam companies to lie to people and get their funds illegally.
Today, we are going to review Zero Markets, a fairly new Forex broker which was established in 2017. According to the information provided by the broker, it is authorized and regulated by the Australian Securities and Investment Commission, better known as simply ASIC. This means that this broker is registered and functions from Australia. However, although the broker is regulated, we found some serious problems with this Forex broker.
The world of Forex is a very risky market, and although regulations are very important, they still are not the guarantee of safety. In the market, there are many brokers that claim to be regulated to attract more investors on their website. So, if you want to learn more about this Forex broker, follow our review and stay safe while investing in Forex.

Zero Market's license & the ways to stay safe
As we have already said, this Forex broker is regulated by ASIC. This is the main regulatory agency of Australia and controls financial companies all over the country and the region of Oceania as well. Although there are many trustworthy Forex brokers regulated by this agency, there still are some problems that this regulatory agency has. Over the years, there have been many people who have claimed that the regulatory framework of this agency is not at the same level as the leading regulatory bodies.
While reviewing Zero Markets, we found that this Forex broker does not follow every single regulatory guideline of ASIC. This can be a very dangerous thing for investors, and every single trader should lookout for it. As we have found, although this broker keeps the funds of clients on segregated bank accounts, it does not follow other requirements.
For example, there is no negative balance protection offered by this Forex broker, which means that you could end up losing more than you have deposited on your account. The broker also offers very high leverage, which can get as high as 1:5o0, and if you do not have enough experience, this is something that you should avoid at all costs.
Educational material and the lack of it
Some of the top-tier regulatory bodies on the market require Forex brokers to offer clients educational materials. This is very important because the market is constantly changing and investors should have the opportunity to remain informed about the changes and events on the market. Because there is no educational material available at this Forex broker, there are many challenges that can affect the trading experience.
This once again makes us think that Zero Markets FX broker is a fraud, and it should be avoided by investors at all costs.
How Forex trading at Zero Markets works?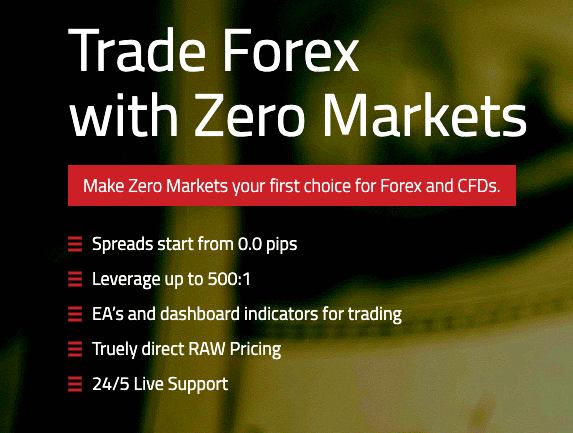 The broker claims to be offering more than 10,000 trading assets, out of which 45 are currency pairs. The broker claims that the spreads are almost non-existent and the commissions for deposits are zero. This is another reason why we think that this broker is a scam.
Many might think that this is not a reason to avoid the broker at all, but we think it raises a lot of questions. First of all, fees and commissions are one of the only ways that brokers can earn money if a company claims that they do not charge any fees, it means that they are most probably lying.
Money for brokers is very important because they need it to make sure that everything goes smoothly on the platform. If a company claims that they are not getting any fees, it means that they are either lying and are using this to attract more novice traders on their websites.
Leverage
According to our review of Zero Markets, the leverage at this Forex broker is as much 1:500. This is a very high number. Leverage, in general, is something that should be avoided by beginner Forex investors. As rewarding as it might be, there is a huge chance for investors using high leverage to lose all of their money in just a few minutes.
Today, many regulatory agencies around the world are cutting down the leverage requirements. ASIC, on the other hand, has still not made any decisions about this matter. However, some of the representatives are saying that this regulatory body is working to renew its regulatory framework.
The website of Zero Markets
One of the things that make us think that it is a scam Forex broker is that the website of Zero Markets looks very bad. It is almost useless, the information there is very limited and it looks like something that was created without much care. The customer support team is not useful at all, we tried to ask them some questions and the only answer that we could get was that the answer to our questions was available on their page, which is not the truth at all.
Account types at Zero Markets
There are three major account types available at this Forex broker, but the thing about them is that there is not that big of a difference between them. Also, the information about these account types are very shallow, and the thing is that it is very hard to understand which one will work for you better.
The only thing about this Forex broker seems to be the fact that it offers some of the most developed and popular trading platforms, such as MetaTrader 4 and MetaTrader 5. The broker also claims to be offering services for mobile users, but when we tested out the application, we were very disappointed. It is very hard to see who would use an application that is so much useless. It can not be used properly and is anything but user-friendly.
Is Zero Markets a scam Forex broker?
After reviewing this Forex broker for a long time, we found that this company should not be trusted. We do not recommend this broker to anyone. Although at first, it looks like a legit company, as we learned more, our suspicion grew. The worst thing about this Forex broker is that it claims to be offering some of the greatest services to their clients, while, the reality shows that it should not be trusted by anyone at all.
The market is full of amazing Forex brokers and we believe that you should not trust the Forex brokers that are offering questionable services. In the case of Zero Markets, there are many questions that remain unanswered even after hours of review, and we believe that it should be avoided at all costs.