Tickmill Rebate Promotion Review
When a broker offers an exciting package of trading terms and conditions, as well as has rigid licensing materials featuring on the website, one doesn't need additional encouragement to jump at the opportunity and start trading with that broker. However, more often than not, such brokers don't stop there and also offer various bonuses and promotions.
On Tickmill, there's an abundance of said promotions. And you can be dead-sure that the Tickmill Forex broker is as legit as it can get. On Tickmill's website, you'll find at least five different promotions that will make your trading a joyful experience: Trader of the Month, Tickmill's NFP Machine, $30 Welcome Account, IB Contest, and Rebate Promotion.
Earning bonuses as you trade
This last one, the Rebate Promotion, is a temporary bonus that has some pretty exciting and impressive offerings, as well as participation conditions. But let's not get ahead of ourselves and take things one step at a time. First things first, what is this bonus?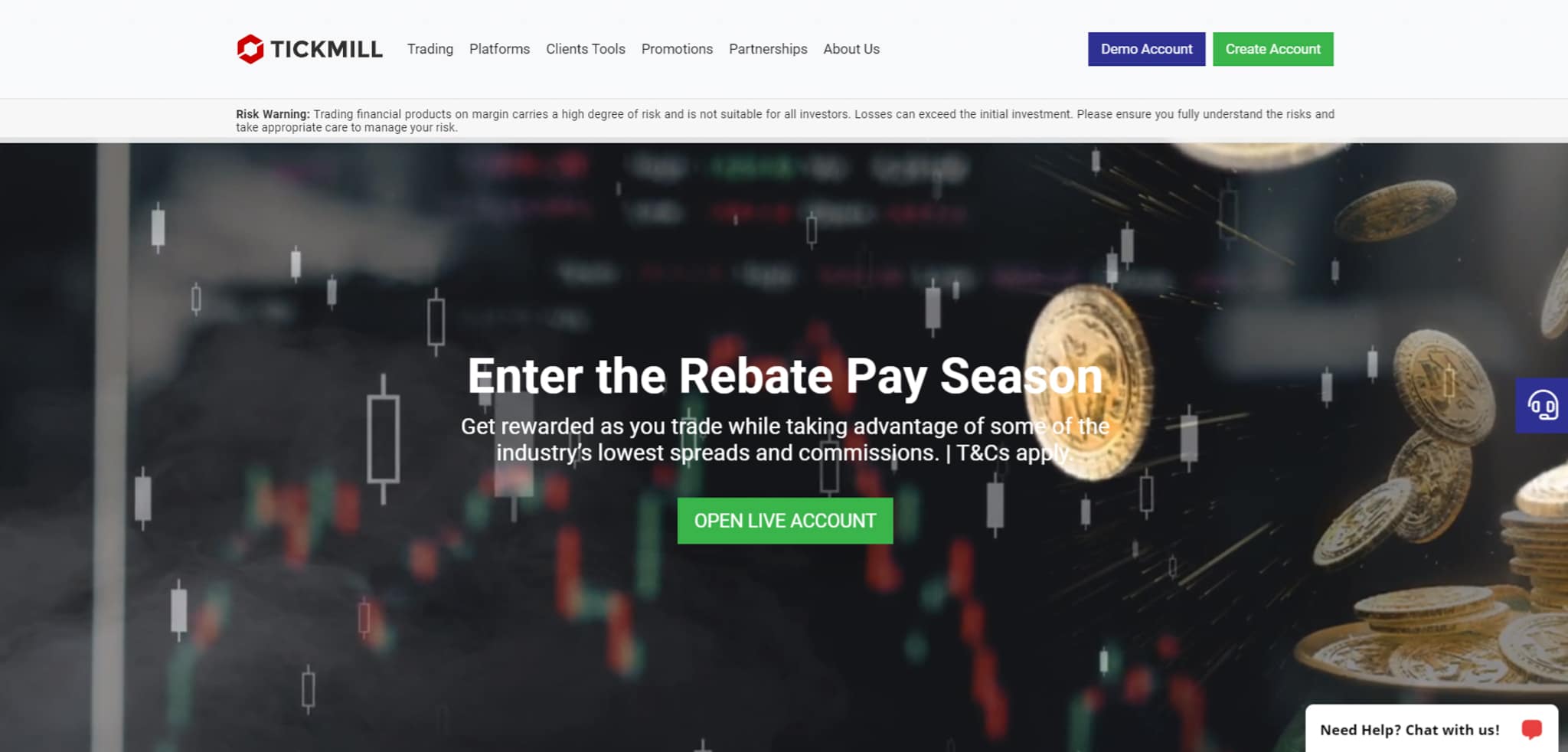 Well, the Rebate Promotion is a temporary bonus that lets you get rebates as you trade onwards. When you open a trade for, say, EUR/USD Forex pair or the NASDAQ 100 index CFD, you'll be able to get a certain amount of money back. The math in this bonus goes like this:
For every lot (100,000 currency units) placed, you're getting anywhere from $0.25 to $0.75 rebate as a bonus. The exact amount of rebate depends on your tier and there are three different tiers depending on your traded volume:
Tier 1 – when you've traded exactly or less than 1000 lots in a month. In this tier, you're getting 0.25 US dollars for every lot, which means you can accumulate a total of $250 as a bonus rebate;
Tier 2 – when you've traded from 1001 to 3000 lots in a month. In this tier, you're getting 0.50 US dollars for every lot. Therefore, you can potentially get $1,500 as a bonus;
Tier 3 – when you've traded more than 3001 lots in a month. In this tier, you're getting the maximum amount of bonus – 0.75 US dollars for every lot. As a result, you can get at least $2250 as a bonus from the broker.
As you can see, a $0.25-$0.75 bonus may not seem like the biggest reward at a first glance but if you keep in mind that a regular trader has thousands of traded lots per month, you'll soon realize that this is actually a pretty lucrative bonus.
How to register and how long do you have left?
So, are you interested in the Tickmill Rebate Promo already? Good, because now we're going to talk about how you can participate in it. But first, let's see how long you have left to get these rebates. According to the broker, the Rebate Promo will last from March 29 to June 30, 2020. Therefore, you've still got three months at the time of writing this review.
So, how to sign up for the bonus? Well, the first step is to open a live account on Tickmill. The registration process is pretty simple and doesn't require a lot of personal information from you: you'll need to enter the basic details such as your full name, phone number, email address, etc.
But you'll also have to fund your account by at least $100. For that, you can use any payment method you want: bank wire, credit cards, Neteller, Skrill, or Fasapay. And when you get the bonus, you can withdraw it with the same platforms as well.
The second step, and a pretty straightforward one, is to actually start trading because as we mentioned earlier, you collect rebates as you trade more and more. And as you move forward and increase the traded volume, your rebates get bigger as well, yielding thousands of dollars of rewards.