Tickmill deposit bonus – The rebate promotion review

Tickmill is a plain vanilla MT4 broker offering a limited portfolio of financial trading instruments including few dozens of Forex currency pairs. The broker has a commission-based trading system with average spreads and high leverage of 1:500. The minimum deposit requirement with the broker is 100 US dollars. The broker is regulated by several regulatory authorities including the Financial Conduct Authority in the United Kingdom and the Financial Services Conduct Authority in South Africa.
Tickmill runs several promotional campaigns including the contest – Trader of the Month, Tickmill's NFP Machine, $30 Welcome Account, and an IB Contest. Previously, the broker also ran Rebates Promotion which was similar to the deposit bonuses that most Forex brokers offer. However, the deal is no more available for the traders. Alternatively, we offer the best deposit bonus currently existing on the market offered by XM Forex broker – 50% + 20% deposit bonus.
The bonus is no more available! Claim XM 50% bonus instead.
Try instead 50% deposit bonus at XM
Tickmill Rebates Program Conditions
This Tickmill broker program, Rebates Promotion was a temporary deposit bonus that had some pretty attractive offers for both new and existing clients. The program had quite simple participation conditions, as well, which we will cover in the article below.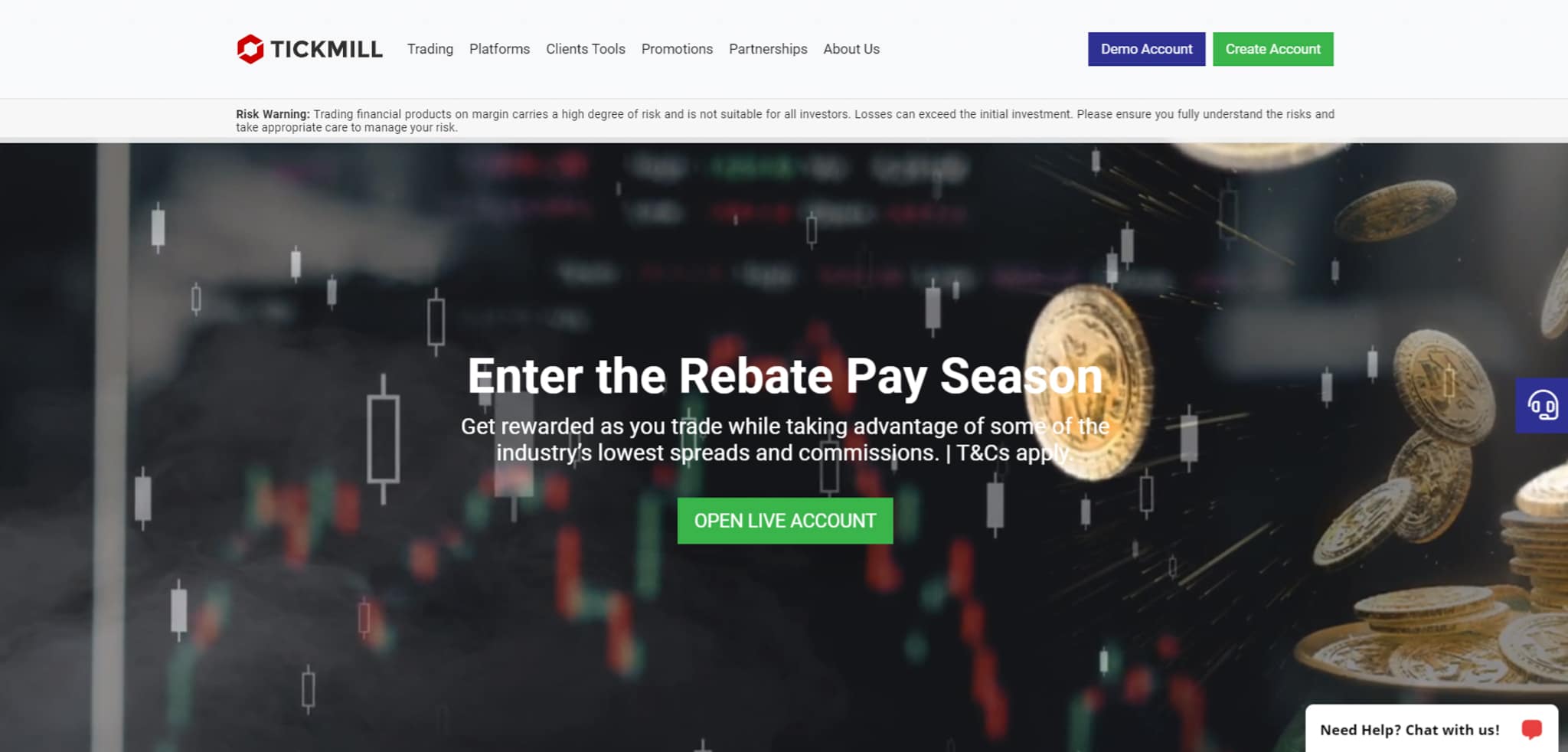 The temporary deposit bonus program offered by Tickmill was allowing traders to earn rebates as they traded onwards. When they opened a trade for, say, EUR/USD Forex Pair or any other available financial instrument from the broker's portfolio, they would get a certain amount of money back. There was a total of three tiers distributed according to the traded lots per month. The higher the tier the more is the value of the rebates. The structure follows like this:
Tier 1 – 1000 lots or less traded in a month. In this tier, traders got 0.25 US dollars for every lot, which means they could accumulate a total of $250 as a bonus rebate;
Tier 2 – from 1001 to 3000 lots traded in a month. In this tier, traders got 0.50 US dollars for every lot. Therefore, they could potentially get $1,500 as a bonus;
Tier 3 – more than 3001 lots traded in a month. In this tier, the maximum amount of bonus was – 0.75 US dollars for every lot. As a result, it was possible to get at least $2250 as a bonus from the broker.
Basically, for every lot (100,000 currency units) placed, Tickmill traders were getting anywhere from $0.25 to $0.75 rebate as a bonus. It was not the best deal available since traders would have to place a lot of trades in order to get a minimum reward of 0.25 USD. That is why not many customers participated in the program.
Tickmill Rebates Program Alternatives
The Rebate Promo of Tickmill lasted from March 29 to June 30, 2020. Participation in the program also required a minimum deposit of 100 US dollars and trading at least 100,000 currency units before becoming eligible to enter the program. Afterward, you would have to trade more than 400,000 currency units to receive at least 1 USD as a cashback. It was not a beneficial program for the traders at all. Therefore, less than 5,000 customers participated in the rebates promotion of Tickmill.
As an alternative, we suggest that you go for a fixed deposit bonus program that does not depend on your trading performance and does not require trading hundreds of thousands of dollars to get the bonus. One of the great examples of a convenient deposit bonus program is XM's 50%+20% bonus. This bonus does not overcomplicate the terms and conditions as many other brokers do and is generous enough to increase the trading capital for the program participants. Furthermore, the XM minimum deposit is much lower starting at 5 US dollars.
FAQs on Tickmill deposit bonus