AxiTrader 20% deposit bonus review – How reliable is it?

AxiTrader is a Forex broker operating under a strict regulatory framework. The broker s authorized by the Financial Conduct Authority in the United Kingdom (FCA), the Australian Securities and Investments Commission (ASIC), and the Dubai Financial Services Authority (DFSA). The broker provides access to numerous financial markets with hundreds of financial instruments available to trade for the clients of AxiTrader.
The broker also runs a promotional campaign where clients are eligible to receive a 20% deposit bonus. Well, in this AxiTrader 20% deposit bonus review we will tell you exactly how the company goes about distributing these funds to its new clients so that they can maximize their performance on the foreign exchange market. Meanwhile, we suggest that you check out the conditions of the best deposit bonus available with XM Forex broker.
AxiTrader deposit bonus – the conditions
The bonus isn't necessarily designed to be used by everybody, therefore we need to look deeper into the conditions to understand whether it's worth it or not. So, without further ado, let's find out together.
The minimum deposit
As the name states, this is not a welcome bonus. In order to get it, traders need to make a deposit of a minimum of $200, or a maximum of $10,000. Furthermore, they need to make at least one trade before September 30th to activate the account and classify it as "real". This will signal the broker that the trader is going to use the account in the future, and thus will immediately credit it with the bonus.
Personal information
There will be no personal information required during the process of getting the AxiTrader deposit bonus, however, traders will be required to disclose some info during the registration process.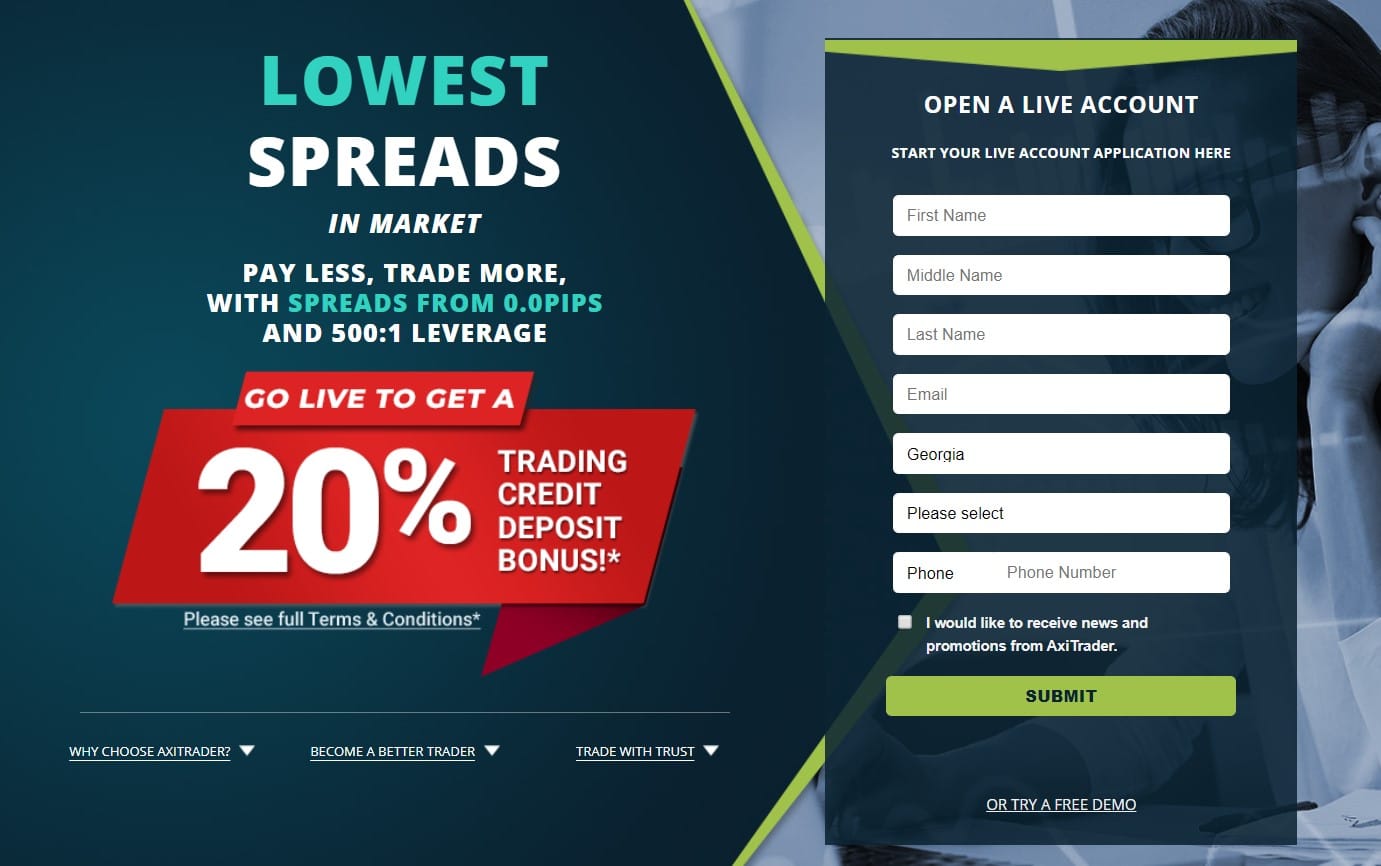 Things such as the email, phone number, nationality, address and etc. are going to be requested upon registration. However, everything that was just listed is common industry practice and therefore should not raise any red flags or anything.
Withdrawals
Much like any other deposit bonus in the Forex industry, AxiTrader will not allow this 20% to be withdrawn from the account. In fact, should you withdraw any funds from your account, the corresponding amount of the bonus will be taken away as well?
For example, let's say that you deposited $200 and got a bonus of $40. If you withdraw $100, then $20 will be taken away from the account. Why? because $100 is 50% of $200 and $20 is 50% of $40, it's quite an easy formula to understand.
But, as you can see, you will not have any issue withdrawing the amount you deposited from the beginning, but the bonus can only be used when you're trying to maximize your performance through trades.
Trading conditions
When it comes to the trading conditions of the AxiTrader 20% deposit bonus, it's pretty similar to what you get through a regular account. The leverage will be 1:500 alongside spreads of around 1 pip for a regular account and 0 pips for a pro account. But remember that these conditions are on major currency pairs such as EUR/USD.
Is the AxiTrader deposit bonus worth it?
Considering the fact that AxiTrader itself is a very trustworthy broker, it's always good to have some kind of additional financial support from the brokerage. The bonus offer does not come with any requirements whatsoever. There is no maximum amount you need to have traded to make it withdrawable, and there's definitely no deadline for the bonus. Comparing this offer to the ones currently available in the market, it can be easily said that it's one of the best offers so far, despite it being on the slightly lower end.
This bonus is available for South East Asia only!
FAQs on AxiTrader deposit bonus