Types of Forex volume indicators – Ways use it
As you might already know, Forex is a very dynamic market changing every moment. There are many things that influence changes in Forex and one of them is the supply and demand. There are many indicators available in this market, and the Forex trading volume indicators are the ones that visualize the movement of supply and demand.
In addition, this indicator helps traders filter through sometimes very confusing information that usually is full of different details that might not be as important. So, let's say that there is an uptrend in the market, it usually means that there are more buyers than sellers. When there is a downtrend, it usually means that the number of sellers is more than the buyers.
However, in Forex, there are times when such logic does not work. To better understand what's happening in the market, many use the volume indicator. If you are one of those who want to learn more about how different types of Forex volume indicators work, follow our guide and start using them today.
What is a volume in Forex?
Before we go any further, let's discuss the importance of volume in Forex trading. The trading volume shows you how much of an asset was traded in a certain period of time. Analyzing the volume patterns can be a great help for traders, as it can help you get a sense of the reasons behind the uptrends and downtrends in the market. Volume plays an important role in technical analysis and it is thought to be a key technical indicator.
Volume can be a great indicator of market strength. In most cases, increasing prices and the positive trend are seen as strong and healthy. On the other hand, when the prices fall on increasing volume, it means that the trend is gathering strength to the downside.
Volume is a very important concept in Forex trading. This is why there are so many people using indicators such as volume indicators for currency trading, it can help them see how much people are actually trading the currency pair.
Using volumes indicator for currency trading
There are millions of people using volume indicators every day. Although it's true that there are many different types of volume indicators, they work in a similar way. They show the general amount of instruments being traded on the market for a specific period of time.
Let's discuss specific examples to make it easier for you to understand. Below, you can see the EUR/USD chart with the volumes indicator below. As you can see, it is very easy to see the changes in the volume thanks to the Forex volume indicators MT4 offers.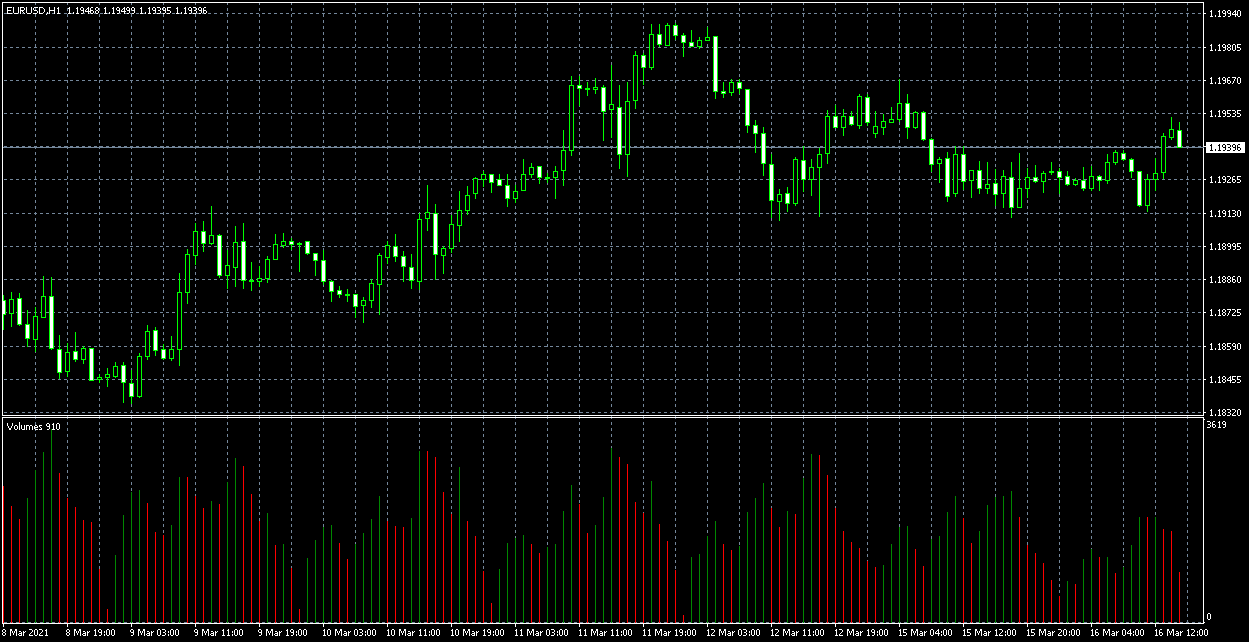 As you can see at the bottom of the chart, there are green and red lines (below the candles). These are the lines that visually represent the volume of the trading market at the specific moment. In most cases, a big green line indicates that traders should go long, while a big red line is a sign that it would be better to go short. However, this is not the only thing traders use in currency trading volumes data.
There also is a concept that many refer to as the median volume, which is very frequently used by traders before they open a position. If you see two identical volume points followed by the same outcome, it can be a sign that such a trend might happen once again.
How to find the best Forex volume indicators?
There are many trading platforms available in the market that offers you access to the Forex volume indicator. If the trading platform does not offer you this type of indicator, you might be able to Forex volume indicator download version, which is available for different types of trading platforms.
It can be used for cTrader, MetaTrader 4, and there also is Forex volume indicators MT5 version for those who use this trading platform. In most cases, these platforms have this indicator pre-installed. For example, you can open MT4 and simply go to Insert, then Indicators, Volumes, and choose the type of volume indicator that works best for you. Also, the great news is that most of the volume indicators are free to use.
To use a volume indicator in MT4, all you have to do is to find 'navigator', under which, you can find 'indicators'. Then, look for 'volume' and double-click the one that you want to use. After this, you can set it according to your needs and that's it, you have added a volume indicator to your chart. The same methods can be used on MetaTrader 5.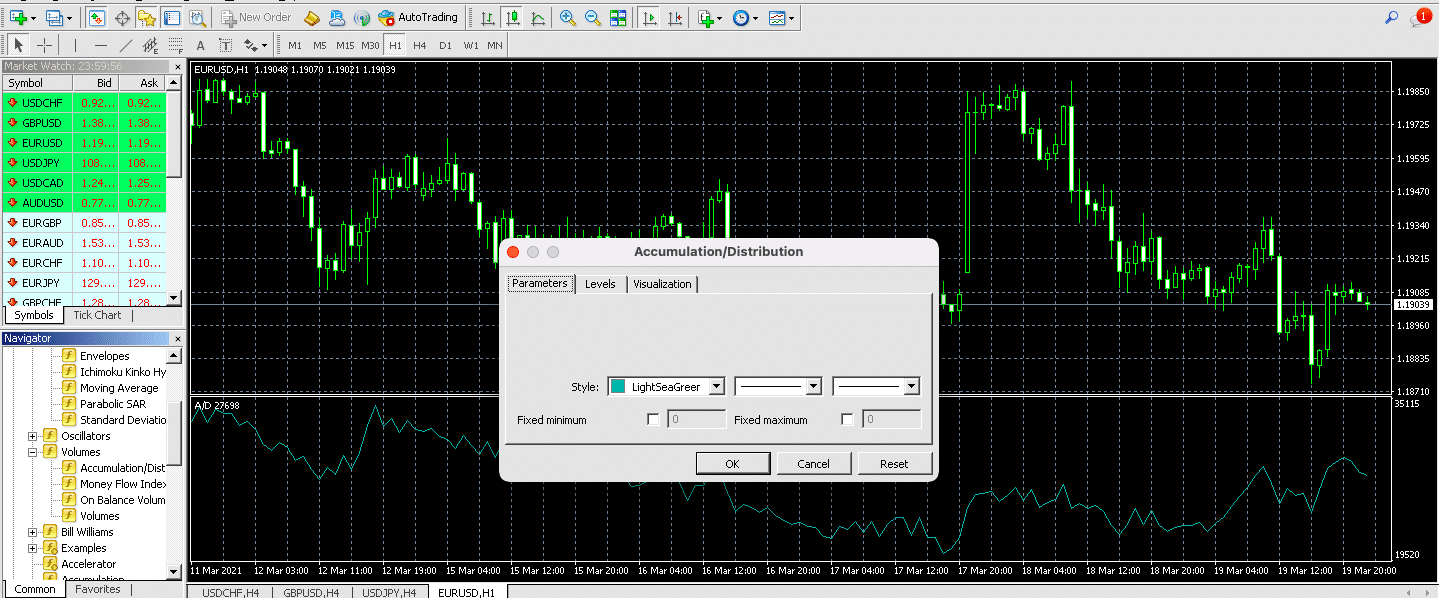 Volume indicator Forex trading – Common mistakes
One of the biggest mistakes that a huge majority of traders are making is using volume indicators on their own, without additional analysis. What this means is that in many cases, traders only trust this one indicator, and this can lead to a number of problems. Another mistake that many traders are making is that they are not looking for the median volume on the chart before opening positions. As we have already said previously in this guide, finding the median volume can be a huge help for traders.
Final thoughts on the list of Forex volume indicators
Volume indicators for currency traders can be a very important tool. There are millions of traders that are using this indicator every moment, however, to make sure that it is helpful, traders are advised to use it in parallel with other indicators. It represents a very helpful tool in Forex trading and helps you understand how the market is performing at a specific time. This can tell you if there is a high or low demand in this market, which can help you better predict the possible shift in the trend.
Frequently Asked Questions on volumes currency trading