PaxForex Bonus Review

PaxForex is a forex broker which operates across a number of different countries. They claim to be customer focused. This is where their supposed bonuses come into play however things are not the way that PaxForex makes them seem. Read our PaxForex bonus review for more information about why you would be better off avoiding both them and their bonuses completely.
PaxForex $7 No Deposit Bonus
The first thing that needs to be pointed out is that PaxForex is established in St. Vincent and the Grenadines. They claim that their regulation is done by the Financial Services Authority(FSA) there. However we have found out that this is actually a lie. PaxForex is under no form of regulation whatsoever.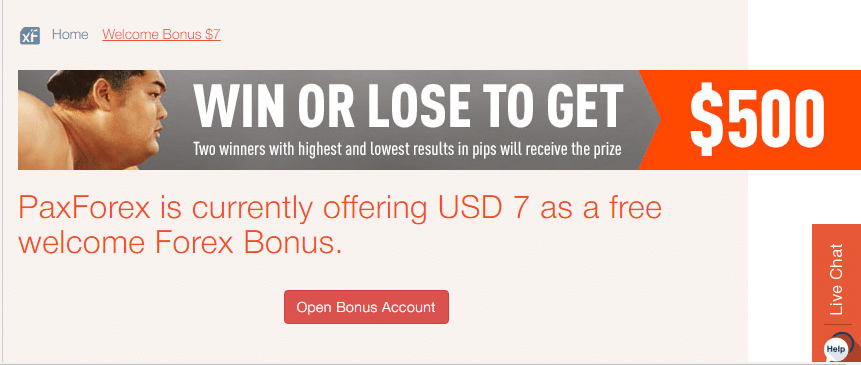 If that is not enough to turn you away from PaxForex and you still find their bonus offers alluring then continue our PaxForex bonus review and we will show you why you are better off avoiding them.
One of PaxForex's bonuses is their $7 Welcome Bonus where you can open an account, deposit nothing at all and receive $7 to start trading.
This seems alluring but once you read the conditions of this, you realize that signing up for this account is an immense waste of time.
The conditions of this account are that you have to trade at 1.5 lot and you will be able to withdraw $5. However the thing they do not tell you is that you can only make a minimum withdrawal of $25.
Also the maximum which you can withdraw from this account is $100.
That is a lot of time spent trading for a small amount of money. It simply is not worth it.
PaxForex Deposit Bonuses
Now besides the PaxForex $7 no deposit bonus, There is also a PaxForex 100% deposit bonus on their other accounts.
We have spoken about the benefits of bonuses before and how they can truly benefit you. However we have also stated that not every broker that offers or claims to offer bonuses can be trusted and PaxForex is a prime example of this.
First, remember we mentioned that PaxForex is not regulated and has lied about their regulations.
This alone is a major red flag because it shows you the Paxforex's trustworthiness or lack thereof.
Another point is that many clients have claimed to have not received their PaxForex bonuses or have even been told that they will receive their bonuses throughout the year.
Does this seem like the actions of a legitimate broker to you?
PaxForex is untrustworthy. They also pay for reviews online so be wary of those that you read from supposed "clients."
PaxForex Bonus conclusion
PaxForex is based St. Vincent and the Grenadines and claims to be regulated by the FSA however the FSA has denied this. This alone is enough reason not to trust or use this broker. The PaxForex bonuses are also misleading and in reality will not benefit you, only cause you to waste your time. Avoid PaxForex at all costs.