Should You Try XTrade No Deposit Bonus of $25?

XTrade is an online financial platform offering its services to traders from different parts of the world. From time to time the company announces no deposit bonuses to motivate customers and let them start trading. One such bonus currently available on their website is a phone number confirmation bonus which may look beneficial at first sight, however after reading its terms and conditions, you will find out that it is not something that deserves your time and attention.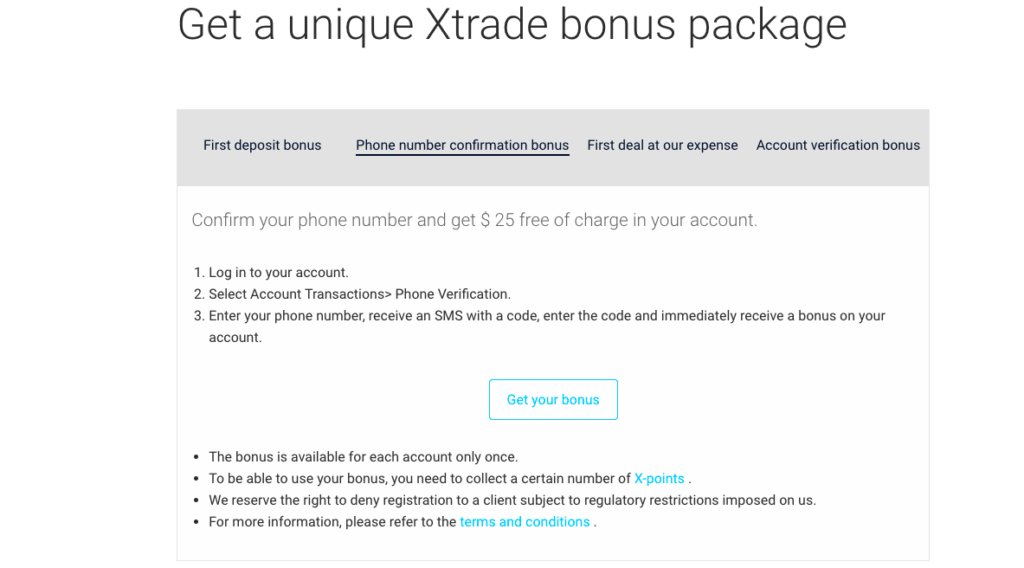 When it comes to Forex trading and its bonuses, it is always a good idea to do your research and do not settle for one broker only. Considering the fact that the trading industry is very competitive, it is very likely that you will find a better offer than the current one. That's why we advise you to check out XM Group which has pretty attractive promotions for newcomers that do not require you to make any additional deposits.
How Does XTrade No Deposit Bonus work?
XTrade phone verification bonus is granted upon verification of your phone number. You can get free $25 cash once you enter a code received by SMS. It is as simple as it sounds. Please note that the bonus is available only per phone number. The bonus will be automatically credited to your account, once the verification process is completed. Usually, it takes no more than 10 minutes for the bonus funds to reach your account.
Hence, 25$ might become part of your equity and can be used for trades without limits. However, the offer comes with requirements, and in order to redeem this XTrade welcome bonus, you have to collect 300 XPoints within 30 days after the bonus was credited. For each $1000 traded, you will be awarded 1 XPoint, meaning that to claim the bonus you have to trade at least $300,000 which is a super high amount, especially for beginners. It simply is not worth your time and attention.
It is important to mention that only one no deposit bonus XTrade can be credited to your account at a time. All further bonuses are considered pending until the XPoints for the first no deposit bonus are accumulated.
If this particular bonus does not look very attractive to you, we can recommend some alternatives. As we already mentioned earlier, it is always a good idea to search for alternatives. With an XM $30 No Deposit Bonus, you can easily start your trading journey for free, without making any personal investments to your account.
Claim your XM $30 bonus instead!
Summary of XTtrade No Deposit Bonus
To sum up, the XTrade bonus does not really have much to offer. While it is true that you can claim it very easily, just by confirming your phone number, it comes with a short deadline of 30 days, and additionally, has very high requirements. That's why now is the best time for you to sign up for XM, claim its $30 bonus which is more than XTrade's bonus amount, and does not have such high requirements.
FAQs on XTrade No Deposit Bonus