1STCOIN Review – Can you trust this forex brokerage?

1STCoin Forex Broker is an online provider for traders from all around the world. The website claims to be providing its customers with strong core values of innovation and integrity, and its high-quality services include a variety of platforms, good customer service, and a diversity of instruments. We decided to do our research in order to find out whether all of these facts mentioned above are true or not. The first thing to check about such platforms is legitimacy. As we checked, 1stcoin is not a regulated brokerage company, meaning that it might not be a very good idea to trust them with your financial assets, as if something inconvenient happens (e.g they steal your money), the company will not face any legal consequences as it is not authorized by financial regulators and you are the one who suffers from negative results.
Unfortunately, the website of 1STCoin FX Brokerage does not provide its customers with valuable information such as spreads and leverages. This is bad news, as hiding such information leaves you unaware of possible risks and outcomes that you will get after trading on this platform. As for available software, we could not find any trace of popular trading platforms such as MetaTrader 4 or MetaTrader 5. Seems like the company uses a custom web trading platform that is mostly associated with unregulated brokers. The minimum deposit is set to $250 for the lowest account (Bronze).
Customers can open 5 different types of accounts including bronze, silver, gold, premium, and platinum. Each type comes with its own specifications, for instance, if you open a Bronze account, you can get a 50% bonus, which goes up to 200% for a Platinum. You are able to trade assets including indices, stocks, cryptocurrencies, and commodities.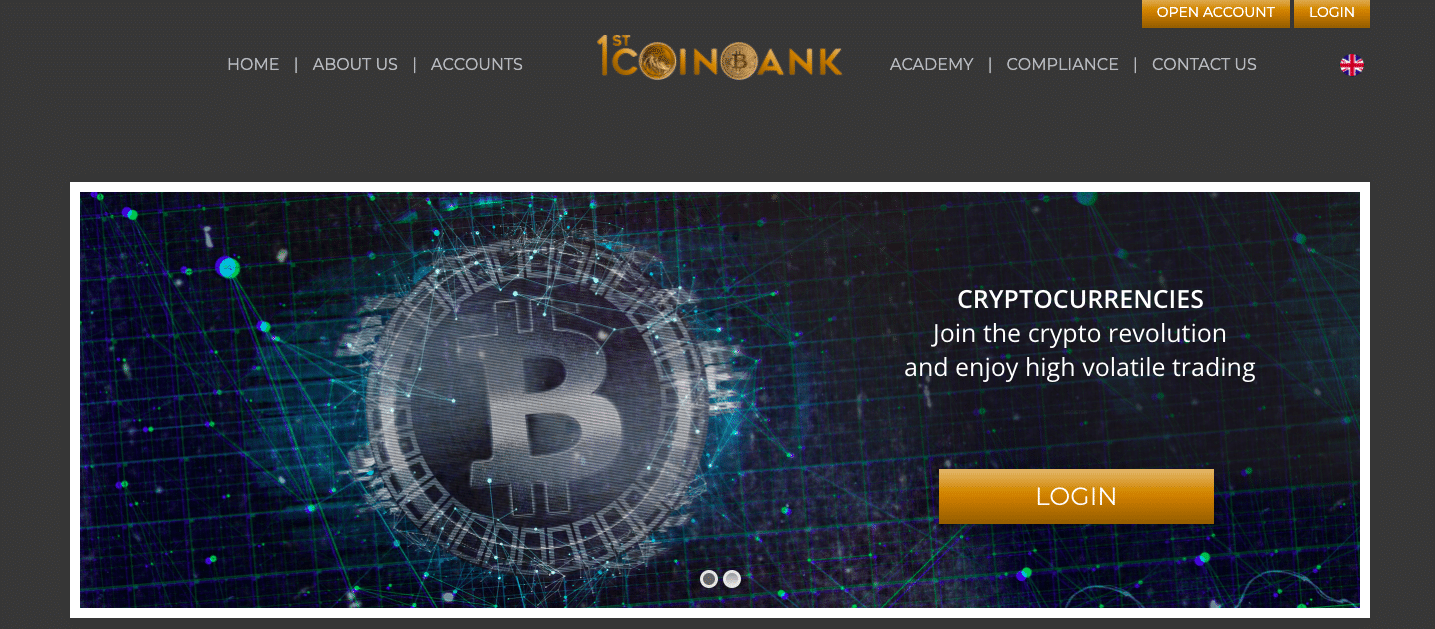 Is 1STCOIN Legit?
No, we would not say so. After doing some research, we found out that the website is owned by TCS Group Holdings LTD, which has an address in UK. That means that they should be licensed by Financial Conduct Authority (also known as FCA), but the register of FCA does not have TCS Group in its list of regulated brokers, which means that 1STCoin is non-licensed. You need to be aware of the fact that non-registered brokerage companies are not reliable and it is recommended to avoid them at all costs. There are plenty of other reputable companies that hold a decent license, so we advise you to search for them instead of using 1stcoin.
1STCOIN Review – Trading Features
In order for you to find out if 1stcoin still might be worth the effort, we decided to provide you with more detailed info about the trading features that they offer. Let's take a look at each of them.
Spreads & Leverage
As we already mentioned earlier, the site does not offer its customers valuable information about its trading features such as spreads and leverage. This might be due to the fact that either these indicators are very high (which is bad), or the company is a scammer. In any case, it leaves you unable to evaluate the possible risks that may be associated with trading on this platform, so we recommend you to think twice before making a deposit for 1stcoin.
Account Types
As our 1STcoin review suggests, there are 5 different kinds of accounts one can have on this website. The list includes Bronze, Silver, Gold, Premium, and Platinum accounts, and each of them has its own requirements and specifications. It is important to mention that there are additional account types such as Diamond, VIP, and CEO – they are swap-free, come with no additional fees, and fund insurance up to 50, 80, and 100%. However, we could not find a demo account option which is a minus because it means that you can not try out 1stcoin services for free.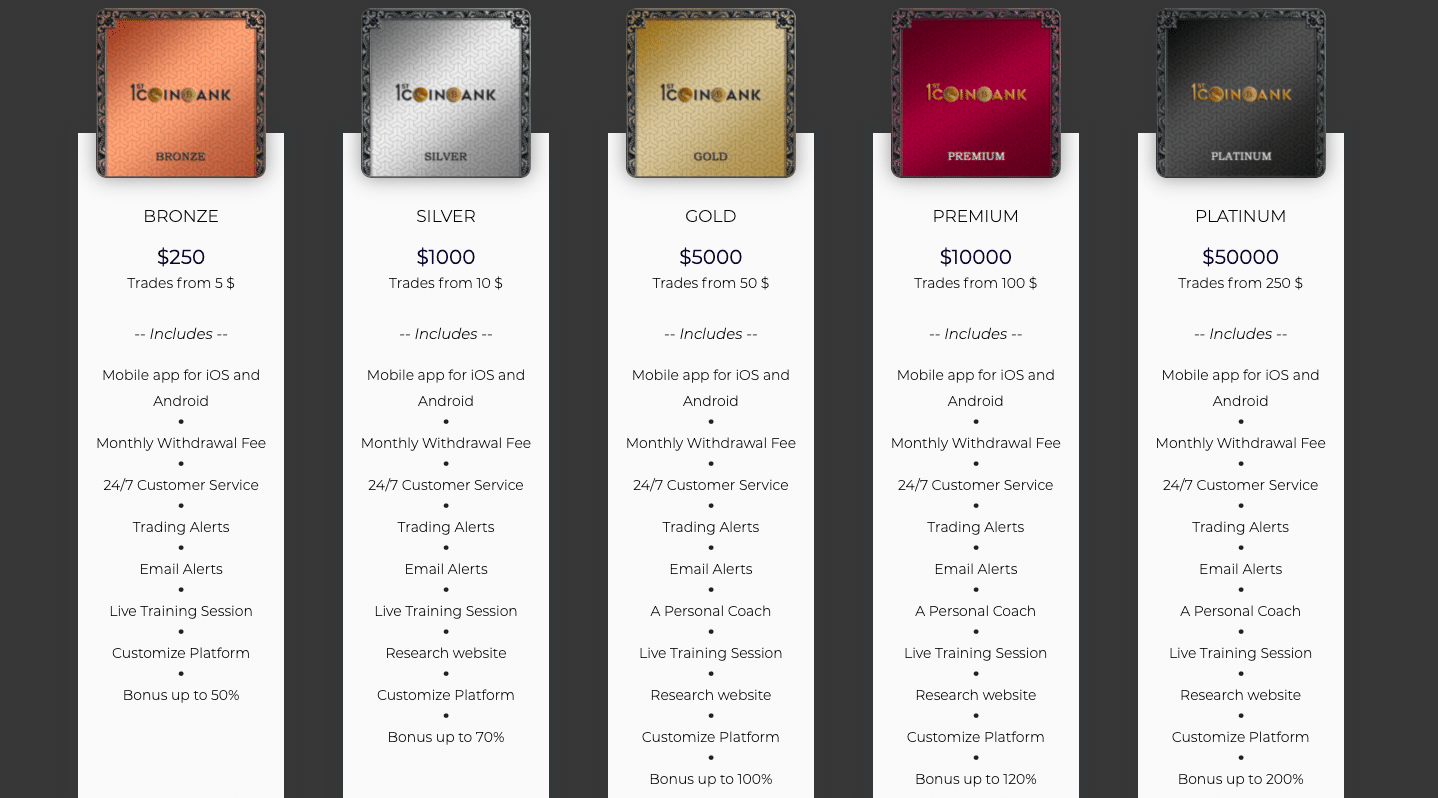 Minimum Deposit
The minimum deposit requirement for Bronze account owners is $250 which is above the industry's average (it is somewhere between 50 and 100 USD). For the Platinum account, it can go up to $50000 and we think that is quite excessive. While $250 might be an average amount to start with, there are other things one should still keep in mind.
Bonuses
We were able to find information about bonuses under the "accounts" section, which suggests 50, 70, 100, 120, and 200% bonuses. Such bonuses usually come with heavy conditions attached to them. However, there is no additional information about terms and conditions, which makes it more suspicious. Generally, licensed brokers are restricted from using promo codes to attract new customers to their systems.
All in all, the lack of information left us unable to evaluate whether valuable indicators such as spreads and leverage correlate with the industry's standard or not. Other trading features such as minimum deposit is fine, but not enough for you to convince using this website.
1STcoin – Final Verdict
Finally, we do not recommend using this platform due to several important reasons. Clearly, the first thing to keep in mind is that 1STCoin is not regulated. Trusting this platform may result in negative consequences such as losing a significant amount of money and you will not be able to do anything about it. Even the government will not be able to help you in times of such crises. Additionally, there are no unique features offered to investors. Besides the unique features, standard indicators do not look very attractive either. Illegal trading companies are generally doomed to exit the market sooner or later, and all the investors using their services will end up losing financial assets.