Reviewing Milton Prime – Can this broker be trusted?
Milton Prime is a famous Forex broker offerings services to traders all over the world. With its long history and great reputation, Milton Prime is one of the leading Forex brokers online. The Forex broker is licensed by two regulatory agencies. One of them is from Europe, which gives this broker the ability to offer services to European traders.
As our review of Milton Prime shows, this Forex broker offers traders access to numerous trading assets. This includes over 50 currency pairs, and CFDs on stocks, indices, precious metals, and energies. With highly competitive trading conditions and high standards of safety, trading with this broker can be a great experience.
But, there is much more that Milton Prime has to offer. So, if you are looking for a new Forex broker to start trading, follow our review of Milton Prime and see what this broker has to offer.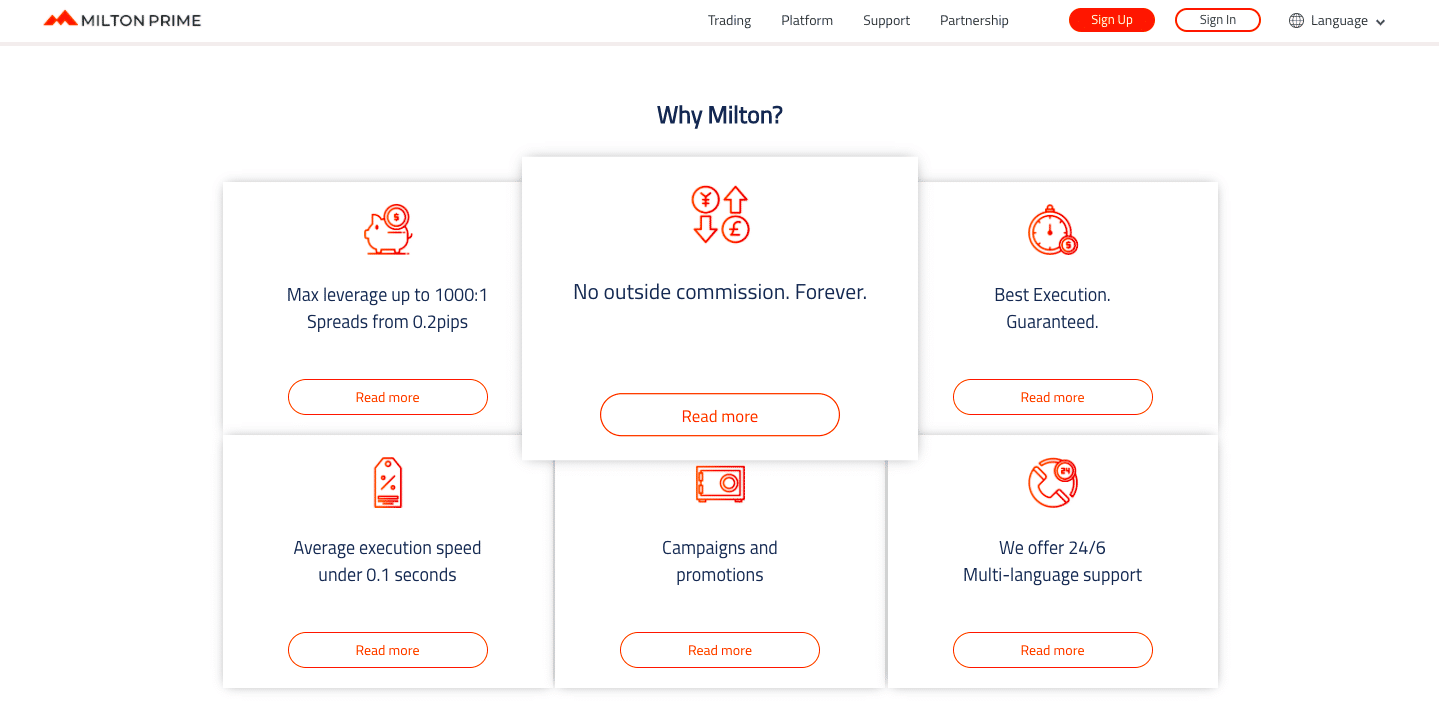 Trading conditions of Milton Prime reviewed
Getting started at this Forex broker is very easy, all you just have to do is to sign up for a live trading account, download the trading platform and get to trading. The broker does not charge any commissions on deposits and withdrawals, which is a huge advantage.
As for the trading assets, as we have already said, Milton Prime offers a wide variety of assets thanks to the CFDs trading. You can trade anything from Forex currency pairs to Stocks, indices, and many others. The Forex broker cares a lot about the experience that its clients have. This is one of the major reasons why it has developed a very helpful and useful customer support team.
The broker offers you the option of using a live chat, which is available in English, Chinese, Spanish, and Japanese. You can also get in touch with the broker through email and get professional and relevant information. We contacted the customer support team to see how useful they could be and we were very glad to see that the representatives of the Customer Support Team tried their best to give us answers very fast.
The minimum deposit to create a live trading account at Milton Prime is $300, and the leverage can go up to 1:1000. However, keep in mind that the leverage can be limited due to local regulations in your jurisdictions.
Trade numerous assets at Milton Prime
As we noted earlier in our review of Milton Prime, the broker offers traders access to numerous trading assets. Among the instruments available at Milton Prime, you can find:
Over 50 currency pairs
CFDs on Stocks
CFDs on Indices
CFDs on Precious Metals
CFDs on Energies
The broker largely focuses on the Forex trading market. There are more than 50 currency pairs available at Milton Prime for traders. This includes Major Currency Pairs, Minor Currency Pairs, and Exotic Currency Pairs. As for the stocks, you can trade CFDs on the leading company shares. This includes companies like Apple, Microsoft, Facebook, and many others.

You can also trade well-known leading indices, such as S&P 500 and Dow Jones Industrial Average. The broker also offers traders the ability to trade CFDs on precious metals, such as Gold and Silver. The assets offered by the broker are very diverse, which makes trading at this broker a great experience.
Reviewing Milton Prime – Safety & Security
While trading Forex, one thing that should be your top priority is the safety and security of your funds. There are several things that Forex brokers do to maintain the safety and security of their client's funds. Milton Prime does so by strictly following the regulatory framework of the two agencies.
Milton Prime is licensed by Financial Services Authority Seychelles, an offshore regulator that is very well-known in the market. The broker also owns the license of CySEC, which is the main regulatory agency of Cyprus. Since Cyprus is an EU-member state, the broker is able to offer its services to the whole region.
CySEC's regulatory framework requires the Forex broker to limit the available leverage for traders to 1:30. Because of this, traders from Europe will not be able to use the 1:1000 leverage of the Forex broker. Also, according to the local regulations in Europe, Forex brokers can't offer traders bonuses and promotions.
These two licenses make Milton Prime a very safe and secure Forex broker, which you can trust without worrying about the safety and security of your funds.
Getting started at Milton Prime reviewed
Getting started at this Forex broker should not be much of a challenge. It might take you up to one day to finish registering at this Forex broker because of the KYC policy, but, other than that, the registration process is very smooth. There are three types of accounts available for traders at Milton Prime. According to the amount of your initial deposit you can create any of them.
Forex traders using Milton Prime are also offered demo trading account, which can be very useful for those who are still learning about Forex trading. Demo account can also be used by experienced traders to test out different types of trading strategies and practice more.
After you create a live trading account and verified your identity and location, you can continue by depositing funds on your live trading account. Deposit money should not be big of a challenge, however, it should be noted that the available payment methods at this Forex broker are somewhat limited.
The Forex broker offers traders two ways of payments, bank transfers or virtual payment solutions. However, you can't deposit funds using credit/debit cards. On the other hand, the broker does not charge any fees on deposits.
Reviewing Milton Prime trading platforms
Once you have created a live trading account and made your first deposits, you should be able to start using the trading platform of the broker. The broker offers traders MetaTrader 4, which is one of the best-known trading platforms around the world. Created in 2005, MetaTrader 4 has forever changed the way people trade Forex.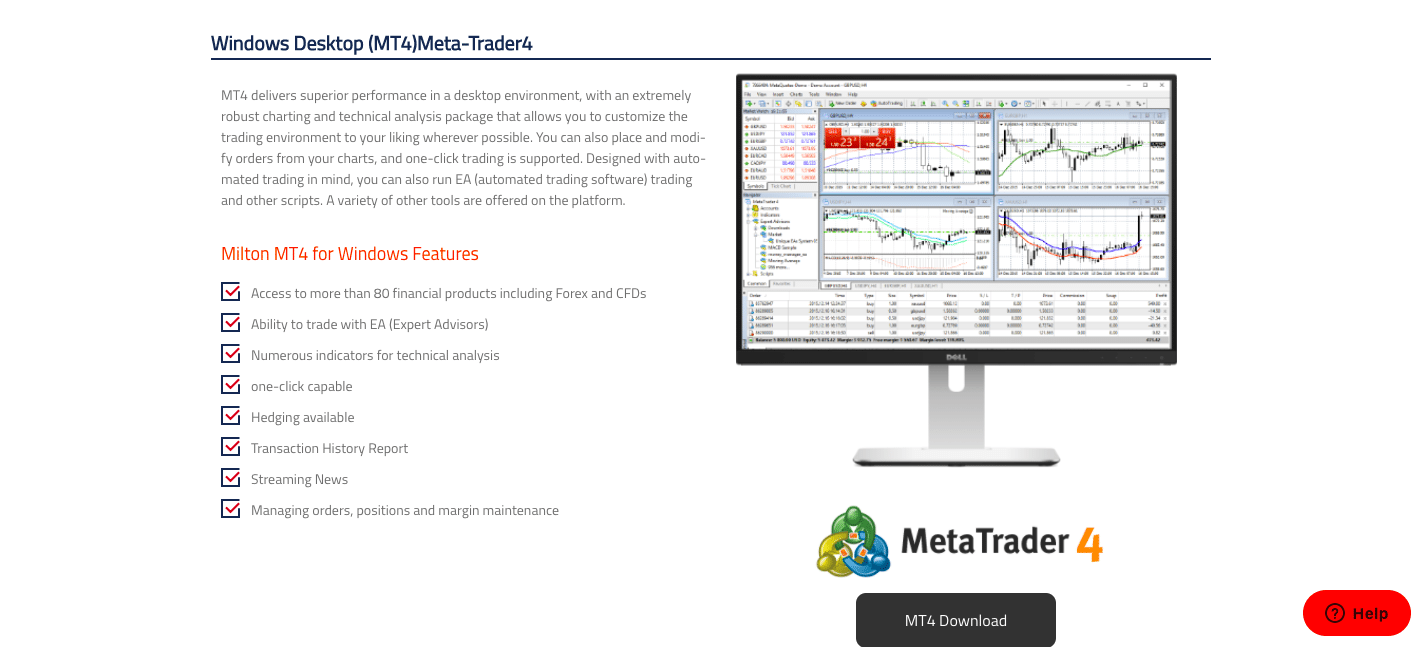 Thanks to the MetaTrader 4 trading platform, you can easily open and close positions, do research, charting and use different types of indicators to make better predictions about the price movements.
A huge advantage of the Forex broker is that it is trying to make its services accessible for its clients. For this purpose, there are several things that the broker has done. The broker offers traders different versions of MetaTrader 4, suitable for different types of devices.
Of course, there is a regular MetaTrader 4 for windows devices. Another version of the trading platform offered by Milton Prime is web-based and can be used directly from any browser without downloading additional programs. The broker also offers traders mobile trading applications, which can help you stay in touch with the market events even when you are away from your computer.
Should you start trading at Milton Prime?
After reviewing the services of Milton Prime and learning more about the broker, we are able to recommend its services to our readers. The broker has worked very hard to create a diverse and welcoming space for every type of trader. The broker offers traders access to numerous trading assets, very generous leverage of 1:1000, and many others.
Milton Prime is a legit Forex broker regulated and licensed by CySEC and FSA Seychelles. The Forex broker offers services to traders around the world, including regions like Europe, Asia, Africa, and Oceania.