Oanda review
The OANDA Group has multiple subsidiaries who are licensed to offer products to clients around the globe. The OANDA subsidiary with whom a client contracts depends on their country of residence. Each subsidiary provides different products via different platforms, so clients will experience OANDA differently depending on their country of residence. CFDs are not available to residents in the United States. Spreadbetting is only available to residents in the UK.
In this OANDA Global Markets broker review, we'll discuss the broker's fees, account types, trading software, Deposit and Withdrawal options, Customer support, and we'll find out what makes this broker so special.
About OANDA Forex Broker
The OANDA Group was established in 1996 and quickly became one of the leaders in the industry. The broker offers access to trading various instruments, including: Forex, Indices, Commodities, Stock CFDs.
The OANDA Group is authorized and regulated in various countries. The long list of top-tier regulators indicates that the broker is trustworthy.
The OANDA Groups subsidiaries are regulated by:
The Investment Industry Regulatory Organization of Canada (IIROC)
The Australian Securities and Investments Commission (ASIC)
The Financial Conduct Authority of the UK (FCA)
Commodity Futures Trading Commission of the USA (CFTC)
The Financial Futures Association of Japan
The Monetary Authority of Singapore (MAS)
BVI Financial Services Commission (BVI)
For the purpose of this, we are reviewing OANDA Global Markets which is a subsidiary of the OANDA Group.
OANDA Global Markets is authorised and regulated by BVI Financial Services Commission (BVI)
The broker offers access to the most popular MetaTrader platforms. There's up to 888:1 leverage available and no minimum initial deposit requirements. The broker provides highly professional customer support and offers generous bonuses on deposits.
The bonus is for new clients. In order to be eligible for the bonus, you need to open a live trading account and deposit at least 1,000 USD. You will be awarded with a 500 USD bonus. Higher than 50,000 USD deposits made by the customers are awarded with a welcome bonus of 5,000 USD. Keep in mind that the bonuses can be withdrawn after the minimum trade volumes set by the broker are met.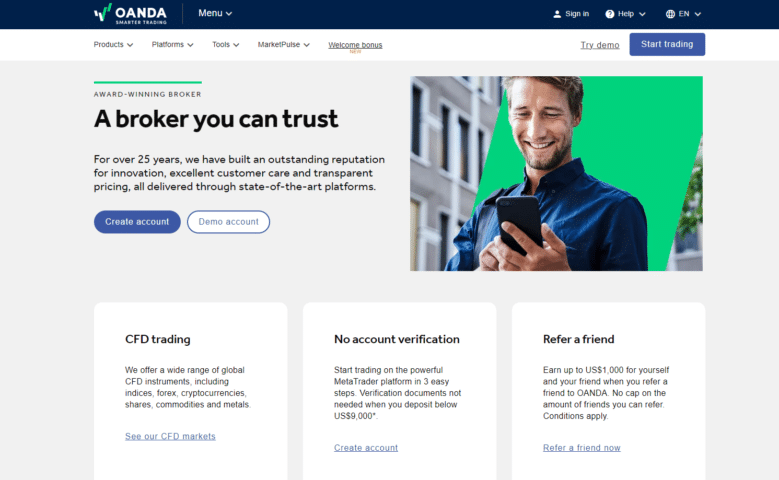 OANDA Broker Review of Accounts
Learning how to trade consistently profitably is difficult because there are so many trading styles and approaches to choose from. And it takes a lot of effort to find the one approach that fits your personality. For instance, in case you are a quick thinker, day trading might be a great option. For traders that take more time and plan trades diligently, will find swing or position trading more enjoyable. There are scalpers, high-frequency traders, swing traders, position traders, news traders, trend traders, technical and fundamental traders, etc.
In order to meet the needs of different trader types, OANDA offers 5 different account types. The Standard account is the most basic and offers 1.1 pips of spread markups. There are no commissions on this account, therefore, the account type is best for swing and position traders. The account base currencies are: USD, EUR, HKD, SGD. Be noted that it's best to pick the base currency type that you use most to save on conversion fees. Over 200 trading instruments are available for trading on all account types. The only exception is the Swap Free account that is also known as Islamic account. The Swap free account offers 26 assets for trading. Core account type is for intraday traders as the spread markups are lower, 0.2 pips in particular. On the other hand, there's a 40 USD commission per traded million. The Premium and Premium Core accounts have the best trading fees and offerings, however, in order to open one of the account types, traders must keep 20,000 USD minimum balance and trade more than 10 million USD notional or equivalent monthly.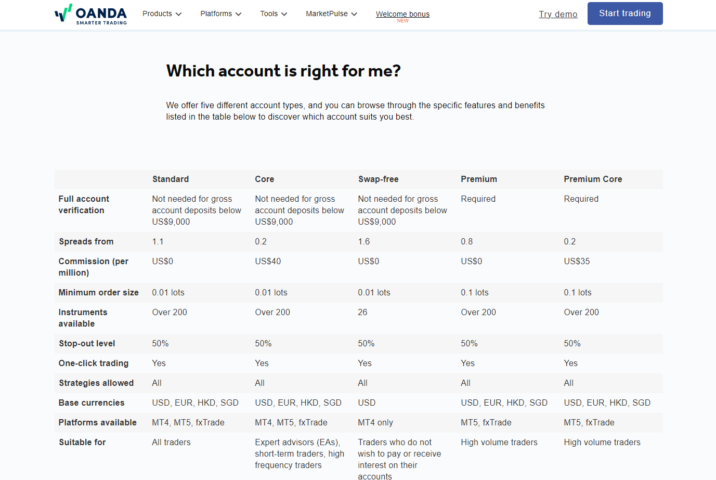 OANDA Review of Trading Platforms
Oanda offers a full set of MetaTrader platforms for personal computers, and fxTrade app for mobile devices.
MetaTrader platforms have a simple design as they were built many years ago and haven't changed much over the years. MetaTrader 4 was released in 2005 and quickly became highly popular among traders. Some might see the old design as a weakness, however, it's also the platform's greatest strength. The simple design enables both MT4 and MT5 to be installed on even old or low budget computers. And they perform highly reliably. The MT4 was mainly built for trading FX pairs. The MT5 was released in 2010 by the same company that built the MT4, MetaQuotes. The MT5 was built for trading various asset types, including: FX, Crypto, Shares, bonds, indices, commodities and futures. Novice traders that prefer currency trading pick the MT4 and more seasoned traders, that would like to trade various asset types, pick the MT5.
Both MT4 and MT5 enable algorithmic trading. Trading robots of MetaTrader are called EAs. Be noted that MT4 uses MQL4 while MT5 uses MQL5 coding language. As a result EAs built for MT4 will not work in MT5 and vice versa.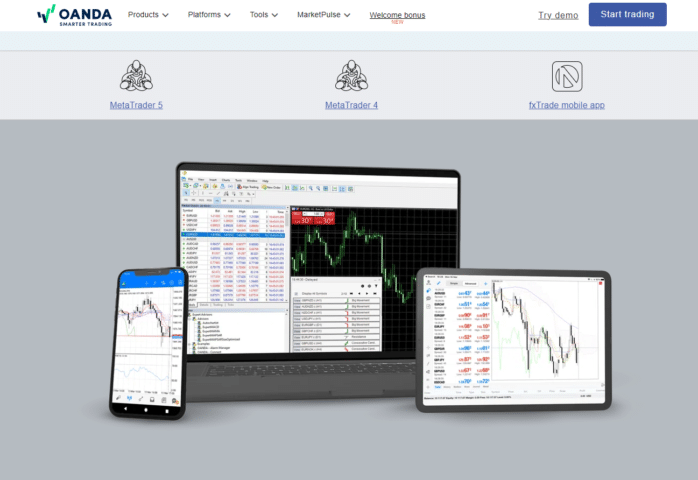 OANDA Review of Extra Features
CFD traders use leverage (borrowed money from their broker) to increase their purchasing power. As a result, their account become susceptible to higher losses than what's in the trading balance. To counter this, OANDA guarantees that traders' funds will never go negative by implementing a 50% Stop Out level.
Segregation of accounts is also critical for safety and security. When traders' funds are separate from the brokerage account, even if the company goes out of business. Traders feel safe, and they can get their money back. Many low trust brokers mix the company's money with clients' funds.
OANDA Review of Customer Support
Great customer service is the backbone of every service oriented company. OANDA has been in the business of providing financial services to its clients from 1996, and understands the needs of traders perfectly. The broker offers customer support in 10 languages, including: English, Spanish, Portuguese, French, Spanish, etc. The team of customer support specialists are highly professional and very friendly to customers.
OANDA Deposit and Withdrawal
There are various deposit and withdrawal options with OANDA. Depending on where you live, you can use one of these funding methods: Visa, Mastercard, Bank Wire transfer, Skrill, Neteller, Local payment methods. Keep in mind that online banking and card options are usually instant. And bank wire transfers may take up to 3 business days. Withdrawal requests take up to 24 hours to be processed, however, if the request is registered on Friday, the request may be processed on Monday.
Deposit and withdrawal process is done through a user-friendly webpage. Just keep in mind that to be able to withdraw your funds, it's required to verify your account after registration. And don't forget, new clients get amazing bonuses with this broker.
OANDA Review Conclusion
To sum everything up, OANDA is a highly experienced, well regulated broker. Traders have access to around 322 trading instruments, including: Forex, Indices, Commodities, Stock CFDs. Main trading platforms are MetaTrader 4, MetaTrader 5. Traders get up to 888:1 leverage and various trading account types. The broker meets the needs of different trader types by offering: Standard, Core, Premium, and Premium Core accounts. Trading fees are very reasonable and both: position and high frequency traders will find this broker very attractive in that regard. New traders get a 500 USD welcome bonus when depositing more than 1,000 USD. And in case the deposit amount is larger than 50,000 USD, the bonus is 5,000 USD. It's safe to say that OANDA is a great broker with amazing offerings and high safety standards.