Plus500 Review
80.5% of retail CFD accounts lose money
Plus500 UK Ltd is authorised and regulated by the Financial Conduct Authority (FRN 509909). Trading with Plus500 is not for everyone; it involves a high risk and may not be suitable for you. Take a look at the CFD services that Plus500 offers and check if this is the right broker for you. Even though Plus500 does not offer MetaTrader 4, it has valuable conditions and a great web trading platform of its own.
Plus500 at a Glance
Since it was founded in 2008, Plus500 has had an enormous expansion as far as for the products they offer, the security provided for the users and enhancements of the functionalities in the web platform. This is how it became a recognised brand in the Forex market, simply by delivering Contracts For Difference.
Plus500 Ltd is listed on the Main Market of the London Stock Exchange, this is certainly rare for an FX broker.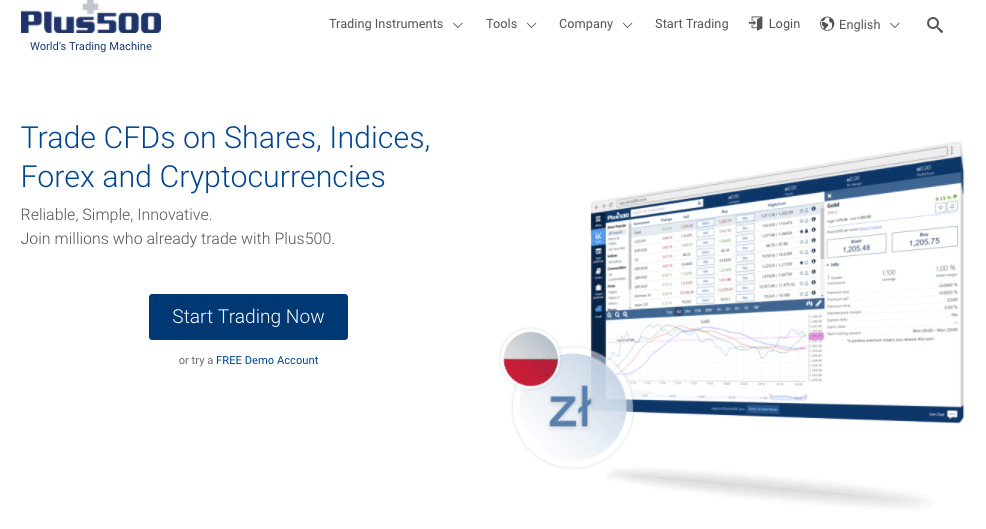 Plus500 Accounts Overview
Plus500 touches upon simplicity and this is demonstrated by only having only one type of the trading account on the offer. When signing up with Plus500, you will have to make a minimum deposit of 100 USD / EUR or a similar amount in your local currency. There is also a free unlimited demo account for customers who signed up. This way Plus500 clients can enjoy while they get their funds and skills ready for trading.
*Illustrative prices
Plus500 has the convenience of not charging the commissions on the trades. Hence Plus500 will only take limited spreads for the trades they execute for their clients.
Plus500 Trading Platforms
Plus500 CFD broker is the one that makes itself different from the others by developing one unique trading platform for their customers. The resources and time are reinvested in making a platform that fulfils all of the clients' needs, making it comfortable for beginners as well. The software is compatible with practically all the devices on the market: Android, iOS, Windows and also Mac. You can use Plus500 trading platform as a browser application. The ease of access has made this broker extremely popular in Asia and Europe.
At Plus500 staff believes that simple is elegant. While competitors' platforms are full of features that add little or no value to your trading experience. Instead, this broker focuses on what you really need. This way you can access your favourite trading terminal easily, without being overwhelmed by unnecessary information. Such an approach leads trader's efficiency, and Plus500 traders are thankful for this.
Plus500 Customer Support
Customer support executives have been heavily trained to support you in different ways and languages. This way Plus500 support offers an exceptionally fast and clear support service for you to feel confident that your issues will be well-resolved.
Important announcements, price alerts and margin calls are also available with Plus500. You can request notifications once you are opening and closing positions.

Plus500 Deposits and Withdrawals
By the time this review was made (Early 2015), deposits and withdrawals could have been done by credit cards, wire transfer, Skrill and PayPal. This is quite a solid choice of payment systems that offers you a wide variety of options for to manage your funds properly.
Plus500 Review Conclusion
Let's recap, Plus500 broker is offering enormous benefits for clients who sign up and trade with it:
A unique platform to simplify the user experience
A small minimum deposit to begin trading
Low spreads
Variety of payment methods
Numerous trading instruments
Financial Conduct Authority regulation
These features certainly make Plus500 a good broker for you to start with!
80.5% of retail CFD accounts lose money