XYTRONFX review to update yourself about the broker's features

Needless to say, based on the rating you will see on this XYTRONFX review, we weren't very impressed by the broker. In fact, we were quite astonished by not only the legal documentation and the overall sketchy nature of the brokerage but also with the trading conditions as well.
Usually, when a Forex brokerage turns out to be a scammer, they tend to have at least above-average trading conditions to at least somehow entice new customers to sign up and trade with them. It seems like XYTRONFX missed that part big time because even if we hadn't found some questionable regulatory issues, we'd still advise against it.
But just glancing it over isn't going to help. Let's get deep into the broker's conditions and see what surprised us so much.
XYTRONFX regulation
The paragraph may be called the XYTRONFX regulation but there is no license to speak of. That was the first argument we managed to find for the XYTRONFX scam, but it wasn't the only one.
The company is registered in the Marshall Islands, but that doesn't mean they are actually located in the country. Marshal Islands tends to ignore any and all financial service companies that register within its jurisdiction, meaning that Forex brokers that market themselves based on a "license" from there tend to be immediately branded as scammers.
And with XYTRONFX that is the case as well, they're definitely a scam company, but they're so unique in that sense that we have to dedicate at least some part of this XYTRONFX review to showing you these features.
One of the reasons we want to explain the conditions in this review is because we've received numerous warnings from our browser to avoid the official website, as the connection is not private. Needless to say, any type of threat to the privacy of your device needs to be avoided.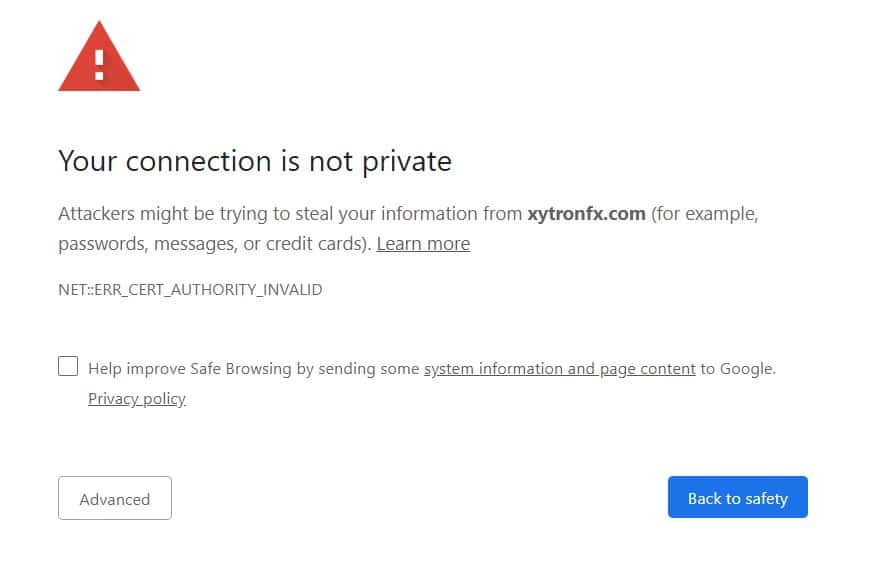 XYTRONFX trading conditions
The trading conditions with XYTRONFX get worse as you go deeper into different parts of them. The maximum leverage they display on the website is 1:200, which is way below average when it comes to other Forex brokers in the market.
However, when we saw the leverage we were hoping that at least the spread is going to be very favorable to compensate for the lack of such a crucial trading tool. Unfortunately, the spread turned out to be the biggest contributor to the XYTRONFX scam conclusion in the end.
On major currencies, the broker is asking for as much as 3 or 4 pips per standard lot, which we're absolutely sure translates into around 3.3 or 4.4 pips per standard lot when the trading actually starts.
Other than that, we don't know what to say or what condition to describe that would convince you otherwise. By this point of the review, it should be obvious that we absolutely do not recommend this brokerage to anybody who's heard of it.
Although you may think that you can quickly get away after trading with them, there is one more huge issue that the company has, and that has to do with the withdrawals.
Withdrawal issues
The XYTRONFX withdrawal conditions themselves are relatively on the acceptable side as there's a minimum withdrawal limit with a few instances of fees attached to those withdrawals, nothing too outrageous, everything that we've seen before and etc.
However, where this review truly went downhill is when we started searching elsewhere on the internet only to find other reviewers talking about a specific requirement from the brokerage that was written in the terms and conditions.
We checked it for ourselves and it is indeed true. XYTRONFX brokerage has a line in its terms and conditions that it will have the permission of the customer post-registration to open a customer bank account and make deposits as well as withdrawals without notice.
This means that not only will you compromise your bank details, but you'll compromise them to a scamming company which is basically not registered anywhere.
XYTRONFX is a scam
We don't really know how many times we have to write that XYTRONFX is a scam, but we'll do it as many times as it takes as long as people stay away from this brokerage.
Furthermore, we don't want our reviews to be the only resource our readers use when rating brokers. It is very important for us that you learn the key points we make.
The points about regulation, terms and conditions, trading conditions and etc. All of these on their own already create serious issues for the traders, but when combining them in a single company, it's simply impossible to have a profitable experience with this brokerage.
Stay away as far as you possibly can.