OctaFX MT4 Monthly Demo Contest Review

OctaFX has been quite generous with its diversity of contests. The Supercharge 2 and cTrader contests are as good as it gets, but the broker decided that it could do more. Since there is no one true trading platform, OctaFX wanted to accommodate traders of all types. Therefore they have also included an MT4 Monthly demo contest, which we will be reviewing today.
OctaFX MT4 Monthly contest description
When we first took a look at the contest, it seemed quite odd why the broker would feature only one platform. We were quickly proven wrong when we found the cTrader contest as well. But here's the question, what does the MT4 Monthly contest offer? What are the features? Prizes? Admissions? Let's discuss that.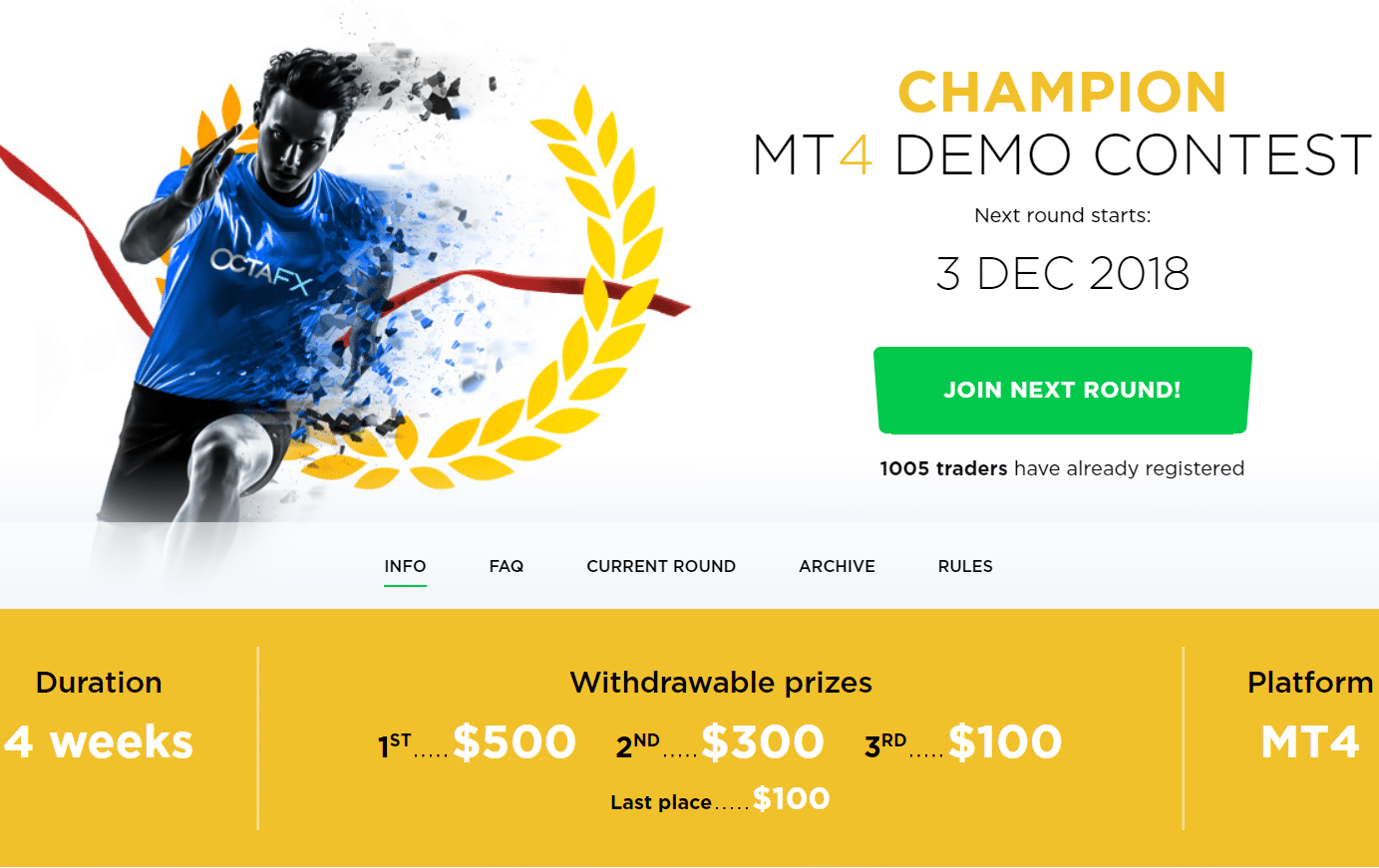 Let's start with the prizes, as I'm sure that's the main thing people are interested in. In total, the broker dedicates $1000 to the contest monthly and splits up the prizes like so. $500 for 1st place, $300 for 2nd, $100 for 3rd and what's really cool is that they dedicate $100 for the last place. So you can just fail miserably at trading and still come out with a profit. Not saying that the broker encourages failure as it's just a demo account, so you won't suffer any real-life losses.
OctaFX MT4 contest features
The features of the contest are pretty self-explanatory. You trade on the demo account, keep your gains up at a significant amount and you get a nice prize out of it. One of the best features would be that it is on the demo account. Which means that there are absolutely no risks involved. The OctaFX MT4 contest is able to accommodate skeptical or newbie traders with this. So even if you're a veteran or just starting out, there's no reason why you shouldn't give it a shot.
The conditions are same with all of the traders. You get an initial deposit minimum of $1000 (but this is virtual money so don't get alarmed), with a leverage of 1:500 for 28+ currency pairs.
Like any other contest, it's quite hard to win because of the competition. You won't necessarily be competing against mid-tier traders exclusively, there could be a number of experts that could provide more competition, but as I've said before, there's nothing to lose with it.
How to win the OctaFX MT4 contest
This contest has only one category that you can compete in. And that is your gain factor. The equation of the Gain factor is the same as the Supercharge contest, it's (Personal Funds + Amount Withdrawn – Personal Funds When Deposited) / Personal Funds When Deposited × 100%.
This may sound easy, but it honestly isn't. To give you a better perspective if you have $1000 as personal funds and you deposited $500 of that and were able to withdraw $300 as winnings. Your Gain factor would be 1.6%. To put that more into perspective the last month's winner had a 21,272.25 % Gain factor, which says quite a lot about the competition.
How to Join the OctaFX MT4 Monthly contest
Registering for the contest is as easy as it gets. You just register for the demo account like with any other broker. You confirm the email to let the broker know that you are indeed a real person and not a robot. And there you go, you start trading. Simple as that.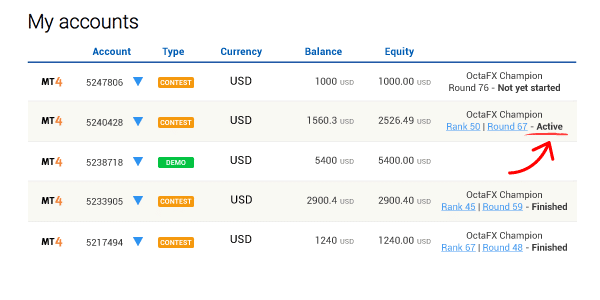 You'll also be able to track how the contest is going through the inbuilt tracker on the platform, so you'll always know if you need to pump up the speed and volume or if you can just relax for the day. All in all, it's a solid experience.
Should you participate in the contest?
Why not? It won't cost you anything and if you're already devoting time to Forex trading during the day, we all know that there are boring moments. You can have two windows open where you trade on your real account on one and your demo account on the other. Plus you can always make the decisions identical so you don't have to do any extra searching.
In conclusion, the contest is very accessible, it doesn't require that you deposit anything, it renews every month so you'll be able to review your performances and it gives a nice way to earn cash without investing too much money. So give it a try, maybe you'll outtrade everyone.