InstaForex Deposit Bonus – What's behind the bonus program?

InstaForex is a recognized Asian broker, which holds licenses from the Cyprus Securities and Exchange Commission (CySEC) and Financial Services Commission in Mauritius (FSC). The broker offers average trading conditions with standard market spreads and low trading costs. The broker also provides a deposit bonus for their customers. Simple as it sounds, you make a deposit and have a 30% bonus added to your trading account, and there is no bonus limit whatsoever! InstaForex Bonus offers are convenient for beginner trades at first glance, however, they come with complicated terms and conditions.
Because of the company's high leverage and confusing volume requirements for bonus withdrawal, it is extremely risky to claim the bonus. Instead, we suggest that you choose XM Forex broker and go for the 50% + 20% deposit bonus offer since it comes with simpler conditions and eligibility criteria.
Get your XM 50% + 20% deposit bonus
InstaForex Deposit Bonus 30% Description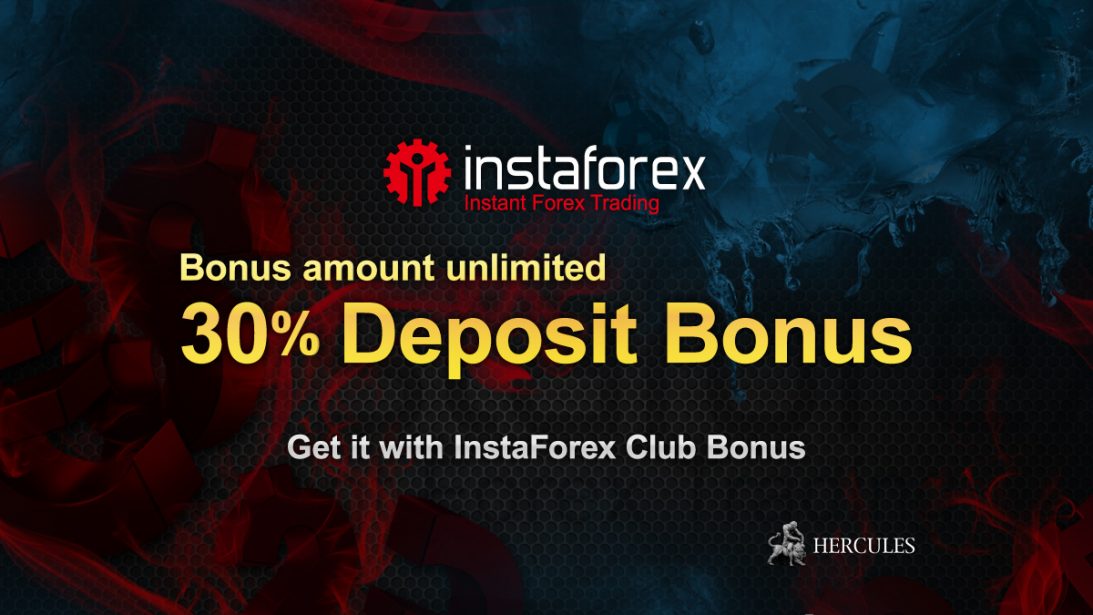 InstaForex, with over 2 million trading customers in the world, is considered the leading Asian broker on the market by many leading websites. Even though this broker was also receiving some criticism, it still serves thousands of happy customers all over the world. As InstaForex Bonus on Deposit is here to reward extra active traders, let's examine this offer in a bit more detail.
InstaForex Bonus Offer
This broker guarantees to give you an additional 30% on every deposit a new account holder makes. If you already have an account, it is time to open a new one, since this bonus campaign only applies to new accounts! The best thing about this is that you choose your deposit amounts – no minimum deposits are required – and that it is available on every deposit. In other words, if you already have an account with a bonus, this does not matter. InstaForex rewards every deposit with a bonus.
Cashing out InstaForex Bonus
Before being able to withdraw the bonus, you will have to make X*3 lots, the X being the number of bonuses you have received previously. This means, if you receive a $3 bonus on a $10 deposit, you will have to make 9 lots before being able to take it out. A broker knows it is not a simple task and that's why it offers 1:1000 leverage. You must keep in mind that at least 90% of your trades have to have a margin higher than 10% of your bonus. So, if your bonus is USD $1000, your trades will have to be made with the used margin of at least 90 dollars. Since the conditions are not that convenient, especially for the beginner traders, we recommend XM 50% deposit bonus, which has the lower volume requirements for its clients.
Claim XM 50% deposit with flexible terms
InstaForex Deposit Bonus Comparison
This bonus is not listed first on the withdrawing-conditions ranking, since it's mainly made for gambling purposes. People that are looking for quick cash-out bonuses may have better places to look instead of choosing a bonus from InstaForex. However, InstaForex 30% Deposit bonus is available for you to withdraw your money at any time without limitations, even without having your bonus cleared! In general, this can be a great offer for scalpers, as this group of traders tend to generate large volumes. However, if you are just a regular day trader, this should not be the best choice of the deposit bonus offer.
 Note: The InstaForex 30% Deposit Bonus is unavailable for MT5 accounts.
FAQs on InstaForex deposit bonus