AvaTrade Copy Trading Review – cutting edge platforms of the broker
AvaTrade is one of the leading Forex brokerage companies to offer automated trading platforms and tools to its clients. The broker offers three different solutions of platforms including its own proprietary software AvaSocial, which is a social copy trading platform. It is known for its relatively cheap prices on the market, speed of light and seamless order executions, and simplicity of the user interface. The broker has been offering its automated trading services for more than 10 years now and serves tens of thousands of copy traders along with hundreds of expert signals provided inbuilt within the platform.
AvaTrade broker supports two famous copy trading platforms that are ZuluTrade and DupliTrade. Both of these automated trading options can be found with numerous brokers, however, they usually come with commission fees payable. On the other hand, AvaTrade charges no commission for copy trading and moreover offers low trading costs on the financial instruments available within the portfolio of the broker. We will review all three copy trading platforms, trading conditions on each of them, and the benefits that AvaTrade traders are entitled to receive.
Copy trade on DupliTrade and ZuluTrade platforms
DupliTrade at a Glance
This CySEC-regulated copy trading platform integrates MetaTrader 4 to allow users to generate profit by replicated the trades of masterful traders who are otherwise known as strategy providers. Whenever these providers execute their orders the platform will either automatically or manually duplicate the position within the trading account of the platform's user (hereby referred to as a follower).  The followers can copy the trades of professional signal providers to strengthen their trading portfolios. The platform is a favorite trading software of thousands of users for day trading and social trading. At the moment, there are over 15 brokerage companies supporting the platform on their websites to enhance the automated trading experience for their clients. Among them the most popular broker is AvaTrade.

Trading on the DupliTrade platform
The users need to have a real retail account with AvaTrade which allows the usage of the automated trading tools. The platform is free of charge. However, the minimum deposit requirement is different from the standard MT4 trading account. AvaTrade copy trading minimum deposit applicable to DupliTrade platform is 2000 US dollars. After making an initial deposit the users get access to the complete portfolio of top strategy providers of DupliTrade. They will automatically trade on their MT4 or MT5 accounts. After you set up your DupliTrade account with the broker you will be able to pick the strategy providers that you consider suitable for your trading goals. You can browse through their success rates and their preferred level of exposure. You can also choose to copy either 100% of their trades or some part of it, like 25%.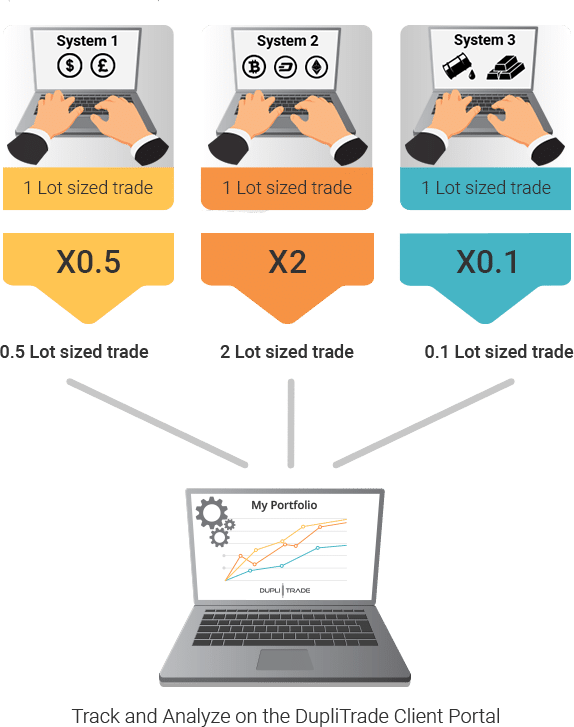 ZuluTrade at a Glance
ZuluTrade is an online and mobile copy trading platform developed by a Greek financial company of the same name that appeared in 2007. It is one of the most popular social and copy trading platforms supported by more than 40 Forex brokerage companies worldwide. The main features that make the platform stand out on the market are its extensive spreadsheet and its design of all the simulated trades and the simplicity of the copy trading platform. AvaTrade ZuluTrade platform also provides numerous alert functions including an alert for a margin call, which is a crucial feature for day trading strategy. The comparative advantage that ZuluTrade has over DupliTrade is that the platform connects with both MT4 and MT5 through an API.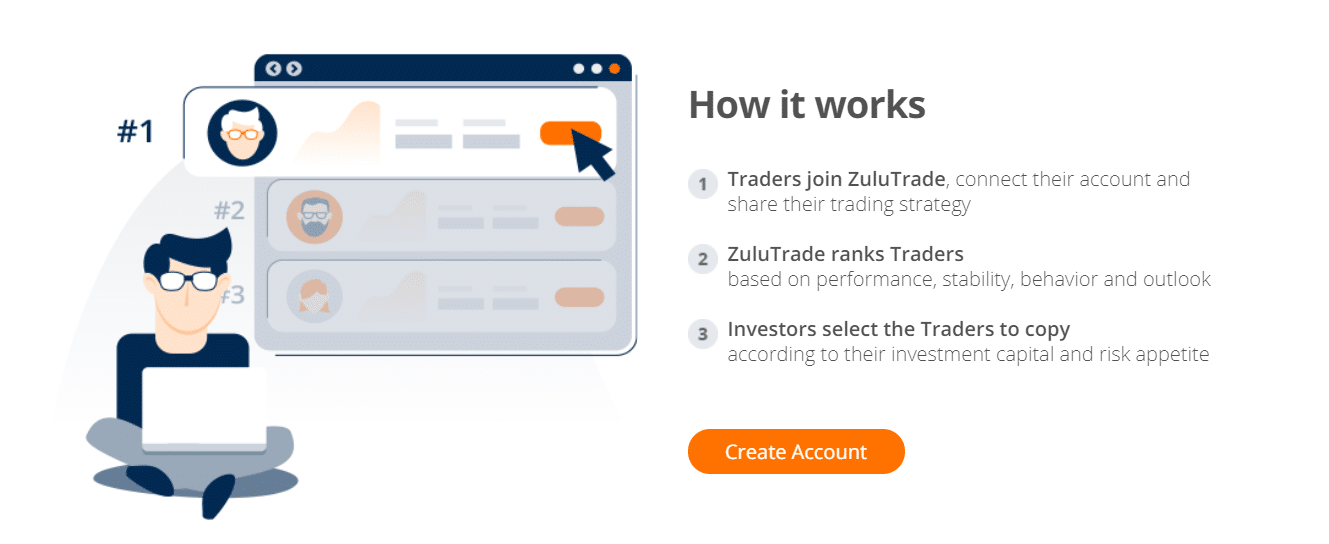 Trading on the ZuluTrade platform
There are over 100,000 traders registered on the ZuluTrade copy trading platform at the moment. It is much more popular than DupliTrade for several reasons. First of all, the AvaTrade copy trading minimum deposit is much lower for ZuluTrade requiring as little as 500 US dollars. Secondly, ZuluTrade in an extremely simple way – traders join the platform, connect their accounts and share their respective trading strategies; afterward ZuluTrade will rank the traders according to their performance, stability, behavior, and outlook, after which investors are able to choose the strategy providers according to their trading capital and risk tolerance. All you have to do is create a retail account at AvaTrade, deposit at least 500 USD, and connect DupliTrade with your AvaTrade real account.

Social copy trading at AvaSocial platform
AvaSocial is an innovative trading platform developed by the broker which can be used as a mobile trading app. The app is most popular among the users of AvaTrade Canada, as well. The trading app is compatible with all mobile devices including IOS and Android systems and can be found on both App Store and Play Store. The platform is suitable for both experienced and inexperienced traders. Newcomers to trading will get exposure to markets while learning at the same time from expert traders. Whereas professional traders will save time by receiving a clear picture of the market and not having to conduct extensive daily researches. AvaSocial will automate the trades according to the very best strategies that the traders choose to follow.
How AvaSocial works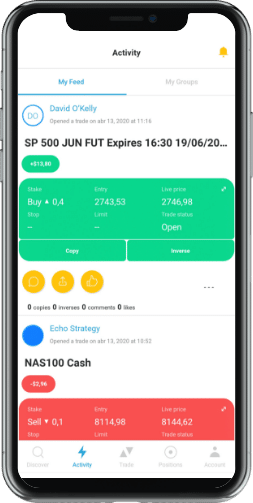 AvaSocial was designed in partnership with the FCA-regulated Pelican Trading (FCA registration numbers 739090 and 534484). The FCA or Financial Conduct Authority in the United Kingdom is a leading financial market regulator in whole Europe, as well as on an international scale. Therefore, the platform is extremely reliable. However, apart from that, AvaSocial is a highly user-centric trading terminal with various benefits.
Learn from the best traders on the market
Find like-minded traders on a transparent network
Receive real-time trading signals
Share your best trades
Earn awards for your daily trades
Access hundreds of markets 24/7
Create your own trading networks
Set up your AvaSocial account in few minutes
How to start trading on the AvaSocial platform
It is extremely easy to start trading on the AvaSocial trading platform. You have to visit App Store or Play Store and find the app to download it. After installation, you create your social account enter the MT4 login details which you have with the AvaTrade broker. As per FCA requirements, you should also let the broker know which asset interests you. Fund your AvaSocial account and start copying the trades that you like. There is no minimum deposit requirement for the AvaSocial platform. Instead, the general requirement of AvaTrade applies, which is 100 US dollars.
Start copy trading on your mobile with AvaSocial
AvaTrade copy trading: which platform should you choose?
The platform choice with AvaTrade is very diverse and you can trade thousands of financial instruments including currency pairs, stocks, indices, commodities and cryptos with AvaTrade. You can go for traditional MetaTrader 4 and MetaTrader 5 accounts or get the same-concept proprietary trading app of the broker AvaTrade GO. Alternatively, you can use popular and time-tested copy trading platforms of ZuluTrade and DupliTrade or the unique concept developed by the broker itself – AvaSocial. So how do you choose the best trading platform? As per your trading goals and strategies, if you are a day trader or copy trader then you should go for ZuluTrade, DupliTrade, or AvaSocial.
If you are looking for cheap copy trading platforms to trade on PC or mobile then ZuluTrade is your best option. It is much cheaper in terms of minimum deposit requirement than DupliTrade and is compatible with both PC and mobile devices. However, if you are looking for more advanced options for automated trading and don't mind depositing 2000 US dollars then DupliTrade will work perfectly for you. The best choice for copy trading on your mobile phone is the AvaSocial trading app. Furthermore, AvaTrade has numerous beneficial packages and promotions for its users which is a great incentive to start copy trading with the broker.
FAQs on AvaTrade copy trading platforms