How to start Forex trading with no money on your account
One of the main requirements of a profitable Forex trading session is for you to open a position with a hefty size. In fact, the most popular position sizes in Forex are equal to a standard lot (100,000 units), mini lot (10,000 units), and a micro lot (1,000) units.
However, not many people are willing to spend tens and hundreds of thousands of dollars willy-nilly. For one, they cannot afford to, and for another, they want to feel confident that their investment will pay off.
But what if there was a way to start trading for free? In fact, what if you could trade Forex for free but still get some payouts? Yes, that's what we're going to discover in this guide. First, we'll explore demo trading, after which we'll talk about a no deposit bonus and how you can use it to your advantage.
Start trading with no money using a demo account
In Forex, you can find tons of varying trading accounts from different brokers. There are many different live accounts, be it standard, micro, or VIP, as well as ECN accounts and even Islamic accounts. Alongside them, there's also one account type that comes with pretty much all broker platforms – a demo account.
Just as the name suggests, a demo trading account allows you to demonstrate your trading skills and knowledge in the market. What differentiates this account from other live accounts is that with it, you can enjoy Forex trading without making a deposit
But exactly how to start Forex trading for free? Well, one of the distinctive differences between live and demo accounts is that the latter lets you trade in a virtual market. What this means is that the price movements simulate the real-time market developments, yet you're not spending your money to open new trades, modify them, and close them at an appropriate time.
For example, with a demo account from Forex.com, you can open a position for the EUR/USD pair for 100,000 USD. You'll be able to buy a certain number of euros with your virtual money in a live market, then wait for it to increase, and once it reaches the desired point, sell it to make a virtual profit.
But why would you want to use this approach, instead of just engaging in live trading and earning real money? Well, as we have noted earlier in the introduction, many traders are either reluctant or cannot even afford to deposit thousands of dollars from their pockets. First, they want to get the gist of real-like Forex trading and then they'll decide, whether they're ready for the real thing.
And with a demo account, they can do just that. They can do Forex trading without investment, try out different currency pairs and observe their performance patterns, test different strategies, and find the best times to enter the market. And if they find that their skill levels are enough to start generating real profits, they can go ahead and trade Forex with real money.
Pros and cons
As previously pointed out, a demo account is a great tool to see yourself perform in a life-like trading market. You can put your newly-learned skills to test and determine your readiness to get to real trading.
Here are some of the main benefits of trading with a demo account:
You can actually start Forex trading without a deposit;
You can perform all your trading skills and techniques in a virtual market, which means all the price fluctuations are identical to the actual market, although you're not affected by them;
You can determine whether you're ready to start real Forex trading or it's still a bit early to think about it;
Even as an experienced trader, you can also take advantage of a demo account. If you want to try out a different currency pair or a strategy, a demo account can really come in handy.
With all of the above-mentioned advantages in mind, we should also point out some of the disadvantages of a demo account. And rest assured – there are a few, namely:
Regardless of how profitable your demo positions get, you're not getting any profits from them;
Since you're not risking your own money, the psychological factor in the learning process is squashed. More precisely, you're not worried about losing your hard-earned money when you trade Forex without deposit. In light of this, you can afford to be less careful and more risk-taking, thus, not learning as much about trading.
Where to find a demo account?
The overwhelming majority of Forex brokers offer demo trading accounts to their clients. This is and has been the case for a long time now. With that being said, however, not all demo accounts are the same.
When choosing a broker with their demo platform, you need to account for a number of variables, including the broker's reliability, the flexibility of its demo account, and the amount of virtual money it offers you. Let's check out some of the best options now:
Best overall – XM Demo account
So, how to start Forex trading free with the best possible option? Meet the demo trading account from XM. This is a truly international broker that holds licenses from multiple different regulators, including the UK (FCA), Cyprus (CySEC), and Australia (ASIC). In short, if you're searching for a demo account from a reliable broker, XM is your choice.
Now, the demo account itself. With XM, it's pretty easy to set up your own practice account, although, depending on your jurisdiction, you might need to disclose varying personal documents. Once you get your demo account, you'll be able to use both MetaTrader 4 and MetaTrader 5 to trade Forex, as well as many other financial assets, including stocks, commodities, and indices.
Therefore, the XM demo account is the best option if you're looking for the safest and most effective way to hone your trading skills.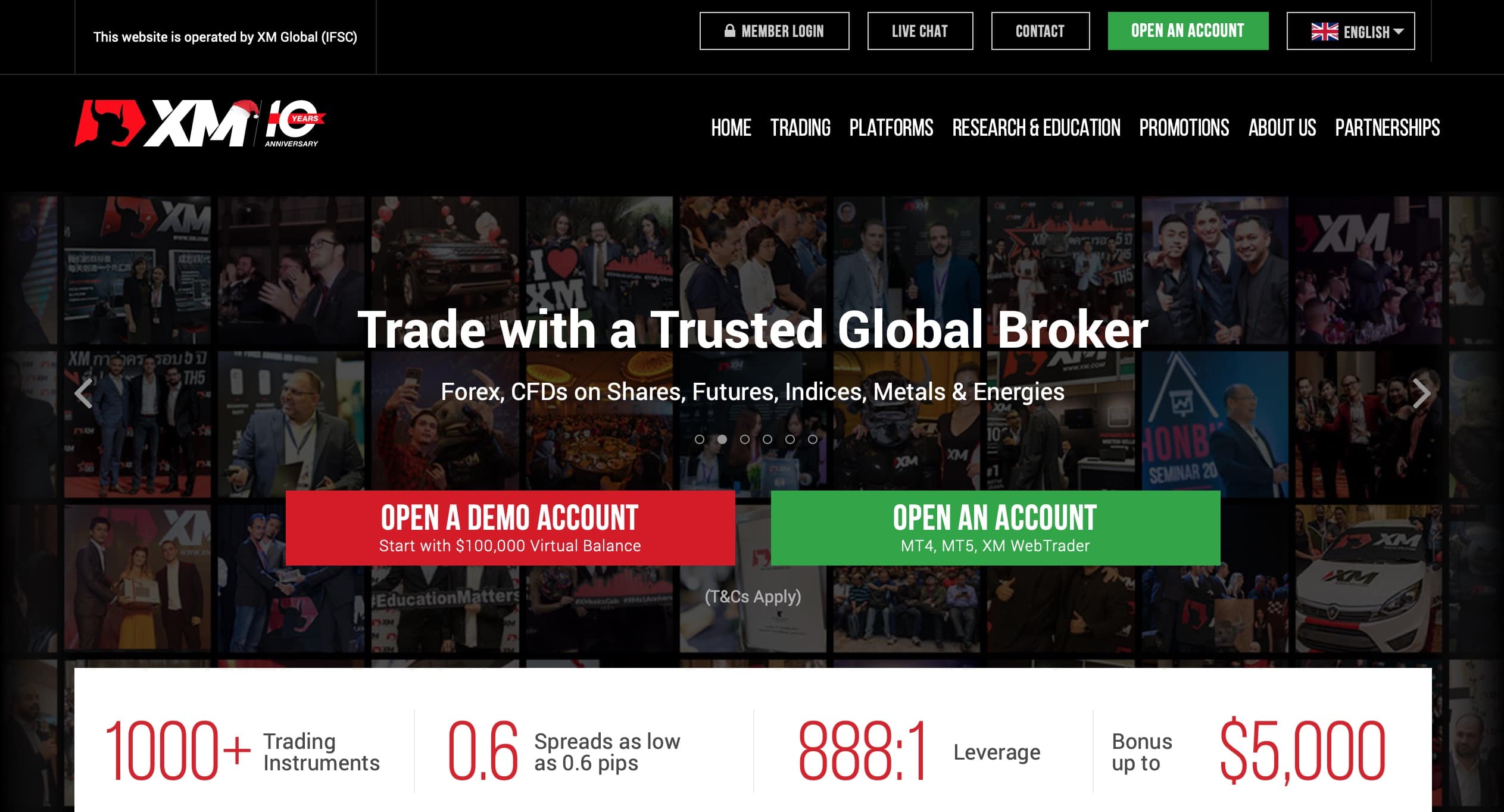 2nd place – Exness Demo
While the XM demo account is a well-rounded option for the majority of Forex traders, there are other options that are no less beneficial. For example, the Exness demo account will redefine the ways of how to trade without money for you.
First things first, Exness is a Seychelles-based Forex broker with the FSA license, which means it's held accountable for its actions by a reputable regulator. But what makes Exness and its trading offerings, including its demo account, impressive is its exceptional leverage rate. The maximum leverage you can get with this broker goes up to 1:unlimited!
As for the demo account itself, you can utilize its full potential within MetaTrader 4 or MetaTrader 5. There are also tons of instruments to choose from, be it Forex pairs, stocks, energies, or even cryptocurrencies. And your virtual account balance will refill regularly, allowing you to use the available trading app without deposit continuously.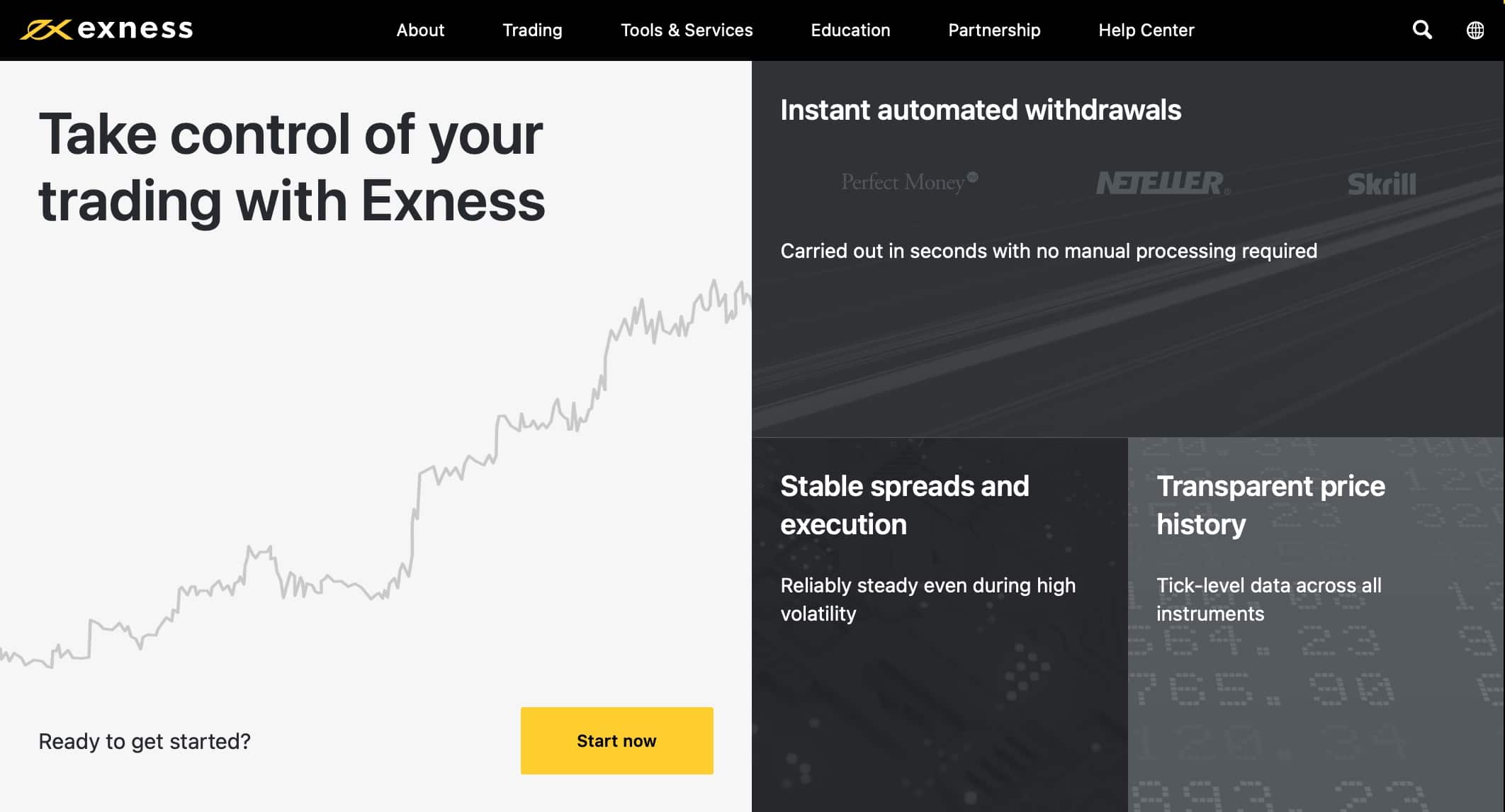 Set up your Exness demo account now
Best for the US-based traders – Forex.com
Now, the two above-mentioned demo accounts are the best choices if, granted, you're residing outside of the US. As you may or may not know, the United States has some of the strictest financial trading regulations in the industry, which makes it an unappealing marketplace for the majority of brokers.
Forex.com is one of the few Forex brokers that do provide services to American citizens. What this means is that it abides by all the rules and guidelines of the US regulator, and offers one of the safest trading platforms in the world. And its demo account is a testament to this.
As an American trader, you can easily set up the Forex.com demo account. And just like the other two demos, this one also utilizes the full potential of MT4 and MT5, as well as web and mobile trading platforms. But unlike the above-mentioned accounts, there is a limited selection of assets you can trade without deposit: currencies, precious metals, and futures.

Get your free Forex.com demo account
Best Web Platform – IQ
In the nomination for the best web platform for demo trading, IQ Option is a definite winner. The broker has a truly international reach out of all mentions here, providing services to almost 50 million people in 189 countries.
With the license from the Cyprus Securities and Exchange Commission (CySEC), IQ Option provides safe and reliable trading resources, including demo and live trading platforms, for all sorts of traders, be they beginner or experienced. The broker offers its own trading platform, which is full of technical/fundamental indicators, as well as high-powered charting features and whatnot.
And how to start Forex trading without money with IQ Option? Well, there's a full-fledged demo account with an automatically-refillable virtual balance of 1,000 USD. It lets you trade all sorts of assets, including currency pairs, cryptocurrencies, and even options.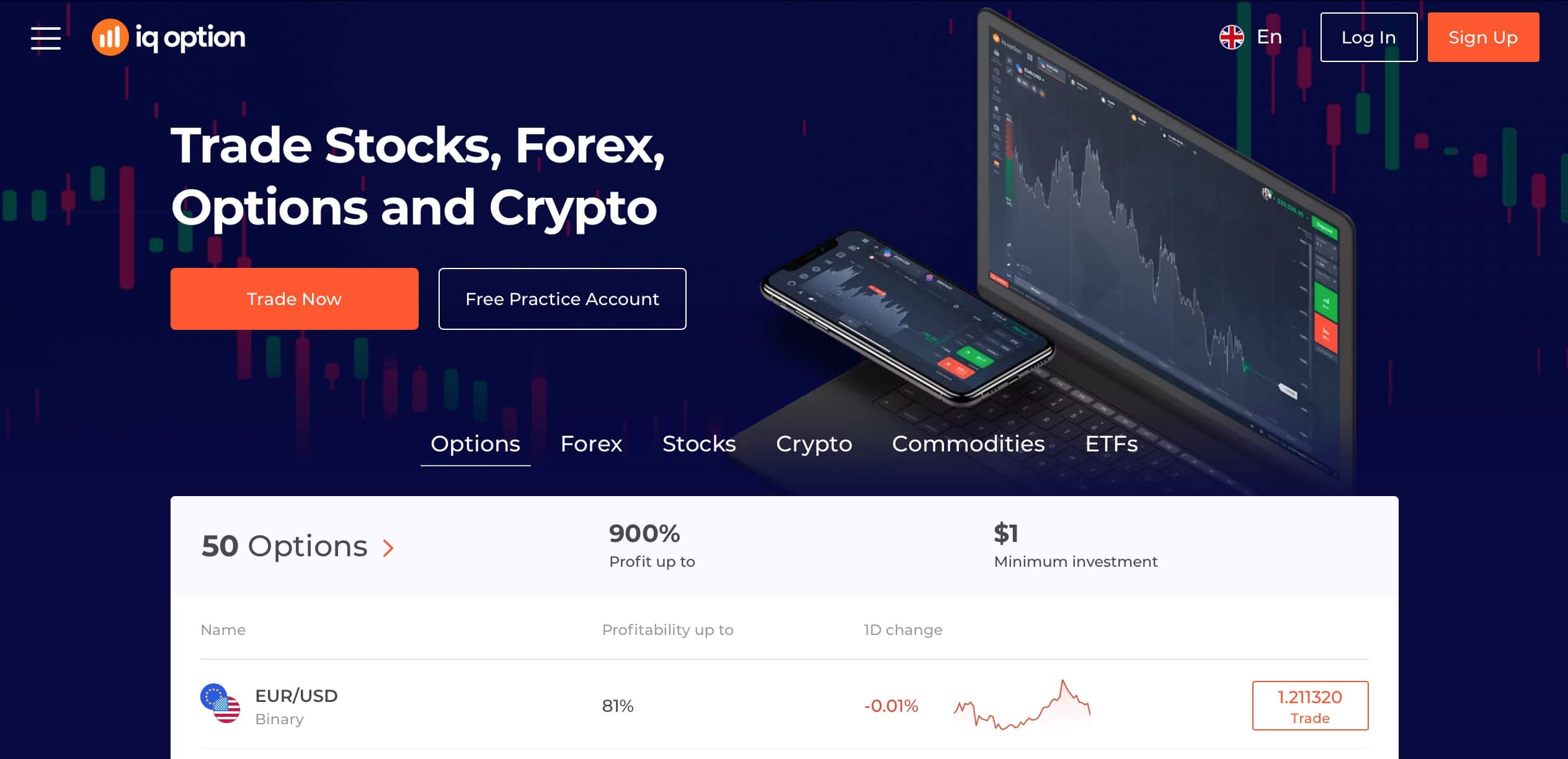 Get started for free with IQ Option
Best For Starters – plus500
Now, if you're a complete amateur in Forex and haven't had any connection with this field, there are quite a few options you can choose from. However, if you want the best possible contender, Plus500 is the one for you.
Right after you boot up the website, Plus500 welcomes you with a splash screen, letting you set up either a live or a demo account. Both accounts heavily depend on the available platforms, be it a proprietary Windows 10 Trader, WebTrader, or an Android trading app.
The reason why we recommend you to start Forex trading for free with Plus500 is that you can very easily set up a demo account with it; you just need to enter your email, password, and that's it! Plus, the broker holds a license from the Financial Conduct Authority (FCA) from the UK, which adds a whole new scope of reliability to the Plus500 demo account.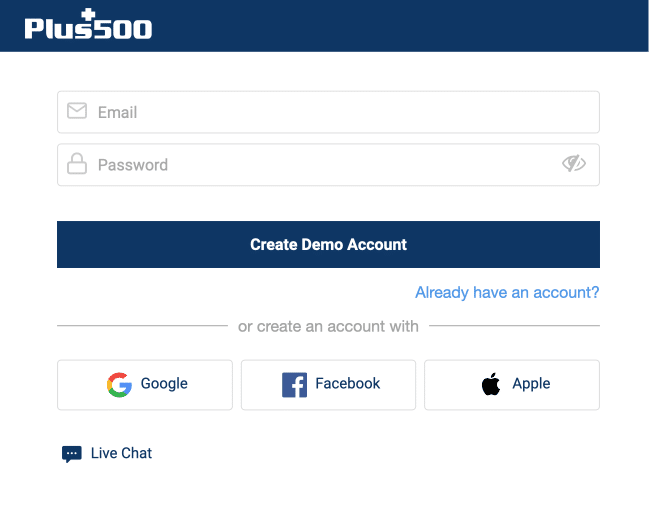 Use no deposit bonus to trade without money
Everything we've discussed in this guide above was about how you can trade Forex without making a deposit. However, what if you still want to trade for free and earn real money? Is there a way you can actually do that?
As it turns out, there is! Meet a no deposit bonus, which lets you trade Forex without any deposit but still generate profits. The brokers that offer this bonus give it out to the newcomers to their platforms and the amount of the no deposit bonus ranges between $5 to $100.
Benefits and disadvantages of a no deposit bonus
Just like a demo account, a no deposit bonus does also come with its fair share of benefits and disadvantages. First, let's list all the benefits you can reap from a no deposit bonus:
Unlike a demo account, you're trading with the actual trading balance here. This means at any point of your trading career, you can generate profits and withdraw them to your account;
Since you're using a live trading account, a no deposit bonus allows you to grow more than a demo account. As noted earlier, one of the weaknesses of a demo account is the fact that it doesn't let you risk your hard-earned money, thus, the learning outcomes are a bit limited. With a no deposit bonus, tho, there's the money on the line, even if it's not your own;
During Forex trading without investment, you can also use leverage to further increase the no deposit bonus capital and earn larger profits.
On the flip side, here are the disadvantages of a no deposit bonus:
A regular no deposit bonus ranges in-between $5-$100, which is an insignificant amount for earning decent profit sizes;
Due to the previous shortcoming, you're compelled to use leverage in your trades, which adds an extra layer of risk to an otherwise safe trade;
There aren't many reliable brokers that offer no deposit bonuses.
Which brokers offer it? – Options are limited
When it comes to finding a reliable broker that offers a no deposit bonus, your options are quite a bit limited, unfortunately.
Sure, you might find quite a few brokers that come with similar offerings but one thing you need to make sure of is how trustworthy they are. And in that case, the options narrow down quite a bit. Whether it's sturdy regulation, realistic promotions, or flexible conditions, there's only a handful of legit brokers that offer free money to trade Forex.
XM bonus

The XM no deposit bonus is one of the rarest promotions, simply because it's available for US traders. Considering how difficult it is to not only feature a bonus but to even run a brokerage in the US, it's definitely a creditworthy feat for XM.
As you sign up on the broker's platform, you get $30 within the next 24 hours to trade Forex. And there are no strings attached to it, which is always important.
Get your $30 bonus from XM now!
How to join Forex trading without money?
So, still wondering how to start trading with no money? As we've discovered in this guide, there are a couple of great options you can use to get started in Forex.
The first one on our list is a demo account. Pretty much all Forex brokers feature a fully-functional demo account on their platforms. They come with an automatically-refillable virtual balance, which lets you trade currencies, stocks, and many other instruments in a virtual market. In short, a demo account is a great tool to improve your trading game.
Another option you can use to trade Forex without any deposit is a no deposit bonus. And while it's a bit rare to find a reliable bonus provider, it's still possible and the example of the XM no deposit bonus is a testament to that. With this bonus, you can get started for free but actually generate some profits, which is even more beneficial for you.
All in all, if you actually want to start trading without making an investment from your pocket, a demo account or a no deposit bonus are two great options for you.
Frequently asked questions